A Q&A with YoursTru Bigga
Get to know and give a listen to a Tru Talent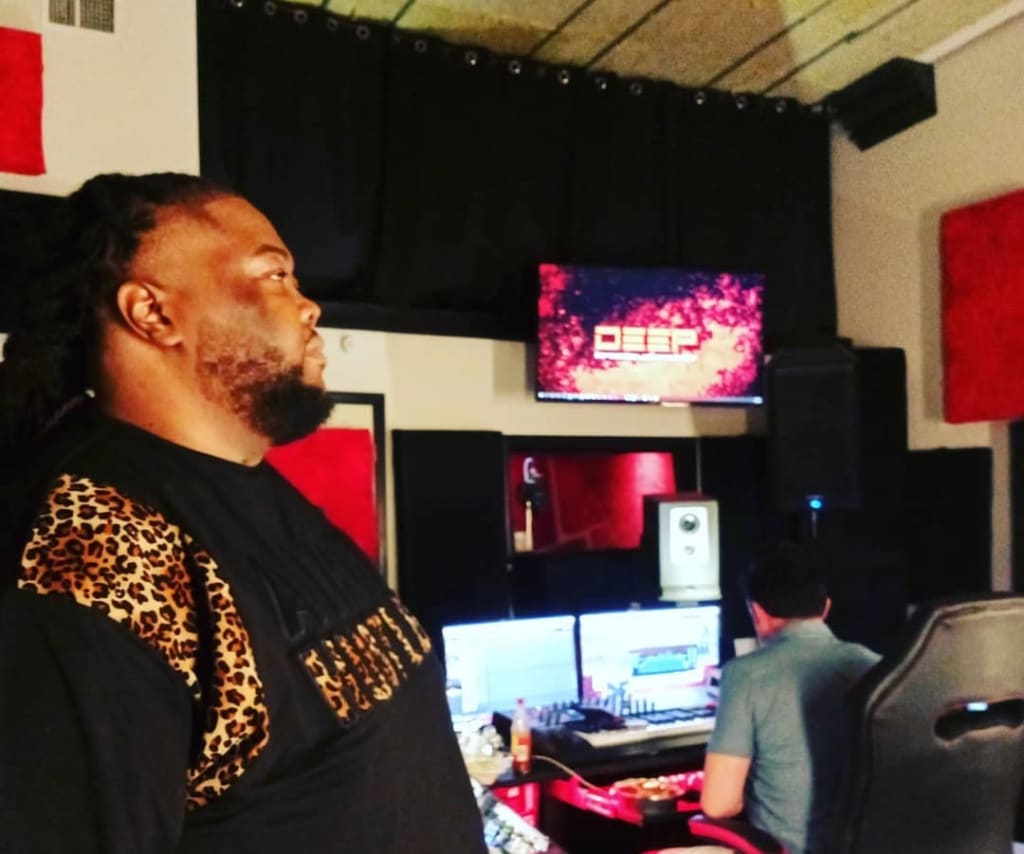 YoursTru Bigga recently released a new song Weekend now streaming on Spotify, iTunes and other music platforms.
YoursTru Bigga considers himself to be a student of the game, having spent years as a fan of artists from various locales, and the end result is a hip-hop melting pot.
He believes that the strength of an artist lies in the ability to take the ordinary things around you and create something extraordinary. Just as a painter can paint a beautiful portrait of the simplest thing, YoursTru Bigga strives to put into words the situations that we as people face every day, thus making his music something that people from all walks of life can relate to. Shortly, you will see that YoursTruBigga is successful in doing just that......
What is your chosen genre?
Hip Hop & Rap
How long have you been creating music?
I wrote my first rhyme at the age of 9, my roots in Hip-Hop began at the bus stop... Believe it or not I recorded my first song in a studio around 2001, which is telling of my age. It was a song called When I Rock... my style was very raw then. One crazy thing is that I remember utilizing the word "rock" 37 times throughout the three verses. Very metaphorical and lyrical.
What drew you to the music industry?
I dabbled in writing lyrics for Hip-Hop and even some R&B songs as a hobby throughout my school years, but it was my first year away at college that really influenced me to want to rap seriously. I attended Florida A&M University in Tallahassee, and it was there where I really immersed myself in the music and culture of Hip-Hop. I met students from all over the country and although I was there to get an education, that freshman year I received a crash course in Hip-Hop. Growing up in a devout Christian household, Rap music was pretty much banned after N.W.A. ushered in the Gangsta Rap era. This was a time before YouTube and all of the streaming options were available, and you pretty much were limited to 2 cable stations that played Hip-Hop videos a couple of hours each day. Needless to say by the time I went away to school, I was starved for Hip-Hop, and the next thing I know, it was all around me.
Who are you inspired by?
I was influenced by such artists as the Roots, Outkast, 2pac, The Notorious B.I.G., Mobb Deep, Jay-Z, Nas, Redman, Wu-Tang, Snoop, Too Short, Twista, Eight-Ball & MJG, UGK, T.I., TrickDaddy, J.T. Money, Bone Thugz, Busta Rhymes, Mary J. Blige, Erykah Badu, KRS-1, Rakim, L.L. Cool J., Gang Starr, and Naughty By Nature. Not only do I listen to lyrics, but I listen to the production styles of some of the greats such as The Neptunes, Timbaland, Dr. Dre, TrackMasters, Jermaine Dupri, Mannie Fresh, and others.
Please explain your creative process.
There is no real method to my madness, but there's usually cannabis involved.
Not only do I like his music, I like his honesty.
Is there a hidden meaning in any of your music?
I'm a fan of Marvel movies, and many of them have "Easter Eggs" or little hidden clues throughout that may go unnoticed by the average viewer but would be recognizable by fans of the source material, which would be the comic books themselves. So there are "Easter Eggs" sprinkled throughout my lyrics that only long time fans and people who know me personally would recognize.
What is the best song you ever released and why?
I leave that up to the fans to decide because they are all special to me. My songs are like my children, I love them all equally. No my one and only daughter Robyn is gonna kill me, she knows she is my everything. But I can't pick the favorite of my songs...they all are.
Ok, then I'll pick one of my favorites.
What is your favorite song(s) to perform? Or, if not performing, what song do fans seem to favor?
Well, I love my song Imma BIG Man and I usually get a good reaction from the crowd and my die-hard fans know and love that song...the Big Man anthem.
Do you think you could get any better as an artist/band? If so, how would you achieve that?
No I'm perfect, lol...No even though I've been at it a long time I'm always looking for ways to get better, been working on things like delivery and stage presence. Also the game and the music is always evolving so it's a challenge to be able to adjust and adapt to it.
I like his sense of humor, too.
Are you strictly a solo act or do you collaborate with others?
I welcome collaborations with open arms. In fact, I believe collaborations with other artists is what it's going to take to put my hometown of Tampa, Florida on the map in the industry. I also have my B.I.G. Squad Collective, B.I.G. stands for Bosses Independently Grinding, and consists of a group of talented individuals from the Tampa Bay Area. I have previously and am planning to feature them in my forthcoming projects.
I'm looking forward to it.
Have you ever dealt with performance anxiety?
Yes, you never know how you are going to be received when you step on that stage, so naturally, I'm always a little nervous. Once the music starts, you have to let go and let the music guide you and remember that its a blessing to be able to do something you love in front of people who came to see you.
Tell about a magical moment or positive experience that has happened during your music career.
The very first time I ever performed was an impromptu performance at a Cajun restaurant and bar in historic Ybor City in Tampa. I remember it was a Cajun joint because I tried crawfish for the first time. I was invited there by this guy who was interested in managing me early in my career, and he wanted to introduce me to the lead singer of the band that was playing, whom he was also considering managing. They were a cover band playing soul and R&B from the 70s and 80s. I can't remember the singer's name, but she had a sultry soulful voice, and part of her performance she actually whistled into the mic, which was interesting. I was introduced to her between the first and second set as a upcoming rapper, but mind you at this point I had never recorded a song, had never performed before, other than rhyming on the block in the hood. After the bands second set, the lead singer came down and asked me, "Do you want to perform?" I was totally caught off guard. Talk about performance anxiety, mine went from 0 to 100 real quick. How could I say no in front of this guy who's been bragging on me all evening as his new rapper, right? So I had to think fast… I accepted her offer, but then what. I quickly scanned the room and evaluated the audience. It wasn't your typical 25 and under hip-hop crowd. It was a mixed crowd, both in age and ethnicity. Judging from their attire these were some well-to-do people who generally wouldn't listen to hip-hop on a regular basis, so I to choose the song wisely. I remembered a rhyme that had a positive message that I wrote called Feelin Happy, a twist on Maze featuring Frankie Beverly's "Happy Feelings", which I had the band play and sing the hook to. We pulled it off flawlessly as if we had rehearsed it, and I remember having captivated the attention of everyone in the room to the tune of a standing ovation at the end. I will never forget that feeling, and it was in that moment that I knew that I wanted to pursue this as a career.
What advice would you have for someone wanting to follow in your footsteps?
Start investing in yourself, you can have all the talent in the world but no one will invest a dime into you unless they see you willing to invest in yourself.
How do you feel the Internet has impacted the music business & your music?
The internet has leveled the playing field so that the independent artist can have a chance to be heard around the world.
If you could go open a show for any artist who would it be?
Twista, my all-time personal favorite artist.
Who would you have open for your show?
Of course I gotta put my B.I.G. Squad affiliates on.
Please discuss how you interact with and respond to fans
At performances, through emails, and social media.
What is one message you would give to your fans?
To all my fans that's been rocking wit me and never stopped believing in me, I am eternally grateful, and I am always and forever, YoursTru…
What is your favorite/best outlet to connect with your fans Instagram, Spotify, FB, Twitter, iTunes? How would you want them to follow?
Facebook.com/yourstrubigga, Instagram.com/yourstrulybigga, Twitter.com/yourstrulybigga, you can email me at [email protected], and you can find me on your favorite streaming platform or download my music on iTunes or Google Play.
Did I forget to ask something? Something you would like to say, that I didn't address?
Black Lives Matter, All Lives Matter, stay safe and never stop dreaming!
I could listen to this talented guy all day ... his words, stories and his music. Thanks YoursTru Bigga!