A Night with Harry Styles
Harry Styles: Live on Tour 2018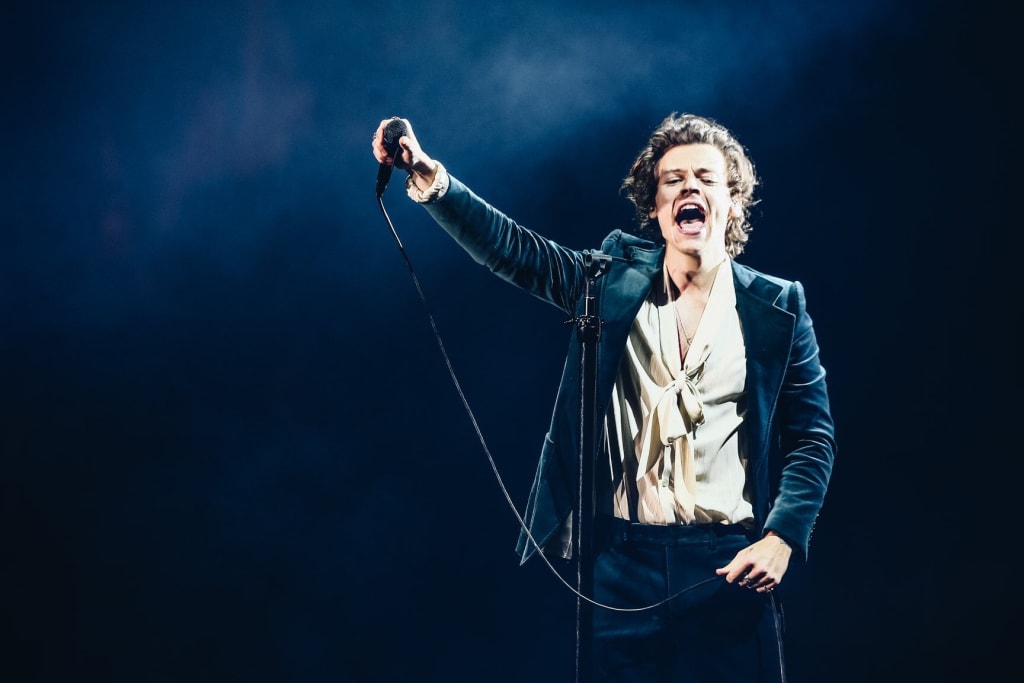 July 13, 2018 - the night I attended Harry Styles' first Los Angeles show at The Forum. Not only was it one of the best concerts I have ever been to, but it was also a night that made me think that people could be genuinely good and that there may be some hope for a nicer and better world. If you have no idea who Harry Styles is or what the man stands for here is a bit of a rundown. Harry Styles was a member of one of the most popular boybands, One Direction. The group decided to go on an indefinite hiatus in 2015 and each member has released solo music and done other solo work since. Harry has used his music and his platform to express the type of music that he believes in unique to him as well as become an advocate for all things equal. His whole platform runs on the slogan: "Treat People with Kindness," which makes an appearance on his merch, his social media platforms, during his shows, and even around the venues he performs at. At The Forum, they even placed the slogan on all the walkways for all the attendees to see.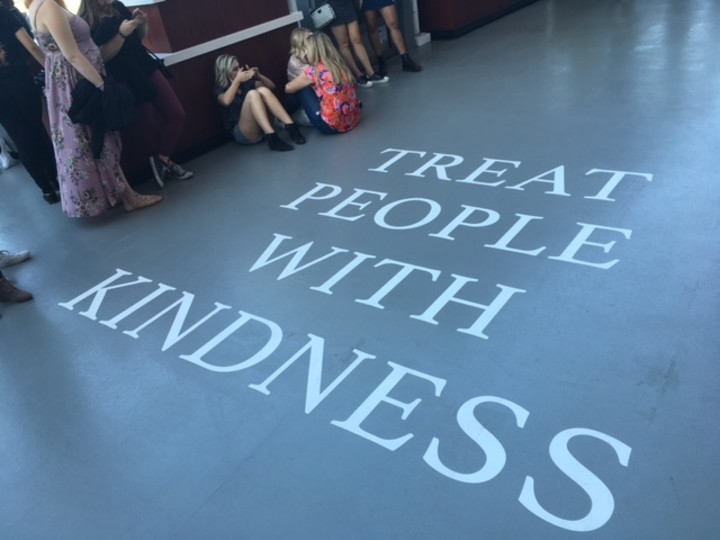 During every show, Harry encourages the audience to forget about everything that is going on in their lives and become whoever they wish to be during the couple of hours that he is onstage. One of his most used lines during shows is, "You can be whoever you want to be here. Go crazy, dance, because you won't see most of these people ever again." He encourages every person in that room to completely be themselves—no matter how crazy, wild, or insane that may be. I have never felt more at home during a concert and this is saying a lot, considering that I was technically at the show by myself. I went with my friend Nicole, but we had bought our tickets separately and were not sitting next to each other. I've attended quite a few concerts alone, but never have I felt like I was surrounded by friends that I have known my entire life as much as I did at that Harry Styles concert.
The girl that I was sitting by was also there alone. It was her first time seeing Harry live and she was beyond excited. We immediately bonded over the man as well as One Direction. She told me she was extremely jealous of the fact that I had seen One Direction three times before and both Harry and Niall solo once before. We then began discussing Harry and the One Direction boys with the girls that were sitting behind us and I felt as if I had made four new best friends. The conversation wasn't forced or awkward. We laughed, told jokes, and even picked on each other a little. It was as if I was hanging out with girls I had known for a long time. This was definitely one of the few times where an artist had introduced me to a whole new group of friends that I met at a show that I went to alone. Our love for Harry and his music brought us together and even though I do not live in Los Angeles and Harry has no intention of going on another tour any time soon, we have already discussed going to the next one together. The show hadn't even started and I was already having the best time.
The actual concert was incredible. Harry played all ten of his original songs with so much passion and emotion. He also sang two unreleased songs, "Medicine" and "Anna," both of which I wish he would release, covered two One Direction songs, "What Makes You Beautiful" and "If I Could Fly," and covered Ariana Grande's "Just a Little Bit of Your Heart" and Fleetwood Mac's "The Chain." I screamed, I sang, and I even cried. There is just something about hearing and seeing one of your favorite artists up on a stage doing what they love solely for the purpose of bringing out happiness and kindness. One thing that I love about Harry is that he doesn't get upset when fans do some crazy things. During the show that night a girl threw her phone onto the stage. Instead of ignoring it or getting upset that something was on the stage like some artists do, Harry picked up the phone and simply asked the girl why she had done that. Her reply was that she wanted him to call her mom. He said, "I can't call your mom if your phone is locked," looked at it and then said, "Ohhh you've left it unlocked. Smart." he then asked the girl what her mom's name was, found it in her contacts, called her, and had a conversation with the girl's mom on stage. The funniest thing he said was, "Hi Karen this is Harry Styles. Your daughter has thrown her phone on stage so you can do with her what you will when she gets home later." After the conversation, he tossed the girl her phone back with a smile and continued the show. Now how many artists do you know would do that for a fan?
I could go on and on about how kind Harry Styles is and how he is genuinely a good person. He creates a safe space for fans, thanks every member of his crew and the venue's crew, thanks the audience for allowing him to do what he loves, and thanks the parents who bought tickets for their kids and brought them to the show during every performance. Before he sang his closing song "Kiwi" he told us, "Thank you all for coming I hope to see you all again very soon. Be kind to one another and drive home safely." You can tell that he cares for every single person in the room at all of his shows. The world doesn't deserve Harry Styles, but we were lucky to get him anyway. It has been a month since that show, and I am already itching for new music and a new tour. For now, we'll let him enjoy his time off because if anyone deserves a break it is that lovely fellow.
I would definitely recommend that everyone, and I mean everyone no matter how you identify in this world, should experience a Harry Styles concert once in their lifetime. His shows are the most open and welcoming spaces that everyone is invited into and the show makes for a unique and incredible experience. Plus you'll become a part of something so special and meet some of the most incredible people because Harry Styles fans come in all shapes, colors, sizes, and styles.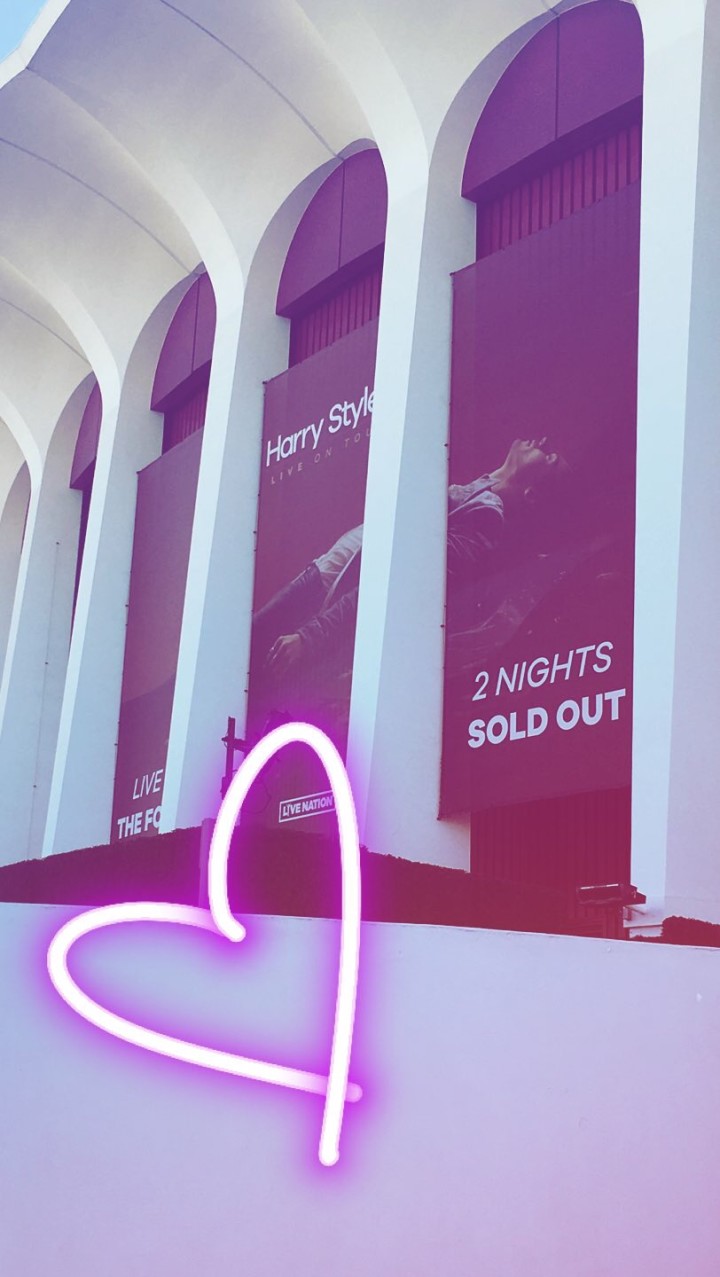 Everyone should be able to see their favorite artists perform live. Go to a concert and experience the magic that is a live show. I promise you won't be disappointed.