A Look at Four Categories of the 2022 Grammy Awards
Americana Album, Country Album, Jazz Vocal Album, Album of the Year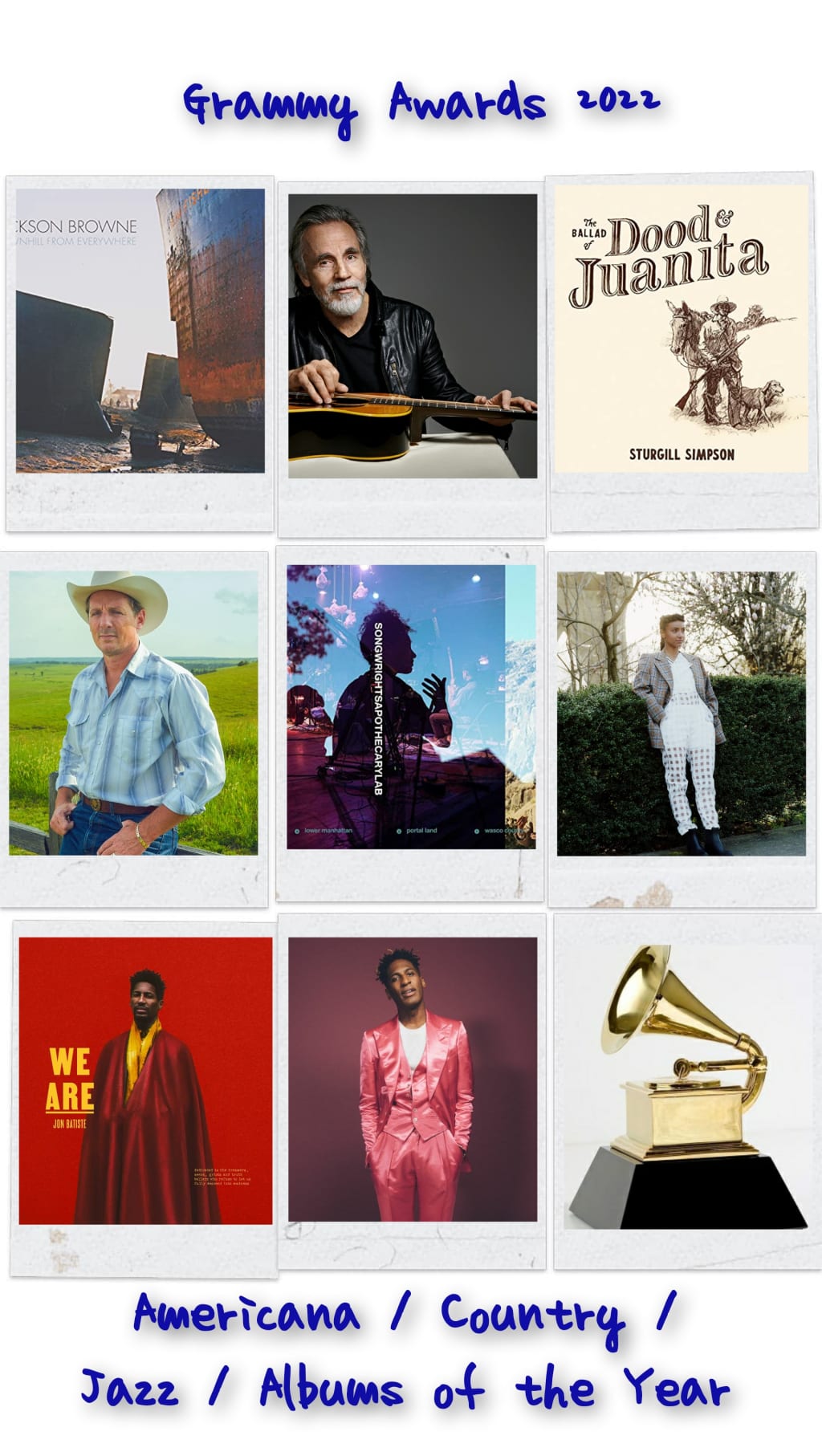 In this study I will take a look at four categories of the 2022 Grammy Awards
I will be looking at the album nominations in the Americana, Country, Vocal Jazz, and Album of the Year categories.
I will list the nominees and from there I will choose one album from each category that I feel should win the award.
I will give my reasoning for each album I choose.
Best Americana Album
Downhill From Everywhere by Jackson Browne
Leftover Feelings by John Hiatt with The Jerry Douglas Band
Native Sons by Los Lobos
Outside Child by Allison Russell
Stand For Myself by Yola
I went into this originally thinking I would choose Jackson Browne's album for the win. But then I took a listen to "Native Son" by Los Lobos and I really liked it. But the problem with the album is that the covers were all to close to the originals. I did not feel originality coming from this album. Granted their rendition of War's "The World is a Ghetto" is excellent but it's a carbon copy note for note, vocals and all of the original.
So, I moved on to John Hiatt's album and boy that started out very strong with "Long Back Electric Cadillac" which marries old-time Americana with the future of electric cars and a future that is quaint and charming and modern and progressive. The song sounds like something you'd find on a Keb' Mo' album. After four songs though the album really began to peter out so I moved on.
Next, I spent some time with Outside Child by Allison Russell. I was immediately impressed with Russell's rootsy voice and the Southern Gospel leaning of the music. Lyrically she touched on a variety of topics; family, magic, love, women's issues. As much as I enjoyed the album I wasn't completely sold on this being the definitive winner in this category.
I decided I better give Yola a try and after three songs I figured her album is categorized wrong and does not belong as a nominee for Best Americana Album. However, I will note she has a good voice and the songs are solid - so I will take another look at her music - but not as Americana.
This led me back to Jackson Browne. Maybe I better take another listen. Immediately with the opening track "Still Looking For Something," I felt a feeling of comfort and familiarity. It was Jackson Browne's voice - a longtime favorite of mine. His voice and music were a constant in my life for about 15 years in the 1970s and 1980s.
As I listened to a few songs I came to realize this is a guitar loves album. Each song features three to four guitar parts and all are expertly played. The song "My Cleveland Heart" sports a fantastic lap steel guitar by Greg Leisz.
What I like about this album and Jackson Browne is the true sense of Americana. The dream for a better life. Jackson Browne shows his rebellious nature in an intelligent manner. "Downhill From Everywhere" is a hard hitting message song in which Browne mentions by name some of the things he feels are eroding the greatness of the United States. He mentions: the border wall, Columbine, the Senate floor, the never ending war, the loan, the trolls, the Russian doll, the NRA, the GOP, the ICE and more. He finishes it off with "the huddled masses yearning to be free." With all this violence and deceit there are still people looking for that American dream - but they're (we're) not finding it.
Browne asks a lot of questions in the song "Until Justice Is Real." He asks: "What is the color, the color of change? What is the reason these times are so strange? What is democracy? What is the deal? What would it look like? How would it feel? Putting your shoulder to the wheel. Keeping it turning until justice is real."
I came to the conclusion that during these times of turmoil and divisiveness Jackson Browne's album Downhill From Everywhere engulfs the true spirit of Americana where we intelligently and compassionately question what has happened to this land that used to be your land and my land.
Downhill From Everywhere by Jackson Browne is my choice for Best Americana album.
Best Country Album
Skeletons by Brothers Osborne
Remember Her Name by Mickey Guyton
The Marfa Tapes by Miranda Lambert, Jon Randall & Jack Ingram
The Ballad Of Dood & Juanita by Sturgill Simpson
Starting Over by Chris Stapleton
The competition is tough here with strong entries from all the nominees. But my mind was made up before the nominees were even named.
I am a huge Sturgill Simpson fan and I am going to let my bias direct my choice in this category.
The thing that draws me to Sturgill Simpson is that he not beholden to the big mighty corporation - the record company. Simpson records the songs he wants to record. He's not afraid to touch on controversial topics. He's a modern day figure in Outlaw Country. A genre in which it's founding fathers are Willie Nelson, Waylon Jennings, Johnny Cash, Kris Kristofferson, and David Allan Coe. Sturgill Simpson belongs with this group of original "outlaws" as he paves the way as a lone rider against the modern day selling out of country music which in today's market is filled with more pop chord structures than pop music itself. Sturgill Simpson is giving us the real thing. He's giving us country music in its raw form.
Simpson describes the album as "traditional country, bluegrass and mountain music, including gospel and a cappella." Willie Nelson guests on the song "Juanita". The album has been described as a concept album "about love among the legends of the Kentucky frontier".
The Ballad Of Dood & Juanita by Sturgill Simpson is my choice for Best Country album.
Best Jazz Vocal Album:
Generations by The Baylor Project
SuperBlue by Kurt Elling & Charlie Hunter
Time Traveler by Nnenna Freelon
Flor by Gretchen Parlato
Songwrights Apothecary Lab by Esperanza Spalding
I went into this expecting to choose Esperanza Spalding's album as my projected winner. But, I wanted to be fair so I took a listen to the other nominees. Everything was pretty traditional - no surprises. All the albums are well done and the vocals are fantastic, especially Gretchen Parlato, I really like her smooth delivery. But there was one thing missing in each of the first four nominees - that spirit of adventure and stepping outside the box.
When considering a jazz album for such a prestigious award I look for experimentation and cutting edge ideas while still maintaining a moderate hold on traditionalism - after all Miles David did not become Miles Davis with traditionalism, he always thought outside the box.. Songwrights Apothecary Lab fits the bill in all categories and more.
First let's discuss Esperanza's crystal clear voice. She is an amazing singer. Her pitch and tone are perfect, her timing is impeccable, her vibrato is natural and mesmerizing. With her 4.2 octave range Esperanza can effectively sing deep resonating notes on up the pitch perfect higher ranges. Her higher range possesses a unique and captivating beauty while the lower range produces a deep dark sound which blends well with the bass parts she plays in her music.
The architecture of this album is amazing. Esperanza's voice becomes one with the music. She is not just a singer who walks into the studio and sings her parts to a backdrop of music. Esperanza's voice is one of the instruments. The music and voice are expertly constructed to blend in a unique manner which makes them interdependent of each other.
The compositions — which were written in consultation with music therapists and neuroscientists — are built to elicit healing emotions.
"Formwela 4" contains what I consider to be Esperanza Spalding's finest vocal performance of her career thus yet.
To make it official Esperanza Spalding's Songwrights Apothecary Lab gets my nod for Best Jazz Vocal Album.
Album of the Year
We Are by Jon Batiste
Love For Sale by Tony Bennett & Lady Gaga
Justice (Triple Chucks Deluxe) by Justin Bieber
Planet Her (Deluxe) by Doja Cat
Happier Than Ever by Billie Eilish
Back Of My Mind by H.E.R.
Montero by Lil Nas X
Sour by Olivia Rodrigo
Evermore by Taylor Swift
Donda by Kanye West
I can tell you right off the bat Kanye West and Justin Bieber absolutely will not get my consideration - so I won't bother listening to either album.
Right away Tony Bennett and Lady Gaga have released a great album - quality musicianship and excellent vocals. It's the obvious choice to win the prize. Maybe it's too obvious that the prize kind of slips right by.
Then there's the smooth soft voiced female singers who's albums are worthy of winning. Billie Eilish with a highly recognizable style and intricately engineered music makes her album well worth receiving the honor. Evermore by Taylor Swift is the stronger of the two with its crisp clean music arrangements and Taylor Swift's remarkably unique vocal style - there's a reason why she's as popular as she is - Taylor Swift is a one-of-a-kind.
Doja Cat and H.E.R. both turn up the funk and soul. Doja Cat with Jamaican beats and H.E.R. with hip hop roots.
Then, there's Olivia Rodrigo - we've just got to put her in a class all of her own. My immediate reaction was, "no, this one's got to go." But, I kept listening and I'm like, "I get it." Olivia Rodrigo can actually sing very well. She's having fun with her music blending genres and technologies and maybe this one should win for sheer creativity.
So far I'm looking at three albums that if they win it would be deserved - Taylor Swift, Olivia Rodrigo and Tony Bennett and Lady Gaga. Each could take the prize home and I wouldn't be so disappointed.
But wait there's one more album to look at. Jon Batiste's We Are. The album is a celebration of life as much as it's a political statement. The tracks "Freedom" and "We Are" have a feel good groove but also touch on civil rights and Black Lives Matter. The retro-funk sound of "Tell the Truth" embraces a James Brown vibe that does James Brown almost as good as James Brown did James Brown. "Cry" and "Sing" are both rooted in 70s Quiet Storm rhythms and harmonies - bring on some Smokey. Of course hip-hop/rap is represented here and adds to the flavor of the overall thought and feel.
I went into this with Jon Batiste as my favorite to win. After investigating some of the other nominees I still feel Jon Batiste is the one that deserves the win and gets my nod.
But, I will add that Taylor Swift's Evermore is a convincing effort and would also be a deserved win.
If you enjoyed this story you may also like:
25 Greatest Songs of Stevie Wonder CLICK HERE
About the Creator
Writing is a distraction for me. It takes me to places unknown that fulfill my need for intellectual stimulus, emotional release, and a soothing of the breaks and bruises of the day.
https://www.facebook.com/groups/vocalplusassist
Reader insights
Be the first to share your insights about this piece.
Add your insights