A Look at Corrosion of Conformity's 'Wiseblood'
It still rocks after all these years.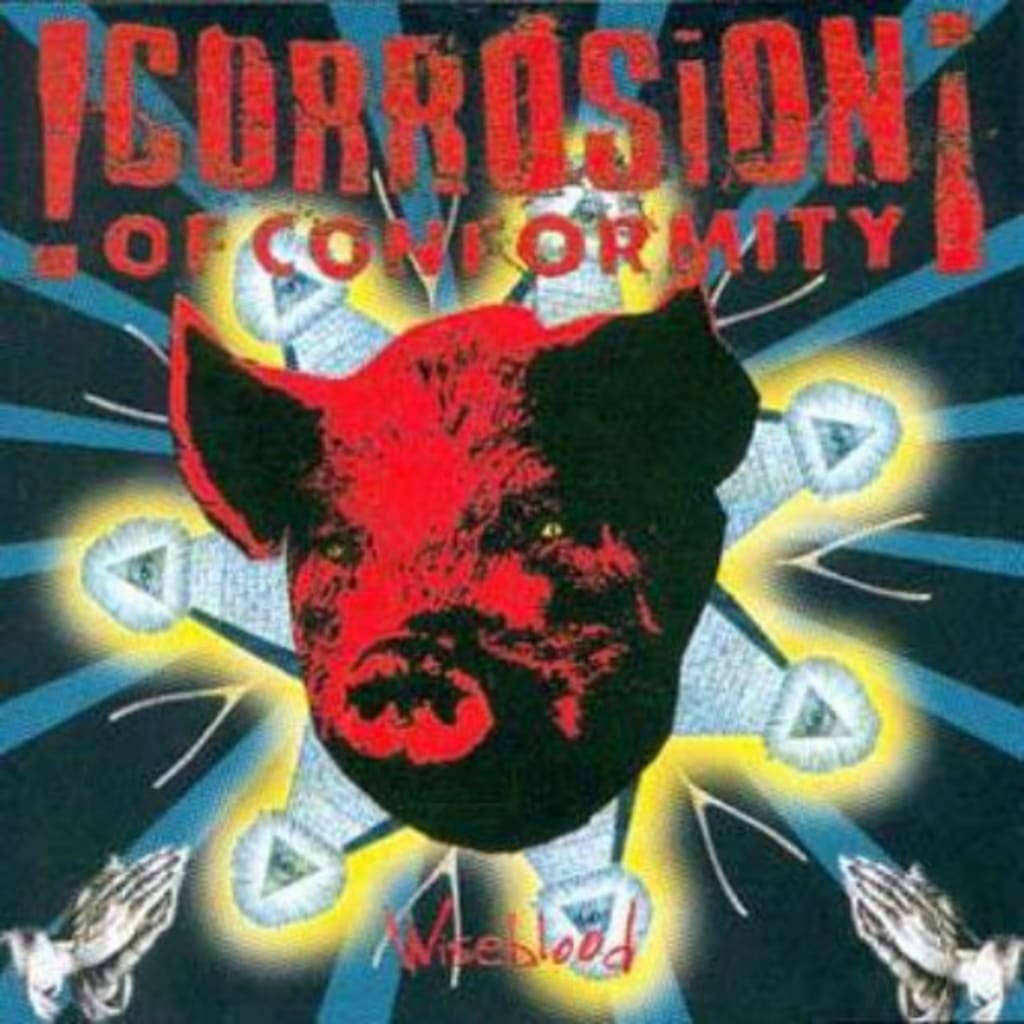 I'm only 36-years-old (as of this writing), but seeing how old some albums are puts that number in perspective. Corrosion of Conformity's Wiseblood is just such an album. It came out in 1996, when I was about 14-years-old. It's hard to believe it, but that makes this album itself 21-years-old! In any case, this album holds up extremely well for me. I don't think there's a single stinker track on it.
I first heard songs from it on DirectTV's satellite music channels (probably both their Alternative and Metal categories), and I instantly knew it was a worthwhile album. Sure enough, I bought it the first time I could on compact disc, and surely gave it a listen right away I got home.
I knew very little about the band, or what the album meant. I just thought it rocked. For those interested, it's apparently named after the novel by Flannery O'Connor—who I only heard about later in college as a literature major. Looking at that fact now, I can see that these guys were probably literate, presumably defying the stereotype of the moronic metal head (or punk rocker—COC started out as a hardcore punk band, then branched off into other musical terrain).
The Metallica Connection
One commonly noted fact about the album: Metallica's James Hetfield provides vocals for the track "Man or Ash." It's interesting because, for some time, I disparagingly (and snobbishly) would call Corrosion of Conformity a really good version of Metallica.
You see, at the time, Metallica was everywhere and it wasn't the relatively better sounding "old school Metallica," either, but the relatively mellower, cornier, "aternative" Metallica that emerged with the Black Album.
In any case, James Hetfield does nothing to harm this track, and perhaps it lingered in my mind as a reason to not totally hate Metallica. It's why I can appreciate some of their songs nowadays (though their anti-Napster shenanigans certainly made a lasting impact). The song "Man or Ash" is pretty heavy indeed, and has sort of a thrash thing going on. Much of the rest of the album isn't like that, but it definitely adds to the diversity of flavor, and tone. Seriously, this band is clearly aware of the importance of using different guitar (and bass) tones for building different thematic layers within a song.
The Songs
One of the key tracks from the album, "Drowning in a Daydream," was nominated for a Grammy for Best Metal Performance (though it lost to Tool's also-great "Aenema"). While I don't care much about the Grammy's, it does demonstrate that the song made an impression on people. It is one of the mellower tracks on the album, though it contains a decent amount of angst. Most importantly, it feels like the band was sincere in crafting it, like they weren't catering too much to genre.
Other standout tracks? There's "King of the Rotten," which opens the album up. Quite simply, this is a catchy, relatively straightforward rock song. After hearing this, you pretty much know the band's style, but it's a style that allows for many different things to occur.
The second track is "Long Whip / Big America." This begins as a country-meets-hard-rock song—apparently about religious hypocrisy, wealth, and related crimes—and ends up with some catchy thrash elements toward the end, complete with a memorable guitar solo. I occasionally have the "No more, no more!..." part stuck in my head, though I don't even find it annoying. It's definitely one of the catchier, most "head-banger" parts of the album, and I love when a band is both heavy and damn catchy at the same time (frankly, that's often a lost art nowadays).
"Goodbye Windows" is a hard song to describe. It doesn't sound like a standard Southern Rock tune, yet somehow carries the same feel. Basically, it's hard rock blues with an angsty chorus of "I'd rather have holes in my eyes/ Than to watch your soul paralyzed."
My favorite ballad tune from Wiseblood is "Redemption City." Honestly, it sounds pretty similar to "Goodbye Windows" and "Drowning In A Daydream," yet it retains a natural feel that's so common to COC. Things fall into place so naturally in this song, yet it retains a rawness. I like the shimmering guitars, the wah parts and how the acoustic adds a gentle percussive quality that supllements the rhythm section.
Finally, I'll mention "Bottom Feeder (El Que Come Abajo)," which is really a chance for the band to stand out as a band, rather than merely as songwriters. Many angles and nuances of their musical talents are explored here. You have the hard rock parts, "Southern" elements, weird dual guitar leads and sounds, a frequently swingin' bassline, and both subtle and sledgehammer moments.
Also, honestly, I miss the era when one could not only rock commercially, but almost felt obligated to include instrumentals on albums. Now it's almost all about the singer, with the band taking the backseat (if there even is a band), and usually what the "artist" sings about is boring and generic. With an instrumental, a band tells a story through sound itself. "Bottom Feeder" does that.
In summation, I'll say Corrosion of Conformity's Wiseblood is a decent introduction to not only the band, but to hard rock in general. In an age overly saturated in bubblegum pop, it's pretty amazing how much catchier most of these songs are (to my ear, at least) than most of what's out there today. Enjoy!
About the Creator
Wade Wainio writes stuff for Show Snob, Undead Walking, Pophorror.com, Vents Magazine and Haunted MTL. He is also an artist, musician and college radio DJ for WMTU 91.9 FM Houghton.
Reader insights
Be the first to share your insights about this piece.
Add your insights