A Guide to the Outback Musician's Survival Guide
A Review of Phil Circle's Musical Journey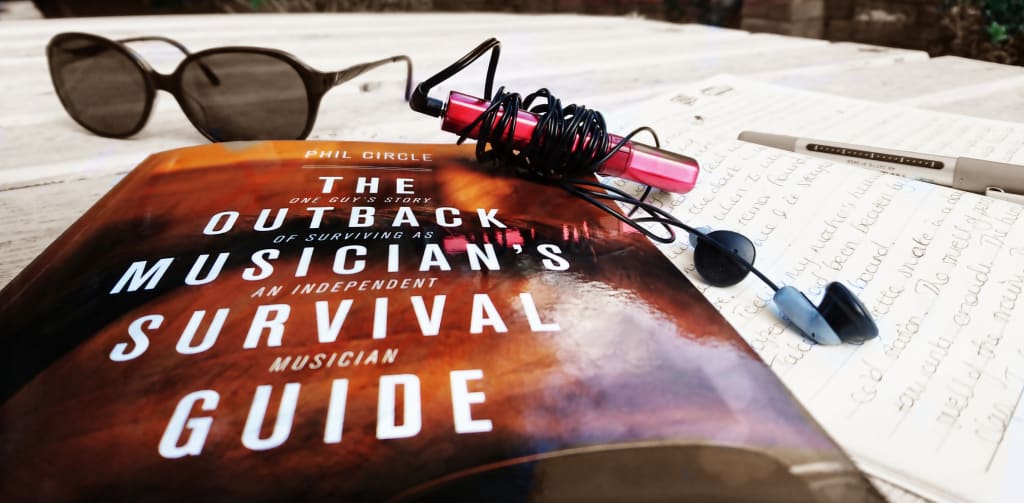 Photo © Sarah Jane, 2017
I have always said that a successful piece of writing is one which achieves its aim and justifies the subject matter. Phil Circle's book The Outback Musician's Survival Guide is a successful book. The blurb on the back declares that Phil is here to tell us "what it's really like for 99% of America's music industry people." In doing so, he takes us on an adventure through a lot of his own experiences: humorous or painful or a mixture of the two. On the way, he reveals quite a lot of very useful advice for artists of all kinds as well as music-specific insights, guidance and practical instructions. This book will rid you of any illusions you have been fed by the media, that to be in the music industry is to be a stylish millionaire who is constantly followed by cameras and wins glamorous awards every second day. For this reason, it should be standard reading for those, all those who would like to start a career in music or for those who have already tried to make it but are feeling jaded and uninspired. Phil's delight in music and his deep commitment to the art of making it pour out from every page. It is impossible not to be swept away on his current of passion.
Far from being a book that renders music exclusive and mysterious, "Outback" focuses on the universal nature of creativity. "We are all creators," says Phil and creativity is absolutely necessary to all of us as human beings. Being a writer, my work is often less spontaneous than that of an actor or musician, but reading The Outback Musician's Survival Guide has helped me to grasp a little more of the spontaneity of a musician and I have begun to bring an element of that to my writing.
Phil's tone throughout the book is conversational. I really enjoyed the combination of wisdom and anecdotes. It feels as though you are sat across the table from him in a pub, just chatting. And because the ups and downs and changes in atmosphere echo the peaks and troughs of real life, it is a book that the reader travels with. It is the perfect companion to a journey, whether that be an actual, physical journey or a more creative, spiritual one. It is a book to be read in transition — between railway stations, perhaps, or in the small hours when sleep won't come and the world seems huge and full of possibilities.
Towards the end of the book, Phil says, "I don't have some profound message." In fact, by sharing his humanity and his failings as well as his high points, he has created a profound message. It is often in mere survival that we create greatness, although we ourselves don't know it at the time. The touch of human grief amidst all of the adrenaline pumping adventure makes this book something of a celebration of what it means to be human.
For those of us who are both artists and outsiders, this book is an encouragement. It inspires us to take greater risks, to live adventurously with our art and to enjoy it without shying away from the painful moments. Those painful moments are often the times of greatest creativity and honesty. Honesty, says Phil, is the single most important ingredient in any work of art and I agree with him.
I would also recommend this book as an excellent entertainment for those who don't normally read, or for those who read a lot but need a refreshing break from heavy academic or literary texts.
Contact Info:
About the Creator
I started writing when I was 6 and have launched my own business. Besides my considerably varied professional background, I love learning languages, meeting people from all over the world, having adventures and travelling.
Reader insights
Be the first to share your insights about this piece.
Add your insights