Music and Business
A Guide for New Artists/Singer-Songwriters/Bands
- TIPS & TRICKS- RELEASE CAMPAIGN IDEAS- DO'S AND DONT'S- GENERAL ADVICE
My name is Kate Pavli, and I am a Rock artist called Finding Kate based in London. I moved to London when I was just 17 to pursue my career in music, and along the way I have experienced a lot within the music industry.
I have been asked countless times for advice for new artists who are just starting their career, and so I decided to make a quick guide. I have released a full-length album, and I have a brand new single, I have played over 150 shows (some to 300 people and some to 30), have been featured on Kerrang! Radio & TV, Planet Rock & countless online blogs. The music industry is tough, but you just have to be tougher :).
In this article, I will be giving you as much guidance and advice as I can to support you for your music release. This guide was created by me in order to help independent artists such as myself who are just starting out. Please note, I am not a manager or label and I do not claim to be. This is only a basic guide with some advice and tips & tricks I have found out along the way.
Please remember that I am not going to actually do things for you, and that you have to take your time to research your options. The reason I have this knowledge is through hours upon hours of research and trial and error. I do not claim to know everything, and I do not claim to be an expert. Please remember that you have to make things happen, and if you don't put the effort in, no one else will. I hope that by creating this guide I can provide you with some valuable information. Enjoy!
SUMMARY
What topics are being covered in this guide:
In this guide, I will be going through different aspects of a music career. There are so many things to consider when you are planning on releasing music, whether it's a single or EP, the same sort of rules apply.
Release Strategy—Planning ahead with enough lead time
Distribution—What company will you use to distribute your music to online stores?
Photography—Professional photos
Videography—What types of videos are necessary for your campaign?
Branding & Graphic Design—What is your style? Do you have a logo, how are you planning on branding yourself?
Social Media—How crucial professional Social Media accounts are
Content—What sort of content will you be posting
Marketing—How will you market yourself to your audience
PR Campaigns—Depending on your market, do you need a PR campaign and do you know what benefits PR has for your career?
Management & Labels—Do you need one and when is the right time to start looking for one?
Budgeting—Where to spend your money
Extra Services to consider
Do's and Dont's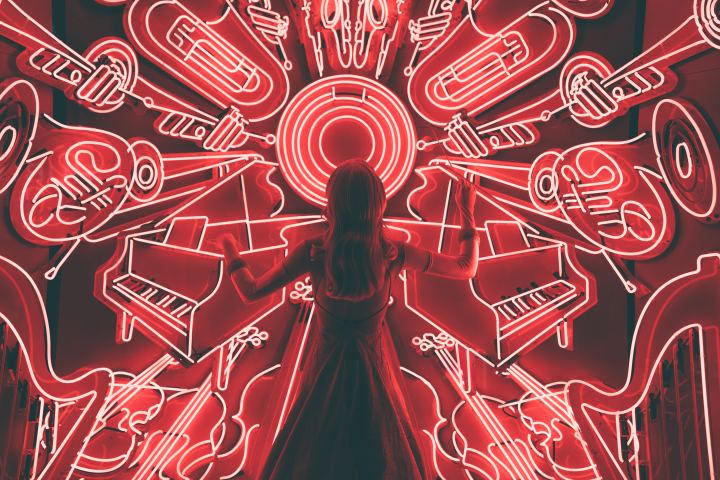 GENERAL RELEASE STRATEGY
Planning & preparing your mind and strategy before your release.
A release strategy is one of the most powerful steps before you actually release your music. Yes, the music & recording & the artist are important but if you don't have any ideas in mind of how you want to release your music, then don't expect great results. A release strategy is actually a bit of everything mentioned in this guide. How will you piece everything together? It is like a puzzle, and it is good to be prepared months in advance. See how other artists prepare for their release, not everyone uses the same methods, but preparation is always something you should do.
Start planning at least 6 months in advance. I know it seems scary, and no, I don't mean calling up managers and radio stations six months before you release music, but it's good to start writing your ideas down as early as possible. On a piece of paper write your goals down, and what you expect from your music release. Have a vision & take it step-by-step to see how you can achieve your goals. If you have just approached a producer, and you are wanting to release original music, you should think about how many songs you want to record, & also what your budget allows you to do. Even if you have 20 amazing songs, wait, and don't rush. Choose the best six songs to start with, and start working on those with your producer. You can record all six, and then see what campaign is suitable for you.
I always advise coming out with a single first. It's a pretty standard method, and something that smaller artists always do. If you are releasing your original music for the first time into the world, it's quite obvious that you wouldn't immediately go with a 12 song album as that would probably not reach enough people. Singles are so powerful, and should be used wisely. I recommend if you have enough material to consider an EP a few months down the line, but I would advise waiting to see how your first single is received.
Set a release date. From at least three months beforehand, you should plan your release around a certain date and stick to it. Leave enough lead time from when you initiate to the actual date of your release e.g. Friday October 15. You would need to make sure everything is coordinated in order for your release to drop on that specific date. It is industry standard to release material on Fridays. Not everyone follows this, but in general, most artists do this, and most online distributors would recommend this.
A lot of new artists think that hiring a manager will immediately sky-rocket their career. It will not. The time will come when you will need a manager, but usually, you need to have worked really hard yourself in order for a manager to take you on. You have to build a fanbase, play lots of shows, have a reputable release, and of course, music that they will love. Also the standard deal a manager makes with an artist is a percentage cut—e.g. 15 percent of all deals they land for you. A management deal should be the last thing on your mind if you are just starting out. Chances are if you are starting out, you are too much of a risk factor for a manager to take you on. They have to really believe in you, and also, at the end of the day, they need to make a profit. If you are not selling any material, if there is no buzz around you, chances are you won't be making any money.
Record labels are the same. In this day and age, you really do NOT need a record label to move forward. There are hundreds of label services companies can provide you with without having to tie yourself into a deal that will make you give up half of your rights. The era of big record labels are over, and independent companies such as Ditto and AWAL are good examples of what you can achieve by being unsigned. It's definitely not easy being unsigned, but if you are driven, and you build a strong team and brand around you, you will eventually make it. Don't expect a record label to take on an artist who is just starting out, and if you get approached by a legit label, remember you will be giving up your song rights, and will be tied into a contract. Always do your research before agreeing to anything. What is their success rate? Are there similar artists on their roster, and what terms will you be agreeing to?
Your release strategy will either open lots of doors for you or keep you stationary. Be smart, and as I said before plan ahead. Don't rush!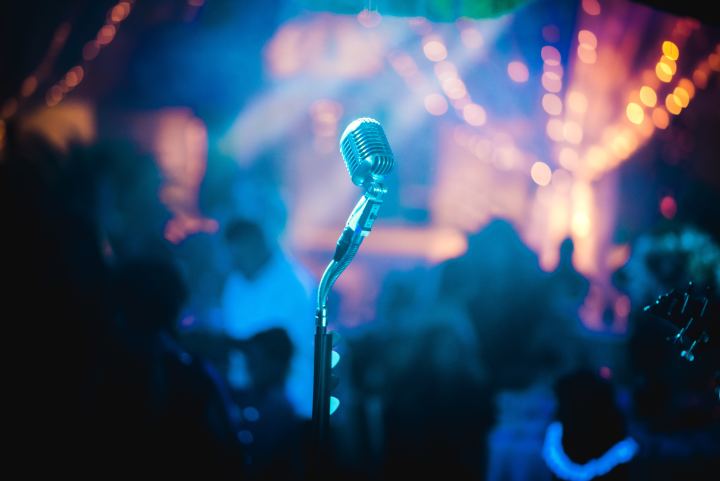 DISTRIBUTION
Getting your music to all online music retailers.
In this day and age, there is nothing more vital than your music being easily accessible to your fans. You can't expect to release your music video on Youtube and Soundcloud, and move forward. It is something so many people forget to think about until it is too late. Do some research and find yourself a suitable Distribution platform. There are so many options such as Tunecore, Ditto Music, Distrokid, CD Baby, Emu Bands, etc.
Distribution companies get your music on to online music retailers such as Spotify, ITunes, Amazon, Apple Music etc. Some take an upfront fee per release, and you keep all your royalties, others take no fee, and take 15 percent of your income. As an artist, there is no direct way for you to upload your music onto any of the retailers' platforms. We can't go to Spotify or Apple, and upload our new single. You need a distributor for that.
Unfortunately, I am not here to tell you who the right distributor is for you. Every artist has different needs, and not every distributor offers the same benefits. Any distribution company that you choose to go with won't affect your actual sales. Please don't expect Tunecore or DittoMusic to advertise your music, or to boost your sales. They just act as the middleman between artists and music stores.
Distributors' price break down to follow (all in £ GBP):
Data accurate at the time obtained.
Ditto Music—£19 per year—Keep 100 percent of royalties.
Tunecore—£7.36 per single / £22.10 per album—Keep 100 percent of royalties.
Distrokid—£14.74 per year—Keep 100 percent of royalties.
CD Baby—£7.33 per single / £36.13 per album—Keep 100 percent of royalties.
Emu Bands—£24.95 per single / £34.95 per EP / £49.95 per album—Keep 100 percent of royalties.
Awal—No Upfront fees / Take 15 percent of royalties
Each of these platforms delivers to all major stores, and there are 100s of other stores that your songs get automatically added to by your distributor. The most crucial ones are Spotify, iTunes, Apple Music, Amazon, Deezer, Google Play, and Tidal. I am currently a part of the AWAL family, but unfortunately, AWAL doesn't accept everyone. In my personal experience, I have used Ditto Music and Tunecore, and both are good. Check out all the above websites, and see what works better for your release. They all accept all artists, except AWAL who are more selective. Take your time in choosing the right distributor, and give them at least four to six weeks lead time before your release date. You want everything to run smoothly with your release, and distributors need time to actually upload your music on to the online stores. Some offer faster service, and can get your music up within one week, but I really wouldn't advise leaving it until so late. Upload your release from weeks before, set the release date, and then the distributors handle it from there.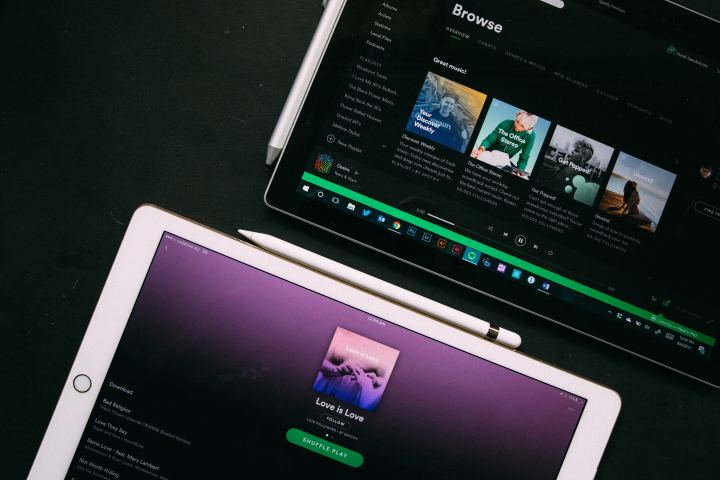 CREATIVE TOOLS
Professional and slick branding that shows off your style and music.
Photography
Good photography is essential for artists, musicians, and bands. You need photos for Promotion before and after your release. Professional photos are always used for Social Media posts, Websites, Press Kits, Song releases, and also CD booklets.
Get yourself a photographer who can capture your essence and vibe. If you are releasing a single, and the photography is amateur, then the single artwork will look unprofessional. If you have an amazing website and your photos are of low quality, the website won't look great. If you are posting pictures on Social Media that have nothing to do with your style, then you and your brand will look bad. I don't mean go and spend £400 on a really expensive photographer to get five good images. There are so many photographers who are artistic who don't charge the earth, and can give you amazing results. You need photos that capture your style and genre, but you need them to be high quality! Even if it's your really cool artistic friend taking pictures of you, make sure they have a good camera, and are shooting properly.
When photographers are handing you the finished product, please ensure to get high-quality images. Please don't download them off your Facebook chat, the file sizes will be tiny, and the images lose their quality massively. Get full-size images that are high quality, and then you can lower the resolution later if need be. If you are given something that is low quality, it will get compressed more, and pixelate when being posted. That looks bad for your brand.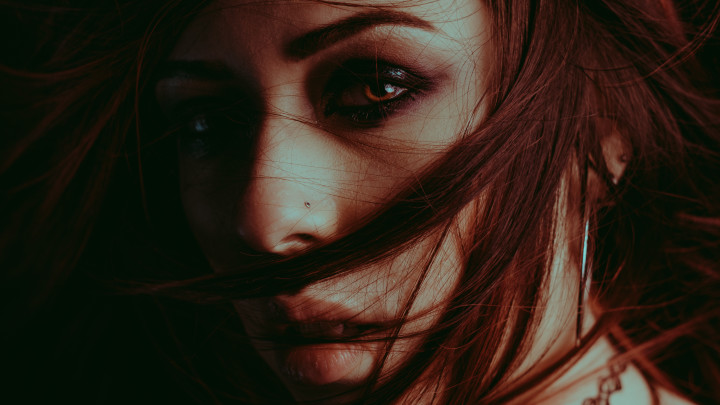 Photography by William Pavli Photography. Here are some of my professional photos taken by William Pavli. As you can see, they all have coherence and have quite a dark aesthetic. Find the right photographer for the look you are trying to go for!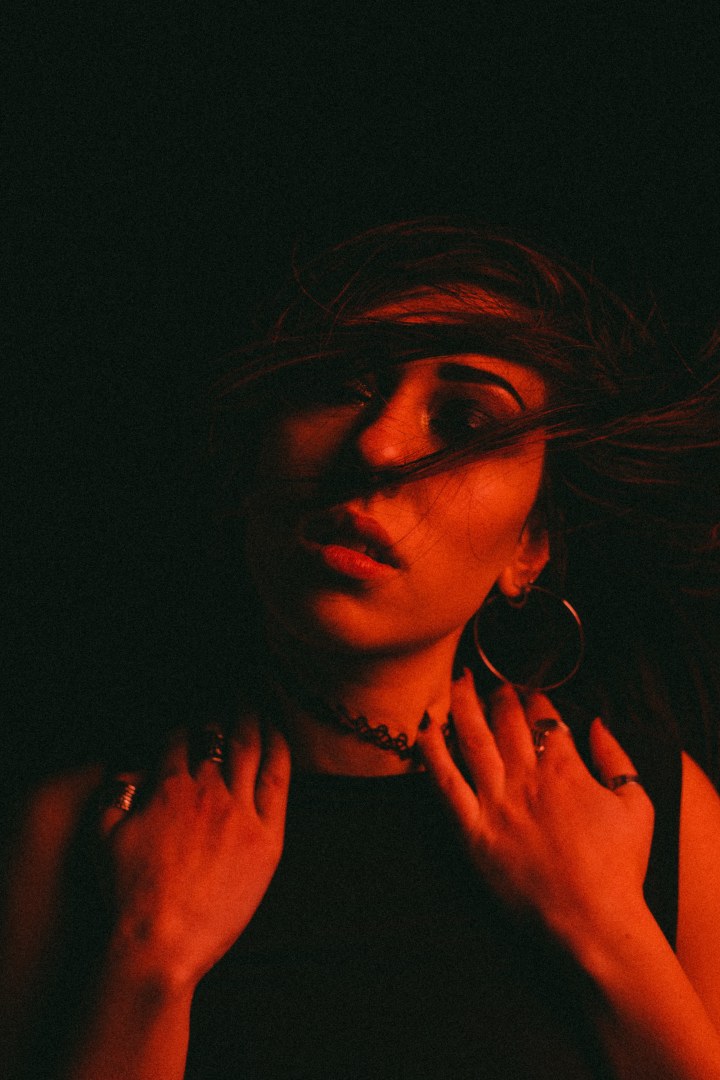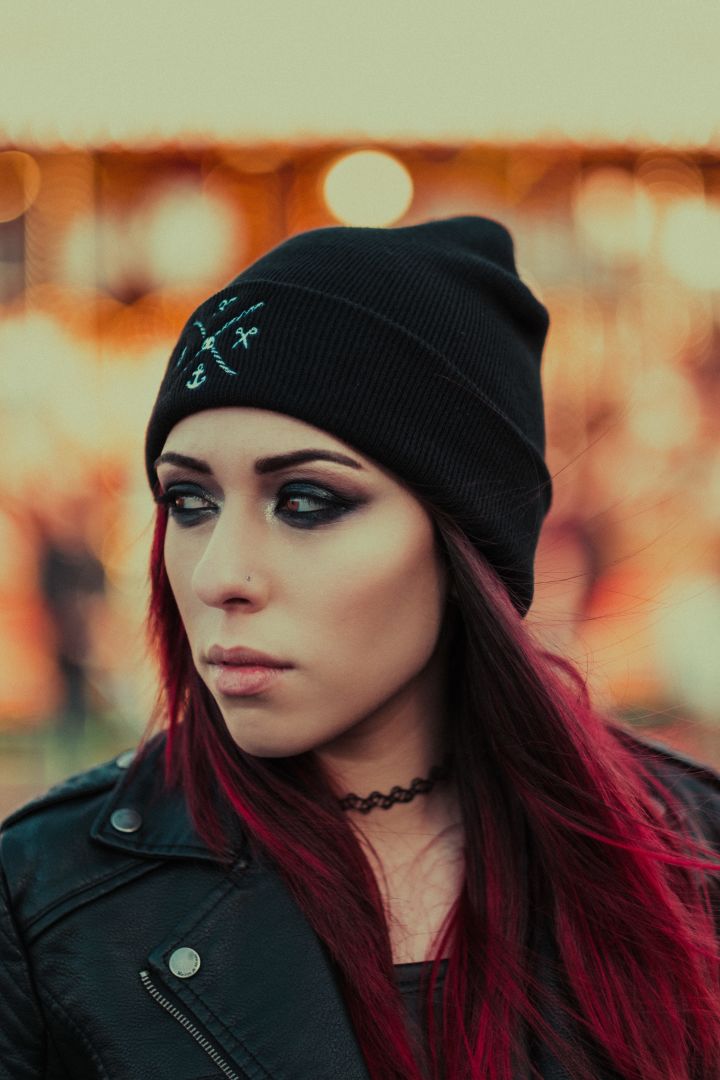 Videography
If you have the budget, you should always try to have an official video clip, especially for your lead single. Good video clips make you look professional, and videos are a great way to gain more fans. People like visuals, so instead of just listening to your single on Spotify, they get to see a really cool video too. Make sure your video clip elevates the music instead of pulling it down—you want the video to tell a story. A video can make or break you, so having a videographer with a creative eye and flare is very important. Directing, filming, editing is all so important, and you want to hire a videographer who understands what the song needs, and who can capture the vibe properly. Prices vary depending on the scenario.
Cover Videos
Cover videos are really popular, especially on Youtube and Facebook. They are a good way to gain new fans who never knew you before. Just beware when creating covers, there are thousands of people who are doing this weekly who have huge fanbases. Your covers need to be able to compete against those. Make a cover your own, don't copy the original song (because after all, you are unique) :)
I recommend every new artist makes a few amazing cover videos in order to get people engaged and excited for your originals, BUT I wouldn't advise trying to become a Youtube "Cover artist" who has to post a new cover every week e.g. Madilyn Bailey. She has over five million subscribers, but she committed to being a cover artist since the start. She built a loyal following by posting weekly videos, and now she is finally releasing her original music. You should only invest in doing lots of covers if you have the time to arrange the music, the actual budget to create professional videos and recordings each time, and lots of time to invest!
Graphic Design
Every new artist or band needs a logo. Graphic design is so important in a release, as you want a professional and artistic look around you. Designs are used before, during, and after a release all to promote your music. Ensure you have a cohesive look that matches across all your platforms.
A graphic designer will create imagery and designs that will captivate your audience, and get them excited for your release. Images will have appropriate designs and text to promote your music release. Posters, social media banners, single artwork, etc. are all crucial to a release.
Website Design
Every artist needs a website that is updated regularly. If you have no content to post yet, you can just create a landing page, which is basically a single-page layout with social media links and a picture.
You can source a reliable website designer; this can cost anywhere between £200—£2000. There are very experienced designers who can get you an amazing website, but it may cost a lot depending on the requirements and the designers' rates.
I recommend using a platform such as Wix or Squarespace to create a simple, yet powerful website by yourself. They are very simple to use, and usually include domain name, hosting, and theme creation. A domain name is what your website is called. Mine is www.findingkatemusic.com, sometimes domain names have been taken so you may need to add a dash (-) or words such as music/official.
If you are a little more experienced with HTML, you can use Wordpress where you purchase a theme off Themeforest, and design the website yourself. The theme will act as a backbone to your website, and you can create your pages and layout according to the theme's style and composition. My website mentioned above was designed by me using Visual Composer, but I had purchased a good theme that had a smooth interface. It took a lot of time to get it to look the way I want, but it's something a lot of artists do!
Check out all of these sites and see which option works best for you:
Landing Page example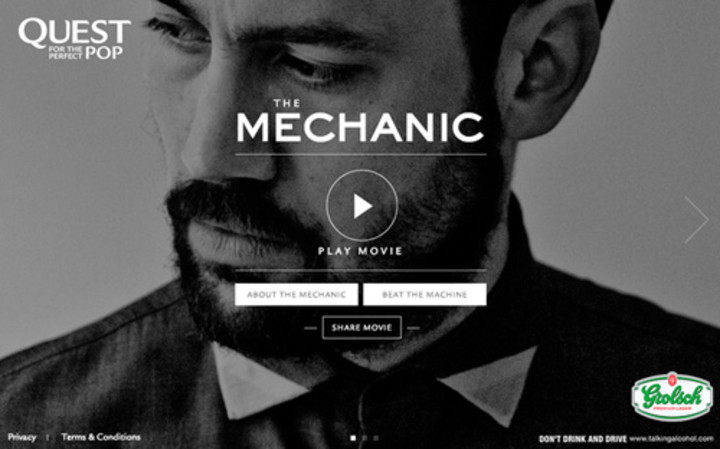 Social Media Links
Simple Layout
Release Date
Perfect for artists with little content
Full Website example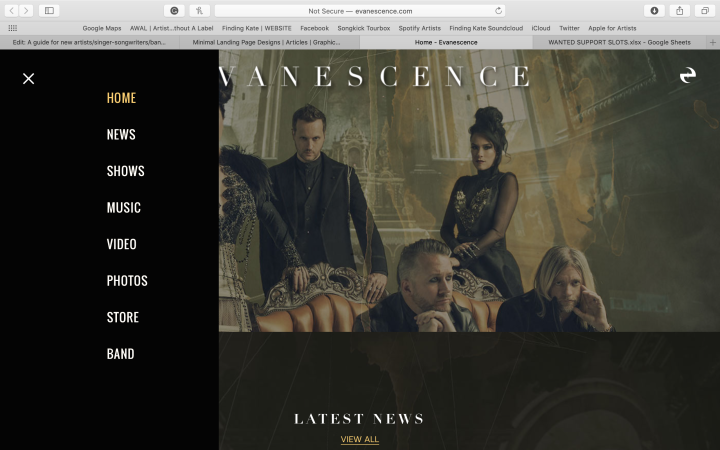 Drop-Down Menus
Scrolling pages with lots of detail
Smooth layout
Perfect for artists with lots of content to show off
SOCIAL MEDIA
Building a fanbase and having a powerful social media presence.
Over the last few years Social Media has seriously taken over our lives. There are so many cool platforms and ways to be in touch with family, friends, and fans, and in recent years Social Media has grown massively. When you are a musician or artist it is crucial to build a fanbase. Having a strong social media presence can really help an artist's career.
Facebook, Instagram, Twitter
Make sure you have created accounts on these platforms, and have actually created your artist page (not a personal profile). It's so important to be active on these platforms in order to gain more fans, and to keep in touch with them. Start off by inviting people to like your page on Facebook, create buzz, share your page, get your friends and family to share your page, and watch your numbers start to grow.
On Twitter and Instagram, it is a little more difficult to grow your following just by sharing, you have to use smarter ways to grow your following. What I recommend you do is follow a huge amount of people who are fans of music. I don't mean follow Avril Lavigne, and expect her to follow you back, I mean follow her followers :) It's as simple as that. Go on Instagram and Twitter and find potential fans. If you follow 1,000 Avril Lavigne followers, chances are that at least 300-400 of them will follow you back, because you have something in common. Then you do the same again and again until you've built a decent following. This doesn't always work, but it is tried and true. It takes a while, but you don't spend any money, just time, and it always works to your advantage as your fanbase will be continuously growing.
Don't follow completely random accounts, think of your genre, and what artists you can associate yourself with, and then proceed. If you are a Pop/Dance artist preparing for a release, go and check out someone like Demi Lovato or Halsey, and follow their followers! If you are more Indie/Alternative go and follow fans of James Bay or RY X. If you are following people who don't listen to your genre, they most probably won't follow you back.
The above examples work both on Instagram and Twitter, so try it out and see!
IMPORTANT
Please don't become a spam account. Don't sit there following people and unfollowing them right away. You actually want the people who will follow you to engage with your content, and to become fans. Keep in touch with them, be kind, post cool content. Appreciate the people who take the time to follow you back, and just because you suddenly gained 1,000 Instagram followers doesn't mean that they will stay forever. They need to see content that will excite them.
Youtube
Youtube is the most popular website for videos, every day there are millions of hours of content being watched. Almost every artist/band is on Youtube, so make sure you create an account as early as possible. Hopefully, your artist name isn't taken, but you need to ensure you link your Youtube to all your other social media accounts, so people can find you easier! You can keep your account strictly for original music, or you can start by uploading any covers you have on to your channel. You can even upload Vlogs (video blogs) on to your channel if you wish. It just depends on what you want to convey to your audience.
Always ensure your videos have a good description. If you posted your video single on to your channel, please make sure you link your Spotify, iTunes, and social media platforms in the description! So many artists forget to write their links in the description, and they are missing out on potential fans streaming or buying their song. Also try to give credit to the songwriters, music producers, videographers etc. in your Youtube descriptions.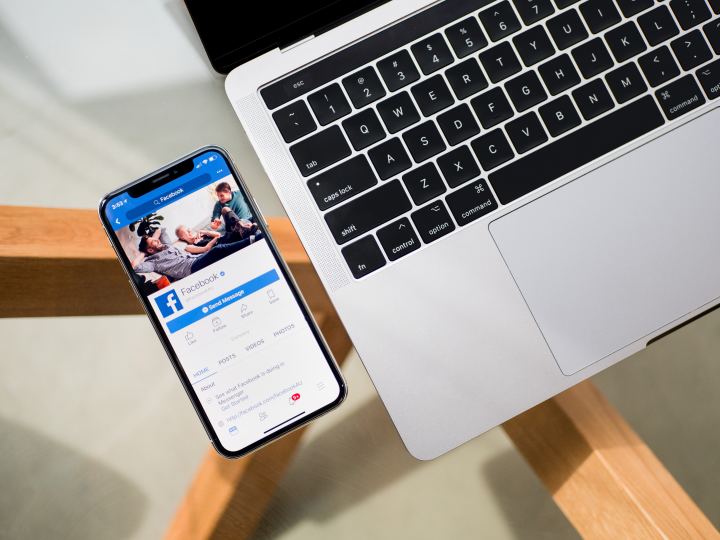 CONTENT & MARKETING
Social Media Management, branding, advertisements.
Social Media Management
Facebook—Instagram—Twitter co-ordination. Manage all three channels, and ensuring all content is coherent and suited to your image and style. Try to keep a similar style going on across these three platforms. Of course, you can be more personal on Instagram and Twitter, but don't stray too far from looking professional. Use each website's powerful tools—Instagram Stories are really popular at the moment, because your followers are directly seeing your content pop up. On Twitter you can create polls, ask your followers questions, and get them to retweet your tweets. Get them involved in your career. Facebook is really great for posting videos and images, they often get the highest reach as opposed to links or text.
Content
What type of content will you be posting? How will you market yourself?Here are some examples that could work:
Post a picture of yourself once a week
Post short creative videos to get fans excited for your release
Do vlog style videos, behind the scenes
three months before your release, announce the release date with a powerful image showing off your single
Advertising
Promotion and advertising can be a very daunting process. If you know a social media expert, or a company that can assist you, I would recommend you get some advice first before proceeding. There are many different advertisements, and marketing objectives that work differently for every campaign. Choosing the right marketing objective can be very stressful.
If you can't afford a Social Media manager or Marketing manager, ask any friends or musicians you have seen that have had successful ads, and try out similar methods. Sometimes video ads work better, sometimes pictures. Obviously the more you spend, the better results you will most likely get.
Facebook Ads (Strongly recommended as part of your Social media campaign)

Work within a suitable budget for yourself, and choose the right advertisements and marketing campaigns to prepare for your release. Ad-sets can cost as little as £5 to even £500. It all depends on the impact you want to make. Work within your budget, and boost different posts to see what people are responding better to.
Start by spending some money to advertise your release poster, inject £30, and keep it rotating for a whole month, and see what results you can achieve. You can try sponsoring your page just to gain new likes, then you can advertise your online music stores once your single is released. Short videos also work very well if you want to link people to your full video clip on Youtube.
Instagram Ads (can be linked to Facebook)
Wherever your Facebook ad is circulating, it can also reach people on Instagram, showing them the exact same post, but you get separate likes on Instagram. Instagram now offers Business accounts a lot more insight than regular accounts. You can also directly promote a post from your Instagram if you have a Business account. It's very easy to set-up, and you don't even need a Facebook page for this. In 2019, Instagram stories have been so popular, so if you are going to promote a video or photo, make sure you have the right dimensions for a story too, as it will reach a lot more people! Also having an Instagram Business account has other positives, such as being able to see a more detailed breakdown of your engagement, your fans' locations etc.
Google Ads
This powerful advertising platform has been around for years, but only now are a lot of us really starting to pick up on it! I'd recommend you speak to someone at Google over the phone; they offer free consultations, and they can help you set up a campaign. Google Ads can be quite confusing, so I don't want to get into too much detail regarding this, but definitely set some budget aside for Google Ads, and talk to an expert.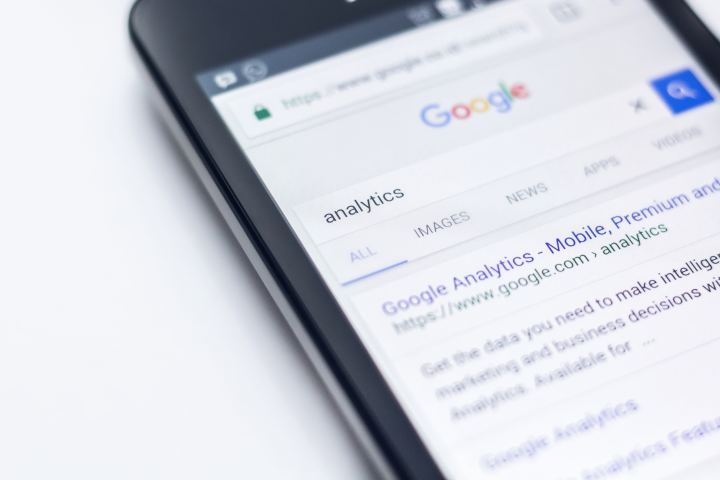 OTHER SERVICES
PR Campaign
Depending on what markets you want to hit, whether it's USA, UK, Europe, a good Press company is always ideal. They can get you on blogs, radio, interviews, and keep a buzz around you and your release. There are PR companies who specialise in working with specific genres—some are Rock, some are Pop, some are Hip-Hop. Each PR company has different contacts and connections. If you are a Metal artist looking for features in magazines such as Metal Hammer or Kerrang! please don't contact a Pop company, and expect to see results. PR companies work within a niche, and you need to do your research to find the best one for your genre and your market. PR is very powerful for blog features, interviews, and reviews. Radio is getting more and more difficult to be featured on these days, but a good PR company can open a lot of doors and connections for your release. A PR campaign usually lasts three months, they want enough lead time on your release in order to actually contact the publications and people they know. You can't send a PR company your EP one month before release, and expect them to send to reviewers or magazines, it won't happen. Also, not every PR company will want to work with you, but don't be disappointed, maybe they have too many releases coming up, or simply you are not their cup of tea. PR rates can vary, anywhere between £300 per month, to £1000 per month, depending on what they are offering.
CD manufacturing—Digipak, Jewel Case, Sleeve etc
CD sales are a good source of income if you can sell them at shows or via your merchandise website. I don't recommend CD duplication to artists who are starting out unless you want a short run of 200 CDs to sell at shows. Bigger runs of CDs are recommended if you have a larger following who will buy them.
It really comes down to the artist, and what their future plans are, but if you are not planning to have live shows in order to support your release, then there is no need for physical CDs, as you won't have anyone to sell them to. Manufacturing and graphic design of CD booklets can be quite pricey, so if there is no steady fanbase waiting to buy them, it is not absolutely necessary. If you see that your EP release has gone well online, and there is demand for physical CDs, then you can look for suitable companies that fit within your budget. In the UK there are thousands of CD duplication companies, but not all of them are that good. See their previous CDs, see the quality, and how their colours print.
PRS (Performing Rights Society)

PRS set-up is recommended, and there is a £100 joining fee. Joining PRS for Music as a songwriter or composer means you can earn money when your music is used. You don't need to be signed to a record label or a publisher, but you do need to be identified as the copyright owner of a musical work. PRS collect and distribute royalties for the creators and publishers of musical works.
See if it is recommended to join PRS.
Biography and Press Release
Every artist needs a biography. You need a content creator who can compose a great biography for you, or you can write it yourself, but it has to be professional. You want people to be excited about you. We need your story, who are you, what are you, and what impact are you trying to make? Your Press Release is something that will be circulating around the time of your music release. Usually, a PR company would write this for you, but if you are contacting magazines and blogs yourself, you would have to provide them with a Press Release. It's sort of a biography, but instead of just talking about you, you have to make the focus point your music release. What is the style, the feeling, how many tracks are there, when will it be released etc.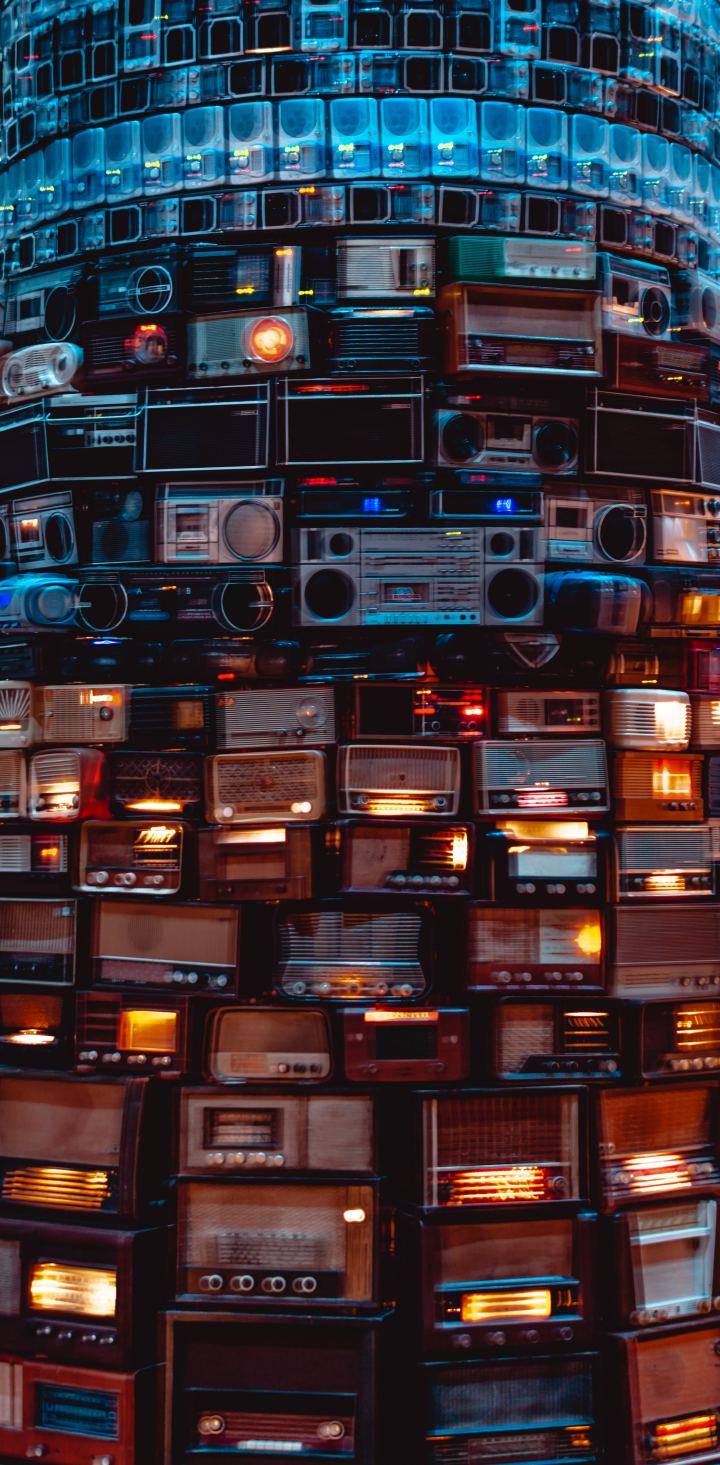 DO's AND DONT's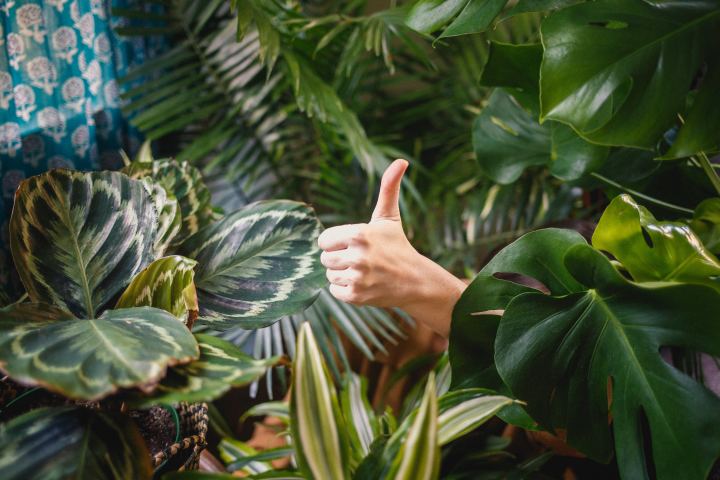 Do
Not everyone can spend lots of money on their music release. Write your finances down, and how much you can spend in each "section" of your release campaign.
E.g. £1500 will go on Single production, £1000 will go on video clips and photos, £500 will go on PR, £300 will go on advertisements, £100 will go on a website, and so on.
Create a list of contacts
Go online, look for blogs and magazines you can associate yourself with. Find contacts within your genre who can help you with your release.
Don't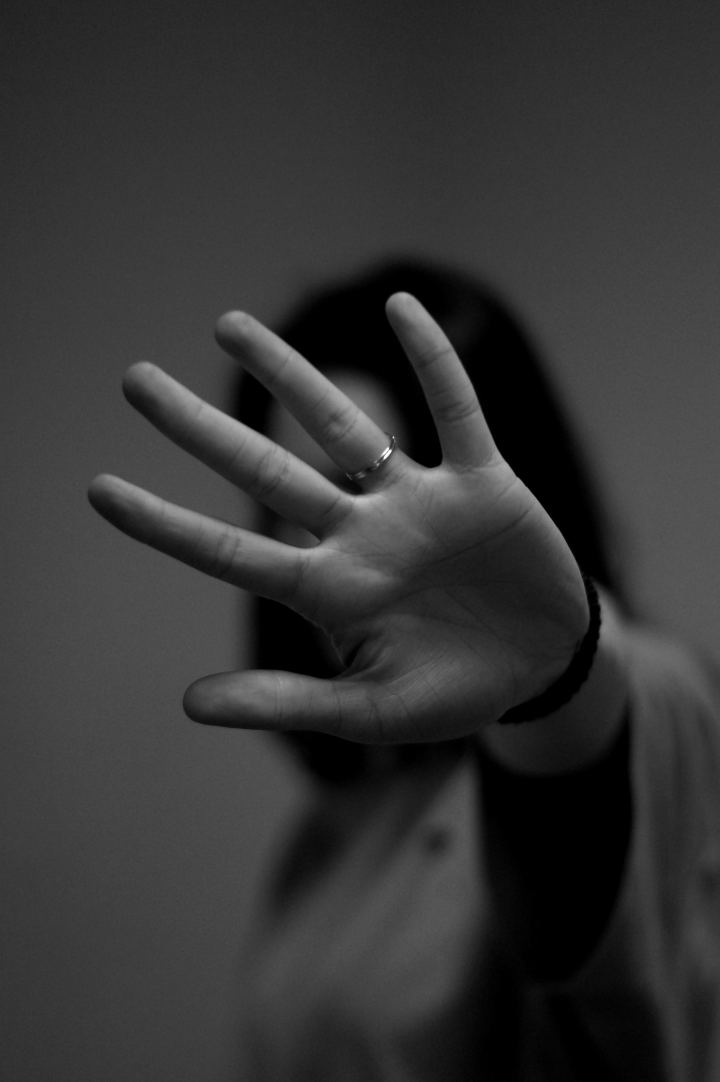 Buy fake views, buying like/dislikes

Don't buy fake views for your video clips, it's pretty obvious. When you have 10,000 views and 20 likes and 0 dislikes,
It doesn't benefit you in the long run, if a serious manager or label wants to take you under their wing it looks like you chose an easy way out
Post on your Social Media every day

Pace your posts and come up with a little schedule. You don't want to over-do it and come across as desperate.
TO RECAP...
Every artist is different, and some things work for some, and not others.
For my latest single release, "I Feel Bad" I did all the PR and promo for it myself. I had accumulated contacts over the last three years where I wasn't releasing new material, and contacted them myself. It is possible to get results without using other companies, but you have to be very dedicated. I didn't always get a response, but I got enough interviews, blog features, and radio plays on pretty big stations, because I reached out directly. I did research, I wrote names and emails in a huge list, and when the time was right, I sent them my new release for a review/feature/play. I saved money by doing my own PR, and have now used that money on advertising instead. It all depends on the person, and how much you want to personally get involved. Not all contacts are available of course, and sometimes you have to do intensive research to get someone's email.
If you see an artist similar to you with a blog feature or interview, save that website, and contact them when you are about to release your material. You never know, they may want to feature you as well!
SUMMARY
Don't rush things, think about your campaign, and prepare it months in advance.
Don't think that your first single will be a hit. It may be, but be realistic. Things don't happen overnight, and you need to be patient!
You have to work hard for everything, especially in the music industry. Keep your head on straight, and remember, if you are good, you will get noticed.
Make connections with people around you who are creatives, whether it's graphic designers, photographers, producers.
Go to music networking events, go to local shows, and support artists and bands.
Support other artists, and share their music if you like it, especially if they are locals.
Remember to have a coherent image across all social media platforms.
Try out different music websites such as Reverbnation, Soundcloud, Bandcamp etc.
Also, remember that you may have to spend lots of money, and see no return at the start. I can't begin to tell you how much money I have spent! It's all about investing in yourself and your music, and hopefully it will pay off through your sales, video views, and shows!
The music is so important, so if you are creating something mediocre, chances are it won't get noticed. There are thousands of new artists, new singles, and videos, and you have to stand out from the crowd.
Have a unique identity, unique brand, and unique songs, that way you will get noticed!
Have fun along the way and be as creative as you can!
Don't be afraid of rejection. Someone may simply not like your music, not everyone has to like you, and that's OK!
I have worked in hospitality for the last few years in order to fund my dreams. Having a music career is not cheap, and unless you get really lucky and find an investor, chances are you will need to save up a lot of money. There's no shame in doing other jobs that aren't music related. Remember that!
Stay true to you.
Be humble.
Stay positive, remember your goals, and take it easy!