A First Look at BTS' New Comeback
'Map of the Soul: Persona' Intro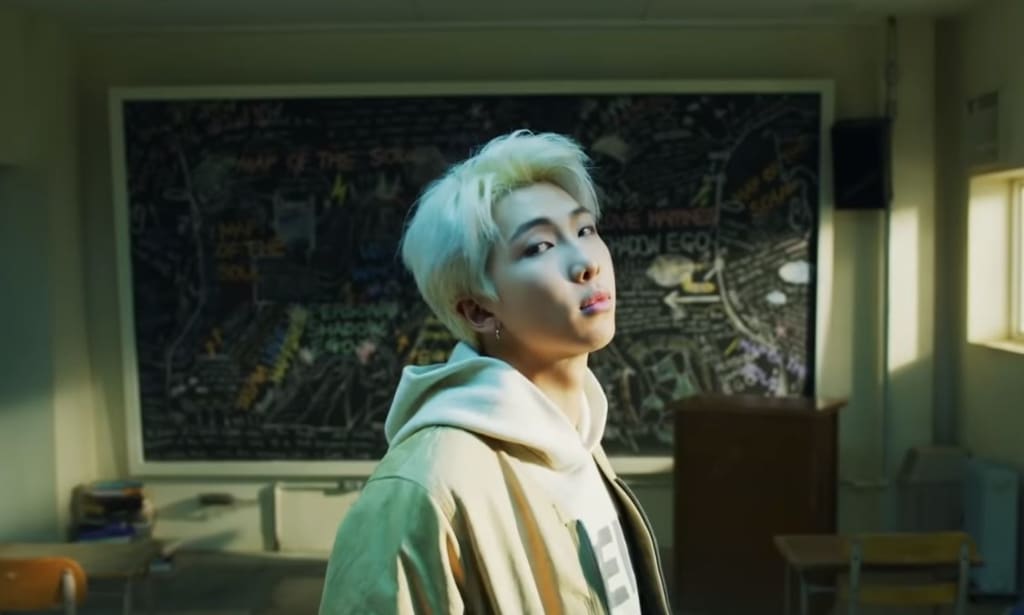 BTS has a new album coming out on April 12th. With the release being so close, we've been expecting some kind of trailer or news, regarding what to expect, for a little bit. Have no fear, BTS has dropped a teaser, starring none other than their leader RM, to get everyone excited for the new music to come.
BTS likes to do intro songs to their albums, and release them a few weeks before. They alternate between members for each intro, as they are always solo numbers. The choice for RM in this intro is worth taking note of. The group has just finished their "Most Beautiful Moment in Life/Love Yourself Era," that they've been running with since debut. In that cycle, each member had an intro. They started it with RM way back in 2014. Here they are again, at the beginning, and RM is doing another intro. This is a sign that we're about to embark on a whole new journey with BTS, filled with psychological concepts and literary references all over the place.
This brings us to the title of this album, Map of the Soul: Persona. I don't think anyone right now is 100 percent sure where they are going with this, but it all stems from famous psychologist Carl Jung's theories and concepts. To give an incredibly simplified background on this, Map of the Soul refers to a book about Jung's theories, written back in 1998 by Dr. Murray Stein. BTS recommended the book to fans, as something to check out before the album. It looks like BTS will be making albums based on different aspects of a person's psychology that Jung described. Jung believed a person's psychology has multiple different systems and sides, all interacting with each other. This album is focused on Persona, as is also the title of the intro. The persona is the outward facing part of the personality. It's what you present to the world, that may hide other things underneath. Relating this a bit to BTS' previous work in Love Yourself: Tear, the persona is like a mask.
With all the foreshadowing BTS is known for, it's no surprise to see them create something describing the personas they show to the world. This is what RM's "Persona" is all about, both lyrically and visually. There's a lot to unpack with this video. For starters, it's a great reaffirmation of everything BTS started with. RM was the first one that the group was built around. He was always going to be a central member, from his impressive rap and song writing skills to his leadership qualities. A good portion of this video is filmed in a classroom with writing on the walls. This is very similar to BTS' early albums and videos, particularly their debut video, "No More Dream." It's nostalgic to see similar images, mixed with the fun "Idol"—style graphics, that make up a lot of the group's more recent outings. You can see the better quality and matured confidence in RM, as he raps directly into the camera. The subtle nods to their first few albums is a clever way to get new and existing ARMYs into the latest concept. It feels brand new for everyone, while still maintaining a connection to people who've been with BTS for other comebacks. Breaking it down piece by piece, the video feels like a condensed stream of thought that encapsulates the past few years of RM's life.
As usual, it's the lyrics that shine in RM's song. The words are carefully presented to be a story, describing who RM has been and who he has become. At first he asks "Who am I?," the big question about self and identity. He knows he laughs more and feels like he's "becoming a superhero," but still there are questions to be answered. Part of him wants to hurry and part of him wants to slow down. Part of him wants to "look at the forest" and take in the big picture, while the other urges him to "look at the wild flower" and focus on one thing at a time. This part of the video takes place in a classroom, which is why the questions make sense. It mirrors the starting point of his career in terms of the subject matter in BTS' early concepts. It also is as simple as knowing that a classroom is where you go to learn about things and ideas you've never heard of before. The blackboard behind RM is littered with scribbles of key words in Jungian theory, and even pausing for a few minutes to take it in isn't nearly enough time. The setting works perfectly for what RM is going for here; he's young and questioning everything around him. The indecision leads to some darker moments and thoughts in his life, which breach the surface in this song.
At this point the rap gets a little more intense. RM describes feeling lots of doubt, at which point in the song the classroom gets dark and messy. In this part, he's dressed in baggy clothes that hide almost every inch of himself, as he raps about feeling like he isn't good enough to be a musician, an inspirational figure, or anything of importance. The darker atmosphere and words reflect the inner self, that is fighting against the persona RM is putting out. This is also super reminiscent of early BTS' style. At that point in time, BTS wasn't even sure if they would make it and succeed. The thoughts of not being good enough echo back to that stressful time in BTS' career. However, soon the doubts turn into something more. RM has to remind himself of who he is on the inside and ground himself so that he can succeed.
My favorite part of the video is probably the scenes toward the end, with RM rapping while a group of (CGI?) people stand around him. This is when we see the confident RM, who sometimes gets lost in his own personal doubts. His words feel more like declarations of what he wants to be, and how he wants to show himself to the world. He's talking to himself as well as the audience. He starts with "Dear myself," and goes into a repetition of announcing who he is and what he does. He declares that the persona he'll offer to his followers is "the 'me' that I want myself to be. The 'me' that people want me to be. The 'me' that you love. And the 'me' that I create. The 'me' that's smiling. The me that's sometimes in tears." He wants to present an image that isn't always on his game, and is alright with sometimes showing happiness or sadness. He doesn't want to be fake. He wants to show off that he's an artist who can connect with others, and give them comfort and inspiration when needed. RM has a grand vision for his life, one that has come true despite all the doubts that have plagued him throughout his career.
These parts are some of the favorites among fans, because they show the remarkable growth RM has had as a person. What newer fans may not know is that RM has had a history of overcoming and learning from past mistakes and attacks on his character, while still remaining humble and open. Often times some have called him one of the uglier members of the group, or said that he's terrible for not being as good a dancer as the others, or that he's too clumsy. There are really too many things to put here, but none of that matters when you're a fan watching RM in this video. He's on a podium rapping about being a pillar of support for others, and that he has the perfect "temperature" for his life, that he doesn't need to change. He isn't embarrassed or ashamed of himself, and instead can lead others while believing in himself. I can feel his heart in the lyrics and in his performance in "Persona," and for me that's what makes it a great song that I can believe in too.
There are so many things to unpack in this video it's driving me crazy. There's cuts of RM in a room surrounded by mirrors. He's had a song called "Reflection" in the past, and a mirror provides another lens to look at oneself. It's not a meaningless set. Then there's also an interesting background of pink fading into blue. I assume everything has meaning with BTS, and I'm not sure what to make of this one. The closest I can come to is that it's pretty much the same color and design as the bisexual pride flag. However, this also looks like a similar background used in J-Hope's "Daydream," so maybe it's just a nice background BigHit has, or it means something? I'm not sitting here saying they're declaring anything about sexuality at all, it's just an interesting background and I've been wondering what it means. The strange CGI RM is another interesting thing in this video. This version of RM is perfectly smoothed out, and looks more like an android or something like that. It almost seems like it's the flawless self that has been groomed to be in public. I'm not quite sure, but it looks pretty cool if you ask me.
Let me end with this: when it comes to RM's rapping ability, the man practically spits fire. He switches up his speed, his voice, and his intonation a few times in the song. It's three minutes of straight rap that never really lets up. The ending is the catchy part, so you sing along with him. It's a refreshing and easy chorus of "Who the hell am I? I just wanna go, I just wanna fly" that's been stuck in my head since it's come out. The beat is also a fun, retro hip hop style that feels a lot like BTS' Dark & Wild era songs. It's super catchy, and RM's enthusiasm and energy gives it that extra kick.
RM is an incredible musician, as are all the BTS members. I'm very excited to see how the rest of the album turns out. This is just a sneak peek at what's to come, and I can't wait for their album to come out.