A Definitive Ranking of 'Reputation' Tracks
From a Long-time Swiftie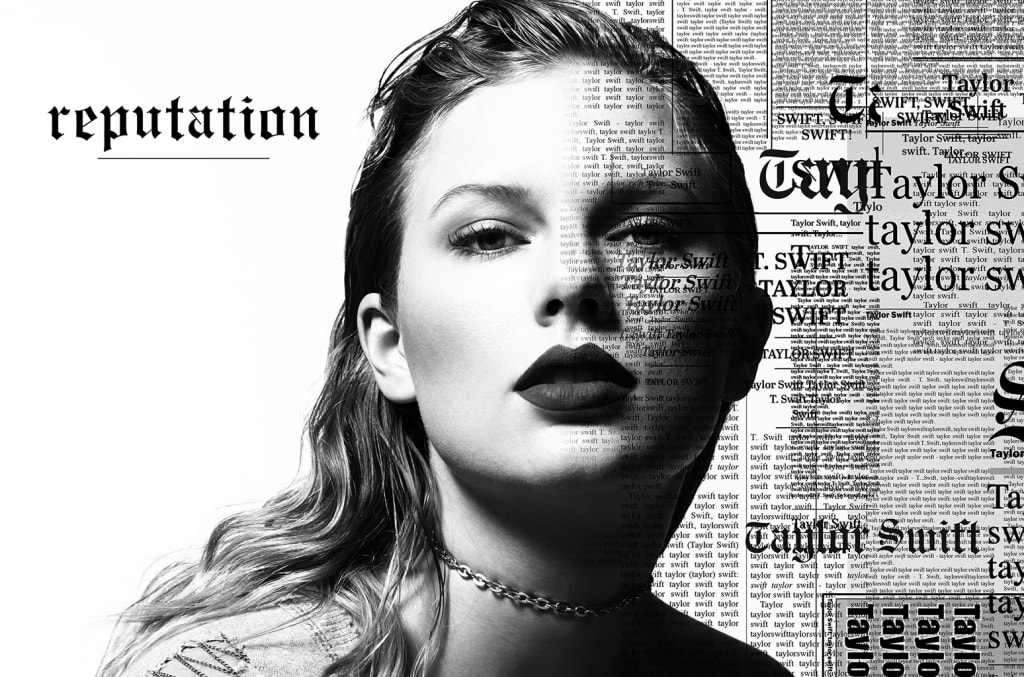 Unless you have been avoiding all forms of media for the past week, you've probably heard a thing or two about chart-topping sensation Taylor Swift. Her newest album, reputation, features 15 songs with a fresh feel and music style that is totally new to the songstress' scene. This album features a lot more electronic beats and edgier lyrics than her previous albums, really showcasing how much the 27-year-old has grown up since her start at just 16 years old. Overall, it's a really, really good album. The lyrics rarely fall short, and the music is the kind that makes you want to dance. The tracks will perform well in concert, and I'm very excited to see what Taylor brings to her upcoming tour.
Let's get back to the point of my writing of this article: ranking the tracks. I have been a fan of Taylor Swift for a long time coming now, about eight years or so. I know a thing or two about Taylor's song history, style, so on and so forth, so let's assess reputation shall we? Here it is, a definitive ranking of reputation's tracks:
15. "Look What You Made Me Do"
I mean, does anyone really like this song that much? It's been hitting the airwaves ever since August, and we're all a little tired of it. Lyrically, it falls short, especially in the chorus. It's a good song to mindlessly jam to as you sit in traffic.
14. "Gorgeous"
Another single, another where lyrics could be better. The music is on point, though. This is an honest, tongue-in-cheek song about being too intimidated to talk to a "gorgeous" boy. It has a very young, high school-esque feel, considering Taylor is 27, but it's not a bad track.
13. "I Did Something Bad"
This song is a little edgy, Ms. Swift! Its vague meaning is conveyed very poetically through the lyrics, pegging Taylor as a conniving villain of sorts. The music is OK on this one, but seems a little bit like an EDM concert.
12. "Dress"
Another edgy song! We all know what this song is about, and it's really grown up and unexpected. I think everyone was a little surprised with how outright Swift is with these lyrics, but it's a good song.
11. "...Ready For It?"
This is another song that topped the charts when it was released as a single. This is a really good song, balancing "new Taylor" and "old Taylor" vibes by switching from electronic music and hip-hop style to slower, dreamy lyrics and song. Not to mention, the music video was epic.
10. "King of My Heart"
This is a sweet song, likely written about Taylor's latest boy, Joe Alwyn. The lyrics are full of admiration and love for the muse of this song, and you can really get a sense of the feeling behind the lyrics. I do wish her voice hadn't been edited to feel robotic, though. I would love to hear an acoustic version of this one!
9. "Call It What You Want"
This is another song released as a single, and it was the song that gave me hope for the album! It's has some major "old-Taylor" lyrics combined with the "I don't care about you" attitude of "new-Taylor." It's a mellow, low-key song that really impressed me.
8. "Delicate"
This a really personal song and another mellow track. It chronicles Taylor's meeting of a new boy that she fancies, and how she realizes that this stage of relationship is so fragile and delicate. Lyrically, it is vulnerable and has a good format and structure.
7. "Getaway Car"
This is a track with a super cool vibe! It tells a story, which is something that I really admire in lyrics. It balances between chilled-out music and stuff that you can dance to, which is really fun. This song is likely about Taylor's ex-love Calvin Harris, and I would love to see a story-style music video soon.
6. "So It Goes..."
This song definitely makes you want to dance! "So It Goes..." is, musically, a wonderful track. It's very electronic-based and has a rebellious "I don't care" sort of vibe. The lyrics are cool and roll right off the tongue.
5. "This Is Why We Can't Have Nice Things"
What a fun song! If a song starts out with "woo-hoo!" you know it's gotta be a good one. This party song is a fun, lighthearted jab at Kanye West, who Taylor had a major falling out with. If you want to talk about a song to jam to, this is it. Taylor's laughter and comments in the bridge of this song are a cute addition to the track. (It also makes you remember every vendetta you've ever held against anyone, which may or may not be a good thing.)
4. "Don't Blame Me"
The chorus alone puts this song at number 4 on my list. It may be the best lyrics on the entire album, in my opinion. "Don't blame me/ your love made me crazy/ if it doesn't you ain't doing it right/ Lord, save me/ my drug is my baby/ I'll be usin' for the rest of my life." We also get to hear the singer's lower range, which is uncommon but wonderful, and we also get to hear some good riffing over the main track. You go, girl!
3. "End Game"
"End Game" features chart-toppers Future and Ed Sheeran, so you know it's a hit. This is the album's most hip-hop inspired song, and it presents itself well. Future and Ed Sheeran both have their own verses, which showcase each of their styles perfectly. Taylor's lyrics meet theirs flawlessly, and it's truly a great song.
2. "Dancing With Our Hands Tied"
Hands down, this is the best track, musically, on the album. The beat drop at the chorus is timed absolutely perfectly, and the music, overall, is perfect for a song that has "dancing" in the title. This song performs lyrically, as well, especially in the bridge. I love this track, and will always jam when it comes on.
1. "New Year's Day"
Behold the best track (in my opinion) on the album. Maybe I am a little biased, because this track is the most "old-Taylor" of them all. Solely performed with piano and voice, it's a slow, wonderful track with lyrics that will make you nostalgic for no good reason. The harmonies in this song are flawless, and the lyrics are honest and vulnerable. I hoped that Taylor would return to her roots sometime during reputation, and this song fulfilled all of my hopes and dreams. I could talk forever about this track, so I digress.
And there you have it, one fan's humble opinion and ranking of Taylor Swift's reputation. Take it as you will.
Reader insights
Good effort
You have potential. Keep practicing and don't give up!
Add your insights