A Brilliantly-Aged, Badly-Aged Little Nightmare: Revisiting Eminem's 'Relapse'
'Encore, I was on drugs; Relapse, I was flushin' 'em out'

via Reddit
So, Relapse happened about a decade ago. And I say "happened" because that honestly felt like the best way to sum up the general perception towards this album. A comeback EP from an artist whose list of people he had pissed off was only surpassed by the ones he had inspired, it was neither the return of the blonde haired controversy machine from the early '00s nor was it quite the emergence of a matured and more reflective version of him we got a year later. Instead, it was just...
Well, that's the thing with Relapse:it's kind of hard to summarize it. Em himself views it as a necessary step in his road to recovery (and also Recovery) but not an album he's particularly proud of. And yet, despite it being an opinion also shared by many fans, the album has created a bit of a cult following for itself over the years with seemingly more and more coming back to it.
So, to celebrate its decade-long existence in the shadows, I decided I'd explore a pointless yet utterly fascinating question: What is Relapse? Well, let's take a look at a few of it's different sides and see whether they—much like the album's cover art—form a clear face when putting them all together.
'Relapse' the Horror Show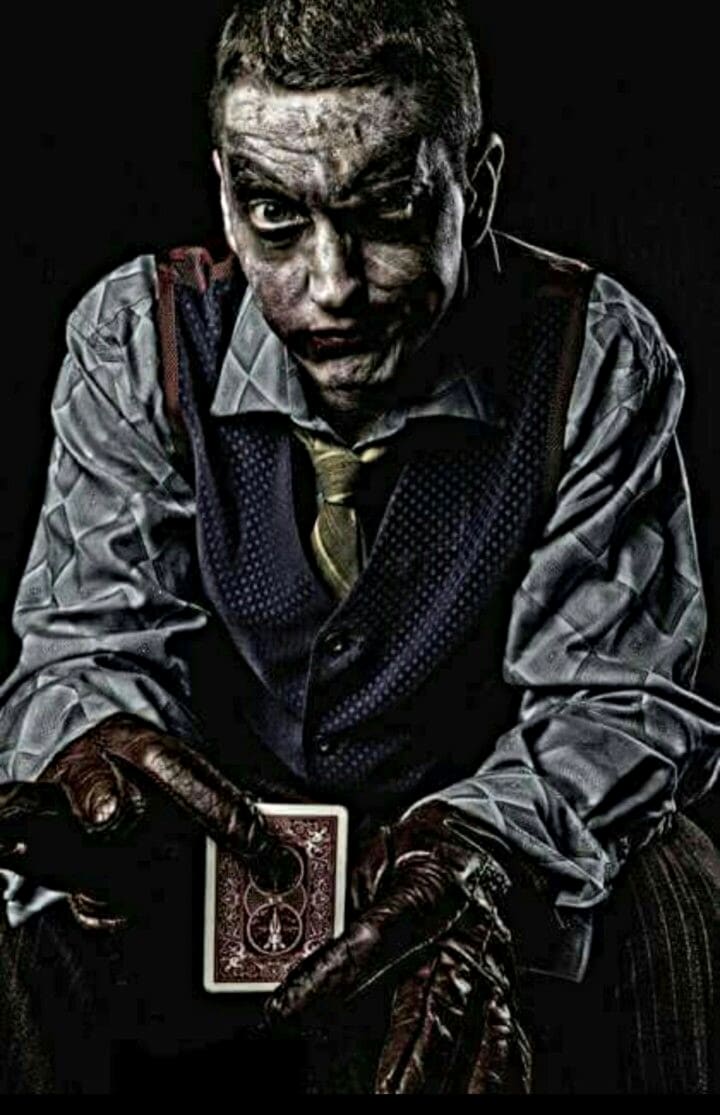 With it's status as a horror core album being arguably the most common perception of Relapse, the first thing to mention here is of course that it was never meant to be one. True that Em's accented serial killer persona is by far the most distinctive element on display here, but it's not like the guy woke up and decided to make this little odd to depravity.
Rather, it was most likely just his way of finding his feet again while stuck in this above mentioned limbo between not being this angry youngster anymore but also not quite ready to completely embrace his sobriety and maturity through his music yet. So, it makes sense that he needed a persona or a concept to pull his creativity behind. He just went about rediscovering that killer instinct in a more literal way than most probably would have. In fact, it's probably the same thing with the accents. They're there so he could loosen up and find his mojo as a performer who can bend any words to rhyme.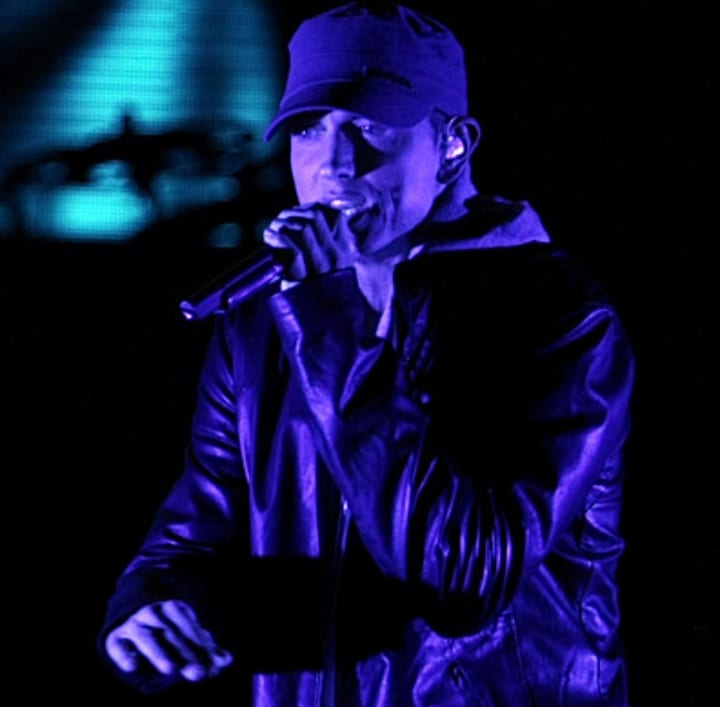 Yet, despite that unintentional nature (or perhaps because of it), it works kind of amazingly as a horror core album. "3 a.m." sets the tone nicely (and is incidentally one of the few songs from the album Em still plays on live gigs regularly), "Insane" then tops it in the depravity department, while "Stay Wide Awake" and "Same Song and Dance"just continue to compound Relapse's ability to have you nodding your head along to it while simultaneously thinking: "What the hell am I nodding my head to?" Basically, it's all a sick joke and, well, that's kind the highest complement a horror core album can receive in my book.
'Relapse' the Revisitation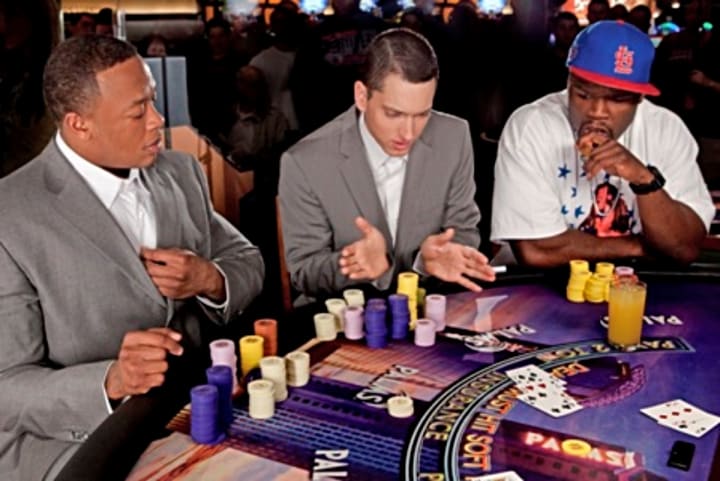 Of course, when needing to find one's footing again, it is also good to have at least some previously covered ground to stand on. Therefore, its no surprise that quite bit of Relapse's content is simply a case of Em opening the book of his old tricks and seeing which ones still work. And, well, in true Relapse fashion, the results are both wildly inconsistent while also undeniably entertaining.
Starting with his old partners in crime Dre and 50, while "Old Times Sake"and "Crack a Bottle"don't quite hold a candle to "Guilty Conscience" or "Patiently Waiting," they do have an easygoing charm to them, and it's clear that all the parties involved were having a good time. In fact, with Dre producing most of the album and adding his ever reliable beats, it actually creates a nice framework for the EP's spastic and slightly all over the place nature.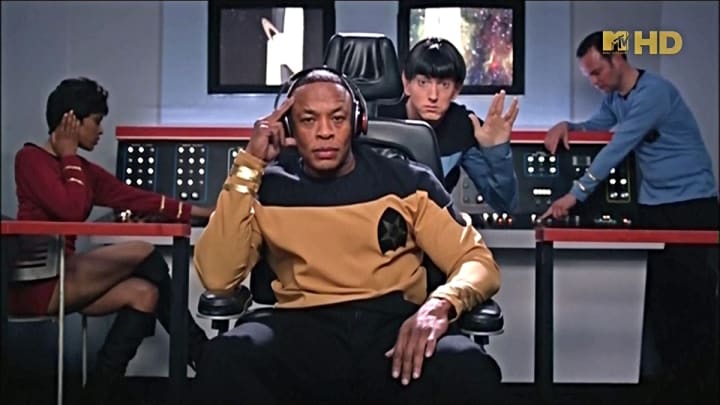 As for Em's habit of dissing pop stars, this is where we enter into slightly murkier waters. The whole Mariah Carey beef that Relapse started with the quite catchy "Bagpipes from Baghdad" right now just feels like one of those silly time capsules into '09 in the vein of "oh right, that was a thing."
Then there's also perhaps the most infamous part of the album in form of the inevitable opening parody single "We Made You." A song already dated when it came out, it's a far cry from the likes of "My Name Is" and "The Real Slim Shady," and it's not really a surprise that Em hasn't done a song in that vein ever since. Yet, as is the case with most of Relapse, it has aged quite well in it's own odd way. It's stupid, inane and random. But there is some kind of an oblivious commitment to it that makes it quite a bit of fun to listen to all these years later.
Oh yeah, there's also a song about his mom here ("My Mom"), which pretty much only works thanks to the self aware humor of him making another song about the subject matter. Speaking of self awareness, the skits are also back with Paul Rosenberg being the highlight or—when your sense of humor is not in too high brow—it's also good to stick around after the end of the excellent and underrated "Underground"for a certain gentleman form Connecticut.
'Relapse' the Recovery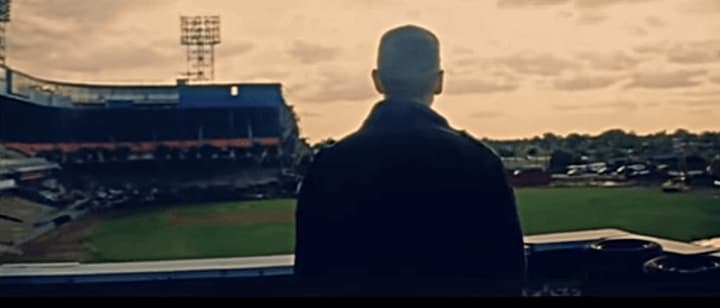 While this article was at least in part motivated by desire to explore Relapse as something more than just a step in Em's recovery process, there's no denying just what a huge part this album plays in it. While songs like "Déjà Vu" and "Beautiful" offer the type of emotionally mature and sobering reflections that would not feel out of place on 2010's Recovery, there's also a bit more interesting theme going on here in regards to him dealing with his past struggles: the album's often messed up sense of humor.
Simply put, often the best way to fight one's demons is to do it through humor. And on Relapse, Em seems to be doing exactly that. Yes it can get dark (a quality boosted further by Relapse's end of the year Refil), but one does get a sense that going about it like so must have carried quite a healing factor with it.
So, where exactly does it leave us with 'Relapse'?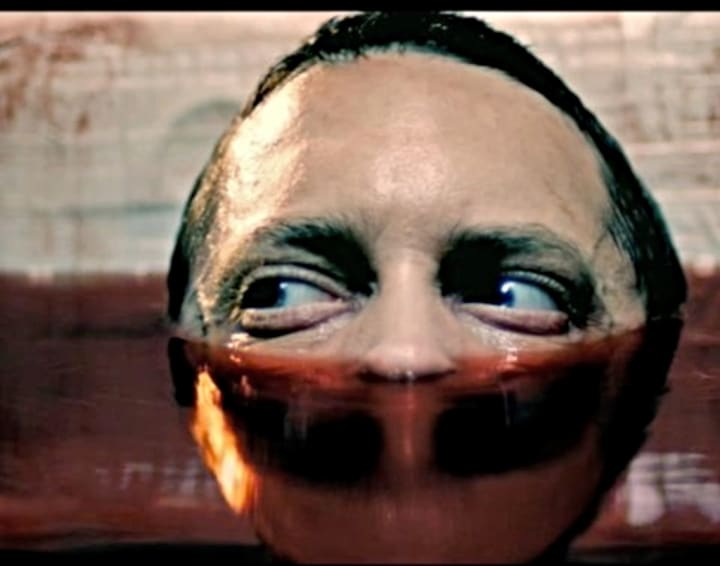 In short, it's an album that Em would have never made had he been at 100%. The guy's clearly too much of a perfectionist for that. It also goes without saying that a big chunk of both his pre and post Relapse work surpasses it in terms of technical brilliance and emotional depth.
However, this is kind of where it's appeal lays. It's a concept album without a clear concept and, therefore, some of the most loose and easygoing music Shady has ever delivered. Like watching an unfinished painting that obtains its own separate value in its imperfect state, Relapse truly has aged like a fine (red)wine. At least, I think it's wine.
album reviews
About the author
So, to put it simply (and slightly cheesily) I'm fascinated with life. And, well, writing about films, TV shows, video games, music, travelling, philosophy and Formula 1 among other is a fun way to explore it.
Reader insights
Be the first to share your insights about this piece.
Add your insights