A Brief History of "There's a Kind of Hush"
The New Vaudeville Band, Herman's Hermits, Carpenter, Karen Carpenter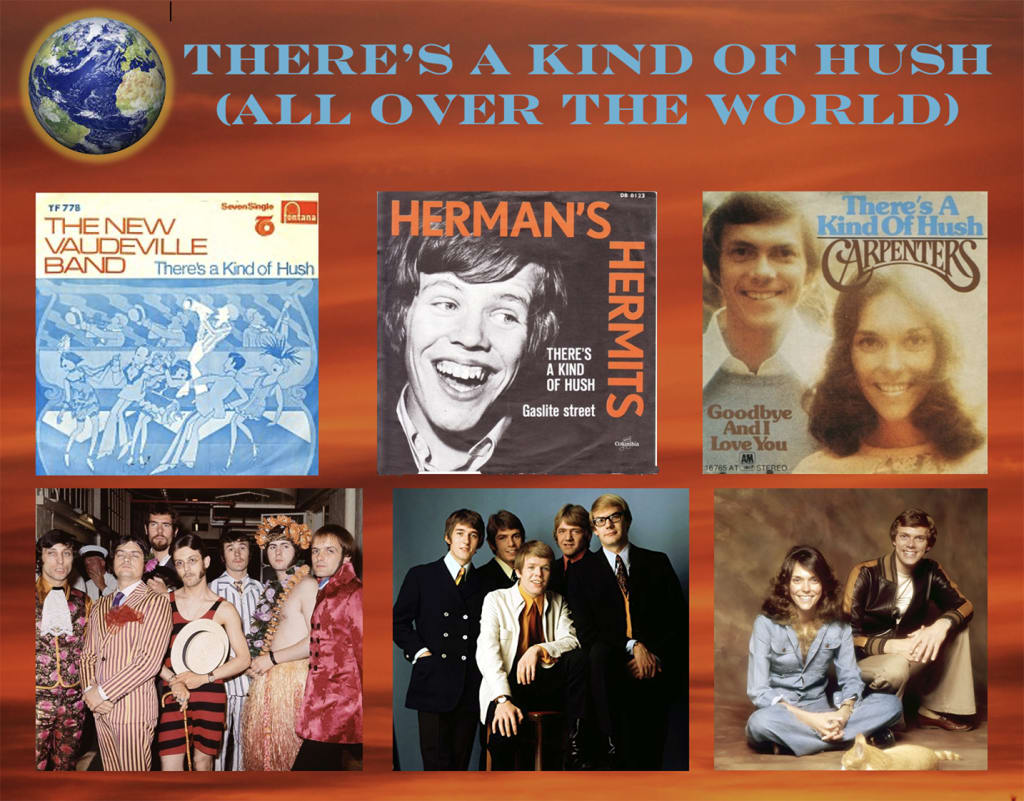 Orange background by Emerson Peters (Unsplash). Image design by Rick Henry
The New Vaudeville Band (1966)
The studio group, The New Vaudeville Band, which was assembled by Geoff Stephens, struck gold in the fall of 1966 with their mega-hit "Winchester Cathedral" which was #1 in Australia, Canada, Singapore, South Africa, Spain, and the US. It was also Top 3 in Brazil, Italy, Mexico, New Zealand, Rhodesia, and the UK. After such a huge hit the pressure was on for a follow-up. Songwriter producer and arranger Geoff Stephens was tasked with the daunting duty. He chose "There's A Kind of Hush" a neo–British Music Hall number with a peppy horn section and bouncy percussion. The expectation was that this polished metropolitan pop number would follow "Winchester Cathedral" into the Top 3. The song did just that when it made it to #2 in South Africa. The only problem is that that was it. The song was a hit in only one other country: Australia where it reached #12.
"There's A Kind of Hush" was co-written by Les Reed and Geoff Stephens. Les Reed co-wrote several songs. Among his most popular are "It's Not Unusual" and "Delilah" which were both hits for Tom Jones in the mid to late 1960s. Geoff Stephens co-wrote hits for The Hollies, Cliff Richard, and Tom Jones. He also co-wrote "Daddy Don't You Walk So Fast," a hit for Wayne Newton, Carol Douglas's 1974 disco hit "Doctor's Orders," Crystal Gayle's 1980 country-pop hit "It's Like We Never Said Goodbye," as well as many others.
Herman's Hermits (1967)
Though "There's a Kind of Hush" was only a hit in two countries for The New Vaudeville Band, Herman's Hermits took the song and turned it into a worldwide mega-hit. Producer Mickie Most (also produced Donovan, Lulu, Suzi Quarto, and others) heard the magic in "There's a Kind of Hush" and immediately got it out there as a single. Upon its release the song made it into the Top 10 in scores of countries around the world including Australia, Canada, Ireland, Malta, New Zealand, Singapore, South Africa, in the UK it made it to #7, and #4 in the US.
Herman's Hermits cover of the song remained popular on oldies radio stations throughout the 1970s and 1980s.
Carpenters (1976)
1976 rolls around and one of the most famous voices around the world is gracing the airwaves with "There's a Kind of Hush." Karen Carpenter, the lead vocalist of Carpenters, adds her irresistible silky-smooth lilt to the song backed by brother Richard Carpenter's sunny arrangement containing several electric instruments and synthesizers.
Carpenters also had a worldwide hit with the song although not as big as Herman's Hermits. Carpenters' chart positions are as follows: US #12, UK #22, New Zealand #5, Ireland #7, Canada #8, Japan #27, Australia #33, Belgium #49.
Royalties
The question begs to be asked: Who has generated the most royalties for the songwriters Les Reed and Geoff Stephens. While on face value one might say Herman's Hermits generated the most royalties because theirs was easily the bigger hit. But it is in the albums and streams that we see the continual generation of royalties. Herman's Hermits sold a fair number of singles but as far as albums go their sales overall were good to moderate. While Carpenters' ongoing album sales have been exceptionally solid. Herman's Hermits parent Album There's a Kind of Hush All Over the World charted only in the US and Canada and sold nearly 750,000 copies in total. While Carpenters' album A Kind of Hush charted in a dozen countries around the world and has sold about 2 million copies. Then there are the compilations. Herman's Hermits have sold about 20 million compilations worldwide which contain the song "There's A Kind of Hush" while Carpenters have sold more like 45 million compilations containing the song. While I cannot speak to the total number of streams of the songs, I do know that Carpenters have a much larger fan base so common math says they would have the larger number of streams. YouTube views of the three most viewed Carpenters videos of the song have a cumulative total of 12.5 million views. While Herman's Hermits have a total of 3.5 million. When you drill down into it initially Herman's Hermits generated the larger portion of royalties. But over the decades it is Carpenters that have overwhelmingly generated more royalties for Reed and Stephens.
You may want to check out some of these other reviews in my "Brief History" series:
About the Creator
Writing is a distraction for me. It takes me to places unknown that fulfill my need for intellectual stimulus, emotional release, and a soothing of the breaks and bruises of the day.
https://www.facebook.com/groups/vocalplusassist
Reader insights
Outstanding
Excellent work. Looking forward to reading more!
Top insight
Expert insights and opinions

Arguments were carefully researched and presented
Add your insights