A Brief History of "(I Can't Get No) Satisfaction"
The classic originally written and recorded by The Rolling Stones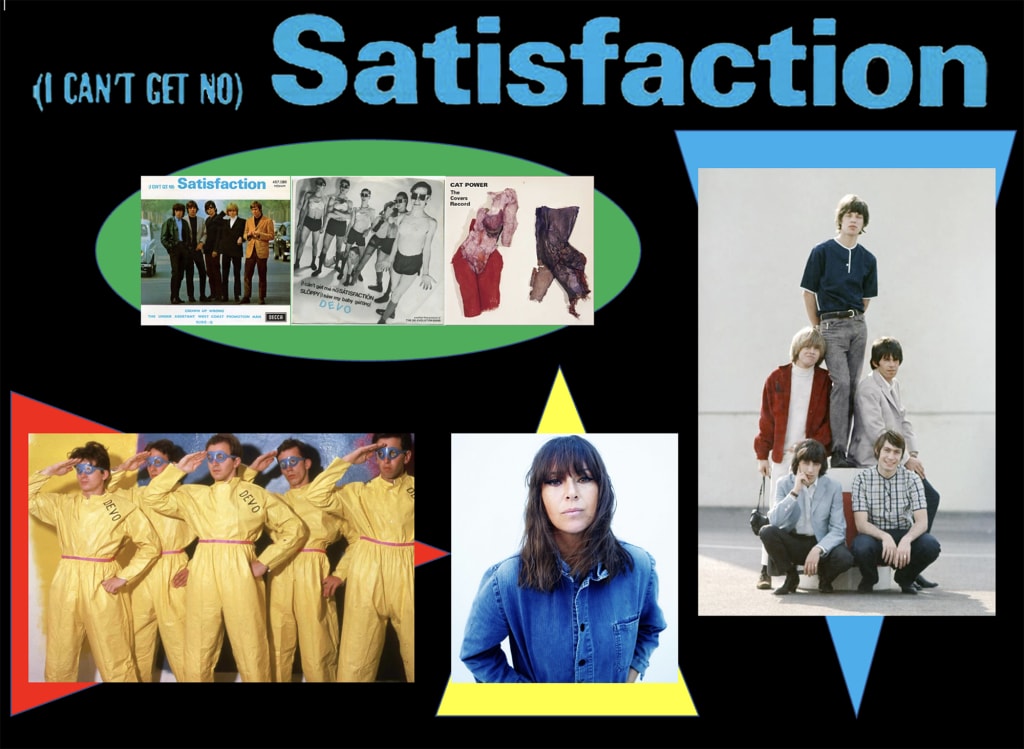 From let to right Devo, Cat Power, The Rolling Stones - Image designed by Rick Henry
The Rolling Stones (1965)
It was May 1965 and Rolling Stones guitarist Keith Richards, while still mostly asleep, grabbed his guitar and a portable tape recorder and recorded the opening guitar riff and lyric "can't get no satisfaction." After about two minutes of acoustic guitar you can hear him drop his pick and then 40 minutes of snoring. Two days later Mick Jagger wrote the lyrics and on May 12, 1965 the Stones went into RCA studios in Hollywood, CA and recorded the song that would become their first worldwide #1 hit. To be certain the stones did have other hits previous to "Satisfaction" such as "Not Fade Away," "It's All Over Now," "Time Is On My Side," and "Play With Fire." But none came close to the magnitude of popularity as was held by "Satisfaction."
The song lyrics refer to sexual frustration ("I can't get no girl reaction"*) and concern over crony commercialism ("A man comes on and tells me how white my shirts can be").
*Notation: in researching this article every legitimate lyrics site and the lyric sheet for an official CD release of Big Hits (High Tides and Green Grass) show the lyric as "girl reaction" but a Rolling Stones fan named Laura brought it to my attention that Mick Jagger is actually singing "girly action," which is the way I had always heard it. Therefore for the sake of authenticity to the songs lyric I included "girl reaction" in the previous paragraph but I am notating the difference in the written lyric versus the sung lyric. Thank you Laura for bringing this to my attention.
"(I Can't Get No) Satisfaction" was rock music's answer to Bob Dylan's "The Times They Are a-Changin'." Both songs are anthems of dissatisfaction and change.
The song reached #1 in the UK, US, Austria, Australia, Brazil, Canada, Finland, Germany, Ireland, Netherlands, Norway, South Africa, Sweden and made it into the Top 10 in several other countries worldwide.
Devo (1978)
Devo's cover of this classic tune is almost unrecognizable. Originally the accompanying music was recorded with the intention of singing the lyrics to "Paint it Black." But the lyrics did not fit the backtrack so they tried "(I Can't Get No) Satisfaction." The result is a quirky rendition in which the music is far removed from Keith Richards' original composition but features the lyrics with a few minor differences. Devo's rendition is an almost antithesis to The Rolling Stones classic where groove gives way to mechanical synthesizers. Rock and Roll stepped aside for quirky spastic New Wave.
Before releasing their cover Devo sought Mick Jagger's approval. The song charted at #41 in the UK and #98 in Australia. Though the song never charted in the US it is considered a Devo classic and has received radio airplay on many alternative rock stations across the United States.
It was their October 14th, 1978 appearance on Saturday Night Live that propelled Devo into The national spotlight. They performed their rendition of "(I Can't Get No) Satisfaction." Ironically just one week earlier the Rolling Stones appeared on Saturday Night Live live.
Cat Power (2000)
Like Devo's rendition, Cat Power's recording of this song is mostly unrecognizable. Though her recording is a stripped down recreation featuring Chan Marshall's dark and moody voice and her somber acoustic guitar. This works beautifully. The biggest aspect of the song that makes it unrecognizable is the fact that Chan (Cat Power) only sings the verses. She left out the catchy repetitive choruses. This approach turns The Rolling Stones' frolicking rocking anthem into a haunting introspective acknowledgement of an ever expanding commercialism which has all but taken over the psyche of all civilized human minds. Yet Chan does this with a mesmerizingly smooth delivery that almost makes the listener forget that the song is a protest anthem. The Rolling Stones pursued the protest while Cat Power is at the end of the pursuit and even giving up - realizing that the everyday person cannot escape the brainwashing grip of commercialism.
Cat Power never released the song as a single but fans and critics agree that it is a highlight from her 2000 album The Covers Record which was her first album to chart reaching #44 on Billboard's Heatseekers chart.
Please check out some of my other articles in my "A Brief History" series.
Thank you for visiting and reading... I appreciate your help and loyalty!!!
synth
song reviews
pop culture
feature
alternative
70s music
60s music
About the author
Writing is a distraction for me. It takes me to places unknown that fulfill my need for intellectual stimulus, emotional release, and a soothing of the breaks and bruises of the day.
https://www.facebook.com/groups/vocalplusassist
Reader insights
Outstanding
Excellent work. Looking forward to reading more!
Top insights
Easy to read and follow

Well-structured & engaging content

Expert insights and opinions

Arguments were carefully researched and presented

On-point and relevant

Writing reflected the title & theme
Add your insights