A.Boogie - 'The Bigger Artist'
Album Review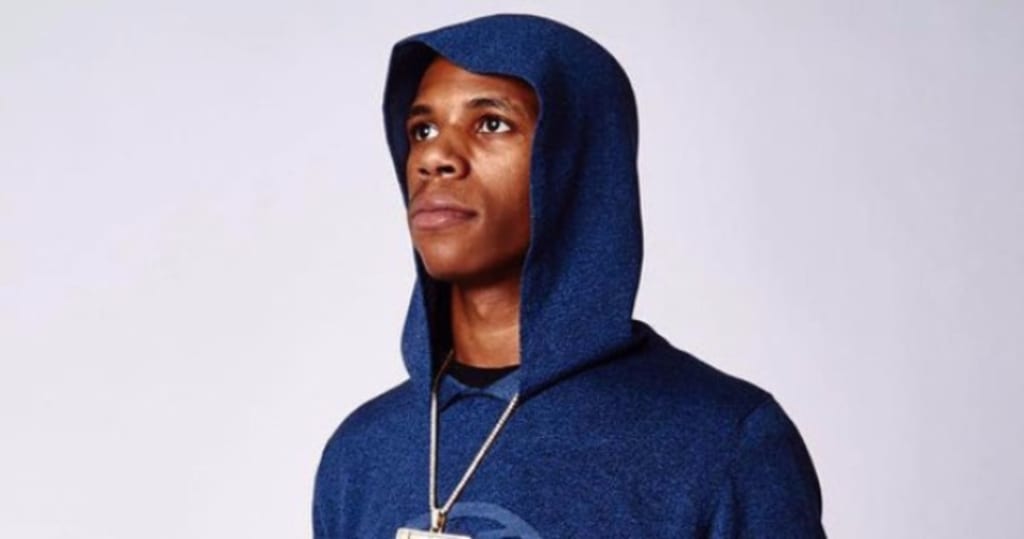 His talent speaks for itself.
Strengths/Weaknesses
It seems like every other day there's a new artist going viral or dominating Soundcloud with their music. Music has never been so easily accessible, and listeners are consuming music much faster than at any other point in history. There are so many trends and fads that it's easy to get dizzy trying to keep up with all of them. With so many artists to choose from and numerous channels to discover them, many artists will be here today and gone tomorrow.
And sadly, sometimes the dialogue in the Hip-Hop community revolves around artists that may not last. There are just so many artists occupying the same space, and delivering music similar to their contemporaries.
But make no mistake: New York rapper A. Boogie Wit Da Hoodie will enjoy longevity. He'll continue to be a breath of fresh air during this period in rap; and that's not because he's doing anything earth-shattering. He's not the first artist to rap and sing; but amongst these newcomers, his hybrid style of rapping and singing is effectively distinguishing him from the rest of the crowd.
After dropping two projects in 2016 and a handful of solo cuts, A. Boogie sounds poised for greatness on The Bigger Artist. The debut album finds Boogie wrestling with his past, celebrating the galore of being a budding rap star, addressing former flings, and renegading his haters.
His ear for interpolating melody into his raps makes this album incredibly catchy. Such as on the Dj Mustard produced, "Somebody." This song has huge potential to be his next hit. Not to mention "Say A" and "Drowning" ft. Kodack Black are already streaming well on Spotify.
Elsewhere on songs like "If I Gotta Go," his sing-rap delivery is aggressive. His vocals crescendo when he reflects on how women didn't want him when he was "dead broke," and when he was "posted right there on the block just like a scarecrow." He's absolutely cut-throat on "Undefeated" ft. 21 Savage as he exclaims, "If he tell that's a man down, leave that man dead." What a menace to society right?
Wrong. Although Boogie wants to make it known that "he's with the shits," he also has the slow jams for the ladies. "Fucking and Kissing" ft. Chris Brown is a smooth duet, and "Bad Girl" ft. Trey Songz & Robin Thicke is an ear worm.
This album has something for everyone. There's tons of replay value, and A. Boogie demonstrates that he can keep listeners engaged. Not every song is spectacular, but the album doesn't have any stretches where consecutive songs are skippable. This should satisfy his core following until his next project.
And you don't have to go looking very hard to find the chemistry between Boogie and his collaborators either. All three artists on "Beast Mode" really go into beast mode. This is especially true of him and his right hand man Don Q. While I must admit that these two have had better collaborations in the past like "Floyd Mayweather," "Protect Ya Patek," and "I Told You," these newer ones are solid. They would've been even better if these two had traded verses back and forth like in the past.
Essential Tracks
"Undefeated" ft. 21 Savage
"Beast Mode" ft. PnB Rock & Youngboy Never Broke Again
"No Promises"
"No Comparison"
"Money Sprung" ft. Don Q
"Somebody" ft. Don Q
"Drowning" ft. Kodak Black
"Say A"
"Bad Girl" ft. Trey Songz & Robin Thicke
The Verdict
Boogie will continue to rise even if there's not enough coverage directed towards him. Even if he isn't on Instagram Live twenty-four seven ranting. His talent speaks for itself. He has crafted an impressive, cohesive debut album. The Bigger Artist is an A-.
Reader insights
Be the first to share your insights about this piece.
Add your insights