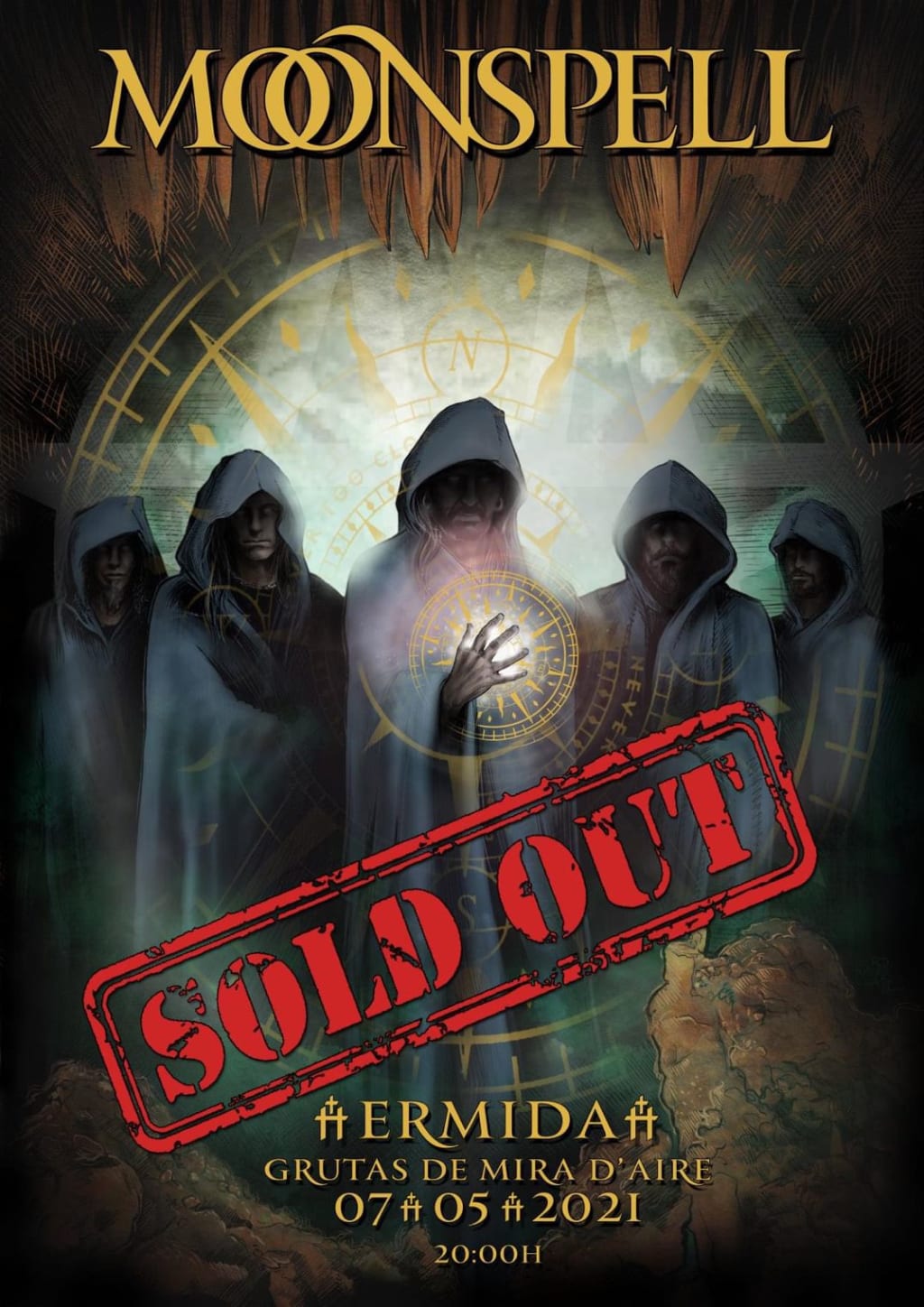 Source: Moonspell | Facebook
Portugal's Metal pathfinders Moonspell have always been a "creative and live force that refused to die or to compromise to the grinding of time."
Moonspell released their thirteenth studio album on February 26. Hermitage topped the Portuguese music charts for three consecutive weeks. Hence, showing how the Metal scene is striving on the western shores of Europe. Hermitage also made it to the Tops in countries like Finland, Poland, Germany, Switzerland, Austria, United States, and Canada.
Fernando Ribeiro and the wolves took the pack down below to the inner circuit of the Portuguese Caves of Mira d'Aire for an immersive and unique live show. We recall how Moonspell explored the caves while filming the music video for "Common Prayers," the second single from Hermitage.
Directed by Guilherme Henriques and featuring actress, singer, and performer Aurora Pinho, they shot the music video 80 meters below the surface at the breathtaking cave system known as Grutas de Mira d'Aire, one of Portugal's seven natural wonders.
The Secret Show
In April, Fernando Ribeiro announced on LinkedIn a secret show on May 7, at the site where the band filmed "Common Prayers."
"I have always refused to be stuck in this doldrums, and I hope that the pandemic will at least have the power to change something in this musty process. That is what we are working for: this time with a unique, immersive, and exclusive event, played live at 80 meters depth. (…) After all, there really is a taste for everything ;)." Fernando wrote.
The band promised to release audio and video from the event and has published photos on social media:
Formed back in 1992, Moonspell is still one of the more iconoclast bands on the Metal playing field. With already 13 albums under their belt, one of the pioneers of Gothic and Folk Metal keep on breaking barriers, and they celebrated the end of the Portuguese lockdown by going deeper into Mother Earth's womb.
You can have a look at the live event site at Grutas de Mira d'Aire in their music video hereunder:
Moonspell will also join Paradise Lost for the 'Obsidian Moon' tour in 2022
Moonspell are returning to the Portuguese stages with a concert on May 21 at Cine-Teatro Avenida in Castelo Branco, integrated within the cycle "Montepio às Vezes o Amor." Afterward, they will be present at the Festival O Sol da Caparica, Costa da Caparica, on August 12, 2021, for the North Music Festival at Alfândega do Porto, with a new date on September 30, 2021.
New Tour announced
In 2022, the year Moonspell celebrates 30 years of their career, the band will join Paradise Lost as special guests for the Obsidian Moon Tour. They announced it on social media:
"We are thrilled to finally have some positive news regarding our live activity and in particular our XXX years/The Hermitage tour. We will be joining forces with Paradise Lost as their special guest for selected UK dates."

"To illustrate these amazing news and with the promise of more dates to come outside the UK and who knows still in 2021, we are happy to share The Greater Good played LIVE in front of a crowd last year (2020) December the 17 at the amazing city of Porto, Portugal. Directed by Guilherme Henriques.

We want very much to show you that the power of our live music has not gone away and to shorten the distance until we meet again.

Be safe, under the spell!"
Moonspell's frontman was thrilled and emphasized: "A small step for Music, a big step for Moonspell. Without denying the difficulties facing all the (sometimes incomprehensible) obstacles put in the way of bands by the Authorities, we are, however, overjoyed by our return to the national stages and to accompany Paradise Lost on their UK tour, and thus have the opportunity to celebrate with the fans and play live, finally, some of the themes of our new album Hermitage."
Paradise Lost frontman, Nick Holmes, shared on social media:
"We're looking forward to doing a full UK tour again and playing some long-awaited shows in support of 'Obsidian', and who better to bring along for some of the ride than our old friends from Portugal, Moonspell?

Thanks to you all for your continued support, and we hope to see you there. Until then, stay safe and stay well. Cheers, x"
Tour Dates
Feb 11th - Glasgow - The Garage
Feb 12th - Newcastle - Riverside
Feb 13th - Wolverhampton - KK's Steel Mill
Feb 14th - Nottingham - Rescue Rooms
Feb 16th - Manchester - Club Academy
Feb 17th - Bristol - SWX
Feb 18th - London - Electric Ballroom
___________________
Thanks for reading this article. Feel free to come back at any time and pick up another thread from my Vocal book of content by clicking here. Small tips and big hearts are highly appreciated. Till next time, cheers. - Rui
About the Creator
I write to find the surrogate writer in me.
Rui is a graduate of the University of Porto, teacher, and life-coach.
He is also a partner of Rock n'Heavy and the founder of ZENite.
Reader insights
Be the first to share your insights about this piece.
Add your insights