7 Worst Albums of 2017
Because not everyone can be as good as Lil Pump.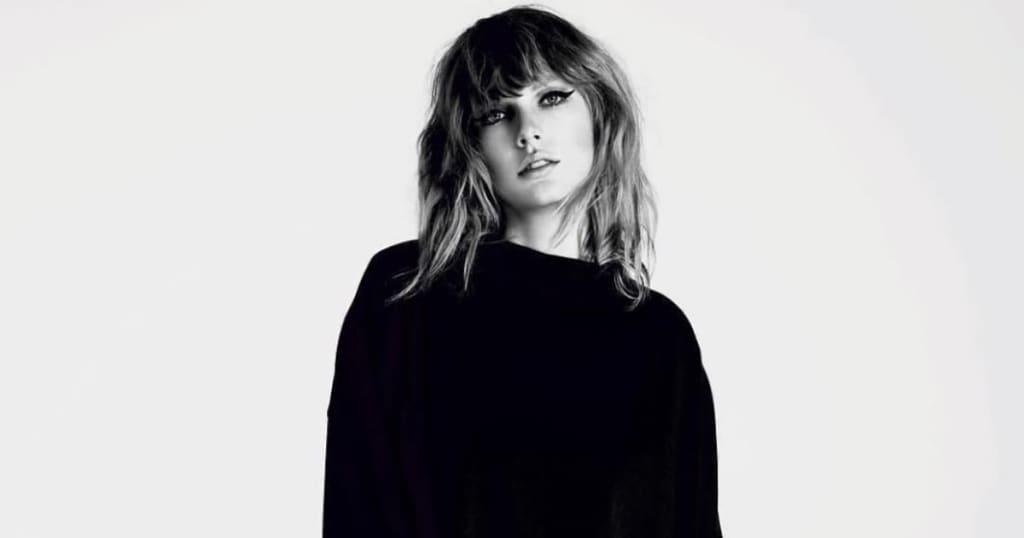 There's no better time to reflect upon the worst music that 2017 had to offer than late into January, right? Right?
Alright, I know I'm a little late to the party, but this is only because it took a little longer than usual to compile the ultimate list of worsts this time around. 2017 undoubtedly produced a lot of quality music, from Father John Misty's riveting masterpiece Pure Comedy, to Alvvays's glistening Antisocialites, to Paramore's refreshingly sharp After Laughter, it was a fantastic year for music.
However, it seemed that when releases weren't wowing listeners with quality songwriting, fresh instrumentation and sharp, memorable lyrics and hooks, they were completing dropping the ball.
Whether it be Ed Sheeran, The Chainsmokers or even Linkin Park, many artists seemed complacent with dropping bland and forgettable music that left listeners scrabbling away from the mainstream and towards the indie-sphere.
While some pop artists like Kesha or Lady Gaga decided to take risks and explore their sounds, many mainstream artists simply didn't give enough of a damn, thus dropping duds that left even the most casual of listeners scratching their heads.
Unfortunately, this list isn't just made up of mainstream acts with zero ideas, however, as some established rock, indie and even hip hop acts decided to take their sounds in directions that maybe should have stayed on the cutting room floor.
With that in mind let's kick off this worst albums of 2017 list with an inclusion that honestly breaks my heart:
If you've read anything I've written for this site up to this point, you already know of my strong distaste for this album. It is, for this reason, I'll keep it short and link to an article I already did on the subject.
After making a triumphant return to music with "Everything Will Be Alright in the End" and the self-titled "White Album," it seemed Weezer had finally abandoned the old trends that made so much of their 2000's material bland and sometimes unlistenable.
However with "Pacific Daydream," the band took the Beach Boys influences that inspired the "White Album," stripped out the best parts of the band's sound, and gave Rivers' quirky and nerdy lyric writing a Red Bull. Well not the worst thing to come out this year, this album unfortunately serves as yet another departure from the sound that made Weezer legends in the alternative rock scene.
Link to previous Weezer review: https://beat.media/weezer-worst-to-best?_ga=2.82183893.2122962865.1516509164-1007433433.1511556516
Rating: 4/10
(I link this video above because no one has better covered Kendrick Lamar's DAMN. this year more than Anthony Fantano, so if you really are curious you can check out this video as well as more by him on the topic.)
However to summarize, DAMN. was NOT intended to be played backward. I just wasn't. Now if you're one of the people who has been pushing this meme since the album came out in April, you're probably shaking in your chair exclaiming "BUT AKSHULLY KENDRICK SAID SO SO UR WRONG."
**Actually,** you're wrong. He didn't say that. When asked about the fan theory that the album was meant to be played backward, Lamar responded:
"I think like a week after the album came out, [fans] realized you can play the album backwards, it plays as a full story and even a better rhythm. It's one of my favorite rhythms and tempos within the album. It's something that we definitely premeditate while we're in the studio."
Was it supposed to be played backwards? No. Can it? I mean, sure, if you want to. Lamar then added:
"I don't think the story necessarily changes, I think the feel changes. The initial vibe listening from the top all the way to the bottom is ... this aggression and this attitude. You know, 'DNA,' and exposing who I really am. You listen from the back end, and it's almost the duality and the contrast of the intricate Kendrick Lamar. Both of these pieces are who I am."
WOW, MY GOD, DID YOU HEAR THAT?! An album that, if you play it backward, wait wait... HAS A DIFFERENT FEEL!?!? My God. Although you know what else changes feel when played backward? ALMOST EVERY ALBUM THAT HAS EVER BEEN MADE!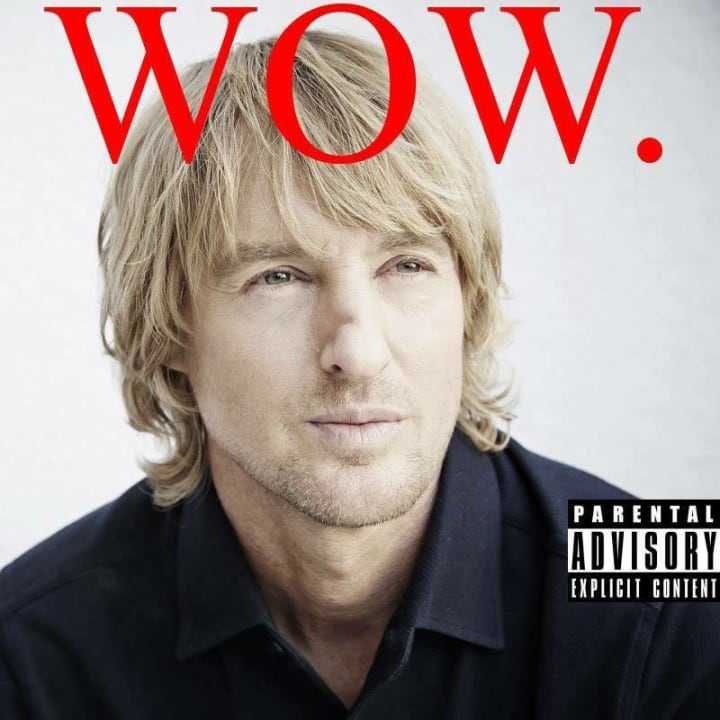 Now believe me, I love DAMN. almost as much as everyone else did this year, but this meme of the album being played backwards is nothing more than that: a meme, and while I think the fact that Kendrick's team decided to capitalize on the misguided obsession of his fan base is rather hilarious,
I can't deny how incredibly moronic this release is. While DAMN. in its regular format would most likely make my best of the year list, this insulting cash grab nabs a spot on the worst.
Rating: Idk if DAMN. is a 7, then this thing is like the backward version of that... So L/10?
When it was first announced that Taylor Swift would be releasing a new album in 2017, I was certainly curious and overall excited to see where Swift would take her sound after the gargantuan success of 1989.
However, while I was looking forward to seeing the musical and lyrical maturation that had occurred over the 3 years since her previous release, a great deal of this hope was immediately barreled over when she released one of the worst songs of 2017 in "Look What You Made Me Do."
This song demonstrated that not only had Taylor failed to mature since her last album, but she had seemingly regressed. Unfortunately, when the rest of the album dropped, this was proven to be true. Reputation delivered nothing but tired and recycled lyrical themes, garishly overproduced instrumental pop clichés and an overarching sense of self-importance and complexity that came across as so disingenuous and immature that it's easy to understand how so many non-Swifties were turned off by Swift's antics this time around.
Rating: 4/10
4. Maroon 5 - Red Pill Blues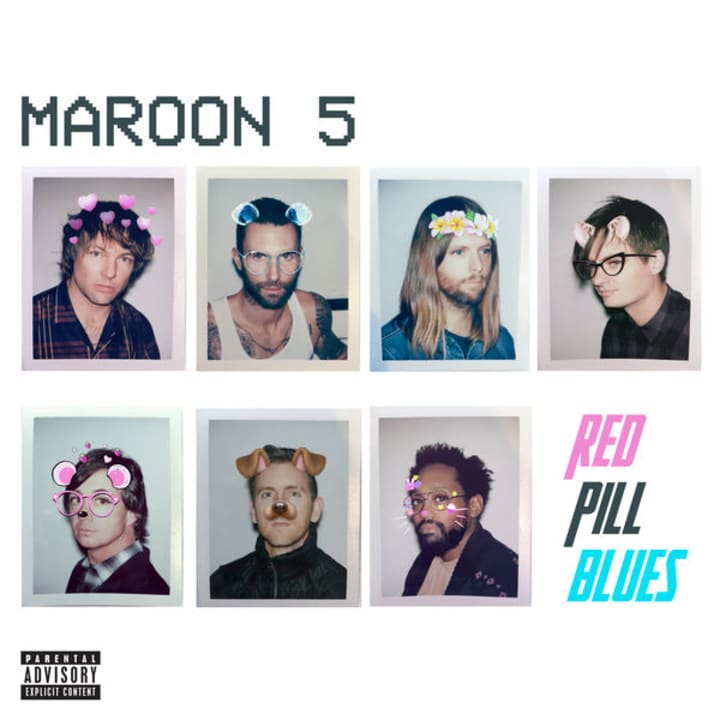 So in most of my top 7 lists, I usually like to interject and replace one of my usual paragraphs with a meme of some sort, you know, to help mix up the flow of things. We have fun here.
Unfortunately, Maroon 5 have become sort of irrelevant in the last few years, so the meme well has kind of run dry. So this time I figured I'd just leave the album cover that the band thought would best represent their art in place of any sort of review. Cool? Cool.
Rating: 2/10
At this point in their career, Imagine Dragons have practically mastered the writing formula necessary to guarantee them a spot on every NFL stadium playlist. However, while their previous works have been just generic enough to ignore whilst being played at low volumes inside Food Lions across America, this album (when not being immensely bland and forgettable) is downright annoying.
"Believer" hits you across the forehead with a hook so jagged and garish that it mimics the likes of Meghan Trainor, while "Thunder" contains a chorus that was most likely thought of and recorded on the spot. Outside of this and Maroon 5's Sexist Connotation Blues its hard to find a more uninteresting pop rock album this year.
Rating: 2/10
Think of some things that don't go together well...
Vinegar and baking soda
Toothpaste and orange juice
Taylor Swift and relationships
Good. Now picture this:
Sounds dreadful right? Well no longer do you need to imagine such a pairing, as Suicide Silence dropped an album in 2017 that blends the grungiest aspects of Nu Metal with the aggressive Deathcore sound that they have come to master. The results? One of the worst written, performed, and mixed albums to grace the 2017 musical landscape.
When Suicide Silence isn't recording songs that sounds as if Chelsea Grin were performing parodies of Korn's greatest hits, they're including outtakes in their final product that calls into question the integrity of the project itself. Pretty much the only positive takeaway from this release is that it at least appears that the band had fun making it, but God only knows how little enjoyment we all got from listening to it.
Rating: 2/10
Was there ever any doubt? I mean honestly, in the seven months since this collection of board room conceived smut hit the shelves I have yet to find all but the slightest trace of human life that enjoys even a single track from this album. Then again anyone that does has undoubtedly spent the past seven months being homeschooled and watching daily Logan Paul vlogs like it's his/her god damn job.
Never before have I come across an album that sounds as though it was meticulously crafted inside a conference room, with every song idea originating from an episode of Bizaardvark or Austin & Ally. There's plenty of bad music out there, sure, however, it's rare to find an album that so harshly insults the listener in the way that The Click does, and somehow does so without even the smallest modicum of self-awareness, charm or originality.
At its best, it comes across so disingenuous that it resembles a comedic parody of the indie-pop genre it inhabits. At its worst, its bland, lifeless overproduction melds with its privileged, uninformed lyrics about as well as bleach and vinegar, ultimately causing similar effects to the listener if consumed in large doses. Your worst album of 2017 and maybe the decade: AJR's The Click. Congrats buds.
Rating: 0/10
Honorable mentions: Foo Fighters - "Concrete and Gold," Theory of a Deadman - "Wake Up Call," Falling In Reverse - "Coming Home," Lil Yachty - "Teenage Emotions," Eminem - "Revival," Nickelback - "Feed the Machine," Linkin Park - "One More Light," The Chainsmokers - "Memories... Do Not Open," Ed Sheeran - "Divide"
Reader insights
Be the first to share your insights about this piece.
Add your insights