7 Best Rock Bands of the 2000s
7 of the Best Rock Bands the 2000s Had to Offer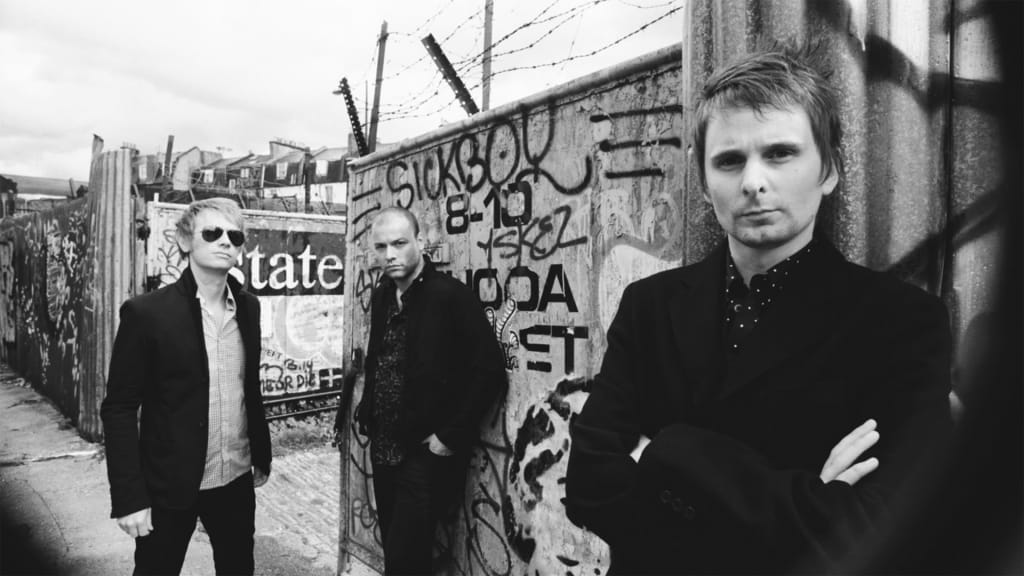 As of July 2017, it was revealed that rock is no longer the most popular musical genre in the United States. While many different factors played into rock's seemingly sudden fall from grace, one particular catalyst can be identified as the deluge of bland and uninspiring rock music that came out of the 2000s. From the formulaic post-grunge stylings of Puddle of Mudd, Nickelback, and Creed that dominated rock radio in the late 90s to mid 2000s to the offensively brain-dead dribble that nu metal bands like Limp Bizkit and Papa Roach, and pop punk bands such as Simple Plan and Good Charlotte, pumped out, the public was being pushed into listening to the worst that the rock scene had to offer. While the 2000s bred about as many awful musical acts as any other decade, the 2000s were an interesting time period in which it seemed that the most mediocre and drab talents were planted upon the pedestal of the mainstream, leaving some of the truly great bands to gain audiences within the underground. In this list we will be taking a look at some of the best bands to produce rock music during the 2000s, as opposed to that... well, other list I made about 2000s rock bands (will be linked below). Like in previous decade-centered lists, not all of these bands made music only throughout the given decade. Each of these bands not only produced amazing work during the 2000s, but were also major players in the rock scene by innovating and influencing other bands and subgenres. Let us kick things off with:
God, going from writing about bands like Hinder and Simple Plan to Muse? HUGE breath of fresh air. Formed in 1994 in Teignmouth, England, this alternative/prog rock trio broke out onto the rock scene with their 3rd studio album Absolution in 2003. Their intriguing blend of alternative rock with symphonic rock and electronica stood out from the rest of the boring guitar-drum based rock music that dominated rock radio during the 2000s. The vocal stylings of Matt Bellemy brilliantly utilizes vibrato and falsetto in a way that makes him instantly recognizable upon first listen. His voice can hit you with thunder-like urgency, while seemingly having the ability to switch to a beautiful and soft flow in an instant. Chris Wolstenholme's bass work drives much of Muse's music with its thick, distorted tone, while Dominic Howard's drumming, while not always complex, keeps the songs interesting enough while perfectly accentuating the attitude and aesthetic of each song. While many popular 2000s rock outfits seemed to release the same album over and over again, Muse was, and continues to be, a band that constantly strives to push the boundaries of what their sound can be, upping the ante with every release.
Hey, remember all those things I said in my "7 Worst Rock Bands of the 2000s" list about nu metal? Well, here ya go, proof that not EVERY nu metal band is awful. In fact, in System of a Down's case, some of them are pretty fantastic. However, while SOAD certainly possesses the qualities of a nu metal act, it would be much more accurate to simply stick with the "alternative metal" description. Labels aside, System of a Down is a band that stood out like a beautifully wicked sore thumb in the 2000s with their chaotic yet at times gorgeously intimate blend of styles ranging from progressive and art metal to Greek and Middle Eastern music. With the release of their album Toxicity in 2001, SOAD quickly established themselves as one of the most fascinating and explosive groups in rock. Headlined by songs like "Chop Suey," "Toxicity," and "Aerials," Toxicity masterfully tackles political topics and themes with a baffling demeanor that could be silly at times, but then immediately hit the listener across the head with a soul crushing lyric from Serj Tankian, soaked in dark (and sometimes gruesome) imagery. Even in 2017, no band has come even close to matching the sound that SOAD conceived, and maybe no band ever will.
It seems that over the years, opinions on Linkin Park have become entirely two-sided. Either they are the "worst band to ever be a suck," or they are the "ultimate God-Kings of modern music." However, like with most situations in which two extremes exist, the right answer is most likely somewhere in the middle. Like System of a Down, Linkin Park is a group that many attach the nu metal label to. While their debut LP Hybrid Theory certainly was a standout amongst other nu metal works conceived around the same time period, Linkin Park was a group that evolved over time, becoming much more than the edgy red-headed rap-rockers that they appeared to be on the back cover of their debut. Incorporating elements of electronica and industrial rock over time, Linkin Park always adapted to the changing tide of mainstream music around them, continuing to successfully remain one of the premier rock acts of the 2000s. Chester Bennington's dark and sometimes hopeless lyrics connected with so many over time; however, his words never came across as whiny and immature like some suggest. As dismal and defeated as some of Chester's lyrics could be, what kept listeners connected to him over time was how genuine Chester came across in his words, and how they always carried an underlying uplifting tone, even in their darkest moments. During a decade in which so many pandered to reach an audience of distraught teenagers and young adults searching for meaning (Good-cough-Charlotte-cough-cough), Linkin Park always delivered music that connected not because it sounded like it came from someone who understood them, but because it did.
Alright, maybe I'm cheating here a little bit, but there is reason behind it. When At the Drive-In released their third studio album Relationship of Command in 2000, they seemed primed to lead rock music into the new millennium. Their agro yet melodic blend of post-hardcore, alternative rock, and progressive rock cemented their place in rock history with an album that many consider to be one of the best of its time. The problem? Immediately after the release of this album Relationship of Command, the band split up. However, out of the ashes of ATDI, vocalist Cedric Bixler-Zavala and guitarist Omar Rodríguez-López formed The Mars Volta in 2001. With albums such as De-Loused in the Comatorium in 2003 and Frances the Mute in 2005, The Mars Volta continued where ATDI left off in terms of experimentation and innovation; however, they were never able to match the energy and intensity that made ATDI one of the most exciting and unique rock bands of the decade. However the invigorating vocals stylings of Cedric, and the jangly, chaotic, and dynamically diverse guitar stylings of Omar still played a major role in shaping rock and post-hardcore music throughout the 2000s, regardless of what group they were a part of.
Now would be a good time to reiterate my earlier statement in regards to the fact that not all of the bands listed here are purely 2000s bands. The Foo Fighters (as well as another band coming up pretty soon) are a band that found tremendous success during the 90s, as the grunge scene came to an abrupt end following Kurt Cobain's suicide in 1994. Once the drummer of Nirvana, Dave Grohl formed the Foo Fighters in 1994 alongside touring Nirvana guitarist Pat Smear, bassist Nate Mendel, and drummer William Goldsmith of the recently disbanded Sunny Day Real Estate (one of the best bands of the 90s, ironically enough). While the Foo Fighters churned out hit after hit during the late 90s such as "Learn To Fly," "Monkey Wrench," and the decade defining "Everlong," the real legacy of the Foo Fighters lies within their presence in the rock scene during the 2000s. As trends came and went, the Foo Fighters stayed consistent, putting out the same stellar alternative rock music fans had come to expect. Tracks like "The Pretender," "Best of You," and "Times Like These" are passionate, fervid rock anthems that stood out amongst a bevy of repetitive material that dominated rock radio. Are they innovative? Not really. Are they the most experimental band out there? Certainly not (again, we'll get there soon). However, in a decade saturated with generic and bland mainstream rock music, the Foo Fighters remained a shining light.
Between my worst and best rock bands of the 2000s lists up to this point, one would think we've covered just about every subgenre that this decade had to offer. However, there is one gargantuan movement that has yet to be mentioned, and that is the "post-punk revival" period. Also referred to as the "garage-rock revival," a massive wave of bands emerged in the late 90s to early 2000s that strove to emulate the sounds of 60s garage rock and 80s post-punk and new wave groups. Bands such as the Strokes, the Hives and the Yeah Yeah Yeahs especially capitalized on this movement, emphasizing the tried-and-true guitar, bass, drums, and keyboard formula in the most raw, stripped-down way possible. However, possibly the biggest and most influential group of this period was none other than the (once-married) Detroit duo The White Stripes. Consisting of guitarist/vocalist Jack White and drummer Meg White, The White Stripes spearheaded a scene characterized by its lo-fi aesthetic, and overall distorted and unrefined sound. Between 1999 and 2007, the duo released six studio albums, containing huge genre-defining songs such as "Icky Thump," "Fell in Love With a Girl," and... (gulp) "Seven Nation Army"... a song which can be found on another list of mine that will be linked below. While I personally might not be a particular fan of this scene, I can certainly recognize which bands did it well, and which ones (ThE bLaCk KeYs) did not...
Damn, I've spent so much time thus far discussing the worst that rock has to offer, and to this point haven't even had a chance to mention one of the GREATEST BANDS OF ALL FREAKING TIME!$%#$#$(%)%
*adjusts tie* Sorry, fanboy likes to fanboy, what can I say. However, placing personal bias and musical taste aside (if such a thing is even possible), it cannot be denied that Radiohead has been one of the most influential bands not only in rock music, but in music in general. Love 'em or hate 'em. Now I'm sure a lot of you out there are probably thinking, "Ah, yes, a band that released one of the most influential albums in rock history... in 1997... on a 2000s list... this dude definitely knows what he's talking about... also, THE BLACK KEYS RULE—" however, let me explain. Following the release of their magnum opus OK Computer in 1997, Radiohead found themselves in an interesting position. Unnerved by the band's sudden thrust into the spotlight, as well as by issues Thom Yorke identified within the music industry, Radiohead made the conscious decision to stray as far away from OK Computer's melodic sound and instrumentation as possible. When the band released their fourth studio album Kid A in 2000, most people were shocked and confused by its astoundingly experimental and electronic demeanor. However, like with OK Computer, no one really could have known that the electronic experimentation of OK and Kid A would serve as a blueprint for the electronic influences that would weave their way into rock music down the road. Whether it be the hauntingly robotic aesthetic of Kid A, the politically-charged yet subtle Hail to the Thief, or the lusciously explosive In Rainbows, Radiohead cemented their place in rock history with albums that consistently attempted to explore the band's sonic potential throughout the 2000s. The reason Radiohead deserves to be on this list (as opposed to a 90s list) is that 2000s rock music is Radiohead's legacy. Bands like Muse and Linkin Park on this very list most likely would not have existed without Radiohead's influence, as well as countless other modern acts from Coldplay to Alt-J to even the National.
Honorable mentions: Brand New, Queens of the Stone Age, The Strokes, The National, Arcade Fire, Wilco, My Chemical Romance
Well, that was way more fun than listening to me rant about awful 2000s butt-rock bands, wasn't it? If you care to explore the articles I referenced above, the links are here below.
"7 Terrible Songs by Great Bands"
Reader insights
Be the first to share your insights about this piece.
Add your insights