6 Nigerian Songs With Hidden Meanings.
Listen a little closer.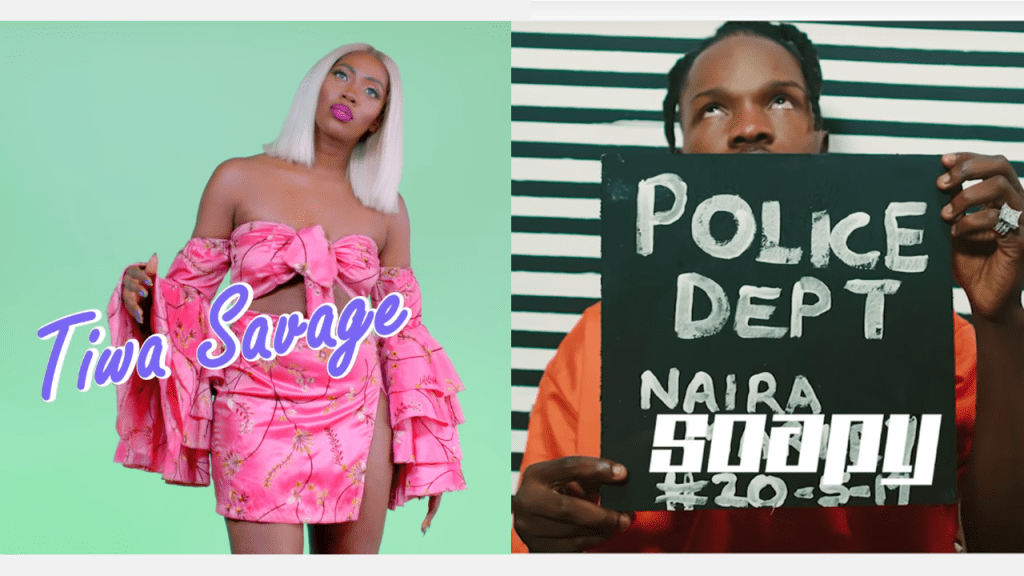 Although on the surface level, a lot of Nigerian songs might sound pointless or as though the artiste wrote random lyrics simply to satisfy the beat of the song; upon deeper investigation, so many of these songs come to hold deeper meanings. Some of these deeper meanings are thought-provoking questions, others, not so much.
For this list, I have compiled a diverse list of songs. From songs that look at the surface level to be controversial and not about anything while having deeper meanings, to songs that on the surface level sound beautiful and romantic, but are really just f-boy anthems. Here are 6 Nigerian songs you didn't know had some hidden deeper meanings.
1. P-Square - Ifunanya
Ifunanya by Nigerian duo P-Square is a song that was released 13 years ago but is still widely played in most Nigerian weddings, engagements, on Love FM radio stations. It is praised and celebrated as one of P-Square's most romantic songs.
But Ifunanya couldn't be further from that.
Don't be deceived by the beautiful melody and romantic music video of the boys dancing with their dazzling lover, Ifunanya is THE DEFINITION of a "fuck boy anthem".
Here is a breakdown of what's going on.
The first verse goes:
Girl I know say you dey wonder why

Why do people fall in love

It could be for the game or pleasure

I don't know

But when it comes to lust

Girl that's for sure

If you and I can turn these things around
What's happening here is simple: The girlfriend is heartbroken and P-Square is trying to make her feel better by asking all these questions which at their heart is simply saying: "Why do people fall in love? Because of the game? Pleasure? Who knows. But you know one thing that's for sure: Lust!". He then goes on to say "You and I can turn these things around". This is the first indication that there is something more going on here.
Are you already getting a sense of what's happening? The girl is heartbroken because the singer has CHEATED on her, and he's now saying that they can work past all of that. Don't believe me? Well, here is the next part.
Girl na you

Be the one that makes me smile

And it's true [Nne Nne]

Na only you

Fit give this love a chance to reign
He's sweet-talking her because he doesn't want her to leave. And why would she want to leave him? The next part tells us, and this is the bombshell of the song.
So Baby don't go

ALL BECAUSE OF IFUNANYA
Yup! The girl wants to walk away because P-Square cheated on her with Ifunanya and now the singer is begging her not to leave him because of what HE DID with the other woman, Ifunanya.
Some other lines just in case you're still not convinced.
Nne biko biko don't go (Meaning: Woman, please please don't go)

Because of Ifunanya

My love is knocking on your door

I'm standing all alone

On my own

Nne Nne

Don't you see I'm waiting for so long

Don't let this love to fall

Don't keep me waiting under the rain

Biko (Please)

Nyelum Aka (Help me)

Don't Go

Because of Ifunanya.
Ifunanya is not a romantic song professing love to one's lover. No, Ifunanya is a song about a man who cheated on his girlfriend and is now trying to apologize and win her back so that she doesn't leave him.
Did you know that? Let me know.
2. Naira Marley - Soapy
A controversial dance move clouds the message of this song that's addressing major issues we see in Nigeria.
When Naira Marley released the national smash single, Soapy in 2019, it was met with nationwide backlash especially for the controversial dance move that simulated male masturbation.
But the song itself has some interesting messages. A little background: In early 2019, Nigerian singer, Naira Marley was arrested by the Economic and Financial Crimes Commission (EFCC) on the grounds of internet fraud and cyber crime.
It was after his release from prison that the song Soapy was released and he makes a lot of interesting points in the song. The lyrics read:
Ó t'esè'lé bò (He goes traditional)

Yahoo ni babaláwo (The native doctor is a fraudster)

Olè l'everybody (Everybody is a thief)

Eni ilè mó bá ṣá ni bàráwò (He who gets caught is the real thief)

Mó bá ṣá ni bàráwò (Whoever gets caught is a thief)
This is the essence of the entire Soapy song. The singer is saying in this verse that the person has gone to babalawo (think witch doctor/voodoo doctor) to "enhance" his own fraud. But the babalawo himself is a fraudster. In fact, everybody, the singer says, is a thief, but it is only the person who gets caught that is branded "THIEF".
Putting this side-by-side the way the world is now, because it's not an exclusive-to-Nigeria thing, we see that truly the higher ups and people in suits steal money and are dubious all the time. And although it is known worldwide, nobody brands these people as thieves. There is no jail-time. Unless they are caught, which happens very rarely. Until a person is caught, he is never branded "Thief" although he/she might have been stealing all along.
The singer further down in the song talks about the people he encountered in jail and we get the sense that the people there had been convicted for petty crimes. Yet these are the ones who have been branded thieves.
Soapy for all of its controversy is really one of the rare Nigerian songs that asks some interesting questions. Yes theft is bad unquestionably, but is it unfair that it is those at the bottom who tend to populate the prison cells and serve harsher sentences for petty crimes when those higher-up get to steal our money and continue to get away with it?
Are we truly all just criminals who have no right to point the accusatory finger?
What do you think?
3. Sauti Sol ft. Burna Boy - Afrikan Star
Who didn't love this song upon first listen?
A beautiful song by Sauti Sol and Burna Boy, which upon closer listen becomes very...bizarre to say the least.
Let us look at some lyrics. It starts off well and good.
You got it all going on with your body

You got it all baby

Your papa Uganda your mama Burundi

My African star baby

Tell me what you're into

With your fine face and your lips too

And your hair girl

Team natural ka misitu
So far it's all good. Very lovely, very complimentary. He's praising his lover.
Until you realize that...he's never met this girl. This song is on some Joe from You level. He sings:
I wanna graduate

From a stalker to your lover
I know I know, you're thinking Jide! Nawa oh. This is a reach. But hear me out. It doesn't end there. Let us look at Burna Boy's verse. He too starts off very complimentary:
You got a lot going on with your body

You got it all baby

That's why I told you meet me at the lobby

At the hotel girl
And then he says this:
Feels like I lost you girl but I HAD YOU FOUND

So don't be surprised when a nigga hold you down
Not "I found you", not "you called me", but "I had you found". Don't be surprised when I hold you down.
If this is not some Stalker on CBS type of thing, I don't know what it is.
What do you think?
4 & 5. Niniola - Bana & Tiwa Savage - Sugarcane
I group these two together because their hidden messages are about the same thing. If you haven't already guessed it, then read on.
Nigerians are really clever with the way we word things. Especially because there are so many languages in the nation, people especially artistes like Niniola, tend to use these languages to mask some very otherwise overtly vulgar lyrics.
In the song Sugarcane, Tiwa Savage says:
You know that I'm down for whatever

So baby come give me some

Sugar. Sugar cane

Something wey sweet pass sugarcane
Note the wording: "Something wey sweet pass sugarcane". This means that she wants her baby to come and give her a sugar cane that's sweeter than sugarcane.
Has your mind filled in the gap?
Let's look at a more graphic one.
In Niniola's Bana, she sings:
Bana Bana Bana mi
Niniola herself says that she chose this phrase because "Bana" means "My Guy" in Swahili. But people believe that Niniola is playing coy and she means Bana to be short for Banana.
Either way, that is not where things get interesting in this song. Things get interesting when Niniola sings:
Omorogun ni mo poundie oh
Loosely, this means he's pounding it with omorogun. If you don't know what omorogun is, it is a big pounding stick. Here is an image:
So when Niniola says "Omorogun ni mo poundie oh", she means he's pounding her with the above, omorogun.
There's nothing coy about this one Niniola. We see you!
6. Niniola - Boda Sodiq
Niniola is the queen of hiding sexual, often gruesome messages behind Yoruba and a sick beat. But as dancy and upbeat as Niniola's single Boda Sodiq is, it is talking about a very serious and very dark topic.
The lyrics go:
Boda Sodiq

Will you promise me

Not to touch

O ejo (O please)

Boda Sodiq

I just had a sip

Of liquor
So, what is happening here? We're getting a sense of Okay, she's drunk and she's telling this man Mr. Sodiq to please not touch her because she has drank too much.
Then she goes on to say:
Gbemi lo ile (Take me home)

E mi keshi (I am drunk)

Gbemi lo ile (Take me home)

Did you have to

Gbemi lo (Take me)
Things are getting a little bit weirder. In the first part, she's begging him not to touch her, she's drunk. Then here, he's taking her home and she's saying I am drunk, why are you taking me home? I am drunk. Did you have to take me...before her voice slurs and she doesn't complete that statement.
The next thing we hear is:
Boys' Quarters

What happened

In your boys' quarters

Did you have to

Gbemi lo
Face. Crack.
If you haven't connected the dots at this point, this song is talking about a very real and horrible thing that's happening today. Men taking women home when they get too intoxicated, and despite their pleading and vulnerable state, a lot of these slimy men still go ahead to take advantage of these women.
The woman when she finally wakes up is usually confused, asking What Happened? Did you bring me here? Where am I?
The sad truth is that Niniola's Boda Sodiq as fun-sounding and energetic as it is, is actually about sexual assault and yes, rape.
I know! Very heavy topic hiding behind an infectious beat.
Are you surprised?
And there we have it folks!
Here are SIX very popular and very entertaining songs that you may never hear the same way again. From fuckboys to stalkers, from thieves to poundees, we have gone through an extensive list of songs.
I hope you've found this article interesting. If you like it, please share it with friends or family you think might be interested in this. If you're feeling very generous, you can also go ahead and leave me a tip. I will truly appreciate it.
Either way, you can follow me on Facebook so you get alerted about all my new posts, and you can also read some of my other interesting posts here.
Until next time, do have a wonderful rest of your day!