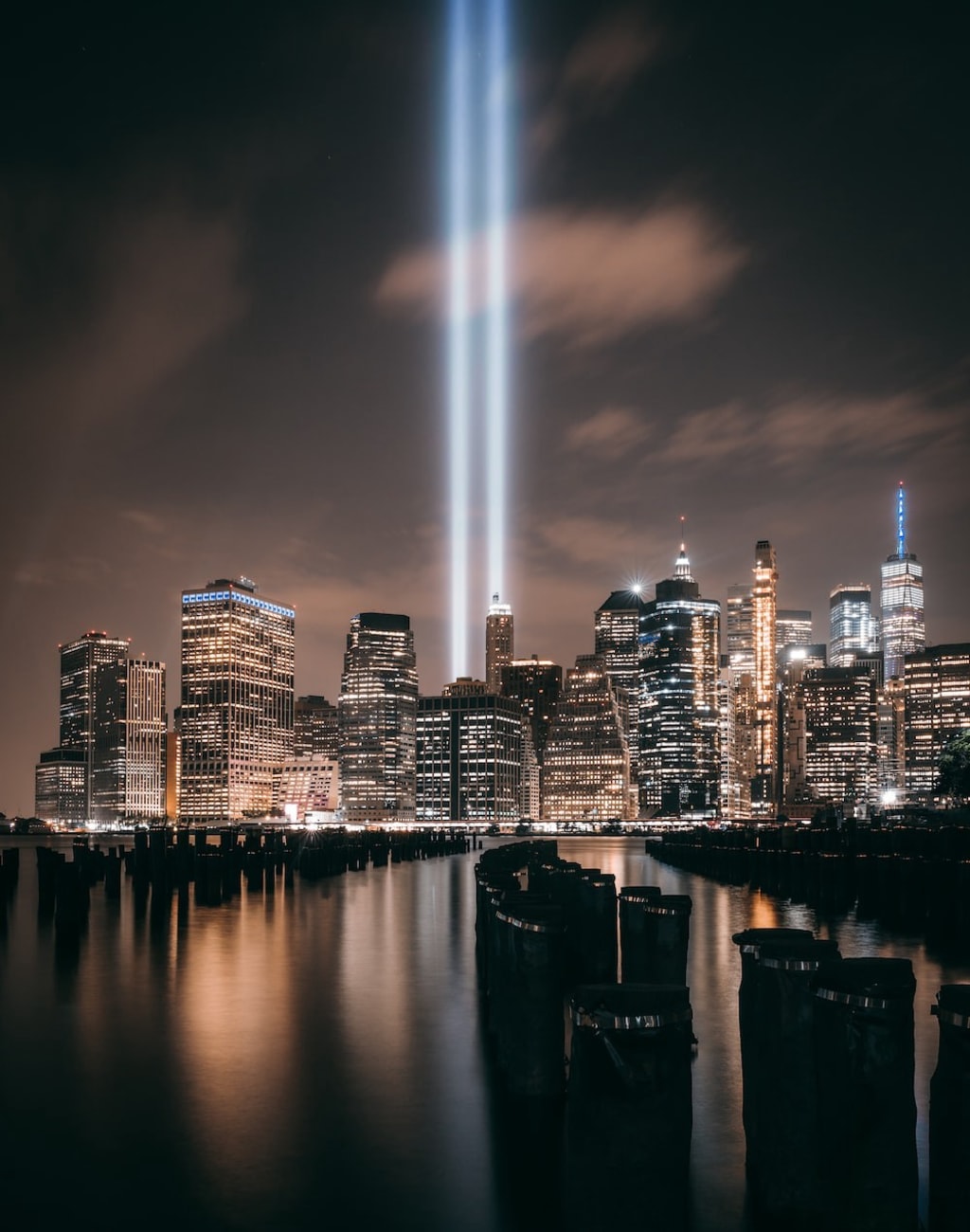 Image by Lerone Pieters on Unsplash
21 years ago today, the world bore witness to one of the most tragic events in history. Almost 3000 people lost their lives and over 25,000 people were injured during the heinous 9/11 attacks.
Since then, the world has changed in many ways in light of 9/11. This has not only extended to safety and security measures but also to the media. Movies, TV shows and even music have all had to make adjustments following the attack on America.
Following 9/11, iHeartMedia (then known as Clear Channel Communications), circulated an internal memo containing a list of various songs that they deemed "lyrically questionable" in light of recent events. While not an outright ban on the songs, the memo strongly urged many American radio stations to keep these songs off the air.
In total 164 individual songs (and the entire repertoire of Rage Against The Machine) were included on the list and they cover multiple generations, artists and genres of music. Many who saw the list noticed that the choice of discouraged songs ranged from completely justified to somewhat unreasonable.
Generally, music that dealt with death, airplanes, war, disasters and violence were discouraged. The general consensus was that given the climate of the time, a temporary restriction on such songs would be sensible and sensitive to the situation.
However, the list would also include a few controversial song choices that included songs about celebrations, unity, peace and Middle Eastern people. These songs were more polarising choices and divided opinions somewhat.
For you to make your own decisions on which songs were justified and which may have been a bit of a stretch, here is the full list of songs on the Clear Channel memorandum.
3 Doors Down — Duck and Run
311 — Down
AC/DC — Shot Down in Flames
AC/DC — Shoot to Thrill
AC/DC — Dirty Deeds
AC/DC — Highway to Hell
AC/DC — Safe in New York City
AC/DC — TNT
AC/DC — Hell's Bells
Ad Libs — The Boy from New York City
Alanis Morissette — Ironic
Alice in Chains — Rooster
Alice in Chains — Sea of Sorrow
Alice in Chains — Down in a Hole
Alice in Chains — Them Bones
Alien Ant Farm — Smooth Criminal
Animals — We Gotta Get Out of This Place
Arthur Brown — Fire
Bangles — Walk Like an Egyptian
Barenaked Ladies — Falling for the First Time
Barry McGuire — Eve of Destruction
Beastie Boys — Sure Shot
Beastie Boys — Sabotage
The Beatles — A Day in the Life
The Beatles — Lucy in the Sky with Diamonds
The Beatles — Ticket To Ride
The Beatles — Ob La Di, Obla Da
Billy Joel — Only the Good Die Young
Black Sabbath — War Pigs
Black Sabbath — Sabbath Bloody Sabbath
Blood Sweat and Tears — And When I Die
Blue Oyster Cult — Burnin' For You
Bob Dylan/Guns N Roses — Knockin' on Heaven's Door
Bobby Darin — Mack the Knife
Boston — Smokin'
Brooklyn Bridge — Worst That Could Happen
Bruce Springsteen — I'm On Fire
Bruce Springsteen — Goin' Down
Bruce Springsteen — War
Buddy Holly and the Crickets — That'll Be the Day
Bush — Speed Kills
Carole King — I Feel the Earth Move
Cat Stevens — Peace Train
Cat Stevens — Morning Has Broken
Chi-Lites — Have You Seen Her
The Clash — Rock the Casbah
Creedence Clearwater Revival — Travelin' Band
The Cult — Fire Woman
Dave Clark Five — Bits and Pieces
Dave Matthews Band — Crash Into Me
Dio — Holy Diver
Don McLean — American Pie
The Doors — The End
Drifters — On Broadway
Drowning Pool — Bodies
Edwin Starr — War
Elton John — Benny & The Jets
Elton John — Daniel
Elton John — Rocket Man
Elvis — (You're the) Devil in Disguise
Everclear — Santa Monica
Filter — Hey Man, Nice Shot
Fontella Bass — Rescue Me
Foo Fighters — Learn to Fly
Jimi Hendrix — Hey Joe
Frank Sinatra — New York, New York
Fuel — Bad Day
The Gap Band — You Dropped a Bomb On Me
Godsmack — Bad Religion
Green Day — Brain Stew
Happenings — See You in September
Herman's Hermits — Wonderful World
Hollies — He Ain't Heavy, He's My Brother
J. Frank Wilson — Last Kiss
Jackson Brown — Doctor My Eyes
James Taylor — Fire and Rain
Jan and Dean — Dead Man's Curve
Jerry Lee Lewis — Great Balls of Fire
Jimi Hendrix — Hey Joe
John Lennon — Imagine
John Mellencamp — Crumblin Down
John Mellencamp — I'm On Fire
John Parr — St. Elmo's Fire
Judas Priest — Some Heads Are Gonna Roll
Kansas — Dust in the Wind
Korn — Falling Away From Me
Led Zeppelin — Stairway to Heaven
Lenny Kravitz — Fly Away
Limp Bizkit — Break Stuff
Local H — Bound for the Floor
Los Bravos — Black is Black
Louis Armstrong — What A Wonderful World
Lynyrd Skynyrd — Tuesday's Gone
Martha & the Vandellas — Nowhere to Run
Martha & the Vandellas — Dancing in the Street
Megadeth — Dread and the Fugitive
Megadeth — Sweating Bullets
Metallica — Seek and Destroy
Metallica — Harvester of Sorrow
Metallica — Enter Sandman
Metallica — Fade to Black
Mitch Ryder and the Detroit Wheels — Devil with the Blue Dress
Mudvayne — Death Blooms
Neil Diamond — America
Nina — 99 Luft Balloons/99 Red Balloons
Nine Inch Nails — Head Like a Hole
Norman Greenbaum — Spirit in the Sky
Oingo Boingo — Dead Man's Party
Ozzy Osbourne — Suicide Solution
Paper Lace — The Night Chicago Died
Pat Benatar — Hit Me with Your Best Shot
Pat Benatar — Love is a Battlefield
Paul McCartney and Wings — Live and Let Die
Peter Gabriel — When You're Falling
Peter and Gordon — I Go To Pieces
Peter and Gordon — A World Without Love
Peter Paul and Mary — Blowin' in the Wind
Peter Paul and Mary — Leavin' on a Jet Plane
Petula Clark — A Sign of the Times
Phil Collins — In the Air Tonight
Pink Floyd — Run Like Hell
Pink Floyd — Mother
P.O.D.- Boom
Pretenders — My City Was Gone
Queen — Another One Bites the Dust
Queen — Killer Queen
Rage Against The Machine- Every song in their catalogue
Red Hot Chili Peppers — Aeroplane
Red Hot Chili Peppers — Under the Bridge
REM — It's the End of the World as We Know It
Rickey Nelson — Travelin' Man
Rolling Stones — Ruby Tuesday
Saliva — Click Click Boom
Sam Cooke — Wonderful World
Santana — Evil Ways
Savage Garden — Crash and Burn
Shelly Fabares — Johnny Angel
Simon And Garfunkel — Bridge Over Troubled Water
Skeeter Davis — End of the World
Slipknot — Left Behind
Slipknot — Wait and Bleed
Smashing Pumpkins — Bullet With Butterfly Wings
Soundgarden — Blow Up the Outside World
Soundgarden — Fell on Black Days
Soundgarden — Black Hole Sun
Steam — Na Na Na Na Hey Hey
Steve Miller — Jet Airliner
Stone Temple Pilots — Big Bang Baby
Stone Temple Pilots — Dead and Bloated
Sugar Ray — Fly
Surfaris — Wipeout
System of a Down — Chop Suey!
Talking Heads — Burning Down the House
Temple of the Dog — Say Hello to Heaven
Third Eye Blind — Jumper
Three Degrees — When Will I See You Again
Tom Petty — Free Fallin'
Tool — Intolerance
The Trammps — Disco Inferno
U2 — Sunday Bloody Sunday
Van Halen — Dancing In The Street
Van Halen — Jump
Yager and Evans — In the Year 2525
Youngbloods — Get Together
Zombies — She's Not There
Among this wide-ranging list, there are a few songs that stand out quite a bit among the pack. Be it due to the appropriateness or controversy of their ban, the reaction from the musicians themselves or public response, here are 5 songs that were controversially "banned" in the wake of 9/11.
#5. Wipeout: The Surfaris
While the list was premised upon the intention of restricting songs whose lyrics or subject matter could potentially offend or upset people in the wake of 9/11, Wipeout by The Surfaris stands out rather conspicuously. The song is a purely instrumental composition.
Composed in 1962 and released the following year, Wipeout soon became synonymous with the surfing culture of 1960s America. To this day, many associate the song with hitting the beach and getting on a surfboard. There are no offensive lyrics to speak of nor does the song sound particularly ominous or menacing.
The only thing that could justify its inclusion on the list would be its title. A "wipe out" is basically defined as a particularly painful fall off a surfboard. It has since been used in a wider context to describe any type of fall, crash or erasure. Thus, it is somewhat understandable that a song with such a title may have the potential to bring up some undesirable imagery in one's mind.
Thus, Wipeout made the list seemingly for its title alone despite the song not containing any words at all or referencing anything remotely controversial. That being said, its always best to keep away from anything potentially upsetting in the face of unspeakable tragedy.
#4. Bodies: Drowning Pool
Now this is a song that definitely deserved a place on any temporary ban list in the wake of any tragedy of such magnitude. Surely, nobody wants to hear a song that repeatedly talks about bodies hitting the floor following a gruesome terrorist attack. To some, such a song would not be preferable regardless of the circumstances.
However, the circulated memo did have quite the adverse impact on Drowning Pool. Prior to 9/11, Drowning Pool had begun making waves as an up and coming Nu Metal group and Bodies occupied a comfortable position at the top of the charts. Unfortunately, after 9/11 the song was taken off the air for over a year and forced the band into somewhat of a slump.
Despite the song's intense tone and somewhat touchy lyrics, Drowning Pool has clarified that Bodies was not written with any reference to death or violence but rather about the intense, high energy dancing that the band observed at their concerts. The phrase about the bodies hitting the floor was actually about how members of the audience would dance wildly with enjoyment and flail about in close proximity to one another.
Bodies being taken off the air was very noticeable as it was a very popular song at the time and it showed that even the most prominent songs of the era would not be spared if it had the potential to offend someone. For Drowning Pool it was an unforeseen case of horribly bad timing. Fortunately for them, they would bounce back in the following years as Bodies once again became popular through its frequent use in various YouTube clips.
#3. Walk Like An Egyptian: The Bangles
For The Bangles, 9/11 wasn't the first time that they would see their hit song Walk Like An Egyptian restricted on the air waves. A decade earlier, the BBC discouraged airing the song on radio in the wake of the Gulf War.
With references to Egypt, Egyptians and The Nile, it appeared that the song's references to The Middle East or Middle Eastern culture may have had the potential to inflame emotions. While you can make of that what you will, it is clear that the song itself is fairly innocuous.
In fact, Walk Like An Egyptian is not even really about Egyptians. The man who wrote the song, Liam Sternberg, came up with the idea of Walk Like An Egyptian while on a cruise. On a day where the waters were especially choppy, Sternberg compared the postures of the passengers to the people struggling to maintain their balance to the figures seen on Ancient Egyptian hieroglyphics.
The song itself was recorded as a lighthearted dance number and was treated as such until the Gulf War. When interviewed, Bangles guitarist Vicki Peterson referred to the bans as "a joke" and questioned why their song would be discouraged from being played without its true meaning being understood. It goes to show that the fine line between sensitivity and sensibility has always had the potential to divide opinions.
#2. What A Wonderful World: Louis Armstrong
Recorded in 1967 by Louis Armstrong, What A Wonderful World has stood the test of time and remains a staple at all manner of happy and sentimental occasions. A song written about the beauty of a growing world, even a song of such happiness and positivity was not exempt from the list.
The reason given for discouraging the playing What A Wonderful World on the radio was that it was inappropriate to air songs about happiness and an idealistic world in the immediate aftermath of such a horrific event. It did not seem right to talk about how great life was at a time where it clearly was not for so many people.
Despite that, the proposed restrictions on this classic hit was met with vocal criticism. Unlike how many of the more controversial songs on this list divided opinions, a clear majority felt that What A Wonderful World was a comforting song in times of grief and did not agree with the ban.
Regardless, the banning of this song shows that not even upbeat or inspirational music were exempt from making the airwaves. It goes to show that sensitivity sometimes does not mean pretending that everything is all good and rosey.
#1. Imagine: John Lennon
While no doubt a beautiful and memorable song, Imagine has always been very polarising. Seen by some as a call for peace and unity and by others as a politically fuelled message to abandon religion and turn to Communism, John Lennon's classic hit has been the subject of as much scrutiny as it has praise.
It is perhaps due to the song's extremely polarising nature that it made the suggested ban list. After all, it can be interpreted in so many ways and anyone can make a valid point as to why it should or should not have stayed on the air in the aftermath of 9/11. Some would find the song socially relevant as a rally for unity in the face of tragedy, others would find its idealistic message inappropriate for the time and others still would not agree with the song's political nature given the climate.
Regardless of your view about Imagine especially in that situation, it cannot be said that your feelings are completely unjustified. A song that divides opinions even under normal circumstances would undoubtedly create more controversy and discourse during such turbulent times. Despite the proposed ban, Neil Young would perform the song live during a 9/11 tribute concert on the same night that Paul Simon performed Bridge Over Troubled Water, another banned song.
No matter people's opinions on the song as a whole, the proposed ban of Imagine in the aftermath of 9/11 certainly got everyone on all sides of the argument talking. Thus making it one of the most controversial entries on the list.
At the end of the day, regardless of whether we agree with the entries on the list or not (or the list itself as a whole), we should acknowledge the fact that it came from a good place. In a time of grief, tragedy and uncertainty, the best course of action is to unite and try to keep those affected by the incident away from anything that could hurt, upset or offend them.
21 years on from 9/11 and many still bear the scars from that day. Be it physical injuries, mental trauma or the grief of having lost a loved one, we owe it to these people and those who lost their lives that day to ensure that such a horrific act never happens again.
In many ways, for better or worse, this was the music world's first response to the events of 9/11. Whether we agree with it or not, let us accept the fact that they tried to be sensitive and like them, give our thoughts to everyone who was affected on that day.
Reader insights
Be the first to share your insights about this piece.
Add your insights