5 Sets Of Musicians You Probably Did Not Know Were Related
Not every musical family is public about their relationships with each other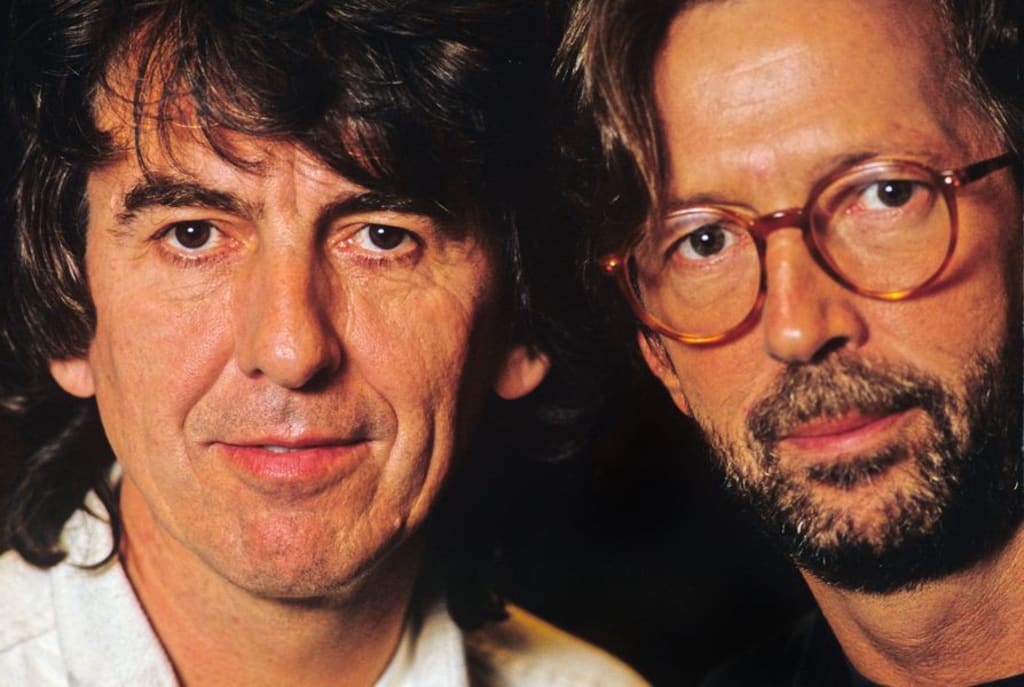 Image: Faroutmagazine.co.uk
Over the years, we have seen many legendary musical families. The Beach Boys, Bee Gees, Jacksons and The Isley Brothers are just a few that instantly come to mind. There have even been various other artists who are known to be related to one another but often work apart such as the Gallagher brothers who were formerly part of Oasis.
However, there exist quite a number of famous artists who are related to their fellow musicians but whose ties to one another often fall under the radar. Be it due to marriage and divorce, slightly more distant familial ties or other factors such as not sharing a common family name, here are 5 sets of musicians you probably didn't know were related to one another.
Without further ado, let's begin!
5. The Beach Boys and Dean Martin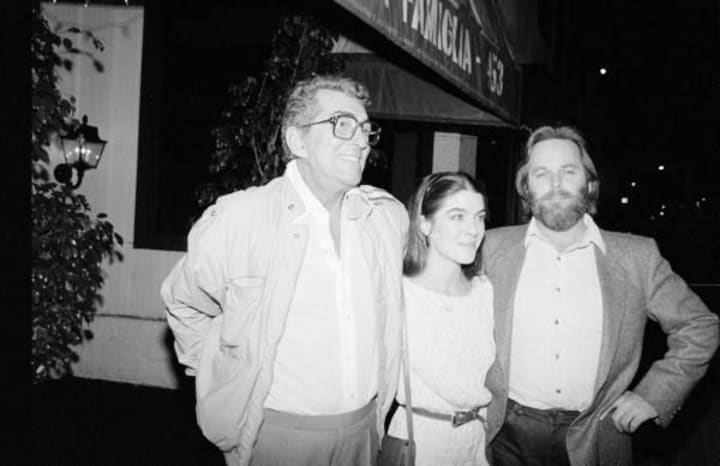 As I mentioned at the very start of this article, The Beach Boys are indeed one of the most well-known musical families of all time. Brothers Brian, Dennis and Carl Wilson along with their cousin Mike Love defined the surf sound with their signature harmonies and songs about girls, beaches and cars. In the years to follow, Brian Wilson's genius would emerge further and he would revolutionise music with masterpieces like the Pet Sounds album.
While the trials and tribulations of these three brothers and their cousin would soon become the stuff of legend, few realised that they were also related to a legendary figure from a generation before them. Nicknamed "The King of Cool", Dean Martin was one of the greatest all round entertainers of all time. A comedian, actor and of course, a renowned singer, Martin was related to the Wilsons through marriage.
Youngest brother Carl, was married to Martin's daughter Gina from 1987 up to his death in 1998. While the marriage produced no children, Carl and Gina shared an exceptionally close relationship. Unlike Carl's first marriage which broke down due to his constant touring and rigorous schedule, Gina was able to follow her husband on tour and remain constantly by his side.
By most accounts, Wilson and his father in law also shared a good relationship. In many ways, they were noticeably quite similar. Among their respective groups both Wilson and Martin were noted for their exceptional singing voices and for their cool, calm demeanours. Off-stage, both Wilson and Martin were said to have the most conventional family lives amongst their fellow band members as well. Rather morbidly, both men would also die of lung cancer less than three years apart from one another, a likely result of years of heavy smoking.
It would have been interesting to see The Beach Boys and Dean Martin collaborate together in some capacity but tensions among the Wilson family along with Martin's increasingly failing health at the time made such a union extremely unfeasible. That being said, it was good that both Carl Wilson and Dean Martin were able to maintain a good relationship into their final years.
4. Dionne Warwick and Whitney Houston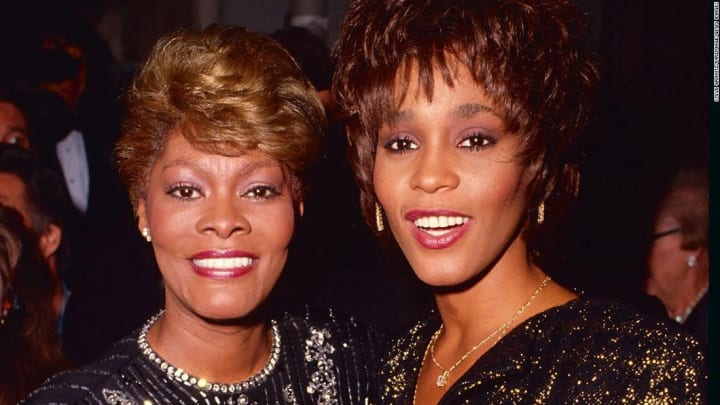 Comparing the styles of both Dionne Warwick and Whitney Houston, one cannot help but notice some similarities between the two. Both are renowned for their excellent vocals, ability to constantly have their songs hit the charts and the skill to take a cover song and turn it into a hit of their own among other equally comparable accolades.
One would not be remiss to speculate that such talent lies in the genes. In fact, in this case you'd be right to assume so. After all, both Warwick and Houston are first cousins. Coming from a musical family of their own, Houston's mother Cissy, a notable singer in her own right, was part of a group known as the Drinkard Sisters. Warwick's mother Lee, who managed the group, was Cissy's eldest sister. Thus, Warwick and Houston are related through their mothers.
Warwick herself would later join the Drinkard Sisters in the earlier stages of her career while the much younger Houston would inherit her mother's considerable talent and break out into her own as a megastar. As the years rolled on, the two were often seen socialising with one another and have shared the stage on quite a number of occasions but there were a number of people who did not instantly pick up on the relationship between them.
Perhaps due to the fact that both singers did not share a common surname despite being first cousins or because they had both carved respectable solo careers for themselves, these two legends were able to set themselves apart from one another very early on in their respective careers. Despite this, they maintained a close relationship with Warwick often looking back at her deceased cousin fondly. It goes to show that while talent runs in the family, success can be something enjoyed individually.
3. Mick Fleetwood and George Harrison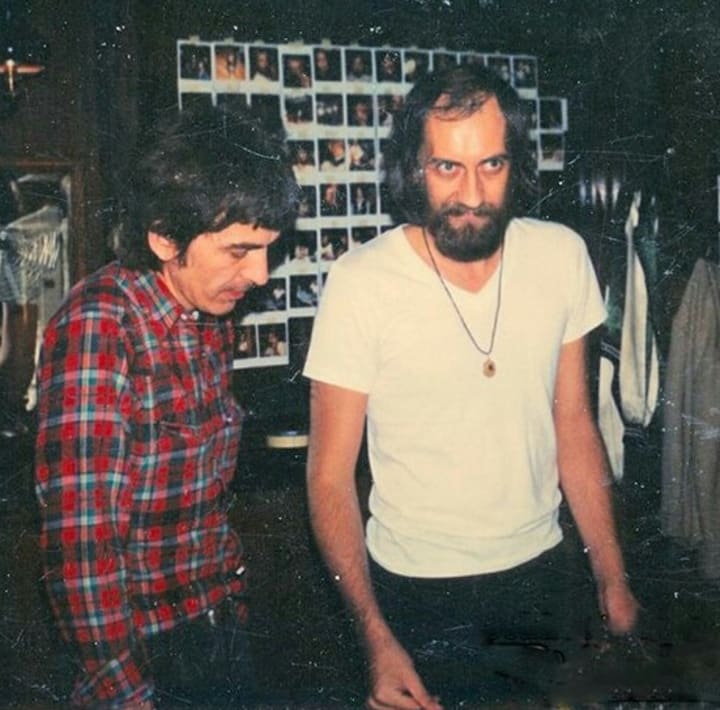 To put it briefly, Mick Fleetwood and George Harrison are and forever will be, musical legends. Both men are elite musicians and have been part of some of the greatest bands in history. Despite this, very few are aware that both men were at one time, brothers-in-law.
While many know of George Harrison's marriage and later divorce to model Pattie Boyd, most are less familiar with the equally compelling story of Fleetwood's two marriages to Boyd's sister Jenny. Harrison was married to Pattie from 1964 to 1977 while Fleetwood was married to Jenny from 1970 to 1975 and again from 1977 to 1978.
Harrison and Pattie Boyd's first meeting has become part of Beatles lore with the already famous Harrison falling head over heels in love with the young model on a set of A Hard Day's Night. Fleetwood and Jenny Boyd's relationship would have more conventional beginnings with the couple after having first met in school and later marrying after years of seeing each other off and on.
Both relationships came at a rather interesting time in the careers of Harrison and Fleetwood. By the time Fleetwood had married Jenny, The Beatles were on the cusp of dissolving while Fleetwood Mac was just beginning to find its feet. Both marriages were soon to be plagued by dysfunction brought about by drugs, alcohol and infidelity on the part of everyone involved. Despite this, Harrison and Fleetwood maintained a friendship that lasted past both men's marriages to the sisters.
Interestingly, Fleetwood would later become the brother in law to fellow musical legend Eric Clapton as well for a brief time. After briefly remarrying Jenny, Clapton had married Pattie following her divorce from Harrison. Clapton and Harrison, who were also close friends jokingly referred to each other as "husband-in laws." It goes to show that while the familial relationships may not always last, the friendships do.
2. Ringo Starr and Joe Walsh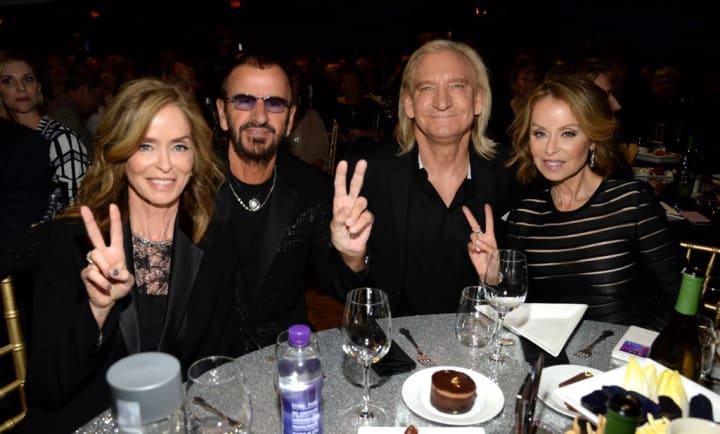 Moving on from one ex-Beatle to the next, Ringo Starr and Joe Walsh are also brothers-in-law by virtue of having married two sisters. Unlike Harrison and Fleetwood however, this relationship is still firmly intact.
At the height of both men's fame in the 1960s-1970s, both men personified the decadence and dysfunction that came with the rock n roll lifestyle. Often joined by the likes of Keith Moon, Starr's and Walsh's wild image soon became just as well-known as their superb musical ability. It soon became alarmingly clear that if both men did not change their lifestyles, it would not only cost them their careers but their lives as well.
After meeting his wife Barbara Bach in 1980 and marrying her a year later, the couple continued their wild ways until the close of the decade. By the late 80s, Starr had become a grandfather and wanted to seriously jumpstart his musical career by launching the first incarnation of the All-Starr Band. After forgetting performances, life events and even violent outbursts at one another during their many stupors, Starr and Bach decided to finally seek help. Since then, Starr has completely turned his life around and has been completely sober for over three decades.
Around the same time, Walsh had continued spiraling to the point of overdosing and he too, realised that he needed to seek help as well. The big push for him came when The Eagles were set to reunite and one of the conditions of this reunion was for him to be sober. Like Starr, Walsh was able to completely put his wild past behind him and has been sober for decades.
With an already decades-long friendship with Starr, Walsh would become his brother-in-law in 2008 after marrying Bach's sister Marjorie. Since then, the two superstars have not only collaborated musically together but have also used their shared past and eventual recoveries to help others beat their addictions as well.
Not only have Walsh and Starr overcome their demons but are now even healthier than they have ever been before. Despite being in their 70s-80s, their commitment to a healthy lifestyle has allowed them to look decades younger and they continue to perform without missing a beat. Ringo Starr and Joe Walsh's story is an example of a friendship blossoming into familial bonds in the face of all manner of success and adversity.
1. The Jacksons and The Gordy Family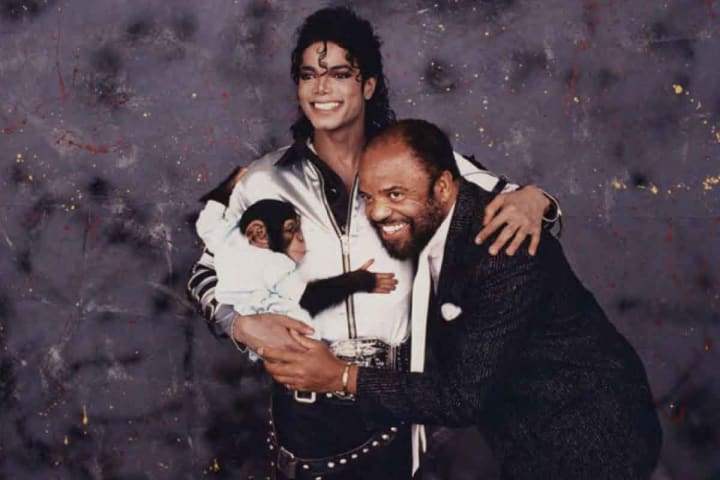 Let's close off this list with something a bit special. Rather than two musicians, let's have two musical families instead. After all, the Jacksons and Berry Gordy were at one time intrinsically linked with one another. Gordy's company Motown was the place to be for an African American musician at the time and the Jackson 5 were at one time, Motown's biggest stars.
Despite this close and publicised working relationship, few knew that these families were at one time related. In 1973, Jermaine Jackson married Berry Gordy's daughter, Hazel. The marriage lasted over 15 years and bore three children. Thanks to this union, the relationship between the Jackson and the Gordy family grew closer still. In fact, Michael and Jermaine Jackson would even help Gordy renew relationships with members of his own family.
In 1984, Gordy's estranged son Kennedy, was an aspiring musician under the name Rockwell. At the time, Rockwell and his father's relationship had become strained and Gordy had no interest in releasing his son's music. In order to get Gordy's attention, Jermaine and Michael agreed to contribute vocals on their brother in law's record and this gave birth to the hit Somebody's Watching Me.
Although the marriage between Jermaine Jackson and Hazel Gordy did not last, the special relationship between the two families would continue. Michael Jackson and Berry Gordy in particular would maintain a close friendship up to Jackson's death in 2009. Mourning together in the wake of Michael's passing, Gordy and the rest of the Jacksons remain friends and occasionally collaborate together as well.
In addition to the relationships between the Jacksons and the Gordies, both clans also have several other notable relations too. On the Gordy side, Berry Gordy's sister, Anna was once married to fellow Motown icon, Marvin Gaye. Gordy himself would also father a child with Diana Ross. Also, the EDM group LMFAO, was founded by Gordy's youngest son, Redfoo and grandson, Sky Blue. Most famously on the Jackson side, Michael Jackson was once the son-in-law to Elvis Presley by virtue of his marriage to his daughter, Lisa Marie. It goes to show that sometimes, love and familial bonds can blossom from just running in the same circles.
That does it for this list! If you made it this far, let me thank you for taking the time to read this! It was personally quite interesting to research the relationships and dynamics between these various musicians and I was intrigued by the fact that these icons were able to be bonded by something even closer than their craft.
If you have any similar stories or if I missed anything out, do let me know. I absolutely love hearing from you guys too! Until then, take care!