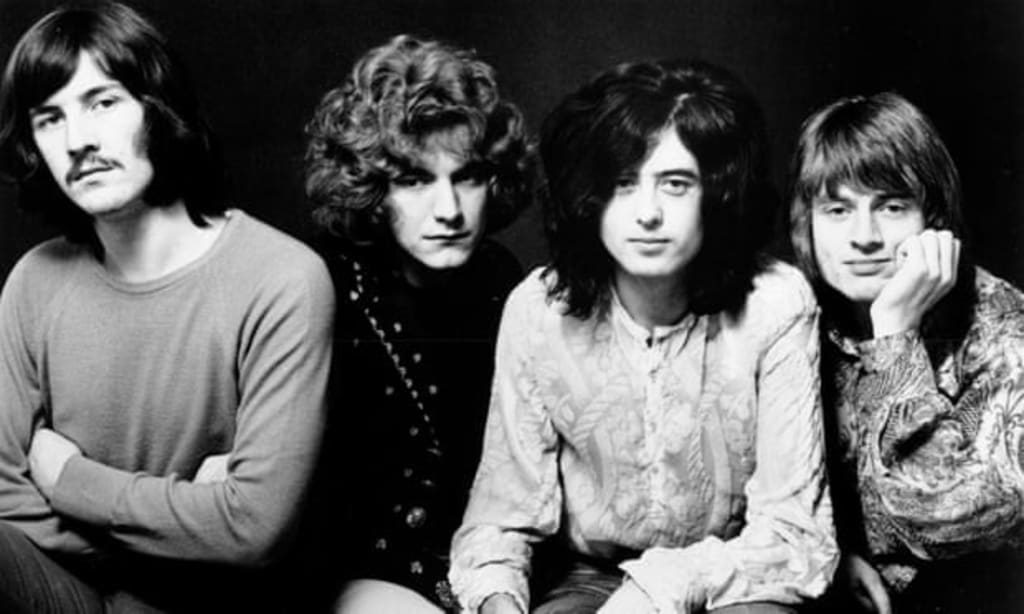 Image: Theguardian.com
In the ever-changing world of music, the songs may last forever but the groups behind them may not. Bands often break up, and their members often go their separate ways. Sometimes they get back together, while other times, they strive out on their own.
On slightly rarer occasions, a former band member may decide to pick up the pieces and keep the group going in another form. Oftentimes, this eventually gives birth to a new group entirely. Results do tend to vary, to be fair. Some groups may fail to live up to the original, while others have been able to become iconic in their own right and even surpass their predecessors.
In this list, we'll look at a few bands who successfully picked up those pieces and sculpt another piece of art out of them.
Here are five iconic bands that descended from other bands. Without further ado, let's begin!
#5. New Order: Descended From Joy Division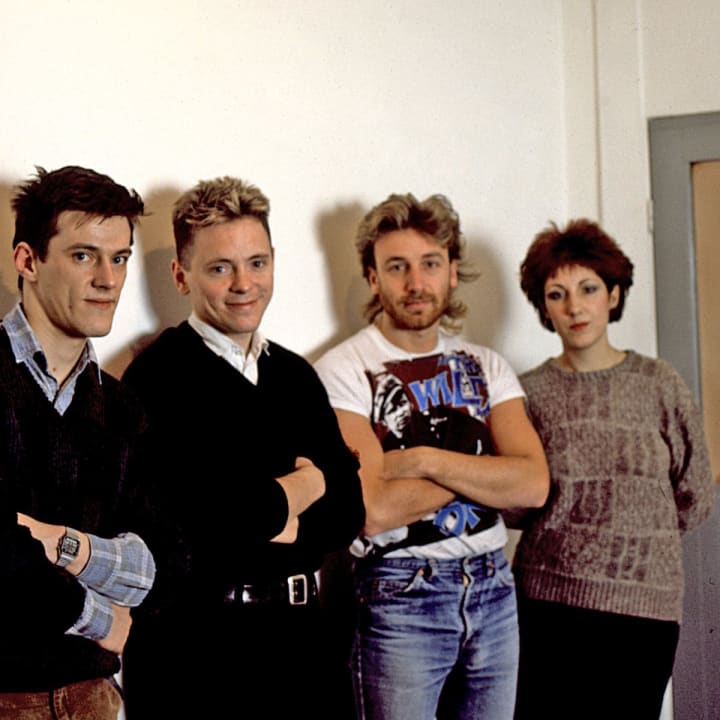 Joy Division was set to take the world by storm. In their three-year run, the group from Manchester became pioneers of the Post-Punk genre and turned heads with their musically unique songs and melancholy lyrics. Unfortunately, just a day before the group's first North American tour in 1980, the band's singer Ian Curtis took his own life at the young age of 23.
While the band's album Closer was their most successful work yet, they decided to dissolve in the wake of their legendary singer's death. In the group's early days, the members agreed to no longer use the Joy Division name should any member leave or pass away. Thus, Joy Division's remaining members Bernard Summer, Peter Hook, and Stephen Morris, decided to reform under a different name.
Under the name New Order, the members essentially picked up where they left off with Summer also taking over vocal duties. The group would also add Gillian Gilbert as a keyboardist and additional guitarist a short time later. New Order would continue in the Post-Punk style that made Joy Division popular but would soon incorporate Electronic and Dance styles into their songs as well.
A hit in clubs, New Order would also occasionally depart from the more somber and lyrically heavy material of Joy Division and were noticeably more refined in terms of production. Their iconic song Blue Monday remains to this day the best-selling 12-inch record of all time, and it's safe to say that they have been able to move past the tragic end of Joy Division.
Over the years, New Order has broken up and reformed on several occasions with several line-up changes, and they remain a popular group both live and on the dance floor. It shows that sometimes the best way to bounce back is to find that perfect mix between something fresh and the sound that made you successful in the first place.
#4. Foo Fighters: Descended From Nirvana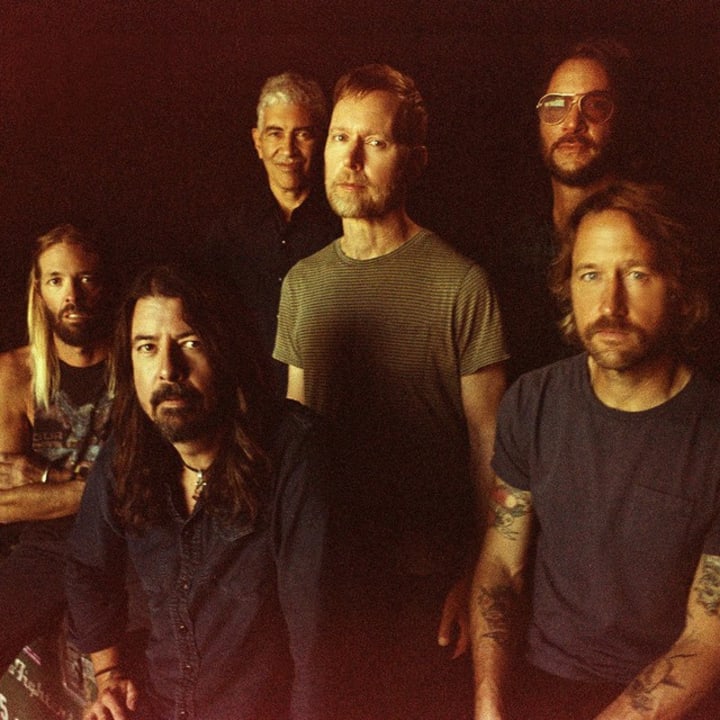 Few bands will have the cultural significance of Nirvana. Thanks in no small part to the legendary presence and ability of its frontman Kurt Cobain, Nirvana single-handedly launched Grunge into the mainstream. Following Cobain's suicide in 1994, it was apparent that Nirvana could not carry on.
While Kurt Cobain did contribute immensely to Nirvana's music and overall reputation, the group's drummer Dave Grohl would soon prove to be an extremely talented writer and multi-instrumentalist. Initially intimidated to share his own creative genius while working alongside Cobain, Grohl would begin to strike out on his own in the wake of Nirvana's dissolution and was a highly in-demand musician.
Creating an entire album by himself, Grohl realised that the next step was to form a band. Thus, the Foo Fighters were born. Initially, under Grohl's sole leadership and creative input, the band's respective members could grow into their own roles as time went on.
Among a changing roster of musicians, the core members of the Foo Fighters include Grohl himself, bassist Nate Mendel and Nirvana's unofficial fourth member, Pat Smear, on guitar. Other members include Chris Shifflet, Rami Jaffee, and the late Taylor Hawkins, their longtime drummer.
While Grohl himself would admit that he was heavily influenced by Cobain's Grunge style in terms of his writing, the Foo Fighters' music would evolve into a more Rock-like style. The group's songs were heavy instrumentally but were noticeably more upbeat in tone and lyrics.
In their time together, the Foo Fighters have been hailed as one of the greatest modern Rock bands of all time. They have been able to snag an impressive 15 Grammys, among other awards, and were inducted into the Rock n Roll Hall of Fame in their first year of eligibility. It shows that with the Foo Fighters, all it takes is for one person to rise up in the face of a tragic end to create something just as good, if not better, than what came before.
#3. Velvet Revolver: Descended From Guns N' Roses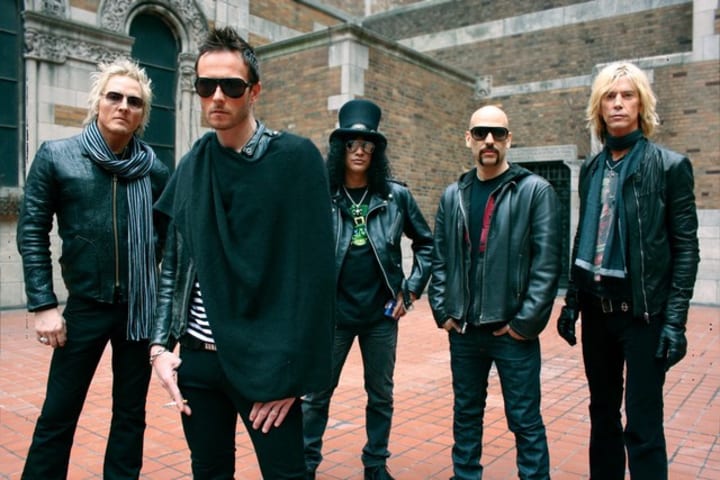 Guns N' Roses has achieved immortal success as one of the greatest Hard Rock groups. The band's stellar ability has made them extremely profitable, and they remain firmly popular today. However, like all amazing bands, tensions between the members would soon come to a boiling point.
In 1996, Slash would leave Guns N' Roses after falling out with Axl Rose. The next year, drummer Matt Sorum would be fired from the group, and a short time later, bassist Duff McKagan would depart the group after growing dissatisfied with its increasingly erratic nature. The three former members would spend the next few years working on various solo endeavours.
In 2002, Slash, Sorum, and McKagan would reunite to perform at a benefit concert for Randy Castillo, who had recently died from cancer. Following this, the three decided to continue working together after realising that they still had their chemistry from their time in Guns N' Roses. Later that year, McKagan would introduce Slash to Dave Kushner, and he would join the budding group as its rhythm guitarist.
The four would then reach out to another former Guns N' Roses member, Izzy Stradlin. Needing a vocalist for the group, Stradlin initially agreed to take on the role and share vocal duties with McKagan. However, he would leave the group just two weeks later due to his distaste for grueling traveling schedules. After auditioning several notable singers, the group would then settle on Scott Weiland, the lead singer of the Stone Temple Pilots and another friend of McKagan.
With their line-up in place, the group would become known as The Velvet Revolver. With a mixture of clever marketing, the group's existing star power, and their musical ability, The Velvet Revolver soon achieved mainstream popularity. The band's hit, Slither would become a platinum record while their albums sold well and netted them positive acclaim.
Unfortunately, Scott Weiland's erratic behaviour would soon cause him to depart the band and rejoin The Stone Temple Pilots in 2008. It was later revealed that had Weiland not chosen to leave, he would have been fired anyway. The group sought to look for a new singer, but no such person was ever found. Aside from a one-night reunion with Weiland in 2012, the Velvet Revolver has not released any new material.
In the years to follow, Slash and McKagan would rejoin Guns N' Roses, Sorum would pursue other ventures outside music, and Kushner would find success as a writer of film and movie soundtracks. Weiland would pass away in 2015, thus erasing any possibility of another full reunion. The journey of Velvet Revolver is like a phoenix being born out of the ashes, a wondrous feat that brought some of its members back full circle.
#2. Led Zeppelin: Descended From The Yardbirds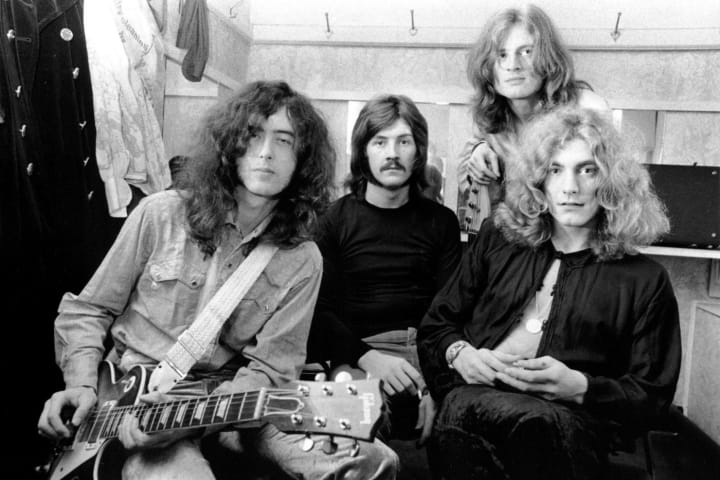 Essentially the innovators of Hard Rock and Heavy Metal, Led Zeppelin is a name that is known far and wide, long after its members last played together. Even if you are not a fan of this group, you would have certainly heard their name at some point. However, not everyone thought this now iconic group would be destined for success.
Jimmy Page, a former member of The Yardbirds, wanted to keep the band's name going after they dissolved in 1968. Envisioning a group that was the direct successor to his former band, Page approached fellow Yardbird Jeff Beck, The Who's Keith Moon, and John Entwistle to join the aptly named New Yardbirds. Moon did not like the idea and said it "would go down like a lead balloon." To further stress how bad an idea he thought it was, he changed the world balloon to zeppelin.
Page, thinking that Lead Zeppelin would make for a good name, carried on with his search. He would reunite with Yardbirds bassist Chris Deja to fulfill the group's remaining obligations and became acquainted with Robert Plant. After being hired as a singer, Plant recommended John Bonham as the group's drummer. Deja would later leave to pursue a career in photography, so Page would hire session player John Paul Jones as the band's bassist and keyboardist.
The group would soon change the spelling of their name to Led Zeppelin to ensure it would be pronounced correctly and got to work. After a somewhat rocky start, the band soon found its feet. Heavily inspired by Blues, the group created a heavy and elaborate sound with all its members gelling well together. Plant and Page, in particular, would develop amazing chemistry as Led Zeppelin's primary creative force.
Not only successful in the studio and on the charts, but Led Zeppelin would also become one of the greatest live bands in history. Their ability to produce over-the-top and theatrical yet musically sound performances made Led Zeppelin one of the greatest groups of the era. Unfortunately, the band's drummer John Bonham would pass away in 1980.
Following this, the band's remaining members failed to rekindle their chemistry and went their separate ways. Plant and Page would alternate between solo endeavours and working together, while John Paul Jones became a successful producer and sessionist. Aside from the odd one-time reunions, Led Zeppelin has never fully reformed for any substantial period of time.
Despite that, their music continues to live on many decades later, and the group has become synonymous with excellent music. Not a bad run for a group that was once believed to be a colossally bad idea.
Crosby, Stills, Nash & Young: Descended From Crosby, Stills, and Nash (Who Descended From Buffalo Springfield, The Byrds And The Hollies)
In almost any other case, adding a single person to an already existing group does not make it a completely new band. However, Crosby, Stills, Nash & Young are a well-deserved exception. Starting off as a supergroup formed by Stephen Stills, Graham Nash, and David Crosby, the occasional addition of Neil Young allowed them to transition into yet another supergroup.
The original CSN was formed in the wake of the demise of Buffalo Springfield. When the group broke up, Stills got in touch with Crosby, a recently sacked member of The Byrds who had once filled in for Neil Young at a Buffalo Springfield concert. The duo then got in touch with Graham Nash of The Hollies, who had met both men on separate occasions.
At a party held at either Cass Elliot or Joni Mitchell's house, the trio discovered their ability to flawlessly harmonise with one another. After a failed audition with Apple Records, the three men agreed to continue together but not to form an actual group. Instead, they would simply perform and release music under their individual names to allow them the freedom to work on other music ventures and depart from this collaboration if necessary.
Soon enough, the trio's first album became an extremely successful piece of music, and CSN was launched into superstardom. Their harmonies and heartfelt lyrics were popular among fans and critics alike.
Stills, however, became worried that he would be confined to the Folk Rock genre and suggested adding his former Buffalo Springfield bandmate Neil Young to the group.
Initially hesitant, Crosby and Nash were turned around after meeting Young for breakfast and realised that his addition would only serve to benefit them. Now CSNY, the quartet kept the signature harmonies that made them famous while also adopting a heavier sound and more socially conscious songs, thanks to Young's inclusion.
On just their second live performance together, CSNY would play at Woodstock and wowed audiences with their amazing showing. Their album Deja Vu would also become a roaring success and remains to this day the highest-selling album for all four members of CSNY.
Over time, the member's individual egos would cause them to clash and splinter off into smaller factions. Stills would go solo and later reunite with Young, who was establishing himself as a credible solo act. Nash and Crosby would also remain together as a duo. While the group tried to reunite as a four-piece in 1974, their squabbles would drive them apart again.
Young and Stills would also go their separate ways after Young abruptly no-showed a concert. Without his partner, Stills would make amends with Crosby and Nash in 1976 and reform the original CSN. At this time, Crosby's substance abuse problems escalated, and his bandmates urged him to seek help. Young would also promise to reunite CSNY if Crosby got his act together.
After finally doing so in 1988, Young kept to his word, and CSNY was together again. Young would once again leave as their American Dream album fell short of critical and commercial expectations. However, this time CSN remained intact for its longest run yet. CSNY would also occasionally perform together at various events, and it seemed that all was well between the four, regardless of whether they were working together or not.
However, in 2015, a new rift between the group began to form. After making some incendiary comments about Young and his partner, Crosby and Young would fall out. Shortly after, Nash would also end his longtime friendship with Crosby, while Stills remained neutral in this argument. This rift seems to have yet to heal as a reunion has seemingly been ruled out. That being said, one can never say never when it comes to CSNY.
The fact that one group can be recognised as a completely separate entity simply because of the addition of one person is a testament to the musical ability of all four men involved. While bands give birth to new bands from time to time, CSNY is the first supergroup to ever be borne of another supergroup.
That does it for this list! If you made it this far, let me thank you for taking the time to read this! Research for this article has highlighted to me the ever-evolving nature of the music business. It also shows that many great ideas can sometimes be borne of a single good one.
Do let me know if I have missed out on any other similar groups. I may make a follow-up to this list sometime soon. Until then, take care!
Reader insights
Be the first to share your insights about this piece.
Add your insights