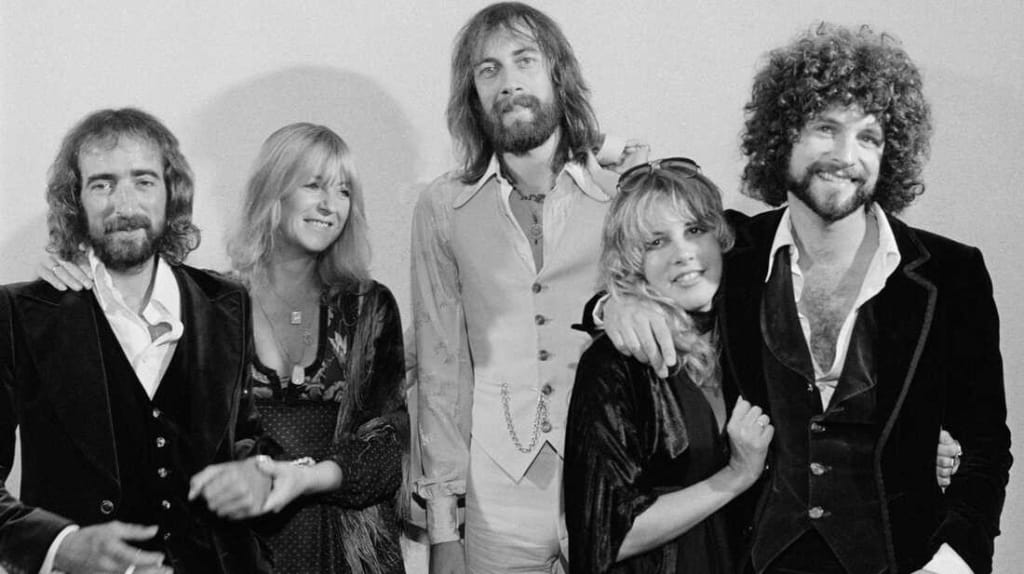 Image: NPR.org
A band's name is one of, if not their most defining aspect. Just by the sound of its name, a listener can instantly picture a group's members and songs in their minds. If done right, even a person who isn't a fan of the group can get a feel of the band's style just by hearing its name.
Generally, naming a group follows a rather simple formula. It could be something descriptive of the group's overall image or style, a reference to something the members shared in common, or perhaps a more unique or accidental discovery.
However, several famous groups decided to forsake this entire process over the years and simply name themselves after their own members. Whether it be to emphasise that particular member's role in the band, having nothing else to the group, or for some other reason, there are five iconic bands named after their members.
Without further ado, let's begin!
#5. Manfred Mann
Initially named after two of its members, the band that would soon be known as Manfred Mann initially started off as the Mann-Hugg Blues Brothers. Named after keyboardist Manfred Mann and multi-instrumentalist Mike Hugg, the band was urged to change its name as its profile grew.
Manfred Mann (the keyboardist) brought a sound that made them stand out amongst other groups that emerged from the British Invasion. Alongside Mann and Hugg, the group also consisted of Mike Vickers, Dave Richmond, and Paul Jones. Later down the line, notable names such as Klaus Voorman and Jack Bruce would play the bassist role while Mike D'Abo replaced Jones on vocals.
In their seven years together, Manfred Mann released a slew of hits made up of original compositions and covers. Their original song 5–4–3–2–1 brought them fame as it served as the theme song for the popular TV program Ready Steady Go, while cover songs such as Do Wah Diddy Diddy and Mighty Quinn demonstrated their ability to adapt existing songs to a more popular sound.
While Manfred Mann (the band) disbanded in 1969, Manfred Mann (the keyboardist) would go on to form the successful Manfred Mann's Earth Band, a Progressive Rock group that further highlighted Mann's skills on keyboard and synthesiser.
Interestingly, various members of the original Manfred Mann have reunited on several occasions without the man whom the band derived their name from. Thus, the name "Manfreds" has been used to describe this mostly intact but notably incomplete line-up.
#4. Van Halen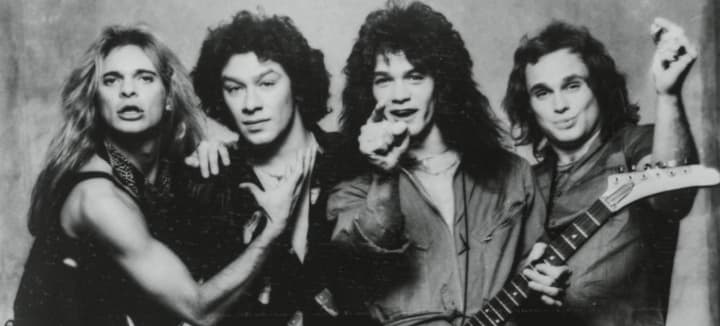 One of the most talented and high-energy Rock groups of all time, the name Van Halen has become synonymous with the hard, high-octane sound that defined the genre. Many also know that Van Halen is the surname of the group's co-founders, brothers Alex and Eddie Van Halen.
Interestingly, the band's now iconic name was never their intended one, and the idea to name the group after their own surnames did not come from Alex and Eddie either. Having had several names, such as Genesis and Mammoth, the budding group could not stick to these monikers for long as they were quickly overshadowed by more prominent groups bearing the same name.
When Mammoth recruited singer David Lee Roth, the early ideas for their iconic name began to take hold. Having been served a cease and desist letter from a group with the same name, Roth decided that Mammoth would need a name that was both unique and that truly belonged to the group itself.
Feeling that the Van Halen name had a certain power that would help give the group its identity, Roth pushed hard for the band to be named after the Dutch surname of its founding members. Eventually, the members agreed, and Roth was proven right. Even with Diamond Dave as the band's main star, the Van Halen name helped immortalise Eddie and Alex as rock legends too.
So strong was the Van Halen name that the group kept it even after Roth's departure and rode it to a new wave of success during the Sammy Hagar era. Ultimately, David Lee Roth was right as Van Halen soon became synonymous with amazing music regardless of the line-up.
#3. Bon Jovi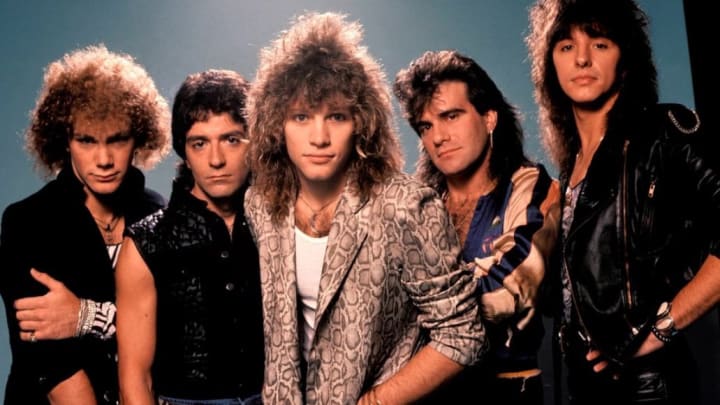 One of the greatest bands to come out of the 1980s, Bon Jovi combined the heavier sound of the 70s with the more upbeat Pop and synth sounds that would soon define 80s music.
Lead singer Jon Bon Jovi had been signed to a record deal following the success of his song Runaway. However, he stated his preference for being in a band instead of going solo. Bon Jovi had also expressed interest in a more traditional name for his group rather than simply naming it after himself.
However, those around him soon persuaded him to name the band in a style similar to Van Halen. Following the style of a catchy two-word name and a unique moniker that could apply exclusively to the group, Bon Jovi the band was formed.
With a self-titled first album, Bon Jovi really began making waves with their second album Slippery When Wet. Becoming the best-selling album of 1987, Bon Jovi was catapulted to immortal success. That being said, there has been confusion among casual listeners as to whether the name Bon Jovi belonged to a single person, the band as a whole, or both.
Jon Bon Jovi took it with good humour and parodied the decision to name his band after himself in several Saturday Night Live skits. Interestingly, while Bon Jovi is named after its lead singer, it is not actually his real name. Born John Francis Bongiovi, the singer was urged to alter his name slightly as his management felt that "Bon Jovi" would be an easier name to sign posters on.
#2. Crosby, Stills, Nash (And Young)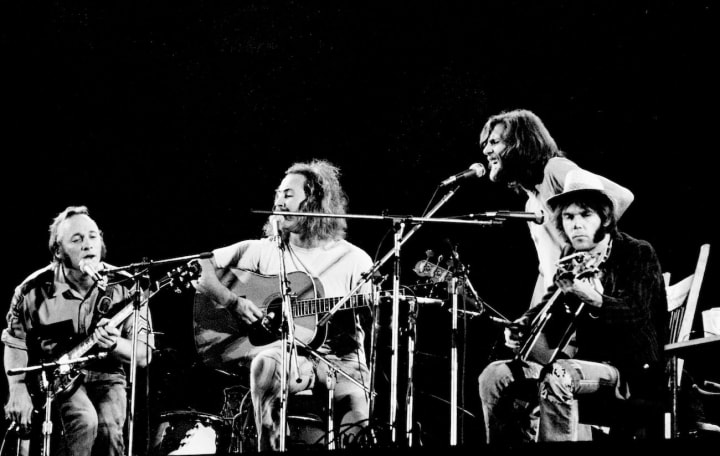 Among the greatest supergroups of all time, CSN(Y) were the prime example of what happens when a group of already established artists decide to collaborate with one another. Descending from The Byrds, The Hollies, and Buffalo Springfield, they wowed audiences with their impressive harmonies, guitar work, and lyrics covering various social issues.
Unlike the other groups on this list, whose names were still somewhat unique, CSN(Y)'s name was literally just the surnames of the band's members. While this may appear to be a case of a band simply not knowing what to call themselves, there was actually a very deliberate reason why this supergroup did not have a more distinct name.
While these four extremely talented legends have demonstrated amazing musical chemistry with one another, the often tumultuous relationships between them have made a more permanent collaboration near impossible. Thus, it was decided early on from their days as a trio that they would merely stick to using their own individual names and not release music under a traditional shared moniker.
This decision worked well in hindsight as it allowed all four men to embark on solo careers or release music in smaller formations, as seen with Stills & Young and Crosby & Nash. In many ways, the decision for CSNY not to adopt a shared name gave each of these individuals the freedom they craved while simultaneously allowing them to work together when it was convenient.
#1. Fleetwood Mac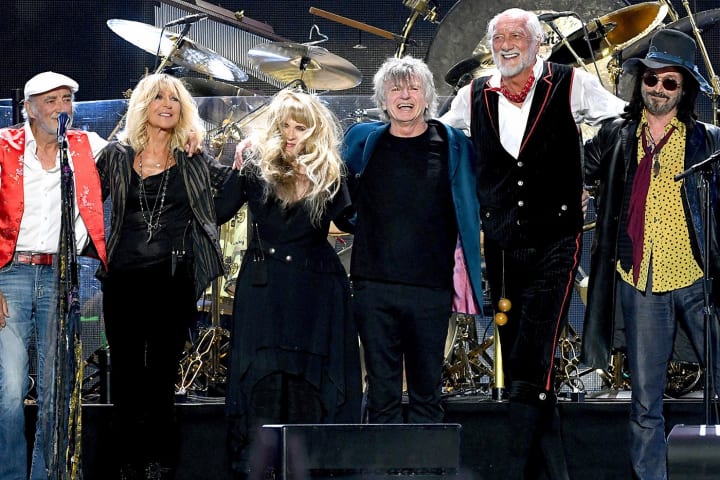 It is very fitting for a band that has undergone all manner of line-up changes and dealt with all kinds of internal conflict to name itself after its two most consistent members. Founded by Peter Green, Mick Fleetwood, and Jeremy Spencer, the band was named after drummer Fleetwood and the band's bassist John McVie who joined shortly after the group was formed.
Green, who was essentially the band's leader, sought to recognise his fellow bandmates, particularly Fleetwood and McVie, whom he viewed as the best rhythm section he had ever worked with. Just as a rhythm section provides a band with a constant beat, Fleetwood and McVie were the two constants of the band which took its name from them.
Throughout their nearly 55 years and counting together, both Fleetwood and McVie have stayed with the group. This is especially impressive considering the numerous line-up changes and re-inventions that Fleetwood Mac has undergone over the decades. Even amid creative conflict, heavy drug use, personal struggles, and even a divorce, the ever-present duo of Fleetwood and McVie continued to stick with Fleetwood Mac.
Now in the band's 19th incarnation, Fleetwood and McVie show no signs of going anywhere. In many ways, they have begun to be synonymous with the band in almost every sense of the word. Having been in Fleetwood Mac since the very beginning and lending their own names to the band, one cannot imagine the group without either Mick Fleetwood or John McVie in it.
That does it for this list! If you made it this far, let me thank you for taking the time to read this! It was very interesting to find out why these bands named themselves after their members. More often than not, it comes with a backstory far more interesting than a simple case of a group having no other name in mind.
If you know of any similar stories, do let me know in the comments. I love hearing back from you all! I may also make a follow-up to this somewhere down the line. Until then, take care!
Reader insights
Be the first to share your insights about this piece.
Add your insights