41 Thoughts Everyone Has Had at a Musical Festival
Flower Crowns. Sparkles. Pigtail Buns. Sweat.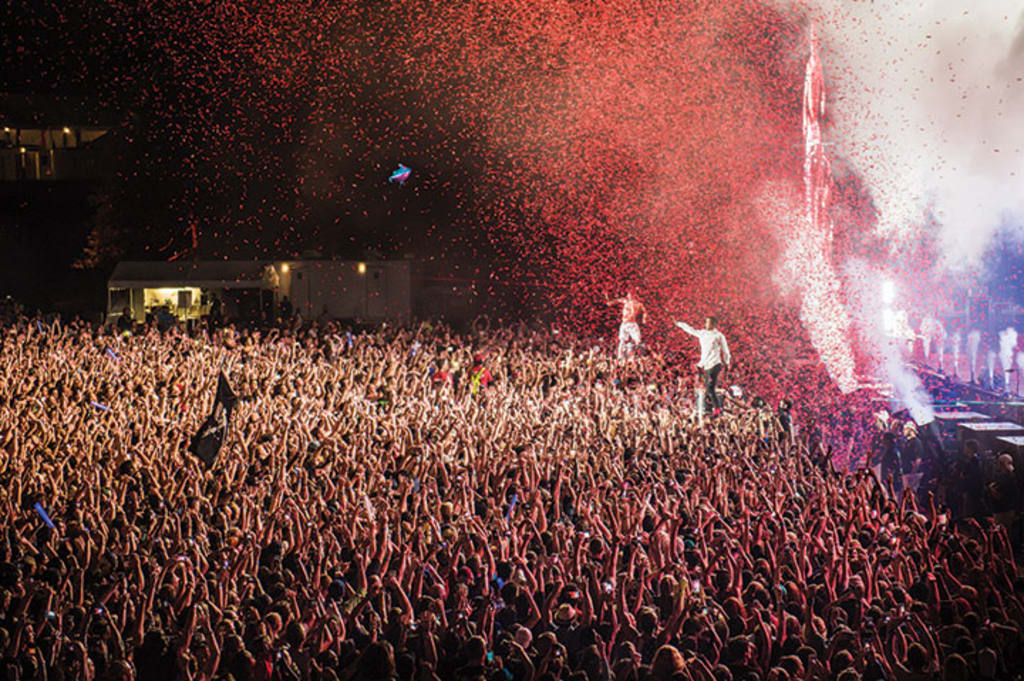 Courtesy of Music Midtown
So, you're going to a music festival. I'm not sure if YOU are sure of what this undertaking entails.
Without further ado, here are 41 thoughts that everyone has while attending a music festival...
Or maybe just me.
Wait, was I supposed to wear my hair in pigtail buns? I did NOT get the memo.
Shorts were not my first choice. But here we are.
And what's with the sparkles all over the face? And IN the hair? Good luck washing that off, ladies!
I'll just stick to my temporary cat tattoos instead, thank you very much.
No one else has those? Oh, well, looks like I'm the trend-setter of this festival.
Is that butt AND boob sweat? Let's hope it's just that.
Hm, not as many flower crowns as I was expecting..
I'll just go get a drink while I wait for the next act.
Oh. Or I'll just wait in line for a half an hour and faintly hear from a distance. Yeah, this is working out just fine.
It appears that I stop giving a damn whether people cut in front of me the moment they offer to buy my drink. My pride stops at $15 for a cocktail.
Alright, drink in hand. I'm ready to party.
Don't mind me, just over here gettin' down in the mud pit that has appeared overnight. Did it rain? When?
So glad I didn't wear my off-the-shoulder top. You do you, girls, but Mama gotta wear a bra. No exceptions.
Or, maybe a bralette. Those are what the kids are wearing nowadays, right? I'm still young!
Now where is that tot truck I saw once upon a time? And how many hours is it going to take me to find it?
Half of attending a music festival is just dancing in line to get food and alcohol. This is fine.
OHMAHGAH food truck tots 10/10.
It's cool, bruh. Run into me, spilling nearly half of my drink. I'M FINE.
There are way too many people here. How does anyone get anywhere?
Excuse me, I'm just gonna slip into the crowd here.
Alright, can't move. This is now my spot for the rest of my life.
Ah, tall people. Forever in my way. Don't you know your place is in the back?
Now, if I could just...reach up to get a single photo of the stage...there we go.
Don't be pissed at me, people behind me. This is the only thing I have to remember this moment by.
For the last time, I AM NOT LETTING YOU THROUGH I DON'T CARE IF YOUR FRIENDS ARE UP THERE.
Morgan? Who's Morgan? Oh, well. MORGAN WHERE ARE YOU??
I'm just a girl. Standing in a crowd. Hoping that this stranger finds her friend Morgan.
There she is!
Using a balloon to find your friends isn't as effective as you would hope.
Anyone want the rest of this? I guess I'll just make my way to the side. Hope there's a trash can.
Welp, there's no way I'm moving.
Just gonna set this here…and hope for the best.
This is quite uncomfortable, but the lady whose boob I keep touching and I are now friends. Silver lining.
WE ARE FAMILY. YOU AND ME, THE STAGE WE CAN'T SEE.
Ah, there they are! I'm not crying, you are!
I'M DOING GOOD. THANKS FOR ASKING!
My face has officially been melted by awesomeness.
If only I could get my fanny pack to sit comfortably on my hip.
Oh well, I can't feel anything anymore, anyway.
Please don't jump on me—oh, dear god.
OK, I am now deaf, but it was totally worth it.
Reader insights
Be the first to share your insights about this piece.
Add your insights