27 Years of Backstreet Boys
Reliving some of our favourite BSB moments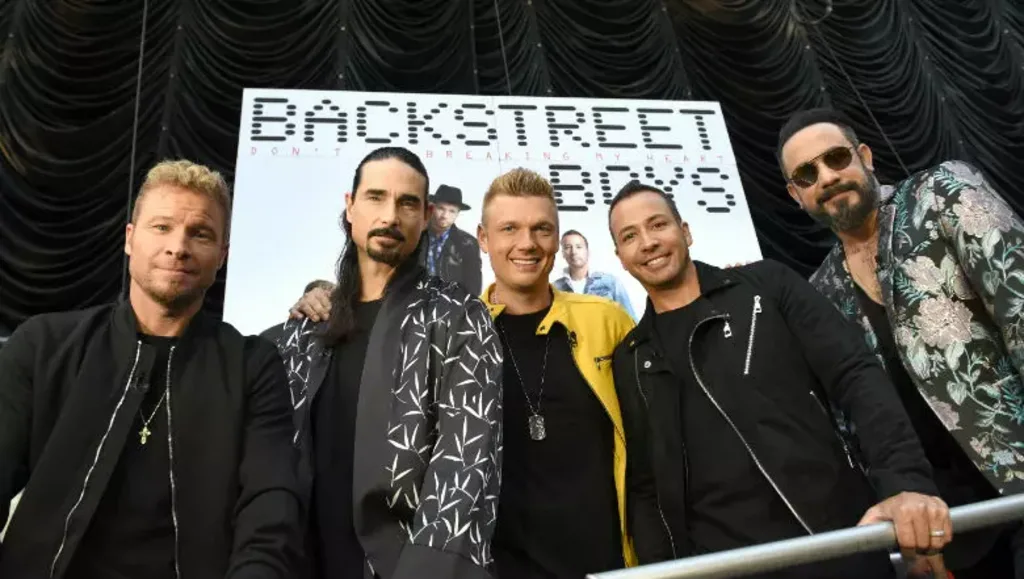 It's hard to believe but today marks 27 years since Nick, Brian, Kevin, A.J. and Howie – aka Backstreet Boys – entered our lives. Proving that, not only can the boyband curse be broken but also, just how much their music has stood the test of time. If you're sitting there thinking, "wait up fangirl writer person, didn't BSB break up at some point?" The answer would be no. Sure, they took breaks here and there to pursue solo projects, and Kevin did leave for a period of time but they never actually/officially broke up. Enough of that talk.
Following the breakup of New Kids on the Block in 1994, it not only left many fans belting out "Please don't go boyssss" in their room while holding their Joey McIntyre pillo, but also left those in the business wondering if another boyband would show up to fill the void. Would they be as successful and build on what NKOTB started? Well those questions would quickly get answers once 1994 came around and introduced the world to the Backstreet Boys.
Although they first formed in 1993, BSB wouldn't come on to the scene until 1994 with the release of their first debut singles, "We've Got it Goin' On" and "I'll Never Break Your Heart." The tracks would be just the thing to begin them on their journey to stardom because by the time their self-titled debut album was released in 1995, they were already gaining major popularity through radio play and appearances and quickly becoming one of the most popular boybands of the 90s.
I remember it clearly…*cue flashback music* It was a Saturday afternoon, in 1995. There I was watching 104.5 fm's Chum Chart - for non-Canadians, it was the MTV for kids without cable – when suddenly, there they were. Nick, Brian, Kevin, Howie and A.J. just hanging out at a local basketball court, singing their hearts out in the rain and showcasing their best 90s feels… That was the moment I found my very first favourite boyband. I know the boys have said this is their least favourite video but it will forever hold a place in my heart.
With this monumental anniversary upon us, it's a fitting time for us to take a quick trip down nostalgia lane and relive some the BSB's best music videos, songs and moments throughout the years.
The Burger King Commercial
Show of hands if you also still have the free CD that came with your order.
The Sears Commercial
Sears brought us the Millennium tour and I will forever be bitter that I couldn't go.
This is The End
Did I ever think I would see Seth Rogen dancing with the Backstreet Boys in an iconic movie ending? No. Am I happy I witnessed it? Abso-freaking-lutely.
Sabrina the Teenage Witch
As if we needed another reason to be obsessed with this show.
I'll Never Break Your Heart
It might not have been their official video for the track but it doesn't matter. I needed ALL the soft boyfriend Brian in comfy sweaters content.
10,000 Promises
Not a single or one of their more popular tracks, 10,000 Promises was wildly slept on and I am personally offended.
Brooklyn Nine-Nine
One of the more recent memories comes from the geniuses at Brooklyn Nine Nine. This line up scene was everywhere and for good reason. It's still hilarious.
Backstreet Blitz
We can never forget the moment we learned about "The Funky Chickens".
Speaking of Funky Chickens
Can't believe Nick's career came full circle like this.
TRL Elevator Surprise
You see those small corners? Yeah, one of those is where I would be laying, if this ever happened to me…which it won't but that's fine… I'm fine *she was not fine*.
Take a Break
During their Las Vegas residency, James Corden decided to help the guys out a bit by giving Brian a bit of a break. Hilarity ensued.
Drowning
This is my jam and I will always fight for it.
David Letterman's Top Ten
Proving they can sing anything, they even lent their harmonies for David Letterman's Top Ten List.
All the Harmonies
One word: Heaven.
BSB At Home
Taking part in iHeart Radio's at home concert special put together for COVID-19 relief efforts, the boys performed their hit "I Want it That Way" from home and put a smile on all our faces in the process.
Oof, that was incredibly difficult to narrow down! There is so much more that I can list but we'd just be here all day.