25 Greatest Songs of Pink Floyd
The Best of Pink Floyd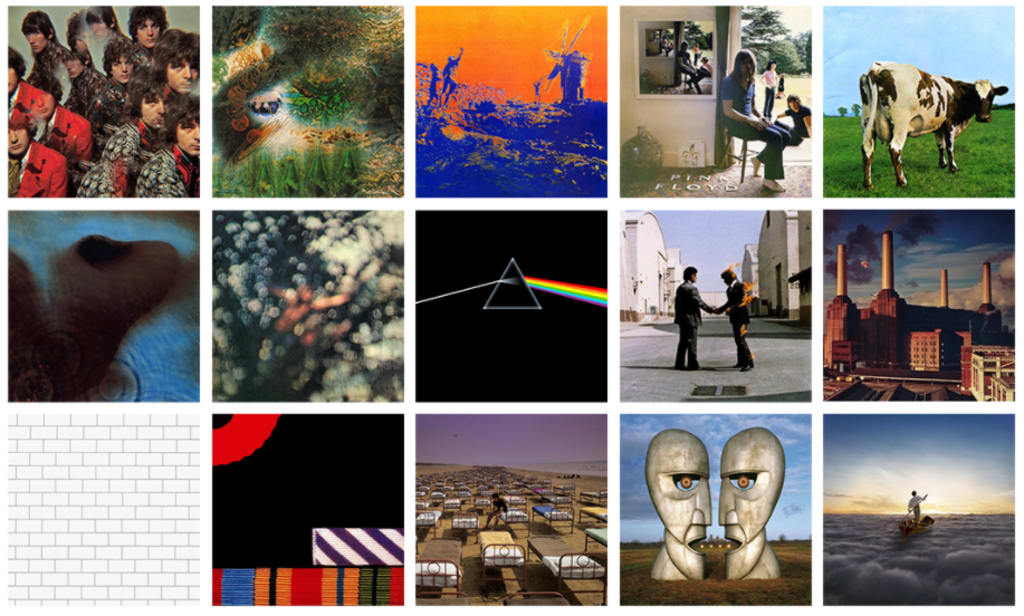 Pink Floyd Album Collage by JoeRockEHF
A band like Pink Floyd has many, many great songs. One could argue that every song they ever recorded is great. This list painfully narrows it down to 25 songs. Many great songs are left out, and we all have our opinions as to what are the greatest of the greats. This blog post is just one person's opinion regarding some of Pink Floyd's greatest songs.
There is a big misconception regarding Pink Floyd's music. Many people believe their music is about drugs and partying. But once you do a deeper inspection of their music you come to recognize that their songs are about love, nature, airplanes, spirituality and getting in touch with the demons and beauty in your mind.
Before moving on to the 25 greatest songs, I want to share what bubbled under the top 25:
51. Set The Controls for the Heart of the Sun (1968) / 50. Run Like Hell (1979) / 49. Wearing The Inside Out (1994) / 48. "Bike" (1967) / 47. "One Slip" (1987) / 46. "Remember A Day" (1968) / 45. "On the Turning Away" (1987) / 44. "Cymbeline" (1969) / 43. "Astronomy Domine" (1967) / 42. "Biding My Time" (1969) / 41. "Paint Box" (1967) / 40. "Chapter 24" (1967) / 39. "Point Me at the Sky" (1968) / 38. High Hopes (1994) / 37. "Arnold Layne" (1967) / 36. Dogs (1977) / 35. "Louder than Words" (2014) / 34. "Summer '68" (1970) / 33. "Matilda Mother" (1967) / 32. "If" (1970) / 31. "Sheep" (1977) / 30. "San Tropez" (1971) / 29. "Welcome to the Machine" (1975) / 28. "Waiting for the Worms" (1979) / 27. "Young Lust" (1979) / 26. "Is There Anybody Out There?" (1979)
And now, without further ado, here is my list of the "25 Greatest Songs of Pink Floyd"
25. "Not Now John" (1983)
Parent Album: The Final Cut
This is one of Pink Floyd's hardest rocking songs. David Gilmour's lead vocal is uncharacteristically aggressive, yet every bit as effective as his smooth delivery we've grown accustom to hearing on such songs as "Wish You Were Here" and "Us and Them."
Both Roger Waters and David Gilmour deliver some of their best guitar work. "Not Now John" is truly a guitar lover's song. Included are electric and acoustic guitar, rhythm guitar, and twelve-string guitar. David Gilmour's lead guitar parts are bold and dynamic, giving the song a powerful boost.
24. "Mother" (1979)
Parent Album: The Wall
Roger Waters sings this song with an indifferent and cold delivery. It's in his indifference that we find a reflective emotion.
The lyrics follow in the same pattern: a reflective yet indifferent emotion. Roger Waters goes through a series of questions, that maybe a psychologically disturbed man might ask his mother. The themes of these questions vary widely, sometimes not related to each other, somewhat disjointed.
Waters asks,
"Mother, do you think they'll drop the bomb?"
"Mother, do you think they'll like the song?"
"Mother do you think she's good enough?"
Probably the most interesting question is, "Mother, should I build the wall?" This could imply a wall such as the Berlin wall, a wall which represented oppression and division. Most likely the wall could represent a shutting off from society and other people in general - becoming a recluse that hides away from social contact.
Again, David Gilmour gives his classic and signature guitar solo. His style is recognizable and unique.
23. "See Emily Play" (1967)
Parent Album: Non-Album Single
This is really an amazing and underrated song. Whenever I hear this one and others like "Arnold Layne," I think what a shame that Syd Barrett did not make it too far with Pink Floyd. There were a few non-album singles, and "Piper at the Gates of Dawn" (1967) was Syd Barrett's masterpiece. He wrote (or co-wrote) ten of the eleven songs as well as played electric guitar on all but one song and sang lead vocals. "Piper at the Gates of Dawn" was Pink Floyd's masterful debut and showed much promise. In 1968, Pink Floyd released their second album, A Saucerful of Secrets. This time Barrett contributed to only three of the seven songs and wrote only one. This was the last Pink Floyd album in which Syd Barrett appeared. I often wonder what Syd Barrett would have created, how he would have progressed with Pink Floyd had he been able to keep it together and forge ahead with the band. But then I think that if he continued with PF we most likely would not have had albums like Dark Side of the Moon, Wish You Here, or The Wall.
"See Emily Play" is a wonderful, quirky classic with some wild piano by Richard Wright, and some tasty, electric guitar chords by Barrett interspersed throughout. The song reached #6 in the UK and #10 in Ireland.
22. "Cirrus Minor" (1969)
Parent Album: More (Soundtrack)
The first time I listened to this song I had to play it over again. I didn't hear the title mentioned in the lyrics, so I went back and listened to each word closely. It took a while before any singing started. The first minute is nature sounds - mostly birds chirping. Finally, an acoustic guitar softly fades in, and the vocal starts. I am listening closely to each word. I am mesmerized by the quality of sounds and the artful flow of the words. The lyrics paint a vivid imagery describing a lazy afternoon sitting by the river. The music has a tranquil sort of mind-altering effect to it. The title, "Cirrus Minor," is mentioned only once toward the end of the vocal portion.
21. "Goodbye Blue Sky" (1979)
Parent Album: The Wall
The opening of "Goodbye Blue Sky" begins with David Gilmour's voice multi-tracked to create a Beach Boys-like harmony vocal. This song is a real treat for me as I am a real fan of David Gilmour's voice.
20. "Have a Cigar: (1975)
Parent Album: Wish You Were Here
I have long been stupefied to the fact that "Have a Cigar" failed to chart in both the US and UK. "Cigar" was similar in topic to "Money," both revolving around greed. The song also featured a "phat" and chunky bass line as did "Money." I just assumed the song would follow "Money" up the charts - I was wrong. Who knows? Maybe if they would have had David Gilmour (or Roger Waters) do the lead vocals the song's chart performance may have been different.
"Have a Cigar" received extra mileage in 1979 when disco group, Rosebud, released an electronic, disco-rock cover of the song. Rosebud took their recording of "Have a Cigar" all the way to #4 on the US disco charts.
19. "Learning to Fly" (1987)
Parent Album: A Momentary Lapse of Reason
I did not catch on to this song until a full two years after its release. For that matter, I really didn't latch on to the song's parent album until two years later, also. The odd thing, I bought the 7" single upon its release (but not the album), and for some reason I never took to the song. I think I played it once and forgot about it. One gloomy, fall afternoon in 1989, I decided to play that little 45 I had forgotten about, and this time, I heard magic. Maybe it was the slick guitar work, or maybe David Gilmour's smooth vocals, or quite possibly the creative lyrics, or maybe all of the above. Whatever it was, this time around the song had me totally captivated - so much that I considered it my favorite Pink Floyd song for about a year.
As I came to love this song, I dug a little deeper and noticed that one of the songwriters was Anthony Moore. I wondered, "Is this the same Anthony More (yes, one "o") whose albums Flying Doesn't Help and World Service are amongst my all-time favorites?" Back in those days I did not have the internet at my fingertips like I do now, so I sent a letter to Pink Floyd to confirm this. I never did get a response. But, in 2002, with the help of the internet, I was finally able to confirm that this was, indeed, the same Anthony Moore from many years ago.
In its lyrics, "Learning to Fly" combines the metaphor of flying with proper flight instructions: "Propellers, fully forward. Flaps, set, 10 degrees."
In an interview, David Gilmour said, "'Learning to Fly' is about breaking free and the actual mechanics of learning to fly an airplane." The song describes Gilmour's feelings about moving ahead as the new leader of Pink Floyd after the departure of Roger Waters.
Around this time, David Gilmour was taking flying lessons. He got help with the lyric from Anthony Moore, a lyricist who also worked on the track, "On the Turning Away." Moore's idea was to incorporate phrases Gilmour would hear in his lessons as he was learning to fly a plane.
The dubbed-over voice of pilots talking is actually a recording of drummer, Nick Mason, during a flying lesson. Both Nick Mason and David Gilmour became licensed pilots around this time.
A Momentary Lapse of Reason was the first of three Pink Floyd albums recorded without their founding member, Roger Waters.
18. "Stay" (1972)
Parent Album: Obscured by Clouds
This is a pleasant tune with lyrics written by Richard Wright and music by Roger Waters. The lyrics are straight forward and simple and reflect the morning thoughts after a one-night stand. The lyrics paint an aura of comfort with a vivid imagery of color: "Midnight blue/ Burning gold/ A yellow moon/ Is growing cold."
17. "One of These Days" (1971)
Parent Album: Meddle
It's all about the bass guitar. The bass resonates and it's propulsive, chunky, and upfront. "One of These Days" features double-tracked bass guitars played by David Gilmour and Roger Waters through a delay to create quarter note triplets.
The song is primarily an instrumental with a short, whispered spoken part in which drummer Nick Mason says, "One of these days, I'm going to cut you into little pieces."
16. "Julia Dream" (1968)
Parent Album: Non-Album Track
"Julia Dream" is one of Pink Floyd's most beautiful songs. That is a tall order to fill as they have recorded many gracefully ethereal and beautiful songs throughout their life as a band.
Roger Waters has written many masterpieces, and "Julia Dream" is no exception. It is amongst one of Roger Waters' best. The lyrics flow seamlessly together weaving a mysterious love song.
With his lyrics, Roger Waters paints a picture filled with symbolism. The opening line, "Sunlight bright upon my pillow/ Lighter than an eiderdown," symbolizes the breaking of morning. The sunlight is not intrusive, but light and feathery, as it wakes the subject from a dream of the most beautiful Julia, of whom he enjoys dreaming, "Queen of all my dreams."
In the lines, "Will she let the weeping willow/ Wind his branches round," Roger Waters is referring to the subject as "the weeping willow." Perhaps he is saddened because he is unsure whether or not Julia, his dreamboat queen, will let him wrap his arms around her.
"Every night I turn the light out/ Waiting for the velvet bride," symbolizes the subject's
enthusiasm for nighttime as he lays his head upon his pillow hoping to meet with his velvet bride: Julia. The word "velvet" is the second reference to softness in the song. The first, "eiderdown," which is a light and soft duck feather sometimes used in a pillow. Velvet references the subject's perceived smooth, softness of Julia.
"Will the scaly armadillo find me where I'm hiding?" Only in a Roger Waters lyric will you find a scaly armadillo in a love song. The armadillo is a passive, solitary sort of creature with a hard, scaly-looking, protective outer shell. They are nocturnal beings that surface only at night to search for food. I'm going to try my hand at interpreting this line. In the cover of the night, when the dreams manifest, the subject is hiding in a place that feels safe and secure, waiting for his velvet bride to arrive. The dream comes searching to find him - he wants to be found, but he's not found, and does not receive his velvet queen.
The third verse is the most revealing:
"Will the misty master break me? Will the key unlock my mind? Will the following footsteps catch me? Am I really dying?"
The third verse is in reference to the second verse, a sort of continuation. The subject wants to be found and released from his hiding place. But he won't let himself be found. He is keeping everything pent up in a dark place in his mind. The "misty master" refers to his dreams. They are unclear, somewhat hallucinatory. The dreams have taken over and are mastering his mind. Will these dreams destroy him? He wants his muddled mind to be unraveled, but can anyone or anything get through to him to unlock the confusion (or madness) that lies within? He is running away from his own mind, from his confusions. He does not want to face reality. He feels that reality is chasing after him, but he cannot face it. Therefore, he continues to hide in a world of disillusion and dreams. Will reality catch him? Will he face reality, or will he die in the tangled web of his dreams and confusion?
In the end, he is calling out for his dreams, his fantasy, his delusions to save him. He's trapped and locked inside the queen of all his dreams.
Before moving on, I must also pay some attention to David Gilmour's vocal interpretation. This was his first, lead vocal on any Pink Floyd song. "Julia Dream" was originally released as the B-side of the non-album, 1968 single, "It Would Be So Nice." Gilmour's lead vocal was double tracked which adds an eerie, supernatural character to his voice. Right from this first song it was evident that David Gilmour would be a leading force within the puzzle of Pink Floyd's artistry.
15. "Money" (1973)
Parent Album: The Dark Side of the Moon
"Money" was Pink Floyd's first legitimate hit single in the US reaching #13. Ironically, the song failed to chart in the UK, their homeland.
Right from the opening "cha-ching" sounds of a ringing cash register and jingling coins, you just know this song is going to be "classic Pink Floyd," and classic is exactly what it has become.
Roger Waters' thick, chunky, bass line leads the song with a heavier sound than we had grown accustomed to hearing from Pink Floyd on their previous two or three albums. Here we're treated to a gritty and bluesy lead vocal from David Gilmour - a nice contrast from his usual beautifully smooth vocals. That hard saxophone is really something else and gives the song a brassy-blues texture like we had never heard before in a Pink Floyd song. It appeared more often in subsequent Floyd recordings.
In short, this song describes the trappings of greed: how the wealthy seem to never have enough. Roger Waters, who wrote the lyric, in so many words, has stated he's a socialist, but he let himself get sucked in by the trappings of wealth. He said, "I very much wanted that material stuff."
14. "Fat Old Sun" (1970)
Parent Album: Atom Heart Mother
Written by David Gilmour, "Fat Old Sun" was created when Gilmour hadn't had much experience as a song writer. He co-wrote a few lengthy instrumentals and also wrote a few shorter ones. But "Fat Old Sun" was Gilmour's first composition in which he wrote the music, melody, and lyrics.
The lyrics describe a lazy, sunny day in the countryside. Unlike other Pink Floyd songs where the lyrics are a puzzle of symbolism, the lyrical meaning of "Fat Old Sun" is very straightforward.
"Fat Old Sun" was all David Gilmour. Some say he gave us a hint of what he would have sounded like as a solo artist in 1970. Gilmour not only wrote the song and sang lead vocals, but he also played all the guitars - electric, acoustic, pedal steel and bass. He also played the drums and did all percussive parts. Richard Wright, though, did step in to play the organ.
A few interesting tidbits on "Fat Old Sun":
The same bells-effect sound, which is heard at both the beginning and end of " Fat Old Sun," is also heard on "High Hopes" from The Division Bell and "Surfacing" from The Endless River.
Norman Smith, the executive producer of "Fat Old Sun" (and actually, the entire album, Atom Heart Mother), was also known as Hurricane Smith. Many of us remember Hurricane
Smith for his 1972 mega-hit, "Oh Babe, What Would You Say." Smith also produced, "The Piper at the Gates of Dawn," "A Saucerful of Secrets," and "Ummagumma."
13. "Shine on You Crazy Diamond" (1975)
Parent Album: Wish You Were Here
"Shine on You Crazy Diamond" is represented in nine parts on the album Wish You Were Here. It's split into two parts. The first part, which opens the album, is Parts I - V and is 13 minutes and 3 seconds in length. The second part, which closes the album, is Parts VI - IX and is 12 minutes and 28 seconds.
"Shine on You Crazy Diamond" was written about and dedicated to Syd Barrett, who left the band in 1968 due to deteriorating mental health.
While working on the album, Syd Barrett quietly entered the studio. Nobody recognized him as his head and eyebrows were shaved, and he had gained quite a bit of weight. Roger Waters was brought to tears because he was shocked by Barrett's appearance. Someone in the studio offered to play the "Shine on You Crazy Diamond" suite again for Barrett. Barrett commented that a second playback wasn't needed as it had just been played minutes earlier. Barrett stated, "It sounded a bit old."
Parts I - III are all instrumental. Each of these three parts includes what I consider to be some of the most intense (or intricate) guitar solos by David Gilmour.
Finally, in Part IV, we hear Roger Waters' soulful lead vocals. Waters is at his peak of vocal urgency and sensitivity. He sings his words with an impact that is stronger than we've heard him on previous albums. Could this additional vocal verve be due to the fact that he was singing about his childhood friend, Syd Barrett, whose friendship dates back to the mid-1950s?
Waters sings the line, "Come on, you stranger, you legend, you martyr, and shine," all descriptors of how he perceived Barrett in different stages of his personality and life path.
The backing vocals are a highlight in Part IV (and again in Part VII). David Gilmour and Richard Wright are joined by Venetta Fields and Carlena Williams to create a wall of sound Gospel-tinged harmonic backing vocals. Venetta Fields was a much sought-after backing vocalist having worked with Ike & Tina Turner (she was an Ikette), Steely Dan, Rolling Stones and many others.
Part V is one of my favorites with the high-stepping sax parts by Dick Parry. Parry also played sax on "Money" and "Us and Them." Another highlight is the funk progression in Part XIII. Finally, Part IX was described by David Gilmour as a slow funeral march. He said it was the parting musical eulogy to Syd Barrett. At the very end of the song (around 12:07)
a short keyboard melody is heard of "See Emily Play," which is one of Barrett's most iconic Pink Floyd songs.
12. "Wot's... Uh the Deal?" (1972)
Parent Album: Obscured by Clouds
Obscured by Clouds is my favorite Pink Floyd album. Yes, that's right, not The Dark Side of the Moon or The Wall but Obscured by Clouds is my favorite. I love the easy-going, progressive, acoustic feel of the album. The album is a nice addition to a lazy, sunny afternoon.
The introspective lyrics of a young man searching for his place in this world and, finally, feeling at home as he has aged is beautifully sung by David Gilmour. His voice melts right through to the soul.
11. "Childhood's End" (1972)
Parent Album: Obscured by Clouds
"Childhood's End" is a predecessor to the classic Waters-Gilmour-Mason-Wright Pink Floyd sound. With its chunkier guitar chords and funkier bass line the song gives us a glimpse of what was to come with The Dark Side of the Moon.
Even David Gilmour's lead vocal is a window into The Dark Side of the Moon being a prototype toward his muscular, bluesy vocal which drove the mood and soul on songs such as "Money" and "Young Lust."
Lyrically, "Childhood's End" touches on the growing and aging. We start as an eager youth and become a declining elder. The picture isn't so rosy anymore.
My favorite line: "Is your conscience at rest, if once put to the test?" I'm not going to decipher this but will ask you to consider the question.
10. "A Pillow of Winds" (1971)
Parent Album: Meddle
David Gilmour's slide guitar has a way of reaching into your gut and soothing the mind into a sort of meditative state. Gilmour brings out a beauty from his guitar that only he is capable of doing.
The Pink Floyd catalog does not include a whole lot of love songs. But "A Pillow of Winds" is one of those few love songs. Pink Floyd's brand of "love song" is not filled with catchy hooks and clever rhymes. Instead, it is brimming with quiet mysticism and imagery of nature and romance.
Roger Waters wrote the lyrics while David Gilmour gracefully and handsomely sang the song.
9. "Burning Bridges" (1972)
Parent Album: Obscured by Clouds
I first purchased "Obscured by Clouds" on vinyl back around 1985, and maybe I listened to it once, but for some reason, it didn't resonate with me. Then, in 1998, I purchased the 1996 reissued CD (as I did with their entire catalog). The packaging was great with several photos, lyrics and album credits. It was then, 26 years after its release, that I discovered the greatness of "Obscured by Clouds."
Shortly before I purchased the CD, I heard "Burning Bridges" in a local Harley Davidson Gear and Apparel store. I must have played that song hundreds of times in the first month I owned the CD. The rest of the album grew on me within the ensuing months.
Once again, David Gilmour's slide guitar shines and gives the song an extra depth of dreamlike emotion.
8. "Hey You" (1979)
Parent Album: The Wall
"Hey You" is one of Pink Floyd's most iconic songs. It was hugely popular throughout the entire decade of the 1980s. Though the song was not upbeat and did not have a danceable rhythm nor was it a loud rock song with thrashing drums - it was still very popular at house parties. It was not uncommon to go from Devo's "Whip It" to "Hey You," then follow with Pat Benatar's "Hit Me with Your Best Shot."
"Hey You" was used as the B-Side of the single featuring "Comfortably Numb" as the A-Side. Many people considered this to be a double A-Side. Considering the enormous popularity of both songs it unexpectedly did not chart on any major primary charts anywhere in the world. However, "Comfortably Numb" did reach #24 on Billboard's Mainstream Rock chart.
The lead vocal was shared by David Gilmour and Roger Waters. Roger Waters wrote the probing lyric. Gilmour performed the emotionally stimulating guitar solo. He played this one with a yearning perfection. It is arguably one of the most recognizable guitar solos in all of rock music history.
7. "Green is the Colour" (1969)
Parent Album: More (Soundtrack)
"Green is the Colour" is one of my personal favorite Pink Floyd songs. I am a big fan of David Gilmour's lead vocals. With this song he swooned his way through the peaceful music that soothingly backed his voice. Plus, green is my favorite color – well, it's tied with blue and aquamarine, but for the longest time green was the color in my mind.
The song is described as being an acoustic ballad. Roger Waters says the song is about Ibiza, which is where the movie More was filmed.
Though Pink Floyd was an albums band, I always felt "Green is the Colour" was a good candidate for release as a single.
6. "Wish You Were Here" (1975)
Parent Album: Wish You Were Here
Back in 1992, I had a hard/grunge/classic rock band called The Thunder Lizards. During one of the rehearsals the bass player, Damon, brought his friend Tony. During the rehearsal, Tony and Damon did a quick rendition of "Wish You Were Here," which I tried singing afterward, but I just couldn't get the melody down. I was used to singing my own original songs - some of my titles: "She's Like Flowers to Me," "Sunshine Tonight," "Middle Class Blues," "Love Prison," and so forth. Shortly afterward, Damon and Tony formed a cover band called Parkaimoon. They're still together and do a mix of original music and covers. Anyhow, after that rehearsal I couldn't get "Wish You Were Here" off my mind, so I went home and played the album and prominently the song - several times. The lyric, "We're just two lost souls swimming in a fishbowl year after year," stayed in my mind for weeks.
The song begins, like it is coming from an AM radio show in the distance; possibly representing the distance between the listener and the music.
At 42 seconds in, Richard Wright was caught on tape coughing. After hearing this he was inspired to quit smoking.
The song is about feelings of detachment and alienation. Roger Waters says the inspiration for the song was Syd Barrett.
5. "Brain Damage" (1973)
Parent Album: The Dark Side of the Moon
Back in the late 80s and into the early 90s, I could really relate to this song, especially the lyric, "The lunatic is in my head. The lunatic is in my head. You raise the blade; you make the change. You re-arrange me 'til I'm sane." Back in those days I felt there was a lunatic crawling around in my brain. It took me a few years, but I was able to exorcise that lunatic without having to take a scalpel to my brain. As an interesting sidenote, back in the 1980s, this song spurred on several conversations regarding lobotomies, between myself and my friends.
This song about insanity has been rumored as being inspired, in part, by Syd Barrett, although the band itself has never alluded to this.
I want to begin with the opening line, "The lunatic is on the grass." Quite a few people have claimed this is a reference to smoking marijuana. Roger Waters disputes this claim. "The lunatic is on the grass" is a reference to those "Keep off the grass" signs we used to see everywhere in the 70s and 80s. The man who is considered insane is sitting on the forbidden turf, in his own demented world of "games and daisy chains and laughs." Insanity is looked upon as stepping off the boundaries of accepted behavior ("the path") - "Got to keep the loonies on the path."
I always felt "Brain Damage" would have fit well as background to the film "One Flew Over the Cuckoo's Nest.
4. Let There Be More Light (1968)
Parent Album: A Saucerful of Secrets
"Let There Be More Light" was the sole single released from A Saucerful of Secrets. Many sources say it was a US-only single. However, Discogs lists a 1968/1969 Japanese single release. Also, Wikipedia displays the Japanese picture sleeve of the single.
The song begins with Roger Waters' chunky bass up front and center. He plays with an almost mathematical repetitive force giving the song a sort of prevailing darkness. Hiding beneath the bass line is Rick Wright's spacey Farfisa organ which works neatly into the
vocals. The first, gentler vocals are performed by Wright, with Waters whispering, following the more aggressive refrain by Gilmour. Gilmour's stronger vocal gives the effect of sounding like the master lord of a future species of super humanoids while Roger Waters' whispering vocal gives the song a sense of lurching mystery. The last two minutes feature a guitar solo from David Gilmour which is notable for being his first guitar solo on a Pink Floyd album. The solo features Gilmour's style and "trademark": he plays single notes, and the sound of his guitar is treated through a chain of sound effects, such as distortion, echo, delay, and reverb.
Pink Floyd took an almost architectural approach at constructing each song on A Saucerful of Secrets. "Let There Be More Light," written by Waters, is a great example of this approach with its peaks and furrows. Waters continues the space-rock approach established by Barrett that evolved from a bass riff that was part of "Interstellar Overdrive."
Several notable places and historic figures are mentioned in Roger Waters' lyrics, including: Mildenhall, a Royal Airforce in Suffolk, England; Hereward the Wake, a nobleman from Eastern England in the 11th century; and Lucy in the Sky which is a direct reference to The Beatles' classic, "Lucy in the Sky With Diamonds."
3. "Another Brick in the Wall, Pt. 2" (1979)
Parent Album: The Wall
"Another Brick in the Wall, Pt. 2" has the distinction of being Pink Floyd's biggest hit. The song was #1 in several countries around the world including Austria, Canada, Finland, France, Germany, Ireland, Israel, New Zealand, Norway, Portugal, South Africa, Sweden, Switzerland, UK and US. The song was the #1 song of 1980 in Canada and Switzerland and #2 for the year in Germany and the US. The song also reached #57 on the US disco chart.
The song became controversial throughout various parts of the world. The Inner London Education Authority called the song scandalous, and Prime Minister Margaret Thatcher said she hated it. The song (as well as the album, The Wall) were banned in South Africa in 1980 after it was adopted by supporters of a nationwide, school boycott protesting instituted racial inequities in education under apartheid. Roger Waters commented that the song was not about the education system; it was a reflection on his life and how his schooling was part of that.
In a December 2009 interview, Waters told Mojo Magazine that the song is meant to be satirical. He explained: "You couldn't find anybody in the world more pro-education than me. But the education I went through in boys' grammar school in the '50s was very controlling and demanded rebellion."
Waters expressed the idea that you could make or build a wall out of a number of different bricks that when they fit together provided something impermeable. He felt his grammar school teacher at the Cambridgeshire School for Boys was just one of those bricks.
The lyric, "We don't need no education/ We don't need no thought control," became a chant for rebellious youth at frat parties; not that anyone was going to burn their schools down or rebel against education. It was a great song to get that youthful energy out in a non-destructive manner.
The children's choir featured in the chorus was comprised of 23 kids between the ages of 13 to 15 from Islington Green School in London. Producer, Bob Ezrin, came up with the idea of the children's choir. He used a choir of kids when he produced Alice Cooper's, "School's Out," in 1972. Ezrin liked using children's voices on songs about school.
2. "Us and Them" (1973)
Parent Album: The Dark Side of the Moon
My strongest memory of this song dates back to the summer of 2003. Yes, I was already 30 years old by then and I had heard the song thousands of times. But this particular time it struck me different. It permeated through me in a way like it hadn't before. It was Labor Day weekend and people were having barbecues and get-togethers. Usually, I would be out-and-about with my friends, eating way more food than my body could handle. But this year I was in bed with a fever of 103 degrees nursing a horrible case of the flu. I was really sick. It was a hot afternoon, and I had my window open for ventilation. I could hear the sounds of my neighbors partying - laughing, talking and classic rock music. I was in so much pain, and my stomach was uneasy and queasy. Then, all of a sudden, I hear the opening guitar chords of "Us and Them." It was so beautiful and soothing. The saxophone just cut right through my aching bones and soothed me better than any Tylenol or flu medicine could. I felt such a relaxed, floating feeling overtake me. It was beautiful. A moment of respite from an uncomfortable bodily experience. Finally, David Gilmour's voice entered, singing, " Us, us, us, us, us" and "Them, them, them, them, them," and I was quickly shuttled to a place of heavenly comfort. I felt no pain, just the beauty of the song. This light and airy feeling continued for the nearly eight minutes of the song. There was no better medicine than Pink Floyd.
"Us and Them" was released as a single in the US and Canada yet met with tepid response reaching #101 in the US and #85 in Canada. The edited 3:15 minute single was perfect for Top 40 AM radio play - I don't get why it didn't catch on. Anyhow, the single did help generate further sales of "The Dark Side of the Moon."
"Us and Them" began its life in 1970 while Pink Floyd was working on the soundtrack for the film, Zabriskie Pointe. It was a somber piano piece that Richard Wright created.
Interesting little tidbit: "Us and Them" features a female trio consisting of Liza Strike, Leslie Duncan and Doris Troy singing harmony vocals. Troy had a hit in 1963 with "Just One Look" which made it to #10 in the US, #8 in New Zealand, and #1 in Canada.
1. "Comfortably Numb" (1979)
Parent Album: The Wall
"Comfortably Numb" was the third single release from the album, The Wall, but it failed to chart anywhere in the world. However, it was certified Platinum in Italy and Gold in the UK, most likely due to sales of downloads and not of the 7" single.
The lyrics were written by Roger Waters and were inspired by his experience of being injected with tranquilizers for stomach cramps, caused by hepatitis, before a Pink Floyd show in Philadelphia during the 1977, In the Flesh Tour. Waters commented, "That was the longest two hours of my life, trying to do a show when you can hardly lift your arm." The song had the working title, "The Doctor."
David Gilmour wrote the music in 1978 while working on his debut solo album.
The lead vocal was shared with Roger Waters taking lead on the verses and David Gilmour doing lead and harmony vocals on the choruses.
Within the song, David Gilmour performs two guitar solos which several music critics claim to be amongst the greatest guitar solos of all-time. In 2006, listeners of the digital radio station, Planet Rock, voted it the "greatest guitar solo of all-time."
In 2004, disco/pop/dance group, Scissor Sisters, did a pretty decent cover of "Comfortably Numb." Imagine the Bee Gees doing a recording of "Comfortably Numb" in the vein of "Staying Alive" and you have Scissor Sisters. The song sailed all the way to #1 on the UK Dance charts and was a Top 10 hit in several European countries.
Thank you for reading!!! If you enjoyed this please click on the little heart to like this post.
If you really liked it a lot you can leave me a small tip!!! :) Thank you!!!
About the Creator
Writing is a distraction for me. It takes me to places unknown that fulfill my need for intellectual stimulus, emotional release, and a soothing of the breaks and bruises of the day.
https://www.facebook.com/groups/vocalplusassist
Reader insights
Outstanding
Excellent work. Looking forward to reading more!
Top insights
Expert insights and opinions

Arguments were carefully researched and presented

Easy to read and follow

Well-structured & engaging content

Excellent storytelling

Original narrative & well developed characters
Eye opening

Niche topic & fresh perspectives

Heartfelt and relatable

The story invoked strong personal emotions

On-point and relevant

Writing reflected the title & theme
Add your insights