2020 Hip Hop Survival Kit (COVID-19 ERA)
By Renz Julian of 510radio.com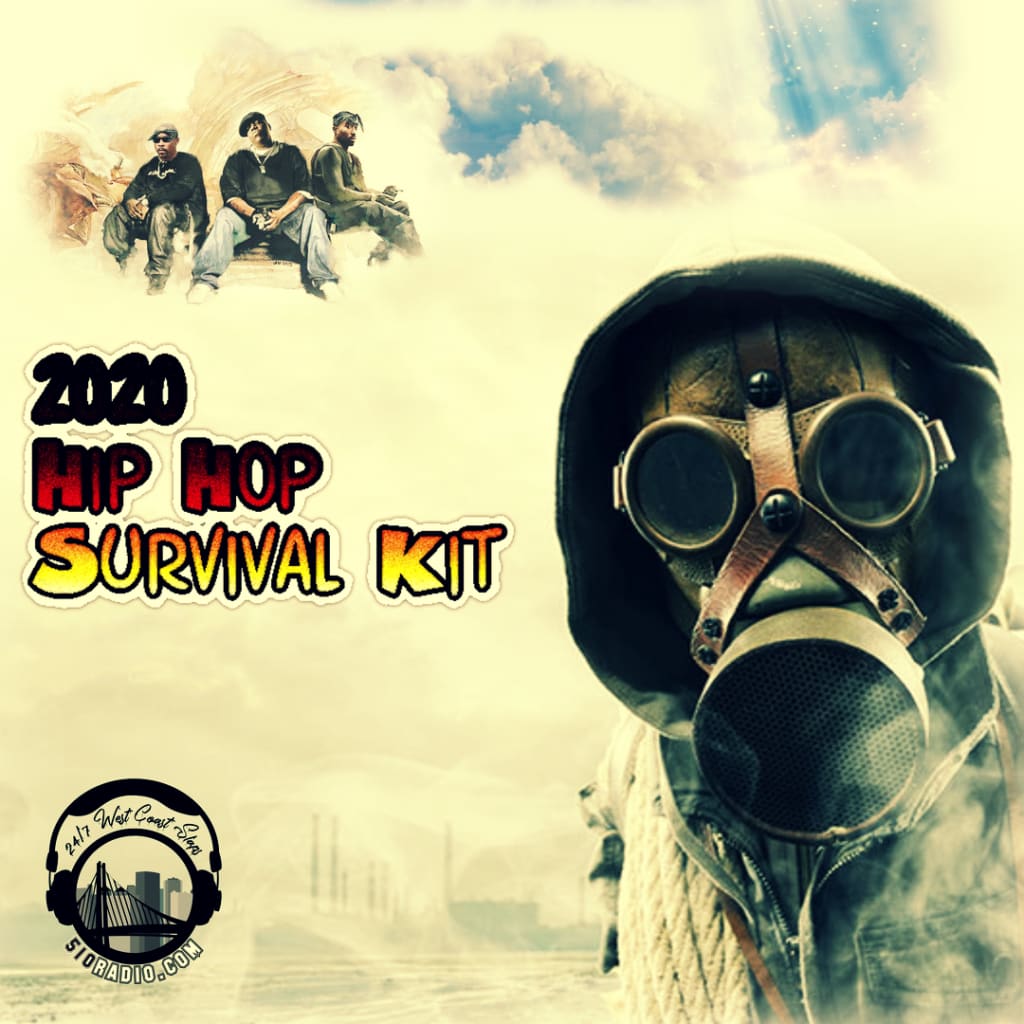 Is there light at the end of these dark days?
The weather is good around the Bay lately and I've been itching to get back to my routine making my rounds. However these are dark days we are experiencing currently with this Covid-19 pandemic and there is no question that all industries are affected. That includes the rap game and so I've been thinking about the things I did to get in the game, and how now I can't even do some of those things. Now it is more evident then ever that times have changed, and we all need to re-evaluate our game. Right now I can't hit up the club with my squad and get my singles played, can't even hit the mall to promote and sell cd's in the parking lot. I was working on touring this Spring and now thats all off the table. After a recent meeting with 106.1 KMEL about my single getting aired, and talks with BET about getting the video in rotation, things have stalled. I've been getting the run around about how this virus has shut down a lot of offices, and pushed back certain things. So now I'm looking at 2020 like, how can switch up the plan and still thrive in this downward spiral we're going through. So I put together this 2020 Rapper Survival Kit to use as a guideline, and help other artists who may need direction.
1. A Good Distributor-In 2020 If you are still putting music videos on Youtube with no digital distribution for the song then just go ahead and slap yourself. A company like CDBaby or Tunecore will make sure you are getting paid for every stream from Youtube to Spotify, or Apple Music so this is a must. I must also stress that no matter how hot the song is, don't upload it anywhere online until you make it an official album or single release through a distributor. That is the only way to get paid. I don't care how poppin' a website is, or how many followers their IG or Youtube channel has, don't give them your music unless its distributed. If you do, that website or Youtube channel will monetize your song, get paid the revenue, and rob you. Also make sure to register for your publishing with ASCAP or BMI. Last but not least, you need to register your music with Soundexchange so you can get paid for your internet radio play.
2. Don't Quit Your Day Job (Side Hustle)-A lot of successful rappers I know have side jobs or businesses. Now more then ever you need to have multiple income streams. I've always lived by the code "you can't put all your eggs in one basket". So with that being said what are some of these side hustles that can give you the freedom to still do your music? When I was first coming up I used to run a few cell phone kiosks in malls around the Bay Area. It was good legit money and I could use my natural gift of gab to holler at women all day while selling them a phone. At the same time I was just starting out in the rap game, and I would push and promote my music with mixtapes and flyers right over the counter. Not to mention I sold weed and replacement phones that I kept in the trunk of my car. On breaks I'd go out to the parking lot and make side deals. It was a hustle and a part of survival, and now more than anytime we all need more then one hustle. Currently as an entrepreneur and owner of my own record label, I've branched out and developed other side businesses in real estate, construction, and marketing. All of which I rely on to take care of my family. When one business is slow, you put more emphasis into another. Its a routine that has kept me afloat, and allowed me to own property, while continuing to put out music in a down economy.
3. Release More Material-As an artist your first investment into your career should be a studio not a gold chain. Years ago I made the mistakes of buying multiple SUV's, and jewelry before I bought a house. After getting a movie deal for my Documentary "Thug Scholarship" I decided to invest in my own house with a recording studio. Now I no longer have to leave home to record, or even make a video. I've added to the studio with professional cameras/video, & lighting equipment so I can have videos done with green-screen and all done in-house. So with this quarantine going on right now, the least I could do is step up production of new material. Nowadays people stream, and they want to just leave the Spotify or Youtube playlist going while they're doing whatever. The more releases you have, the more they will stream your playlist, and the more money you receive. Its that simple. It seems that this model promotes quantity over quality, but it actually means you need to dig deep into your songwriting as an artist, and make songs about new topics you haven't covered yet.
4. Start A Platform-Being just a rapper nowadays limits yourself and your opportunities to monetize new situations. People have short attention spans and you need to create more ways to keep them listening. As a normally low-key, keep to myself type of person this has been a weakness of mine that I recognize. Yet I learned from it and have made strides. Since 2015, me & my DJ, DJ Haki Official have been running an online radio/tv station at 510radio.com. Its specializes in playing Bay Area/West Hip Hop, with a focus on fallen legends like 2pac, Mac Dre, and the Jacka. Also gives us an outlet to drop new music from our label Field of Dreamz Ent, and stay in touch with the fans on social media. If you look around the industry you'll see that many artists are playing different roles with their own podcasts, and radio shows. If you have a fanbase you have to stay active to keep them engaged, continuing to build your brand while monetizing it.
5. Stay Ready (Mentally, Physically, & Spiritually)-This industry before Coronavirus could break you mentally and physically. Now with the shut down of live venues it will test you even more. You've always had to have thick skin to deal with the hate you'll receive from time to time on social media, and worse, from your own friends and family. The envious people that hated on you before just for being a rapper, and having fans has always came with the territory. Having a target on your back for successfully doing something that many people in the hood would love to do was stressful enough as it was. So now with many people out of work that hate will rise even more, if you the successful artist is eating, and everyone in the neighborhood is broke. Rapping has always been a dangerous job, however I believe its about how you carry yourself. Being a man of the people I've always offered my help, advice, mentorship to other artists. I've always handled issues as a man directly if ever there were a problem with someone. But even with a solid character and track record, there will always be a hater willing to take you down because he doesn't feel good about his own life. Because of this I stress that you keep faith in a higher power, and stay ready mentally, & physically. For me that means hitting the gym daily, and staying strapped to protect my family. As of now gyms are closed, but I recently built a home gym. Everyday while I'm hitting the weights my spiritual tattoos keep me grounded, and humble. Staying strapped is just an unfortunate necessity in the world today especially as rappers. So as we wait for the venues to open up and money making opportunities to re-open, keep it real with your fans, friends, and family, and in your music. We all are struggling some kind of way during this crisis so we gotta lean on each other to make it through.
In conclusion I want to say that even during these dark days we must have a positive outlook. There are brighter days ahead and we will get through this. You can succeed as an independent artist, just remember to set a clear goal and define what success is to you. For myself I am thankful that I've been able get paid telling my stories through hip hop, connecting with people, helping others who can relate is very therapeutic. For some being the richest and most famous rapper is their definition of success. I realize that there is a price of fame, and I'll never sell my soul, portray a false image, or steal from the less fortunate to get ahead in the music industry. In the end, if you're true to yourself and with your art, someone out there will relate. For any artists in need of assistance with distribution, marketing, video & radio airplay we can help. Visit 510radio.com/artist-services for more information.
Written By
Lorenzo "Renz Julian" King
CEO of Field of Dreamz Ent./Empire Distribution
how to
celebrities
rap
About the author
Lorenzo "Renz Julian" King is a Bay Area (Oakland/Antioch, Ca) hip hop artist, founder of the record label Field Of Dreamz Ent., & radio station 510radio.com. He's a former Pro and NCAA football player turned entrepreneur, and father of 2.
Reader insights
Be the first to share your insights about this piece.
Add your insights