10 Must-Have Music Festival Essentials
Here is a quick list of some essentials that are sure to make your first fest perfect!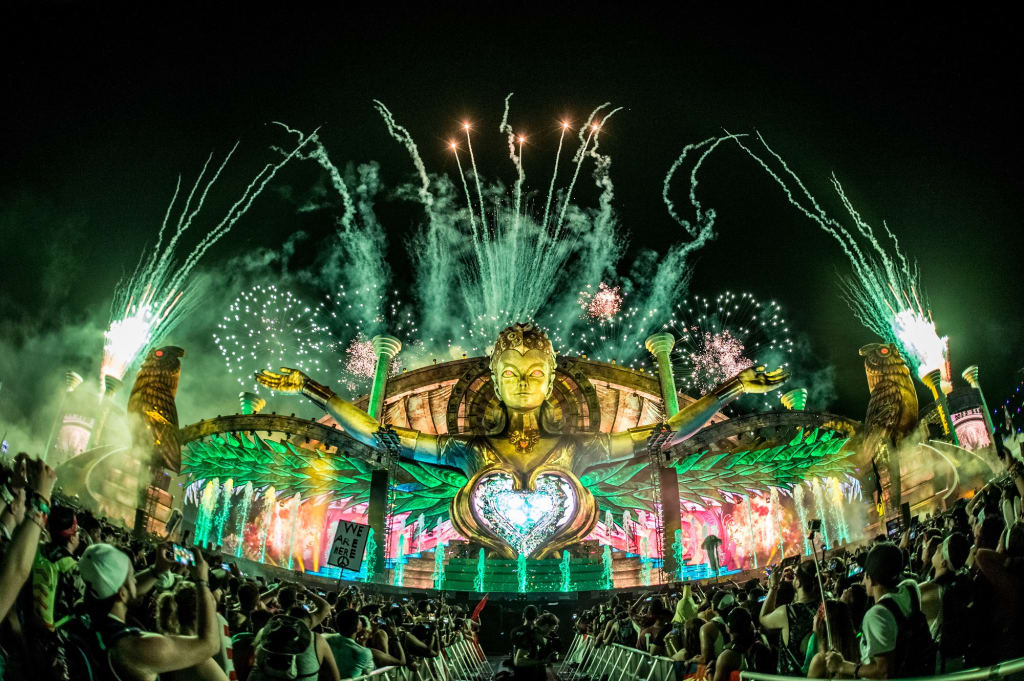 Photo Disclaimer: Not my photo. Taken At EDC.
Venturing out to your first festival? Or ever wondered what you could possibly need? Here is a quick list of what I never fail to leave behind when attending a festival. You don't have to listen to me, but I promise your life might be a little easier if you do so!
1. Hydration Pack
This. Is. A. MUST.
It is soooo important to stay hydrated when you're dancing your lil butt off in that heat (or freezing cold, whatever)! This is your number one way to staying healthy and energized. You can buy smaller ones or go big. All festivals have water stations for you to fill up and it'll be your lifesaver—otherwise you're paying the ridiculous festival price for $8 water bottles that you'll drink and throw out within a few minutes. Personally, I always bring my 1.5 L pack and just fill up when needed. I don't like to dance with anything heavier on my back.
These little guys are gifts from God. They also fill the need of having a purse because you can slip whatever you need into the little pockets and boom! You got your whole life on your back. You can purchase some on Amazon, outdoor/sports stores, or the cutest site that I've found that makes totally adorable ones would be Vibedration.
2. Sunscreen
I know, I know. I sound like your mom, but I'm serious! No matter the weather, if that sun is shining, you need to lather in it before stepping out into a full day of a sunny fest! You'll thank yourself later when you go home with healthy skin and no sunburn rings around your eyes or arms/legs. It'll make the experience so much better if you keep yourself feelin' good. Sounds like a dumb suggestion, but I've been there and done that.
3. Identification
Yes, bring your ID with you. Duh, right? But things happen, believe me, so just in case, pull out your dusty passport from your family cruise vacation or anything else you may possess. Sometimes things get lost, and the last thing you want is to not be allowed somewhere because you have no form of ID. And when you leave, you probably will need that identification some place else, too. I've seen too many pals frantic because they can't get anywhere without their ID. Better to be safe than sorry!
4. Comfy Shoes
After hours upon hours of dancing, running between stages, and whatever adventures you embark on, your feet need some love too! Take care of yourself and find the perfect shoes that will be cute AND comfy enough so you can return the next day ready to go!
5. Chapstick
For some reason, I've forgotten chapstick so many times, and this is now a necessity on my list before I leave to the festival. I get ready and put on my cute lipstick I paid too much money for just to cover it up or ruin it and end up feeling like a prune within a couple hours. Slip a cheap little chapstick of choice into your bag and you'll thank yourself later.
6. Phone Case
I don't know how many times I've seen someone drop their phone, get it knocked out of their hands, etc. and end up going home just to repair a broken phone. Save yourself some time, money, and stress, and invest in a good case.
7. Cash
Take some cash out before going. You'll probably need it and there's a chance it could be a long line just to draw some money out (which will probably charge you too). If you solely rely on your debit card, go for it, but I personally bring both, and cash is just so easy to pay for that glorious festival corndog or lemonade. Also, then you can't check your bank statement of all the crazy things you bought! (I'm just kidding…kinda.)
8. Gum
Bring an unopened pack of gum and you'll be the queen (or king) of the squad, I promise. Just for obvious reasons, you'll enjoy this refreshment if you're hanging out eight hours later on the festival grounds, wanting to feel like a human without spending more money on food or drinks. And when you're talking to the squad, you won't murder them with your festival breath from screaming so loud during the sets.
9. Vitamin C
Oranges, OJ, vitamin C gummies, whatever!! This will keep you energized, feeling good, and help your immune system as you go crazy in whatever weather and with all those germs everywhere. Just a recommendation, but it's better to be feeling as best as possible, if you ask me. I usually pour a packet of emergen-c into a water bottle and drink it before entering and I'm good to go!
10. Your Smile!
This is sooooo important! Be you, be happy. Leave behind whatever was bringing you down before, whether it be work, family, relationships, etc. This is a special time to have fun and feel alive. Put that beautiful smile on and be ready to have the absolute time of your life. This is why the festival vibe is so awesome, because so many people are just simply happy despite any circumstances. You'll get the most out of it if you keep smiling through it and really cherish the time you're taking to be there.
I hope this list helps you out a bit! Remember: Have fun, be safe, rave on!