10 Empowered Black Women in Music
A tribute to womanhood, blackness legends, and trailblazing voices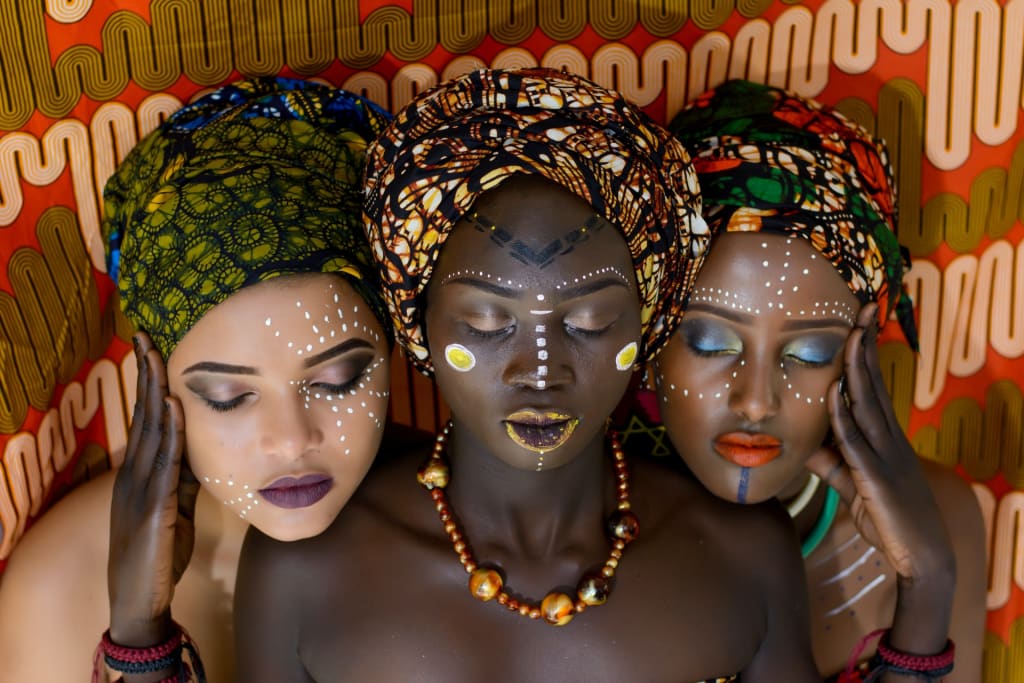 Photo by Dazzle Jam from Pexels
Empowered Black Women have carved their names in fiery musical notes during the 20th century. Recently, Ma Rainey's Black Bottom, George C. Wolfe's recent film, brought the Vaudeville blues back to the spotlight. Wolfe revived a time when black female singers reigned supreme among their congregation of worshipers.
Back then, on both sides of the Atlantic, the Portuguese Colonial Empire was composed of overseas colonies and other territories governed by Portugal. However, Portuguese music was still far behind on women's empowerment. Even so, in the 16th century Luís de Camões, Portugal's greatest poet, sang his love for a black-skinned slave girl   so beautiful and so black that even the snow wished to change color. His passion created one of the most iconic Portuguese lyric poems, an anti-racist ode called "Endechas a Bárbara Escrava."
"(…) Blackness of love / So sweet the figure / That the snow swears to her / That it would change color. / Silken gentleness / That wisdom accompanies; / She seems exotic enough, / But not barbarous. / A serene presence / That tames the storm; / In her, at last, rests / All my sorrow. (...)
The poem praises the beauty of the black woman. If written in the 21st century, it could be an anthem of empowerment inspired by the #MeToo movement, portraying the slave girl mastering her servant's heart, the Portuguese ex-pat poet.
This is the captive

That holds me captive;

And in her I live,

I must live
Reading the poem, and listening to Zeca Afonso's song, the African beauty, Bárbara, inspired me to write about black female singers from Portugal and Portuguese-speaking countries in Africa and South America. I follow in the shadow of Camões. With these words, I honor blackness legends and reconnect with a new generation of trailblazing singers that are carving new musical horizons from their ancestral roots.
Blackness legends
Cesária Évora
Born on August 27, 1941, Cesária reminds me of my mother. They have the same birthday and Virgo personality.
Although she was successful in several other musical genres, Cesária Évora became an icon in Cape Verdean music's history for the morna, a slow-tempo musical genre. Cesária started singing in the local bars of her town, Mindelo, in the isle of St. Vicent. By the early 90s, she was famous worldwide, mainly due to her acclaimed album Sodade. She also received the Grammy Award for Best Album of the Year, with Voz d'Amor (2003), in the World Music category.
The Cape Verdean singer is one of the most famous artists on this list. Alongside Amália Rodrigues, she was an influential voice in my poetic vision of Saudade. I realized how my poems are often inspired by the same leitmotivs found in the Cape Verdean morna: "saudade" / "sodade," which refers to that unique feeling that I cannot transpose to any other language. I wrote some of my best poetry while listening to songs by Cesária Évora, the "barefoot diva."
Zena Bacar
I share an umbilical connection with Zena Bacar. We have the same birthday; thus, we were born under the same stars, but on years far apart. Zena Bacar Ali was born in 1949 in Mozambique's Nampula province and started singing when she was six. Zena became a prominent figure in the Mozambican music scene due to her unique voice. She was also the singer of Eyuphuro, one of the most renowned Mozambican bands of all time.
In 1980, she went to Maputo to record her first song, titled "Urera Kurera," which means "vanity without judgment." There she met Eyuphuro, and the band's composer Omar Issá invited her to join them. He had a glimpse of the full potential of her voice. Zena recorded three albums with Eyuphuro: Mama Mosambiki (1990), Yellela (2001), 25 Anos (2006). She toured the world promoting her music, which she sang in the Emakua language, combining traditional African sounds with a world music vibe.
Margareth Menezes
Margareth was born in Boa Viagem, a poverty-stricken area in Salvador, Brazil. In 1987, her first single was released as an LP entitled Faraó (Divindade do Egito). Afterward, she releases two records reaching the Billboard World Albums Charts. Margareth also received nominations for the Grammy Awards and the Latin Grammys.
In recent albums, she aligned with the Afropop style, mixing African and Brazilian elements. Margareth is an acclaimed singer, composer, producer, actress, entrepreneur, winner of two Caymmi trophies, two Imprensa trophies, and four Dodô and Osmar trophies. One of her best-known songs is "Dandalunda." Margareth Menezes was named by the LA Times as the "Brazilian Aretha Franklin."
Elza Soares
Born and raised in the favelas of Rio de Janeiro (1930), Elza Soares is an everlasting symbol of black resistance in Brazil. Famous for her husky voice, Elza is one of the biggest names in Brazilian popular music. Her life story includes tragedies and memorable twists and turns.
Elza got married when she was only 12 years old. Ten years later, she was already a widow and had buried two children, who died of hunger. Mother at 13, a target for racist attacks, a victim of domestic violence, and forced to bury four children, Elza is one of the most knowledgeable voices fighting for women's empowerment.
"Today I find it easier. The idea of the woman, the black man, the human being, today she has more freedom to speak. Black people can speak, be what they feel," says Elza Soares to Alma Preta
At a young age, she started singing to her father's guitar. In 1953, Elza entered the artistic life and did her first audition at Rádio Tupi. She became a leading figure of the Brazilian bossa-nova, and in 1999, was elected by London's BBC Radio as the Brazilian singer of the millennium. Today she is worshiped as the Queen of Samba and remains one of her country's most beloved singers and the voice of the millennium.
At age 90, Elza keeps confronting racism and social, racial, and gender inequalities, always exalting her pride in being part of these groups.
"I'm happy to be a black woman in Brazil with a lot of satisfaction because I never stopped to look at my color. Quite the contrary, I have always fought for my color, I love myself, I love myself. I am a black woman, I breathe my blackness with a lot of love, a lot of affection. - Elza Soares, in Alma Preta
Carmen Costa
Born in Rio de Janeiro (1920), Carmen Costa was a Brazilian singer and composer. At the age of 15, she started working as a maid at Brazilian singer Francisco Alves's estate. One day, during a party, she was invited to sing. The guests were overwhelmed by her voice, encouraging her to follow a musical career. Later on, she began to sing professionally with singer and composer Henricão.
Carmen songs are among the most iconic of Brazilian music: "Eu sou a Outra", "Está Chegando a Hora", "Só vendo que Beleza", "Casinha da Marambaia", "Cachaça não é Água não". In 2003, the City Council of Rio de Janeiro approved a proposal by the Museu da República, making her officialy part of Brazil's cultural heritage.
Trailblazing black voices
Mayra Andrade
I started this playlist with Cesária Évora. Now, as we move forward to a new generation of singers, I realize how Mayra Andrade is carrying the torch of Cesária's legacy. She symbolizes the global village we live in; Mayra was born in Cuba. Her father was an anti-regime freedom fighter. The family fled to Cuba, and Mayra was born in Havana. At the age of six, she settled in Senegal, but she traveled around several world capitals from an early age because her stepfather was a diplomat.
Afterward, she went to Cape Verde at the age of 14 and began singing. She is, apart from Cesária, the most well-known Cape Verdean artist. Her debut album Navega (2006) won awards in several European countries and saw her stardom rise. Mayra is an active voice in the fight against #racism.
Lura
Born in Lisbon, Portugal (1975), Lura's parents are from Cape Vert. Her musical debut happened in 1996 with the acclaimed album Nha Vida. In 1998, she shared the stage with Cesária Évora, opening the Cape Verdean star concerts at Expo 98 in Lisbon. Lura was heart-broken when Cesária passed away in December 2011. Her song "Nós Diva" is a heartfelt tribute to Cesária's memory.
Herança, her last full-length work to date, was released in 2015. The album pays tribute to that experience with its vibrant, exotic, and danceable songs. With a swinging sound, her songs are contagious and leave no one standing still. Lura manages to incorporate influences from jazz and tango with rhythms reminiscent of the African traditional music that we also find in the Brazilian lambada.
Sara Tavares
Sara Alexandra Lima Tavares was born in Lisbon, Portugal (1978) and is one of the most acclaimed Portuguese Black Voices. In 1996, she released her iconic debut album with the Shout Choir, but it's with Mi Ma Bô (1999) that she ascends to stardom. The sophomore album showed how Sara's voice had matured and was more in touch with her ancestral Cape Verdean roots. The album Balancê released (2005) was considered one of the year's best albums by musical critics.
Sara Tavares, Mayra Andrade, and five other Portuguese singers recently signed a petition for a new Portuguese version of the Disney movie "Soul," asking for the enrollment of black voices representing the "historical importance" of the moment. The film generated controversy because it has a black main character and black actors' voices in the original version. In the Portuguese version, they cast white actors for the dubbing.
Elida Almeida
Born on the island of Santiago, Cape Verde, Elida Almeida is one the most vibrant new voices of Soul. Her first album, Ora doci ora margos, is based on the singer's personal life, full of sweet and bitter experiences that touched her sensibility.
Most of the album's songs include personal enticing lyrics and melodies, written with sincerity. The singer presents us with her life story in a faithful portrait of her experiences. With a fusion of contemporary sounds, Elida's voice has the power to breakdown musical borders and conquer the world.
Selma Uamusse
Born in Mozambique, she came to Portugal at the age of 6 and, at 14, persuaded her parents to let her stay in Lisbon. She sings in Portuguese, English, Russian, and Latin. After her debut album Mati, which took her across four continents, Selma Uamusse released her sophomore record Liwoningo, which means "light" in Chope, one of Mozambique's languages. Hence, the album brings forward a message of light in times of COVID darkness.
The record is also a tribute to the immaterial African heritage of Mozambique. I immediately notice it in the lyrics and melodies that exhale Africanity while mixing it with world music. Wandering between electronic, rock, afrobeat, and going from tradition to more experimental musical atmospheres.
Final thoughts
I let my voice run free on the shoulders of these brave, beautiful, black women. Let's join hands in a worldwide, everlasting, unbreakable chain, and all together say NOT TODAY! To #racism, #sexualharassment, #poverty, #discrimination.
"We call upon all communities to be tolerant—to reject prejudice based on cast, creed, sect, religion or gender. To ensure freedom and equality for women so that they can flourish. We cannot all succeed when half of us are held back." -Malala Yousafzai
________________________
Thanks for reading this article. Please feel free to come back at any time and pick up another thread from my Vocal book of content. Till next time, cheers.
-Rui

Rui Alves
I write to find the surrogate writer in me.
Rui is a graduate of the University of Porto, teacher, and life-coach.
He is also a partner of Rock n'Heavy and the founder of ZENite.
See all posts by Rui Alves →