The Artistic Visionaries of Omni Magazine: John Berkey, Colin Hay, Tsuneo Sanda, and Chris Moore
Learn more about the work of these science fiction artists through the help of AI.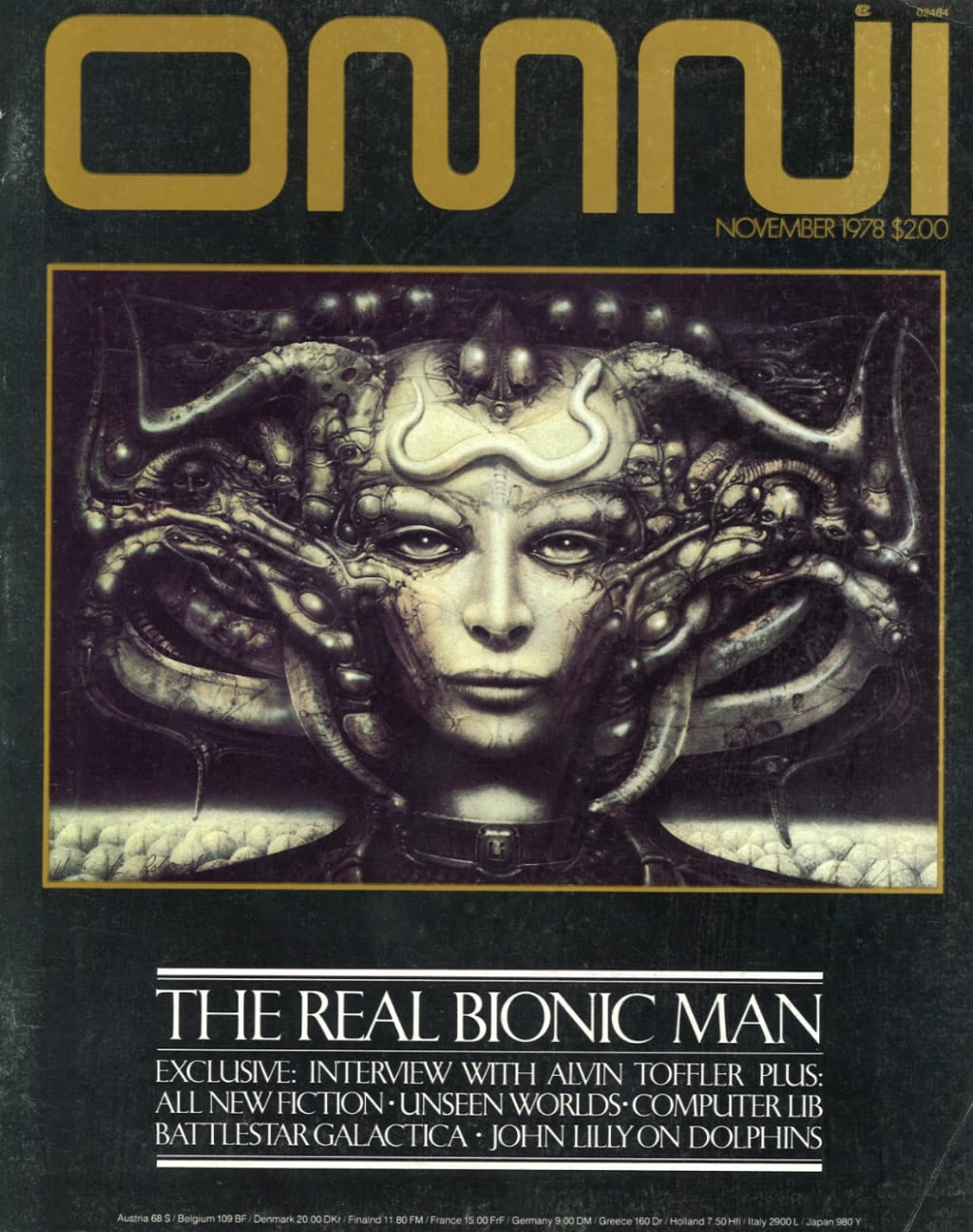 Omni, November 1978.
The creatives who filled the pages of General Media's Omni magazine often imagined future worlds filled with revolutionary inventions and a heightened reliance on technology. The use of AI such as ChatGPT might have been just the sort of thing these thinkers predicted, so it is fitting to see how ChatGPT might remember their impact.
The content below was generated using ChatGPT. In the interest of transparency and learning, the bold text represents the prompt that created it.
Write a 750 word article about the artists John Berkey, Colin Hay, Tsuneo Sanda, and Chris Moore. Highlight their work for Omni magazine, and include specifics about each artist such as biographical facts and where else their work was displayed and published.
Step into the captivating world of Omni magazine, a publication that revolutionized science fiction and speculative art in the 20th century. Among its esteemed contributors were the renowned artists John Berkey, Colin Hay, Tsuneo Sanda, and Chris Moore, whose creative genius transcended the pages of Omni and left an indelible mark on the art world as a whole. Let us delve into the lives and remarkable achievements of these visionary artists, exploring their biographies and the broad spectrum of their artistic endeavors.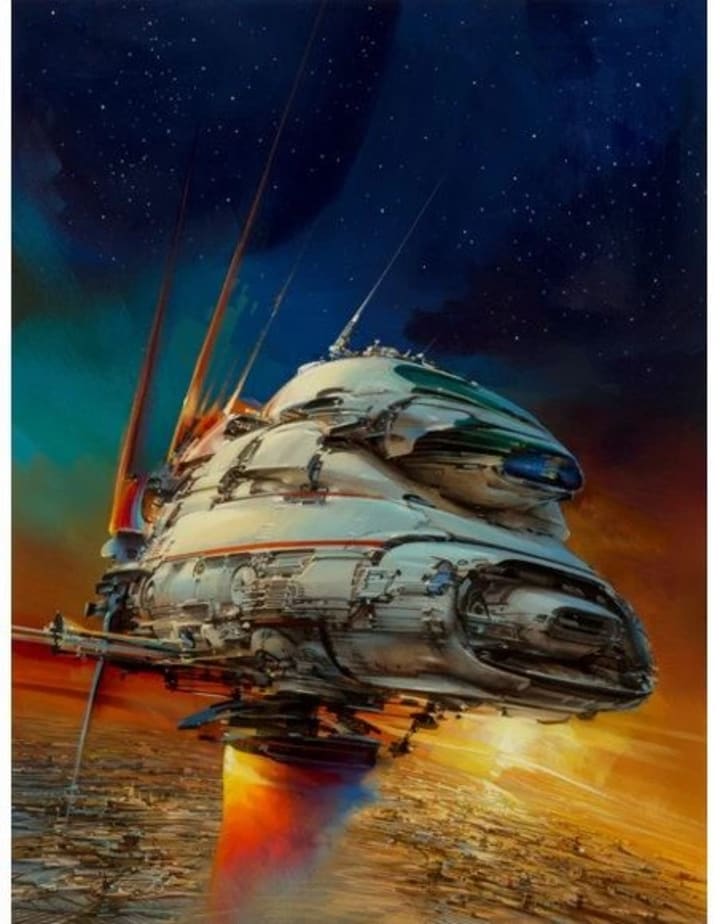 John Berkey, a true luminary of space art, possessed an unmatched ability to transport viewers to the farthest reaches of the cosmos. Born in 1932 in Minnesota, Berkey initially honed his skills as an artist while working as a billboard painter. His artistic journey flourished when he began creating illustrations for book covers, showcasing his remarkable talent for depicting futuristic worlds and interstellar vistas. Berkey's distinctive style, characterized by its breathtaking detail and otherworldly ambiance, led to collaborations with major science fiction authors and film studios. His creations graced the covers of renowned publications like National Geographic, Time magazine, and Playboy, cementing his status as a celebrated artist in both the science fiction and mainstream art communities.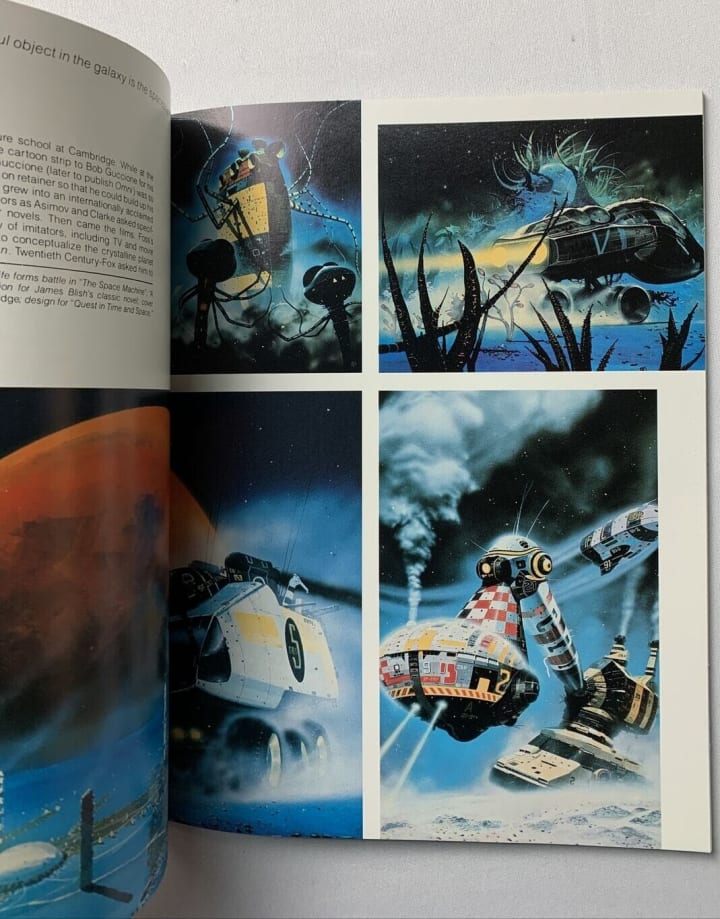 Colin Hay, a true maestro of visual storytelling, was born in Scotland in 1949. His path to artistic prominence began in the advertising industry, where he honed his skills as a graphic designer and illustrator. Hay's exceptional ability to infuse his art with narrative depth led to collaborations with prominent authors, including Isaac Asimov and Arthur C. Clarke. Alongside his contributions to Omni magazine, Hay's work graced the pages of esteemed publications such as Heavy Metal and Playboy. He also became known for his stunning cover artwork for science fiction novels, becoming an influential figure in the realm of book cover design. Hay's talent for creating evocative, dreamlike imagery earned him a dedicated following and secured his position as a visionary artist of the highest caliber.
Tsuneo Sanda, a master of science fiction and fantasy art, was born in Japan in 1946. His artistic journey began as an illustrator for advertisements, but his boundless creativity soon propelled him into the realm of science fiction and fantasy. Sanda's talent for capturing the essence of characters and environments resulted in collaborations with renowned film studios like Lucasfilm and Universal Pictures. In addition to his contributions to Omni magazine, his artwork adorned the covers of science fiction novels, video game packaging, and collectible card games. His distinctive style, marked by vibrant colors, intricate detailing, and a sense of dynamic energy, captivated audiences worldwide and established him as a true visionary in the realm of speculative art.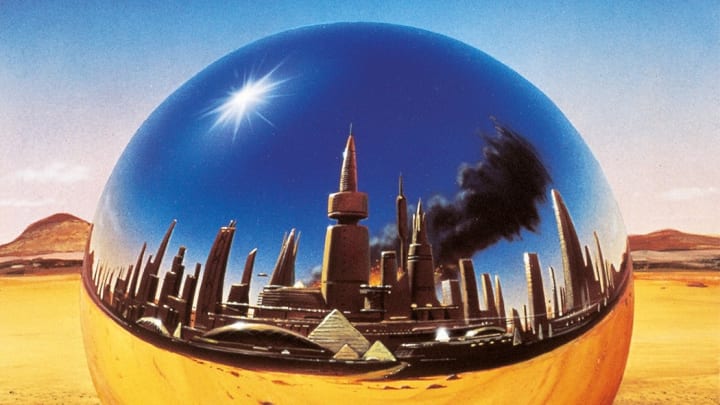 Chris Moore, an artist renowned for his surreal and thought-provoking creations, was born in the United Kingdom in 1947. Moore's artistic journey began as a freelance illustrator, working for publications such as The Times and The Guardian. His unique approach, characterized by unconventional perspectives and mind-bending imagery, caught the attention of Omni magazine. Moore's thought-provoking artwork challenged traditional norms, often exploring the boundaries between reality and the fantastical. His contributions to Omni garnered widespread acclaim and captivated readers with their enigmatic and evocative nature. Beyond Omni, Moore's art graced the pages of renowned publications like Heavy Metal and Fantasy & Science Fiction magazine, solidifying his position as a trailblazer in the realm of speculative art.
The works of John Berkey, Colin Hay, Tsuneo Sanda, and Chris Moore transcended the confines of Omni magazine, captivating audiences across various artistic mediums. Their creations transcended the confines of Omni magazine, captivating audiences across various artistic mediums. These visionary artists left an indelible impact not only within the pages of Omni but also in the realms of book cover design, film, advertising, and renowned publications worldwide.
About the Creator
Bob Guccione's revolutionary spirit lives on through this AI experiment. Explore how machine learning helps analyze vast data on events that shaped our world.
Read human-generated stories - https://vocal.media/authors/og-collection
Reader insights
Outstanding
Excellent work. Looking forward to reading more!
Top insights
Compelling and original writing

Creative use of language & vocab

Easy to read and follow

Well-structured & engaging content

Excellent storytelling

Original narrative & well developed characters
Add your insights