Pairing Art with Poetry
Connecting two differing forms of art.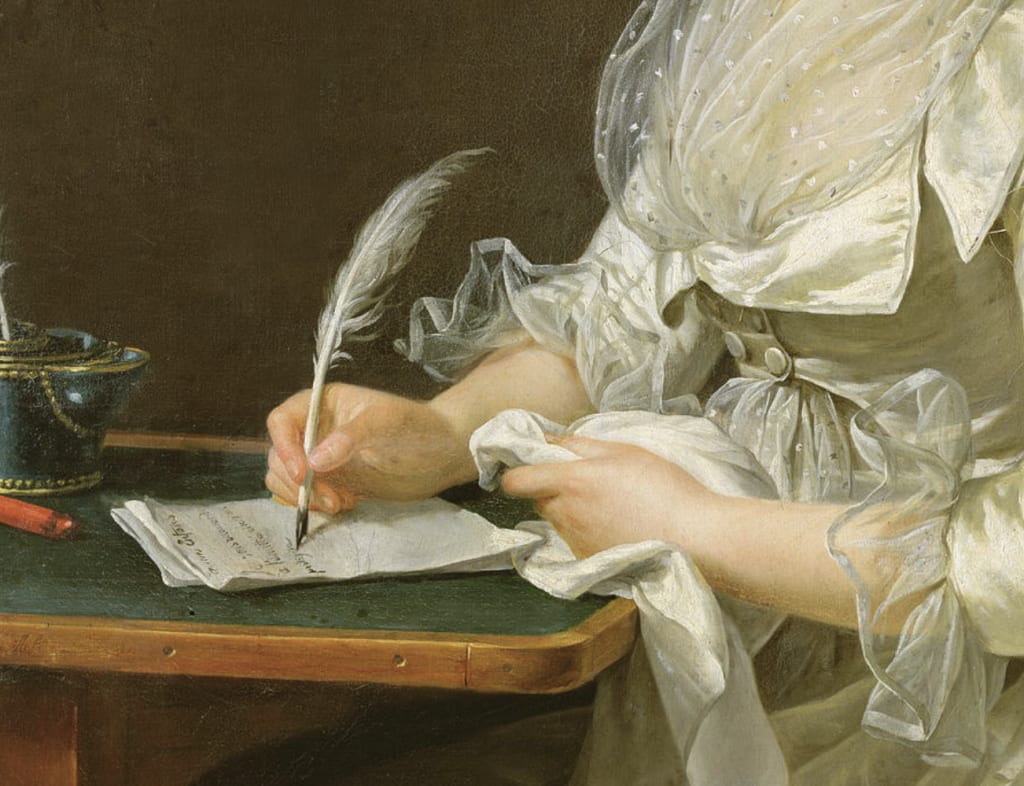 Detail Of A Woman Writing With A Quill by Adelaide Labille-guiard
**Note: This article contains a poem that is graphic in content and depicts sexual assault. This content is contained in the section inspired by Paul Cézanne's "Battle of Love"**
Portrait of a Young Woman in White
By Jacques-Louis David | Oil on Canvas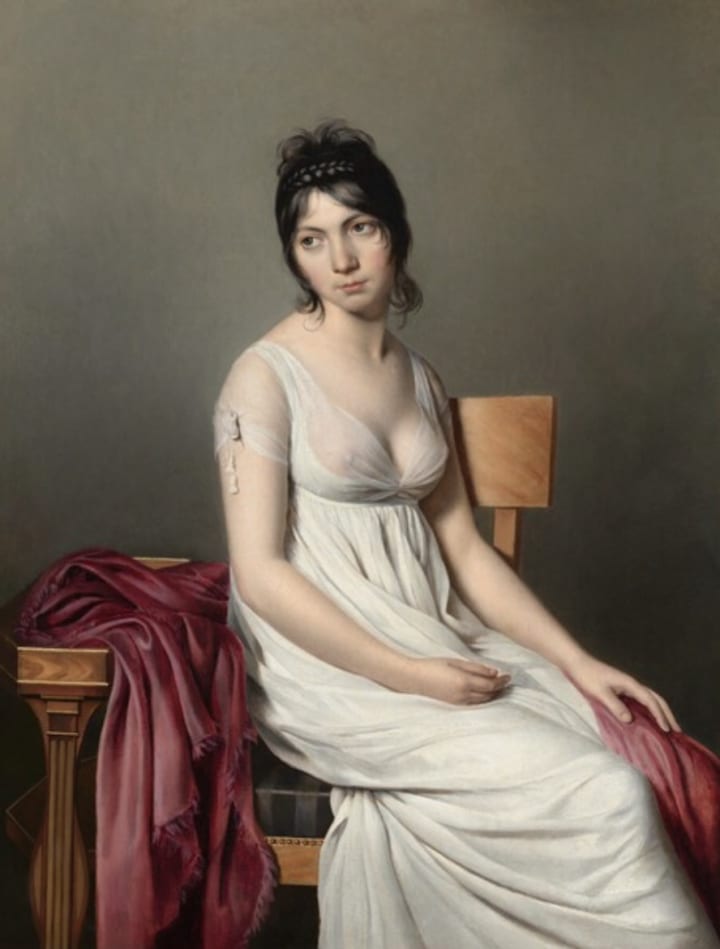 This beautiful oil painting became more recently recognizable in mainstream media due to Ottessa Moshfegh's My Year of Rest and Relaxation; the connection between physical art and literature is inescapable and personally, intriguing, which is what brings me to this list of comparisons.
Most immediately, I am met with a compelling expression on the young woman's face, which is probably my favorite part of the piece. Somehow, David captures a woman who seems to be full of thoughts and dreams, but also full of emptiness. The eyes look very heavy but the mouth is in a slight smile; a reflection on how many women, and people, truly feel inside. Seeing this externally is not a rarity, but addressing these feelings may be.
The stunning mundanity of this piece is similar in tone to "Myself and My Person" by Anna Swir
There are moments

when I feel more clearly than ever

that I am in the company

of my own person.

This comforts and reassures me,

this heartens me,

just as my tridimensional body

is heartened by my own authentic shadow.

***

There are moments

when I really feel more clearly than ever

that I am in the company

of my own person.

***

I stop

at a street corner to turn left

and I wonder what would happen

if my own person walked to the right.

***

Until now that has not happened

but it does not settle the question.
The Battle of Love
By Paul Cézanne | Oil on Canvas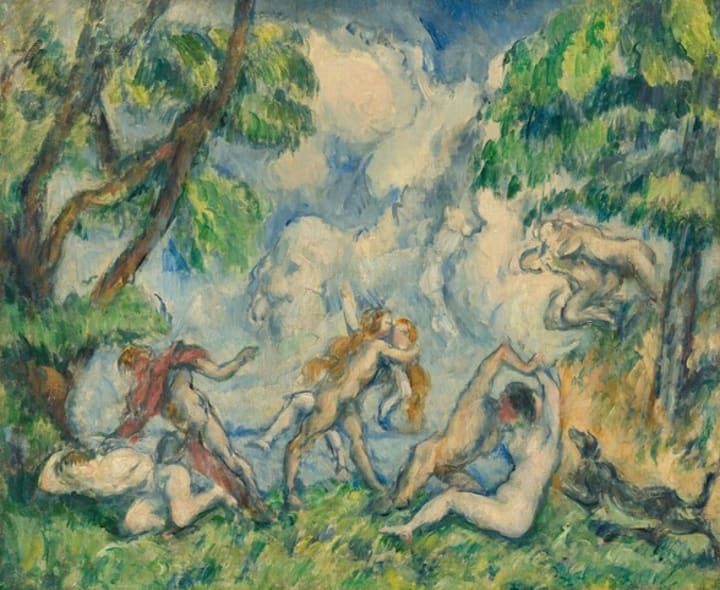 This post-impressionist painting perfectly ties in both abstract and distortion with life-reflecting figures and landscape. The colors for this piece standout as harmonious, similar to the way these bodily figures seem to be intertwined. However, after looking more closely, it seems there is an undertone of struggle; a complexity that doesn't show itself at first glance.
Peeling back the surface layers of this painting reminds me of "Like Brushing My Teeth" by Isabella Dorta. This piece was originally performed as a spoken word, here. Below is the transcription:
Two minutes…it's just two minutes out of my day

I can sing the happy birthday song in my head three times over to distract myself

Back…and forth

And it's so repetitive but I was always told that sometimes in life

We have to do things we don't particularly like

Back…and forth

And I hate the taste in my mouth

Especially when it starts frothing up

Back…and forth

Am I done now?

I must be done now

It has to have been two minutes

He said it would only take two minutes

Back…and forth

He said it would be easy

And quick

And like brushing my teeth.

This is not like brushing my teeth.

I did not swallow my own tongue,

He reached between my lips

And took it from me.

I shut my mouth,

I did not want him to reach in…again,

I did not want him to take my teeth as well

Back…and forth

I thought, if I don't move

And I just keep my mouth closed

He'll only invade the one set of lips

Back…and forth

Afterwards, he gave my tongue back

But it never really felt like it belonged to me…again,

I did not use it

I did not tell anyone

I was too scared of losing another part of me

As if mentioning what had happened

Meant it would happen again

Back…and forth

He made it sound so normal

Like everyone did it like it would be weird if I didn't

Back…and forth

If I mention it then I have to acknowledge it happened

It was…only two minutes

It was just like brushing my teeth

Back…and forth
Suitcase
By Pedro Pedro | Textile Paint on Linen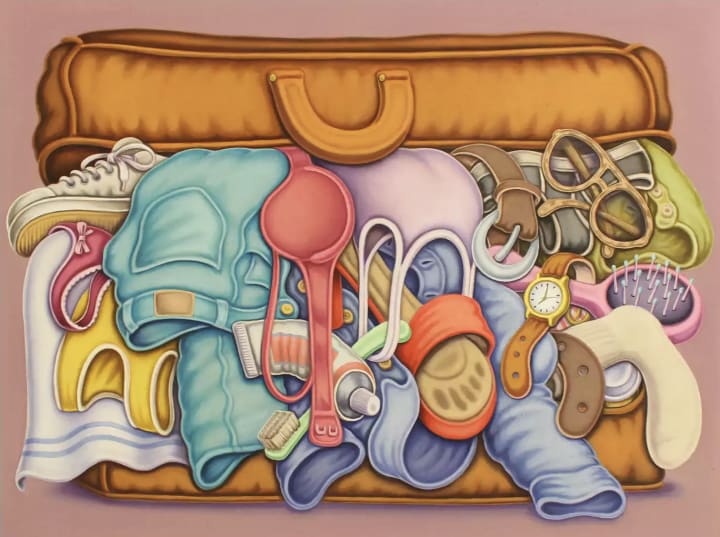 Taking a jump away from darker tones and into some contemporary art, this piece by Pedro Pedro exudes such a lively tone. The vibrant colors and exaggerated roundness lends to an almost cartoonish image that bounces the images off the canvas. While most of Pedro's work are still lives of fruit and flowers, this jumbled up suitcase is a jumbled mess of carefully curated chaos.
This brings up the poem, "Beginning" by Lila Purpura, in which the rhythm and repetitive sounds evoke a similar kind of curated chaos.
In the beginning,

in the list of begats,

one begat

got forgot:

work begets work

(one poem

bears

the next).

In other words,

once there was air,

a bird

could be got.

Not taken.

Not kept.

But conjured up.
Contemplador de Cascada Vertical, 1995
By Tomás Sánchez | Acrylic on Canvas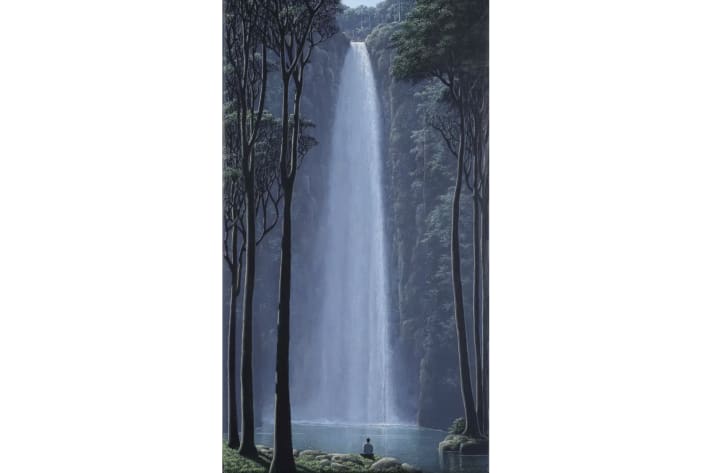 Upon first look, the word that comes to mind for this contemporary painting is "grand." With the dimensions of the painting stretching vertically, in tandem with the skinny trees and tall waterfall, this piece features a tiny human sitting at the bottom; perhaps also nodding to the vastness of nature as a whole.
A wonderful poem that paints detailed imagery such as Sánchez did is "Kyoto: March" by Gary Snyder
A few light flakes of snow

Fall in the feeble sun;

Birds sing in the cold,

A warbler by the wall. The plum

Buds tight and chill soon bloom.

The moon begins first

Fourth, a faint slice west

At nightfall. Jupiter half-way

High at the end of night-

Meditation. The dove cry

Twangs like a bow.

At dawn Mt. Hiei dusted white

On top; in the clear air

Folds of all the gullied green

Hills around the town are sharp,

Breath stings. Beneath the roofs

Of frosty houses

Lovers part, from tangle warm

Of gentle bodies under quilt

And crack the icy water to the face

And wake and feed the children

And grandchildren that they love.
The Kiss
By Gustav Klimt | Oil on Canvas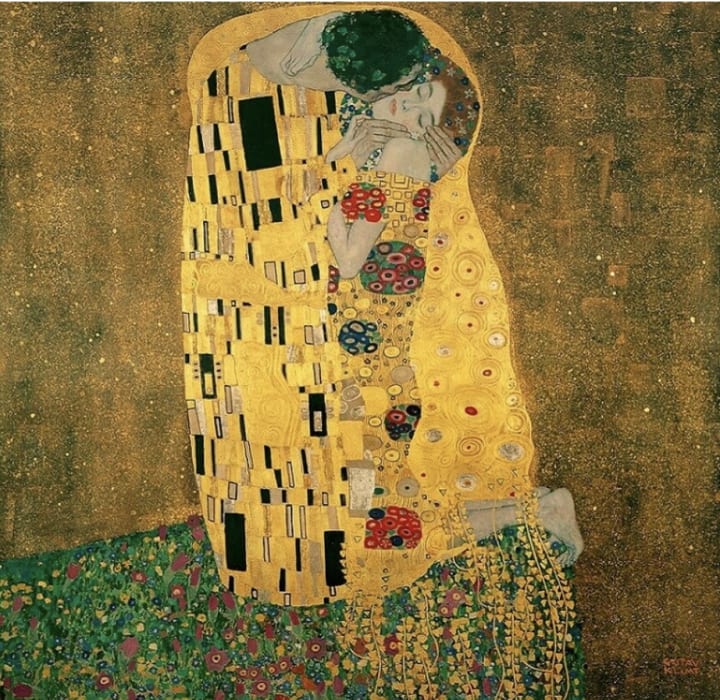 Though I shy away from writing about ultra-famous paintings as many people tend to have a formed opinion on them, I couldn't help but include this one on the list. I enjoy love poems and was of course drawn to Emily Dickinson, with her poem, "If you were coming in the fall."
If you were coming in the Fall,

I'd brush the Summer by

With half a smile, and half a spurn,

As Housewives do, a Fly.

***

If I could see you in a year,

I'd wind the months in balls---

And put them each in separate Drawers,

For fear the numbers fuse---

***

If only Centuries, delayed,

I'd count them on my Hand,

Subtracting, til my fingers dropped

Into Van Dieman's Land,

***

If certain, when this life was out---

That yours and mine, should be

I'd toss it yonder, like a Rind,

And take Eternity---

***

But, now, uncertain of the length

Of this, that is between,

It goads me, like the Goblin Bee---

That will not state--- its sting.
Reader insights
Outstanding
Excellent work. Looking forward to reading more!
Top insights
Heartfelt and relatable

The story invoked strong personal emotions

Easy to read and follow

Well-structured & engaging content

Excellent storytelling

Original narrative & well developed characters
Expert insights and opinions

Arguments were carefully researched and presented

Eye opening

Niche topic & fresh perspectives

Masterful proofreading

Zero grammar & spelling mistakes

Compelling and original writing

Creative use of language & vocab

On-point and relevant

Writing reflected the title & theme
Add your insights