Why WordPress Is Today's Best CMS [2021 Edition]
Managing content can be an overwhelming task for a website owner, even if your organizational and time management skills are second to none. Fortunately, there are content management systems available to ease and streamline your web content management.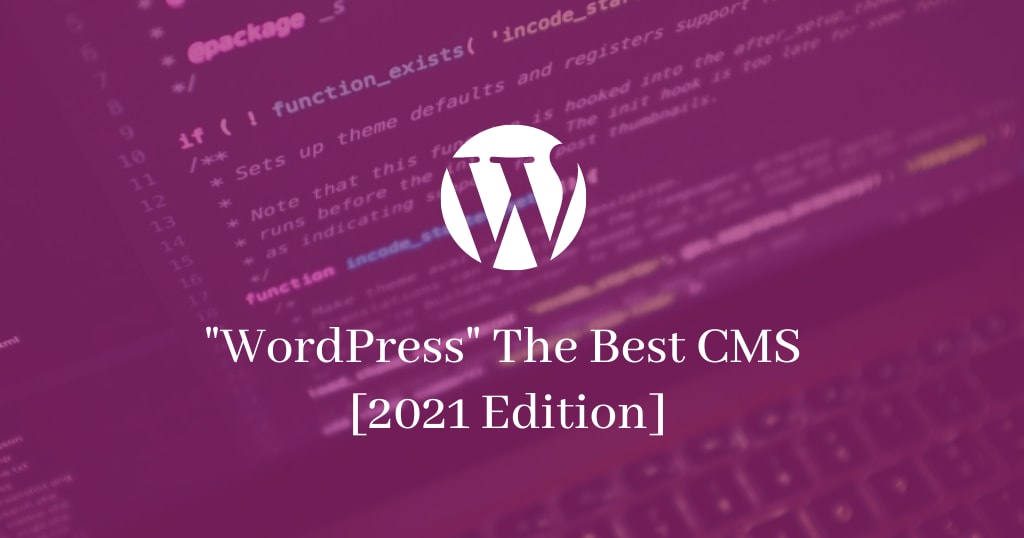 Managing content can be an overwhelming task for a website owner, even if your organizational and time management skills are second to none. Fortunately, there are content management systems available to ease and streamline your web content management.
A content management system (CMS) is the chassis of your website and needs to be chosen wisely. But with so many options available, choosing the right CMS platform is a daunting task for any website owner, including you. That's where a professional web solution agency can come to your rescue.
WordPress is the best CMS for your website if you are looking to take full control of your web content. It is a simple and free CMS with numerous features and ample customization possibilities, which can be used to develop any website, from a small business to a large enterprise.
Not convinced? Let me hit you with some eye-popping facts about this CMS to help you understand why WordPress is the best CMS available today.
WordPress powers 34% of the web.
WordPress 5.3 (released in November 2019) already has 8 million downloads.
At least 28 million live websites use WordPress, a quarter of which are US-based.
WordPress makes up 63.8% of the CMS market.
Those quick-hit facts should have you leaning towards WordPress development services for your website. If not, let's dig a little deeper to find out why WordPress is the best CMS platform for your business!
11 Reasons Why WordPress Is 2021's Best CMS
Open-Source, Free, and Easy to Use
WordPress's ease of use, open-source, and no-cost availability are among the biggest reasons why WordPress is the most popular CMS. Spend just a couple of hours exploring its back-end and you'll see how easy it is to use. It's also open-source, which means it's constantly up-to-date and upgraded, all at no cost to you.
Simple Content Management
Content is the driving force that can make or break your business website. However, just creating great content isn't enough; you need to give your content in the right direction. For that, you need a simple content management system like WordPress that can easily handle and manage your content, and make it stand out.
Fluid Design and Flexibility
WordPress comes with thousands of free and premium themes that allow you to create any type of website or blog that you want. A user-friendly admin panel allows you to customize your entire website in a few clicks. Moreover, it provides you with an endless number of features and functionality to speed up your WordPress site performance.
Mobile-Friendliness
Phones aren't the future, they're the present. If you are a website owner trying to gain an online presence, your website needs to be mobile-optimized. WordPress is a mobile-friendly CMS that comes with in-built mobile-responsive themes, making it that much more powerful.
Robust Security Features
Web security is a necessity in modern business, and WordPress security protocols are some of the toughest in the industry. Additionally, WordPress constantly updates all its security tools from time to time and prevents your site from unauthorized access. Check out top tips to secure your WordPress site from hackers.
Built-In SEO Advantage
If you're looking to improve your site's ranking, WordPress is the best CMS for SEO in 2021 and beyond. WordPress, from the get-go, gives you an advantage with SEO, especially when it comes to on-page optimizations. WordPress's dozens of tools and plugins (like Yoast SEO) can help you optimize each post and page and help you rank higher in SERPs.
Multi-Language Website
Roughly 80% of the world doesn't speak English as their native language. Why take those potential visitors off the table? WordPress allows you to create a multilingual website in close to 70 different languages. All you need to do is install plugins like Weglot, WPML, or Polylang to easily translate your entire website, including posts, pages, tags, and categories, into as many languages as you want.
Social Media Features
Social media is one of the best platforms for marketing your brand. WordPress provides easy social media integration, like the ability to create customized social media buttons for your blog, add a social media feed to your site, and even automate your social media campaigns effortlessly. So if you want to enhance your site's visibility and simplify your social media process, WordPress is the way to go.
Easy Integration
Ease of integration is another reason why WordPress is considered the best CMS in the business. There is a plugin for everything to ease your tasks. You can easily download images as well as embed videos on your site, leverage API, third-party and SSL integration services, and much more.
Low Maintenance Costs
WordPress sites are easy and cheap to run and maintain, requiring very low maintenance costs; you can even do it yourself with the help of a few good plugins like BackUpWordPress, WP-Optimize, and Akismet. If your website is highly advanced or is an e-commerce site, you can look for reliable web maintenance and security services to support your site as well.
Easy Updates
For any CMS to work effectively, updates are a must. Moreover, updating software plays an important role in securing a website. However, unlike other CMS, WordPress is super easy to update and can be done with a single click. WordPress provides frequent updates, ensuring it's never out of date.
Concluding Words
I've given you eleven reasons why WordPress is the best CMS available to build your website on. From being open-source, free, flexible, mobile-friendly, secure, SEO-packed, and multilingual, to offering easy social media integrations, lower cost maintenance, and easy updates, WordPress is your best one-stop CMS now and in the future.
Prepare to reap WordPress CMS's maximum benefits, and take your website to the next level!
product review
About the author
15 plus years of experience in digitizing businesses & transforming Startups into Brands.
Reader insights
Be the first to share your insights about this piece.
Add your insights