Which certification is best for Cyber Security beginners ?
Cyber Security for Beginners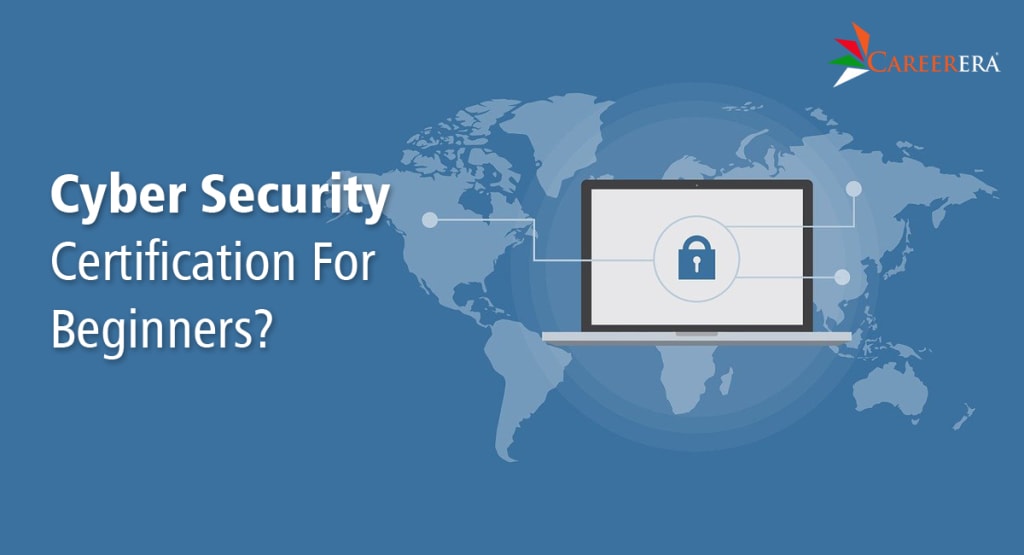 The world we live in is headed to a raging proliferation of technology, digitization, and data transaction.  Businesses are increasingly becoming vulnerable to cyber threats and information security vulnerabilities. Consequently, businesses must be prepared for any cyber-threat that may come their way leading to the spike in need of skilled IT security specialists. Professionals in cyber security not only troubleshoot the afflicted network architecture but also protect businesses against potential data security threats and breaches.
If you are an aspiring Cyber security specialist, note that there has never been a better moment to consider a career in cyber security. Organizations and governmental agencies across the globe are upping their game of cyber security measures to combat cyber terrorism. 
Gear up with a globally recognized cyber security certification and spin your career to the highest point. Keep in mind while considering an entry-level cyber security certification course, courses typically demand experience equivalent to one or more years.
These Top 6 Cyber Security Certifications for Beginners will assist you in taking your first step into the realm of Cyber Security if you are a beginner looking to develop an awesome career in the cyber security and information security arena. Let's explore each of them separately.
CEH (Certified Ethical Hacker) is one of the most popular Cyber Security Certifications for Freshers. The Certified Ethical Hacker (CEH) Certification is the most advanced ethical hacking certification available, allowing IT Security Professionals to establish a foundation in ethical hacking. A Certified Hacker will educate you on how to check network infrastructure with the owner's permission in order to find network and system vulnerabilities. CEH, ESCA, and APT are the three certifications offered by the Cyber Security Professional Training Program.
Reconnaissance, Enumeration, Gaining Access, Maintaining Access, and Covering Tracks are the phases of ethical hacking.
A few vital information before enrolling in a Certified Ethical Hacker Cyber security certification course
 The benefits of taking the Certified Ethical Hacking Certification
Creating and enforcing basic requirements for certification security specialists in ethical hacking measures.
Notifying the public that credentialed people meet or surpass the basic requirements
Establishing ethical hacking as a distinct and self-regulatory profession
Who is eligible to take the Certified Ethical Hacking Exam?
Auditors
Site Administrators
Security Professionals
And Network Infrastructure enthusiasts.
Certification in  Cisco Certified CyberOps Associate also known as CCNA Cyber Ops 
One of Cisco's best Cyber Security Certifications for Beginners is the CCNA Cyber Ops. 
The CISCO Cyber-Ops Certification at the Associate level is the ideal way to train prospective professionals for Associate-level security operations center responsibilities (SOCs).
The core skills, methods, and knowledge required to prevent, identify, evaluate, and respond to cybersecurity issues are covered in this certification. 
It's made up of:
Concepts of Security
Security Surveillance
Analyses based on the host
Analysis of Network Intrusion
Policies and Procedures for Security
Access control models for digital assets, identifying protected data, malware analysis, and interpretation, and comprehending important SOC metrics and breach containment are among the new subjects covered.
Why Should You Get a CCNA Cyber Ops Certification?
The CCNA Cyber Ops certification will demonstrate to the rest of the world that you have the knowledge and skills to manage your company's security.
The certification's material aids in providing best practices for Cisco's Comprehensive Security Solutions. Practice and hands-on skills equip you for real-world scenarios.
Candidates who achieve the CCNA Cyber Ops certification can expect to earn the following annual salaries:
North America - USD 118,000 per annum
Latin America- USD 43,000  per annum
Asia Pacific- USD 73,000
Europe, the Middle East, and Africa- USD 76,000
CompTIA Security+ is a certification offered by CompTIA.
CompTIA Security+ is well-known for providing a fundamental understanding of cybersecurity roles. It also aids candidates by presenting them with cybersecurity jobs at an intermediate level. CompTIA Security+ improves hands-on troubleshooting skills, ensuring that candidates can solve problems. Candidates who pass the CompTIA Security+ exam can not only identify risks but also respond to security problems.
Benefits of CompTIA Security+ Certification:
There are no performance-based questions on any other certification exam.
CompTIA Security+ focuses on hands-on practical skills to help security professionals address problems more effectively.
It concentrates on the most up-to-date risk management, risk mitigation, intrusion detection, and threat management technologies.
Junior IT Auditor, Penetration Tester, Security Administrator, Systems Administrators, and Network Administrator are among the job roles covered.
What skills will you gain by taking the CompTIA Security+ exam?
Detecting a variety of threats and comprehending the concepts of penetration testing and vulnerability scanning
Component Installation, Configuration, and Deployment
Putting Secure Network Architecture Concepts into Practice
Identity and access management services installation and configuration
Putting risk management best practices into action and summarising them
Wireless security settings installation and configuration
ISACA CSX Certificate in Cybersecurity Fundamentals
ISACA is well known in the security field for long-standing certifications like the Certified Information Security Manager (CISM) and Certified Information Systems Auditor (CISA), as well as other intermediate to advanced qualifications. The CSX Cybersecurity Fundamentals Certificate is a new addition to the ISACA certification program, and it was created to satisfy a need at the entry-level. This cyber security certification covers five cybersecurity-related domains: ideas; architecture principles; network, system, application, and data security; incident response; and security of emerging technologies. It is geared toward recent post-secondary graduates and those considering career transitions.
The exam is $150, and this certification in cyber security is non-expiring and does not require frequent recertification.
Fundamentals of Information Security from GIAC (GISF)
The GISF is targeted at system administrators, managers, and information security officers who require a thorough understanding of information assurance principles, defense-in-depth approaches, risk management, security policies, and business continuity and disaster recovery plans. The topics included on the single GISF exam are identical to those covered on the CompTIA Security+ exam, although GISF is regarded as more difficult. In general, GIAC exams demand test takers use their knowledge and problem-solving skills, therefore practical experience earned through training or on-the-job is advised.
The exam alone costs $689 if you attend a SANS training session and then sit for the GISF exam. 
Systems Security Certified Practitioner (ISC)2 (SSCP)
The (ISC)2 Certified Information Systems Security Professional (CISSP) is the most well-known and widely accepted security certification available today. However, (ISC)2 offers a number of security-related credentials, with the ANSI-accredited SSCP serving as the entry-level option. If you don't already have technical or engineering-related information technology experience, the SSCP will prepare you for careers like systems security analyst, network security engineer, and security administrator, which often start at the junior level.
You must pass a single exam that covers seven CBK domains: (1) Access Controls, (2) Security Operations and Administration, (3) Risk Identification, Monitoring, and Analysis, (4) Incident Response and Recovery, (5) Cryptography, (6) Network and Communications Security, and (7) Systems and Application Security to earn the SSCP.
Before taking the exam, (ISC)2 it is wise for candidates to take up a Cyber Security certification course or training courses to ensure that they have appropriate hands-on security knowledge.
The exam costs $250, and (ISC)2 sells a number of study materials on its website.
Regardless of which cyber security certification you pursue and find suitable for your level of knowledge, make sure you invest a significant amount of time to self-study. When studying for a certification exam, many candidates enroll in a  reputed cyber security certification course for a well-defined preparation and planned strategy.
About the Creator
I am Jazmine Brown working as an course advisor at Careerera. Careerera is a well-known company that offers world-class higher education and training courses.Like Data Science course, Cyber Security course etc
Reader insights
Be the first to share your insights about this piece.
Add your insights