Where are we using IPv6?
What is IPv6 used for?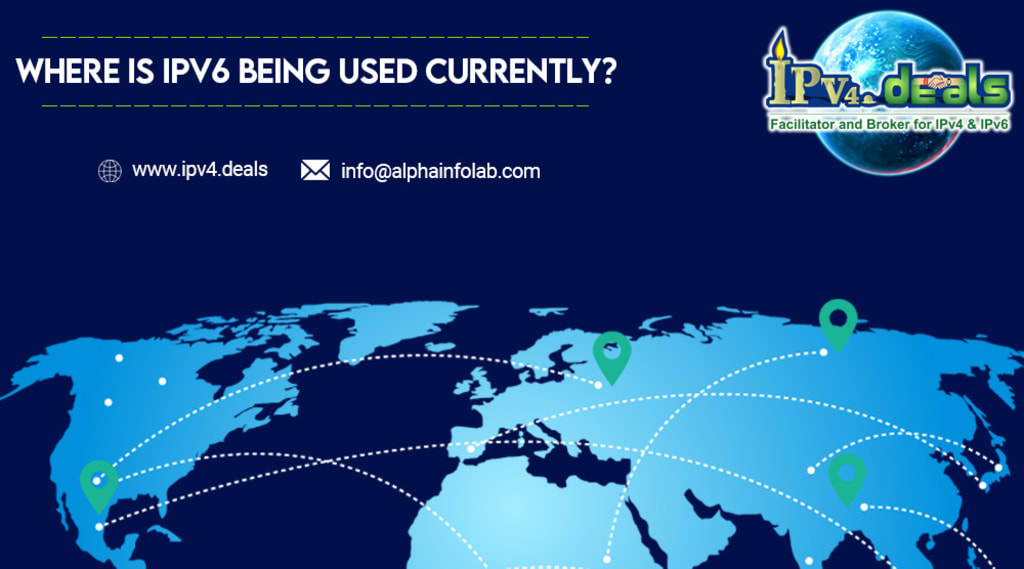 IPv6 is a long-time asset. Businesses must take it as a lucrative investment opportunity to make the transition from IPv4 to IPv6. In the future, generations are going to use IPv6-only. IPv4 may stay a few more years, yet its access may be limited to internal software testing, bulk emailing, etc.
When your business embraces IPv6, it is going to create and open many avenues in advanced technology. Firstly, for you to make the decision to move with IPv6, you may need to ask the following questions:
• Are you ready for the IPv6 revolution?
• Does your business vision have IPv6 in it?
If your answer is YES, then you are on the right track.
Secondly, you will need guidance and an IPv6 solution for your business. If not, then you have to rethink and redraw your business visions. Your business visions must be aligned with the IPv6 revolution that is going to take over the world of internet completely.
Let's get to the main point – What is IPv6 used for?
IPv6 is the sixth version of Internet Protocol. It is the Standard Protocol that is compatible with advanced technologies we use today and will be using in the future. There are 5 key areas where IPv6 addresses are going to be useful:
1. Artificial Intelligence: Artificial Intelligence is one the prime places where IPv6 is extremely useful. You can use AI+IPv6 to source and provide real-time information to customers. Healthcare, agriculture, education and eventually Climate Change are all linked and will provide AI and IPv6 enabled solutions.
2. Machine Learning: Machine Learning is another key area where IPv6 is being used. Mining data through scores of computers is one of the more complex areas where IPv6 is playing a key role. Especially, blockchain and cryptocurrency mining. Crypto mining is one of the most sort after areas where businesses are venturing into and IPv6 provides built-in IP Security, authentication and privacy unlike IPv4.
3. IoT: IoT or Internet of Things is very popular. Many businesses are catching up with this technology. Imagination is limitless. Your mobile, laptop, refrigerator, lights, TV, car, Web surveillance cameras and other gadgets are all connected remotely now. Imagine you are able to connect with the smallest of things that you use every day, like your glass of water reminding you of daily water intake. IoT is like your brain connected with all the other advanced gadgets and IPv6 is like the nerve connection that connects everything.
4. 5G: When we talk about IoT and IPv6, how can we forget 5G? 5G is an important link that makes sure small cells or devices are connected perfectly with each other, even when you are going to access them remotely.
5. Cloud Computing: Cloud is everywhere. From your business email account to the important files you store in cloud to the business you are operating in cloud. Cloud computing requires secure and end-to-end encryption and faster connection than IPv4. All this is provided by IPv6.
In IPv4 vs IPv6, IPv6 definitely scores more points than IPv4. However, many businesses are stuck with the question of what to do with our IPv4 addresses after our business transitions to IPv6?
There are two income-generating options for your IPv4s:
1. Sell IPv4 space: When you sell IP addresses, you are going to generate revenue from it. Currently IPv4 addresses are one of the hottest commodities to be sold in the IPv4 secondary market. The current price for various IP spaces range between $27 to $30 per IP. That means, if you sell your IPv4s, you will earn quite a good profit.
2. Lease IPv4: If you want to earn a steady income for your business, then lease your IP addresses is another way. Leasing can provide cheap IPv4s to other businesses that need them.
In the IPv4 secondary market, there are numerous businesses that want to buy IPv4s, so it is easy to earn quick profits. Whether you sell or lease IPv4s, it is profitable for your business. It also helps you to use the profits to make the transition to IPv6. Making a sale or leasing your IPv4s or buying IPv6 addresses, Alpha InfoLab will help you all the way.
Alpha InfoLab is a reputed Broker of IPv4 for ARIN, RIPE NCC, APNIC and LACNIC. They facilitate between the buyer, seller and RIRs to provide a smooth and transparent buy / sell / lease of IPv4s. For more information on Alpha InfoLab, click here.