What is on-demand delivery app development?
on-demand delivery app development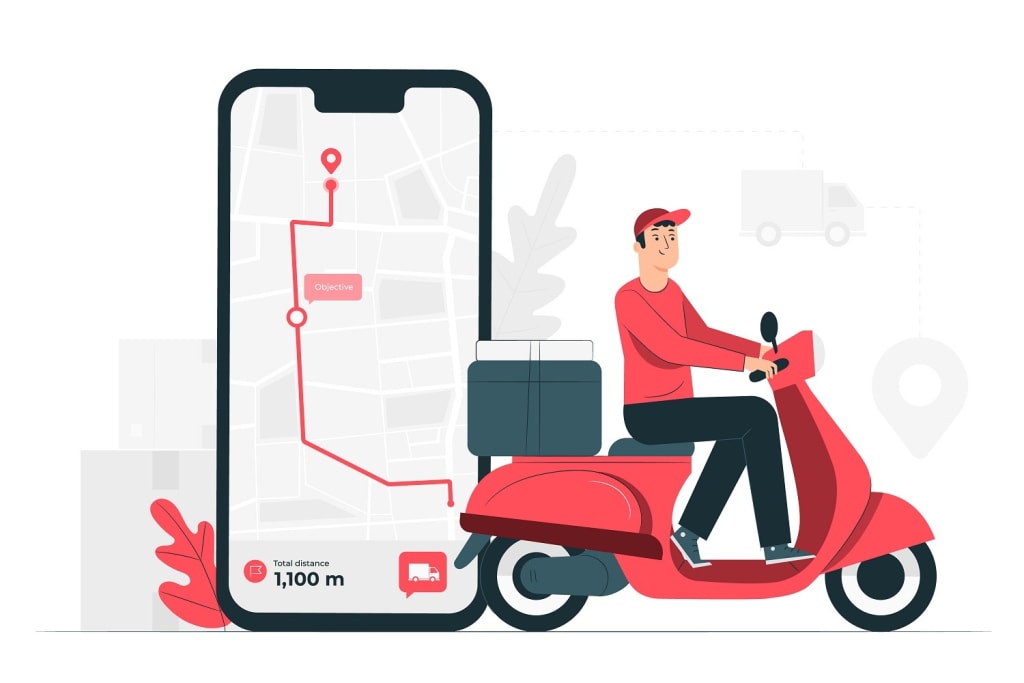 on-demand delivery app development
Since the outbreak of COVID-19, whether it is work or education, everything has changed drastically. At that time there were multiple industries that shut down their offices & shops for a while, and the market started to shift online. During the lockdown period, it witnessed gigantic demand and popularity for specific applications. Because of a sudden enhancement in demand for daily utilities and essentials, on-demand delivery applications have seen significant growth amidst the COVID-19 pandemic.
Many renowned food delivery chains such as Zomato and Swiggy have shaken their hand with On demand delivery companies in India, and started grocery delivery since the delivery of essentials is the need of the moment.
After the covid, there is a big list of retail businesses that are moving online and adopting the on-demand delivery business model by comprehending individual requirements.
Before understanding the on-demand app delivery model, let us have a deep dive into the methods of a business that can be used to introduce it:
Collab with the 3rd-party delivery provider
If you do not want to invest in developing an application, you can club with any existing on-demand delivery application service provider to bring your products to the market. But keep in mind that individuals who will buy your services or product will be the other industry's user base. Additionally, collaboration costs with the 3rd-party delivery provider will vary from C2C. Therefore, it is crucial to weigh your decisions smartly before jumping into them.
Developing a Dedicated Application
If you want to create your presence in the online market without collaborating with delivery providers, you can think about creating a dedicated application for your products or services. With a dedicated application, you will be able to have control over all the operations. These kinds of applications are the right fit for businesses that are in continual demand. you can hire flutter app developer for making a dedicated mobile app for your business.
What is on-demand delivery app development?
An on-demand delivery application is a kind of software that connects users with different service providers permitting users to order any service online and have a doorstep delivery. It is the future of the mobile app development company. On-demand delivery apps used by the on-demand delivery app development template are also called Software as a Service (SaaS) as they are both online and cloud-based applications. Software as a Service is a service platform by a service delivery provider accessible via the internet. Software as a Service, Platform as a service (PaaS), & infrastructure as a service (IaaS) is the 3 main categories of cloud computing on the market. Build an on-demand delivery application to enhance your business.
What are the types of On-Demand Delivery Applications?
Around the world, every other industry or business needs some type of service that they can't do themselves. But before shaking hands with other industries like On demand delivery companies in India, do not forget the common users who require many services on a daily basis such as transport, parcels, food delivery, and much more. Let us know the broad classification of them.
Person to Person
There are often very common services of individuals that can be completed by local service providers or ordinary people. Here, the application is made by a 3rd party on-demand delivery app development company, that acts as an interface between these 2 sides. Ride Sharing applications and Apps like Airbnb or Applications such as Tinder is the example of this type.
Person to Enterprise
It is one of the simplest kinds of on-demand delivery applications where the enterprise creates an app to entertain the requests of their users through applications also. You can say this as a B2C App also. For instance, an Online E-Pharmacy Store can be created for the requirements of medicines and healthcare products in such times or for the restaurant industry, Food ordering app, for bakery industry On Demand Cake Delivery App is the kind of On-demand application solution.
Enterprise to Enterprise
An Enterprise works on bigger projects & every project may require services from a number of small vendors or businesses. For instance, Walmart's Suppliers have a customized application for tracking & managing their products.
List of industries that take benefit from On-demand delivery app development services
Whenever we talk about on-demand applications that are developed by the on-demand delivery app development template, especially on the delivery front, there is hardly any industry left that has not found an expansion in on-demand delivery service applications.
Here are some of the industries that take the assistance of on-demand delivery app development companies.
Food and grocery delivery
On-demand food delivery application development is one of the well-known real-time delivery space models. Well-known brands like InstaCart, UberEats, & GrubHub have been ruling the space for some time now, while so many others have also entered the flourishing segment.
Healthcare
The second most growing industry in the on-demand delivery segment is non-other than healthcare. You can assist connect doctors & patients in real-time or you can create on-demand delivery apps which facilitate making medicine or other hospital equipment reach the one in need.
Travel
It is quite impossible to talk about how to create a successful app & not mention the travel space. Especially since popular brands like Uber are what laid down the groundwork for successful on-demand applications.
Home Services
These applications are being used by individuals across the world to get help with things around their house – beauty & wellness, cleaning, movers & packers, etc.
Step-by-step working of the On-Demand delivery app
On-demand delivery app development company builds a delivery app that is making our life easy, here we are sharing how an on-demand delivery app works.
Inquiry
The individual seeking some service puts an inquiry from the pool of service providers. The seeking method remains the same in almost all kinds of On-Demand Delivery applications.
Accept or Approve the request
The service provider can accept the request & deliver the service. Service providers have the right to deny service if that can't be entertained at that moment. Denial or denying is a common case in "Person to Enterprise to Person '' type applications like Uber & Ola where drivers can deny the service but in 'Person to Enterprise' applications like McDonald's and Dominos, denial is a rare case.
Track
Now, if your request has been accepted, you can know all the time what's happening with it. In this entire process, you can also contact the service provider in some of the Person to Enterprise to Person applications. Tracking is a valuable part of on-demand service application features.
Delivery
This step is achieved when your requested service is completed or the requested product has been delivered. It simply marks the completion of the process. Users have the choice to review the service provided by the application and person.
List of must-have features of an On-demand application
If you include the customer's application, admin's web app panel, and driver's application together, here are the must-have features for generic on-demand delivery apps.
Account Registration
Order Tracking
Payment Gateway
Push Notifications
Reviews & Ratings
Order History
User Management
Real-Time Analytics
More features:
Order Placement
Scheduling Task
In-App Payments
Instant Chats
If you have a higher budget, the list may get longer, but if you are looking for essential on-demand delivery application features, each kind of category may have these features to get +ve results.
Challenges Associated With Developing On-Demand Delivery Apps
Identifying the target audience
It is very easy as well as yet a grave mistake to initiate the on-demand delivery business under the assumption that everyone requires the service you are out to offer. But the fact is that it is rarely the case. You'll have a very clear understanding of the target and ideal audience to comprehend all the services they are willing to outsource vs what they love to perform themselves.
Finding Businesses & Service Providers to partner with
What is significant at this stage is to partner with people whom you can enjoy a mutually beneficial relationship with.
Just when you're able to attain a co-dependent nature of the partnership, will you be able to make the long-term partnership.
Find the Right Development Team
Here comes the most challenging task: find the most suitable mobile app development company that uses the best on-demand delivery app development template, and offers expertise, experience, and specific results as you expect from start to end. Research as much as you can and only work with app developers who are skilled enough to meet the latest market prerequisites of an advanced on-demand delivery application.
Get the On-Demand Delivery App Development Services Here!
After explaining all the essential requirements, we assure you must be looking for a trustworthy and leading on-demand delivery app development company, that delivers the best apps.
Ionicfirebase is among the most trusted and growing On demand delivery app companies in India, serving a global clientele with advanced features and mobile applications. Being a reliable mobile app development company, we have a development team that keeps upgrading the development techniques to deliver a successful mobile app suitable for your industry-specific needs. We also provide flutter mobile app development services
About the Creator
IonicFireBase - Being a reliable mobile app development company we have delivered hundreds of readymade and custom apps that are working great on the play store. To solve all your app development needs and to provide the best apps,
Reader insights
Be the first to share your insights about this piece.
Add your insights