Web 1.0
The Read-Only History of the Internet (1995 – 2005)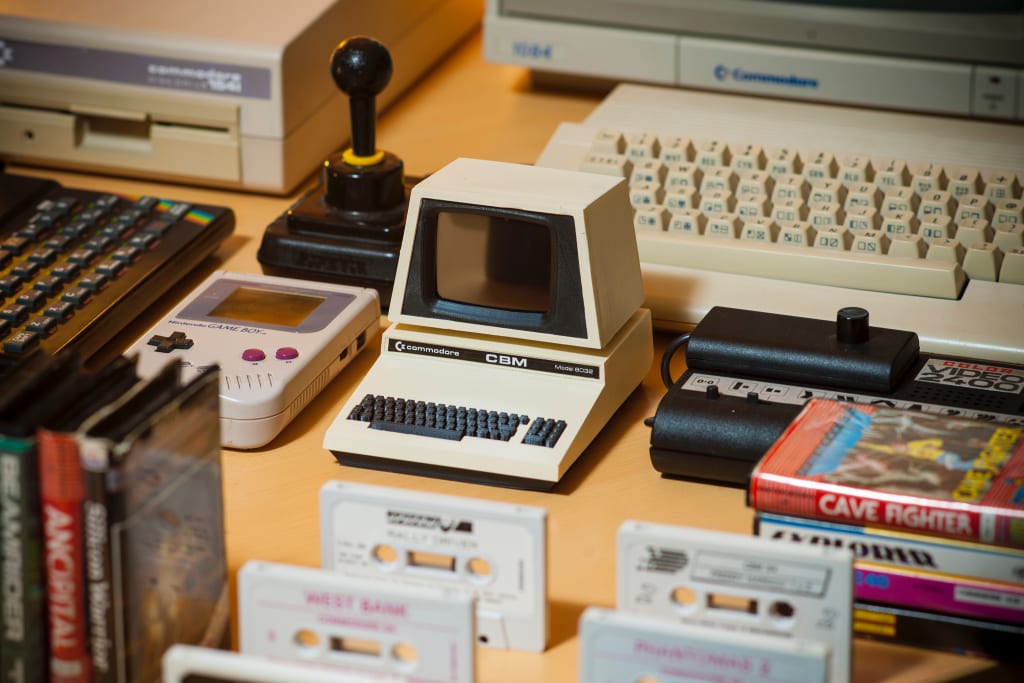 Curious about how rapidly the internet is changing, and how those changes will affect the way you create content? In this three-part series, we'll look at how the internet has gone through rapid stages of growth since the commercialization of websites in the mid-'90s. This post is the first part of the series, covering the Web 1.0 era from 1995 to 2005. Or more specifically, from WebCrawler to YouTube.
The Early Days of Web 1.0
Web 1.0 refers to the early days of the web, back when a lot of people remember signing onto the internet through services like America Online.
In addition to using AOL as a way to access the internet, people used features like public chat rooms and, eventually, AOL instant messenger service (AIM) to chat privately. These, along with public forums and message boards, were the main social channels before today's main social networks began to emerge.
To search for content on the web (read-only content, not interactive or community content at this stage), Google wasn't even the number one search engine to turn to. In the early Web 1.0 timeframe, WebCrawler and Lycos ruled.
Google was, however, only a few years away from launching its search engine and proprietary ranking algorithm, PageRank. They would still be competing with AskJeeves, Yahoo, and MSN for a while before becoming the number one search engine.

In the early days, websites mainly focused on delivering content to website visitors, offering visitors little ability to interact with the content. Media outlets were taking the news online, offering visitors content to read, but no platform in place to leave comments and interact with journalists just yet. This is one of the reasons why it is considered the read-only stage of internet history.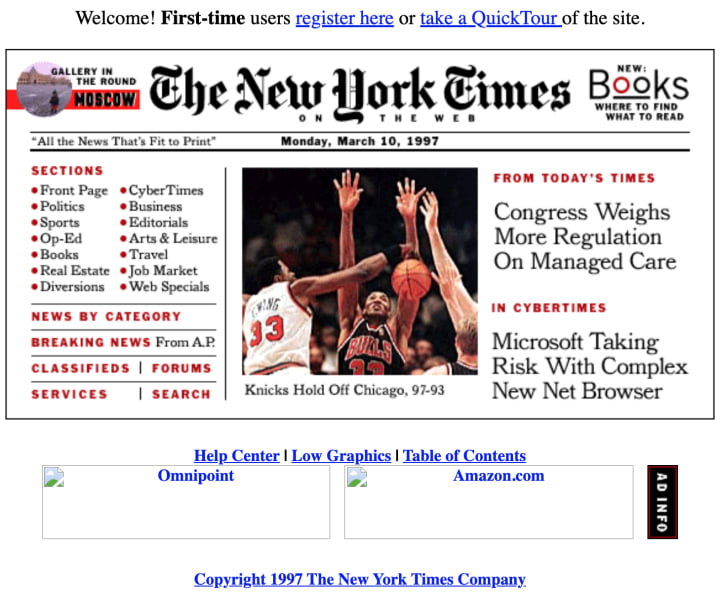 Ecommerce in Web 1.0
Ecommerce was steadily growing, with brands like Amazon and Zappos launching their online retail empires in the mid-90s. It's no surprise that these brands dominate search results for most online shopping queries today considering how long they have been online.
eBay was revolutionizing the way people waxed nostalgia about the things they had when they grew up. Shoppers could now find used and vintage goods in a digital marketplace. Collectors now had a new opportunity to make money from home online.
And, of course, PayPal had already revolutionalized the way people were sending money to people's Palm organizers or email addresses for hosting an event or party. Credit card processing and bank transfers were now available to merchants of all sizes, including individuals who just needed to send funds electronically for personal purposes. This included future content creators who wanted to add a "tip" link to their blogs.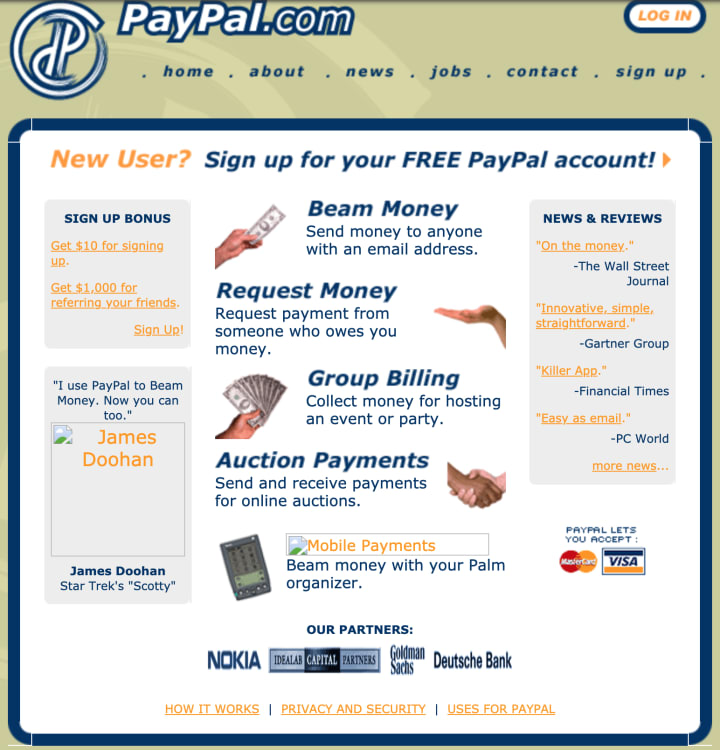 How Web 1.0 Shaped Content Marketing and Social Media
While it's fun to reminisce about the early web designs of the late 1990s, what is important about the Web 1.0 era is how it shaped the content marketing and social media landscape. For starters, online blogging began with a service called Open Diary in 1998.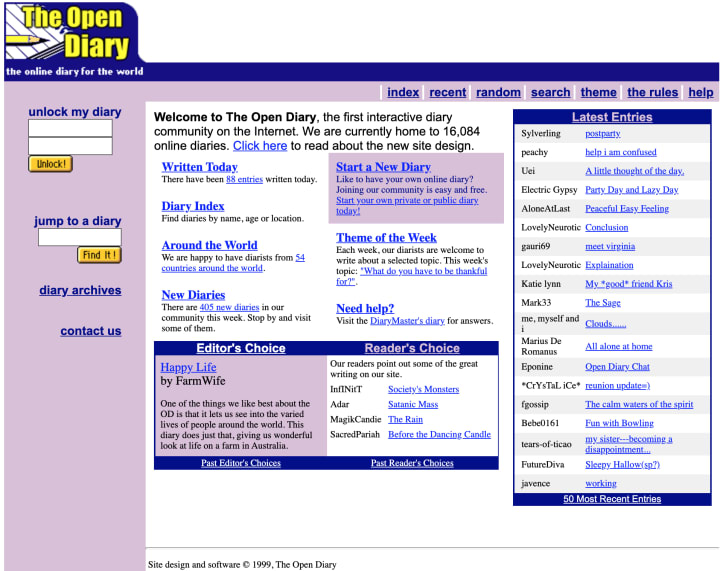 In addition to being one of the first services allowing individuals to post content, it also was one of the first services that allow users to comment on content. Hence, they are the innovators of blog commenting systems that help content creators build community on their blogs today.
Other popular blogging platforms like LiveJournal, Xanga, and Blogger similarly introduced the world to their online content publishing platforms in 1999.
Social media as we know it today was also on the rise. In 2003, MySpace and LinkedIn launched as the first social networks for young adults and for professional networking.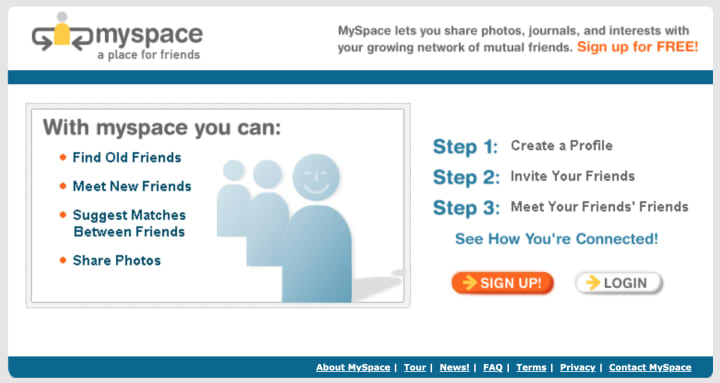 Friendster launched that same year, followed by Facebook and Flickr in 2004, then Reddit and YouTube in 2005. With each network came a surge of new internet users and content being added to the internet on a daily basis, plus a sea of engagement options that was putting an end to the read-only era.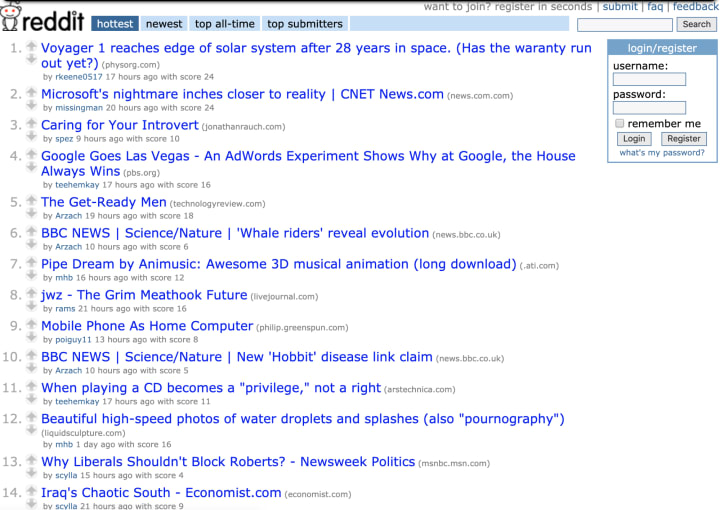 By the end of 2005, WordPress had joined the blogging and content management scene. Blogs had gone from personal, online diaries to the corporate world of business and marketing. Bloggers encompassed everyone, from CEOs to mommy bloggers. The world of journalism was starting to change, thanks to the power of publishing becoming accessible to the masses.
The Dramatic Growth of the Internet During Web 1.0
According to Internet Live Statistics, the number of internet users between 1995 and 1999 rose from 44 million to 280 million, and the number of websites increased from 23,000 to 3 million. So the rate of growth during the first half of the Web 1.0 era was significant.
Then, from 1999 to 2000, you see a spike in internet users, from 280 million to 413 million and inflation in websites, from 3 million to 17 million. And by the end of 2005, there were over 1 billion internet users and 64 million websites.
The likely conclusion? The launch of blogging and social networks may have played a major role in the dramatic growth of the internet during the Web 1.0 era.
What Creators Can Learn from Web 1.0
So what can content creators learn from taking a tour through the early days of the internet? The biggest takeaway is that people love content and they love to be social.
Sure, the internet was growing in the early days. But the growth was explosive when blogging platforms and social media networks launched. As soon as people started creating content, discussions started forming around the content.
When social networks appeared, blogging didn't lose its steam. People didn't stop creating content on blogging platforms because they started creating Myspace and LinkedIn profiles. Social networks didn't replace blogging - they became another channel to use for community engagement and content promotion.
If you want to create an explosion of growth around your art or your creative business, then learn from history. Create more content and encourage more social interaction to attract and maintain an engaged audience that is excited about your next project!
history
Kristi Hines is a freelance writer in Phoenix, AZ. She has written for 50+ brands and publications including Content Marketing Institute, GetResponse, HostGator, HubSpot, Moz, Oberlo, Salesforce, and Social Media Examiner.