Tips for a Robust Financial Mobile App Development Strategy
Mobile app development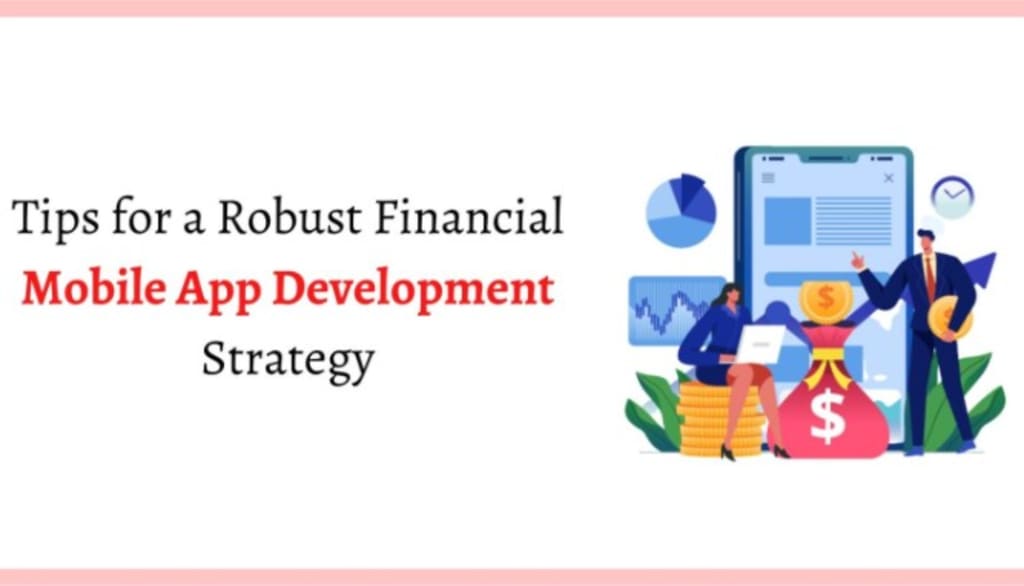 Despite being an incredibly intricate industry, Fintech is gradually gaining traction. It is displacing conventional modes of payments of eCommerce, banking, wealth management, etc. Accountants and businesses can manage their accounts more easily with Fintech.
By 2023, the global financial services market is estimated to reach $158,01 billion, as per Business Research Company. Also, according to the Statista report, more than 6.5 thousand startups utilize financial services worldwide, and there were under three thousand startups funded by fintech companies internationally.
Essential Tips to Create a Resultative Financial Mobile App
Fintech is a complicated ecosystem, so you should assess the features that will enable your startup to flourish in the future. Fintech App Development must include the features listed below:
Security Should Be Prioritize
The Fintech industry prioritizes a high level of security. Once users have encountered security issues, they will install your app without a second thought. Your Financial app will be safer if it comprises the following features:
1.Two-factor authentication
2.Utilization of the OTP for login
3.Security through face scans or fingerprints
4.CVV2 codes dynamics
You should conduct penetration testing to make your application secure. It will help you comprehend how hackers can hack your fintech app to devise preventive measures. Additionally, you can secure your application with regular updates and maintenance.
Integrations Are Essential
Application Programming Interfaces (APIs) link numerous apps or portals together. APIs are the formation blocks of financial apps. Fintech APIs can allocate commands to third-party workers.
APIs are also affordable. The Plaid API allows you to associate your app to bank accounts utilizing Fintech technology. Therefore, users can execute various banking tasks such as making payments, checking balances, and more.
Data Encryption During Transmission, Receipt, and Storage
It will assist you in considering all stages of the data life cycle when plotting the financial mobile app development process. Whether your servers or the user's computer, it is critical to safeguard data while being transmitted and stored.
Encryption is the process of encoding raw data into a format that will be unreadable and practically useless if intercepted and utilized by anyone. When you transmit data from A to B, SSL technology encrypts it, but you require further steps to secure it when it is stored. Apart from storing data on the user's device, several mobile apps store data on cloud hosting or dedicated servers platforms. You should hire mobile app developers that prioritize your customer's data security and protection throughout the process.
Simplicity Is The Key
Making a user-oriented and intuitive Fintech app is the key to its success. Application users don't want to spend much time learning the app's working. Creating fintech apps involves developing analytical tools that gather financial data and make financial programs accessible.
Analytics are showcased in real-time so that users and organizations can immediately find out their revenue, expenses savings, and so forth. To engage more audiences to your Fintech app, it needs to be straightforward to understand.
Provide Maximum Support
Companies providing financial app development solutions may use confidential data to engage a rich user experience. To solve customer queries, you cannot depend on 3rd party customer service providers. Instead, you must hire consultants to fix customer problems. Your consultants must have the appropriate qualification and follow strict security guidelines.
Concluding Thoughts!!
Considering what Fintech can provide for businesses and consumers according to the current trends, it would be right to mention its discovered possibilities. People can execute transactions more effectively appreciations to online platforms and mobile apps. Therefore, select a reputed mobile app development firm with the essential expertise and experience in financial app development.
apps
About the author
I am Aliona Miller and I work at Sparx IT Solutions Company, a leading web and mobile app development company, as a senior web developer.
Reader insights
Be the first to share your insights about this piece.
Add your insights