The Top 10 Web Design Mistakes Affecting Your Online Reputation
With over 1.8 billion websites globally (and counting), the online world now feels almost as big as the real one. Nowadays, a business' website and online reputation go hand-in-hand and are just as important if not more so than its physical presence.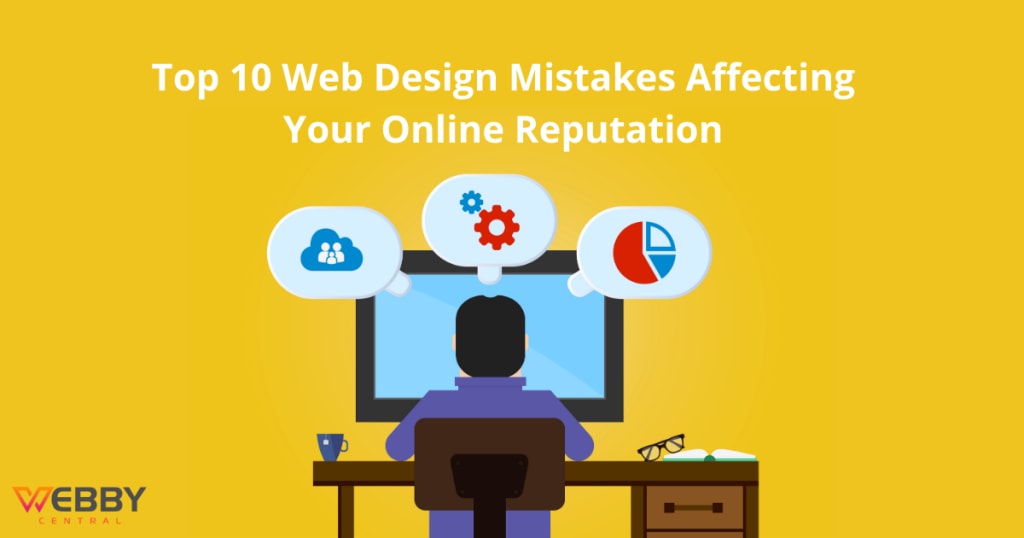 With over 1.8 billion websites globally (and counting), the online world now feels almost as big as the real one. Nowadays, a business' website and online reputation go hand-in-hand and are just as important if not more so than its physical presence.
Now picture this:
You have a business; you've thought of taking it online and establishing an online presence. You've invested lots of time and effort in designing your website. You've done everything you were supposed to do, from choosing the cleanest theme and layout and adding images, to crafting compelling content to placing CTAs. You're now convinced your site is the best in your industry.
Time goes by, but your website is not getting any visitors, and it's not ranking on SERPs. How would you feel? Overwhelmed? Of course. Anybody would, especially in today's era, where building your online business presence has become a matter of utmost importance. You can't afford to let unoptimized web design ruin your reputation.
What's the way out then? Consider hiring a reputed website design agency that will not only fix all your website design mistakes but also build a positive digital presence for your business by offering you reliable online reputation management services.
10 Deadly Web Design Mistakes Ruining Your Online Reputation
Even if you know everything about website design, you're bound to make some mistakes. Some might be less obvious, but they can significantly affect your online reputation, and negatively impact your site. Here are some common website design mistakes that must be avoided to strengthen your online presence. Let's dive in!
Overdesigning and Cluttering
This is one of the most common website design mistakes website owners make. In an effort to captivate visitors with as many flashy elements and features as possible, visitors can become immediately overwhelmed, disoriented, or confused by what they should be looking at, and leave your site as a result. In truth, visitors prefer a simple yet attractive web design, so you should avoid overdesigning and cluttering to keep your users happy and engaged.
Awful Navigation
When your website is confusing to navigate, users are more likely to move to your competitors' sites. A website with proper navigation always gives you a competitive edge over others. It is even said that 94% of consumers want an easy-to-navigate website.
That's why web strategists and consultants recommend having a website design that supports clear navigation directing your visitors to the right section, and ultimately helps convert them to loyal customers.
Bad Color Combinations
Though it may seem simplistic that colors play a critical role in website design. Some colors are too vibrant may appear irritating to your visitors, while other colors have more soothing properties. Take time to understand the psychology of colors in web design and how the human mind responds to them. Choosing the right color combinations based on your website's theme can make a significant difference in your business' public perception.
Too Much Information
If your website content comprises excessive information, you're likely to drive away potential customers who aren't sure what they're supposed to be looking at or focusing on. Avoid providing unnecessary information to visitors, especially on your most visited pages and landing pages, and aim for pointed, important content that's likely to leave an impression on your visitors.
Lack of Mobile-First Design
It's been quite a while now since Google recommended businesses emphasize mobile-first web design to rank higher. Google has even switched to mobile-first indexing for all websites, beginning this past September. A mobile-first design makes your website user-friendly and SEO-friendly at the same time. Ignoring these benefits reveals a lack of understanding of your customers.
Poor-Readability Fonts
Font size and style have a huge impact on the readability of and engagement with your web content, and can quite possibly make or break your website. Miniscule fonts with poor readability can frustrate visitors and compel them to leave your site instantly. Therefore it's crucial to choose your font size and style wisely, and provide your visitors the comfort of readability.
Lack of Quality Content
People don't visit your website just because of aesthetics; content matters too. Relevant, informative, and on-brand content is essential to your brand messaging, and precisely what your visitors are looking for when they come to your site. Content marketing agency experts recommend summing up a web page in 300-500 words max: informative, effective, concise. The more specific and to-the-point you will be, the better it is.
Poor Image Quality
It's a psychological fact that images attract eyeballs more than words, but they can also push your visitors away if they are of low quality. Adding some breathtaking images to your website can surely help you gain more visitors, but only if they're well-optimized as to not impact the site's overall loading speed.
Unclear CTAs
Not having clear calls to action is no different than missing out on conversions. Clear and relevant CTAs directly convert visitors to customers. Top growth companies recommend adding CTAs on every page of your website. If you want, you can also utilize the sidebar on pages and posts to ask for email signups, offer a live chat option, or something else that is action-oriented.
Annoying Pop-Ups
The original internet annoyance, pop-ups may be less intrusive than they once were, but they're no less annoying to most visitors. A relevant pop-up can be helpful, but not when it starts hindering a visitor's experience. Pop-ups should be used sparingly but when you do use them, make sure they pop-up on your website immediately when the viewer navigates to a new page.
Final Words
A poorly designed website can cause your business to lose potential and existing customers, your online reputation, and ultimately, revenue. The website design mistakes listed above might seem simple, but they can affect your business more than it might appear on the surface. Now that you know the most common yet avoidable web design mistakes, you have the upper hand over your competitors.
how to
About the author
15 plus years of experience in digitizing businesses & transforming Startups into Brands.
Reader insights
Be the first to share your insights about this piece.
Add your insights