The New Razer Phone
A Comprehensive Review from a Person Who Didn't Even Know What Razer Was a Month Ago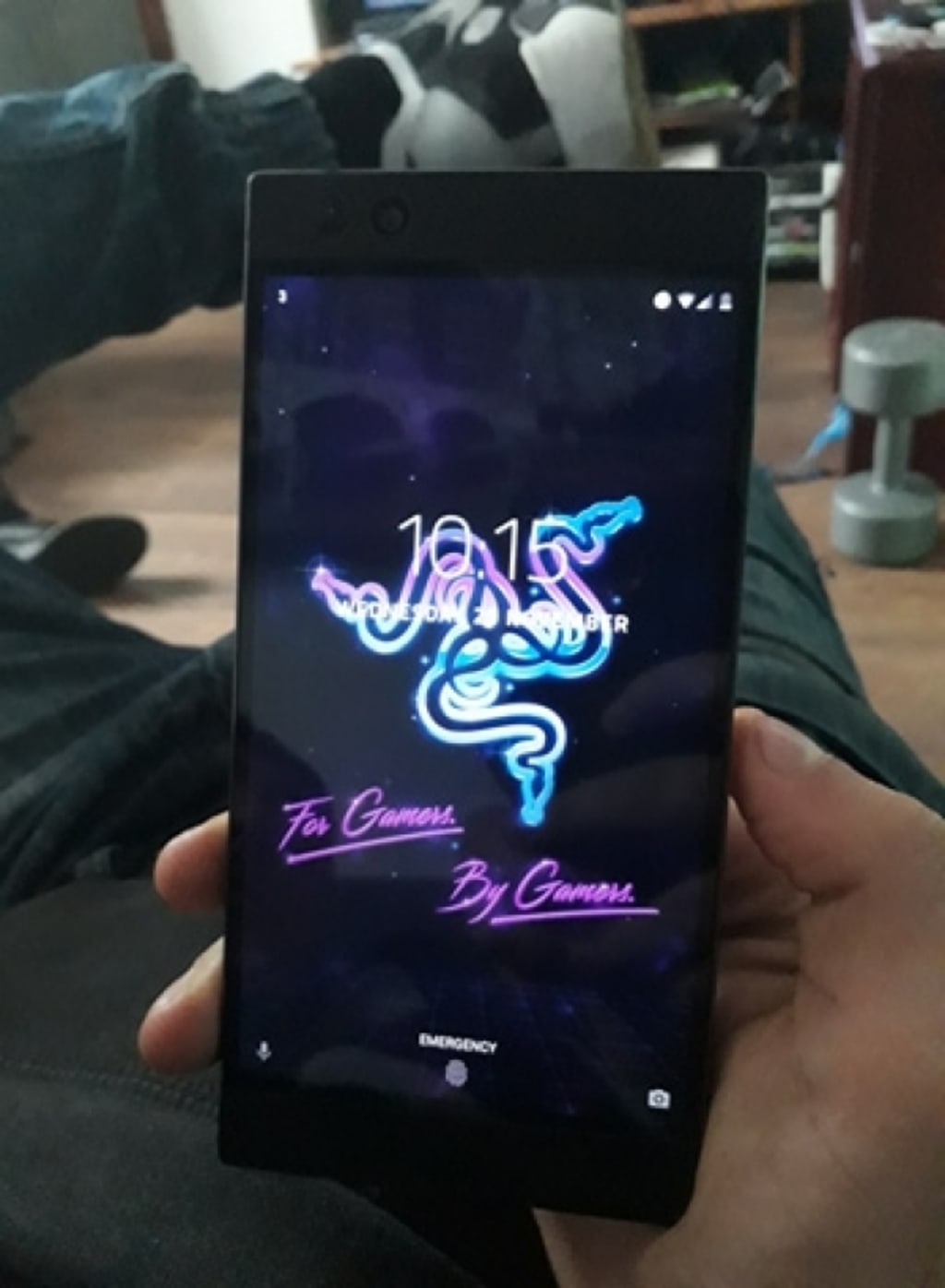 The Razer phone is arguably one of the best phones on the market at present, after merely beating the Google Pixel 2 phone based on its reviews and specifications, but is this phone really worth the hype?
It all started when I received a call from my partner in the middle of October excitedly shouting about the new Razer phone and that it had just been announced. To his surprise, I asked him "What's Razer?" He was so shocked, he didn't know what to say and he told me to look it up. At this point, I was convinced that it was a new chain of Samsung phones (as my partner has always used Samsung up until this point), but to my surprise, Razer is a full blown company which sells tech, including PCs, Laptops, Gaming accessories, etc.
I am not the most knowledgeable when it comes to tech. I am not claiming I know half the stuff as most tech-heads do, but I thought I was fairly up-to-date, and understood what hardware is needed to build a computer and what software was needed to build a computer. When you grow up revolving around computers and tech, you think you know it all. As I grew older, I began to understand the nitty gritty, such as motherboards, graphics cards, etc. But never in my life had I heard of Razer.
My partner's birthday has just passed, and to his amazement I managed to purchase a Razer phone (I had been telling him I couldn't afford it, plus he had his own phone contract to pay off), and he was amazed when he saw it. We had looked online at the specs and what hardware goes into it, but nothing could prepare us for our amazement at the size of it! After spending almost a month with the phone, and watching him use the phone, here is our comprehensive review of the new Razer phone, and does it live up to its expectations? (A small part of this review does come from a tech-head gamer, who is a Razer enthusiast, too.)
The Design
The design of this phone is one-of-a-kind. It sits in your hand nicely, has a firm grip, and feels incredible! Its sleek and smooth texture is much more comfortable than that of any Samsung or Apple phone. As the new iPhone X is made of glass at the back, I was expecting this phone to sit in your hand nicely, with plenty of grip on it. This is true, it does have plenty of grip, but it is slightly rough on your skin in the heat as you're moving it away from your hand. The new Razer phone feels similar to that of the Samsung Galaxy S8/S8+. However, the size of the Razer is much larger, and this means heavier than the Samsung S8. It is argued that the overall design of the S8 is better, but it depends on what you like. The Razer phone is stocky and rectangular. It almost looks like a thin brick, whereas the S8 adopts a more modern design, which has been released in multiple colours. The Razer phone has a singular colour of black, but the logo is available in black, white, and limited edition green.
The overall design in my opinion comes in at a 6/10. It racks up the points due to its feel. However it does remind me of a Nokia Windows Phone, which, in my opinion, didn't really look very appealing. My partner's input on the design is as stated:
"It takes up your whole hand because it's so big, and it can tire your hand out if you have it in that position for long periods of time. Holding it with two hands makes it a whole lot easier, and the feel of it is superb."
The official specifications on size are as follows: 158.5 x 77.7 x 8mm with a weight of 179g. To compare, the standard S8 size and weight are 148.9 x 68.1 x 8mm and 155g, demonstrating that it is much smaller than what the Razer is.
The Display
The Razer phone adopts a 5.72 inch 1440 x 2560 LCD screen with QHD resolution, which is pretty outstanding if you ask me. However, many phones now have QHD resolution, so what does the Razer phone have that others don't? It has a 120Hz refresh rate as well as a powerful frame rate of up to 120fps. This demonstrates that the screen is much smoother and much more detailed, which is pretty handy if you're playing games, but is also just as handy if you want to watch a movie. (The size of screen helps with this, too!)
Although the Samsung S8/IPhone X have much nicer designs, including a curved screen in terms of the S8. The Samsung S8 also has a slightly larger screen (5.8 inch 1444 x 2960). However, its AMOLED technology doesn't support a refresh rate or frames rate as powerful as that of the Razer phone.
My partners comments over the display:
"The display is highly detailed, highly graphic, and displays faster than I have ever seen in a phone. Its touch screen not only feels great but looks great, too."
Power
My partner is extremely fond of the battery life within this phone. Its battery is that of a Li-Ion 4000 mAH, whereas the likes of the Google Pixel carries a Li-Ion 3520 mAH battery. Not only this, but one of the main features of the Razer phone is that it was built to charge quickly (Quick Charge 4+). You could charge your phone up to 100 percent in no time, stay out all day, and still come home 12 hours later with some charge left in!
Finally, the charger is that of a C-Type charger, which includes a 24 PINs and a reversible charger head. This is designed to charge quickly and efficiently, and don't worry if you charge your phone whilst your asleep. It knows to stop charging if it gets to 100 percent before you wake up.
"I can go out and not worry if I forget my charger, because I know it's most likely not going to run out before I get back. Its power-saving options can also ensure that it definitely won't run out of charge before I get home." - My partner's review of the battery.
Sound
I struggle to find a gadget which has adopted a good audio system. I often find myself wondering why I can't get a phone or a computer which has good audio (there are some with great audio, but I always find myself with poor audio, no matter what I buy!)
The Razer phone has Dolby Atmos speakers fitted. The speakers are located on top of the screen and below the screen, to ensure you can fully emerse yourself in whatever you're doing. We tested the audio out by comparing it with a 120 watt sound bar. I sat upstairs whilst he played both (not at the same time of course) and I honestly couldn't tell the difference. I was amazed!
The Razer phone has the best audio system by far, beating the Samsung S8, IPhone X, and Google Pixel 2 (which have an ordinary sound system built in).
The only disappointing thing I can really say about the sound (even though it's not really to do with the sound!) is that Razer don't provide you with headphones when purchasing the handset, unlike Samsung.
Features
The Razer phone boasts a 12 MP front and rear camera as well as a side fingerprint, which to my boyfriend's opinion is the easiest fingerprint scanner he's had to use on a phone (he hasn't had to press down twice on it yet for it to read his fingerprint!), and he's had very problematic experiences with other fingerprint scanners in the past.
The Razer phone also includes a feature which is called "night light." This is not a torch. However, it's a brightness setting which is technologically adapted to make the screen easy on the eyes in dark settings (more so than adjusting the brightness yourself). It is intended to reduce headaches and eyestrain, and it still delivers clear, detailed display when playing games or watching videos.
The handset also carries storage size of 64gb, and also has a slot for a MicroSD card of up to 2TB! Unlike the Samsung Galaxy range, you are able to format the external SD and set it as your main storage.
Our Only Problem is..
At the moment, the phone is having issues reading the contacts off the SIM Card! This isn't a huge problem. It is, however, annoying when somebody is phoning you and their name doesn't come up, even though their name is in your phone. We are certain that this will be fixed within the next update, or there is a setting to change this (it doesn't bother my partner too much. Otherwise, he would have looked for a way to change this by now).
Overall...
My partner is positively shocked by how wonderful this phone truly is. He is completely put off the Samsung Galaxy range (bearing in mind he has stayed loyal to the Samsung brand for seven years now) and will not even consider the iPhone or Google Pixel range.
I, myself, believe that this is also a great phone. I had my reservations after discovering a company which mainly sells computers/computer tech was releasing its first ever phone. However, I am truly bewildered at how much this phone can do.
The cost of this phone in GBP is £699.99. However, you can buy this phone as a contract with three for as little as £41.99 per month/£49.99 upfront. It is worth every penny.
The Back of the Phone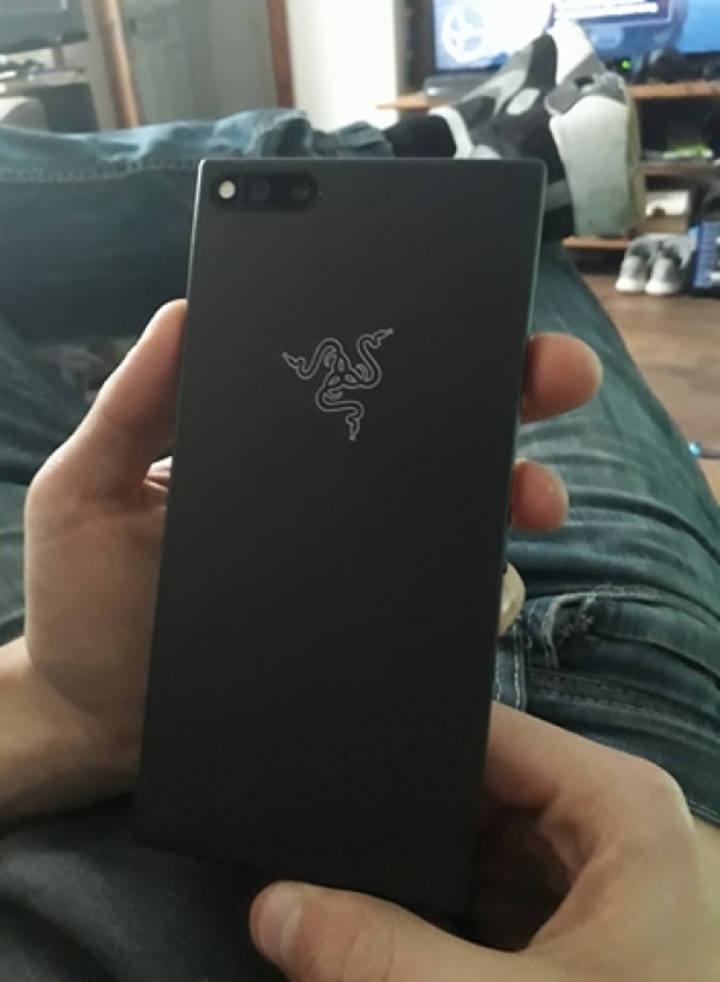 Razer Headphones
Razer Mouse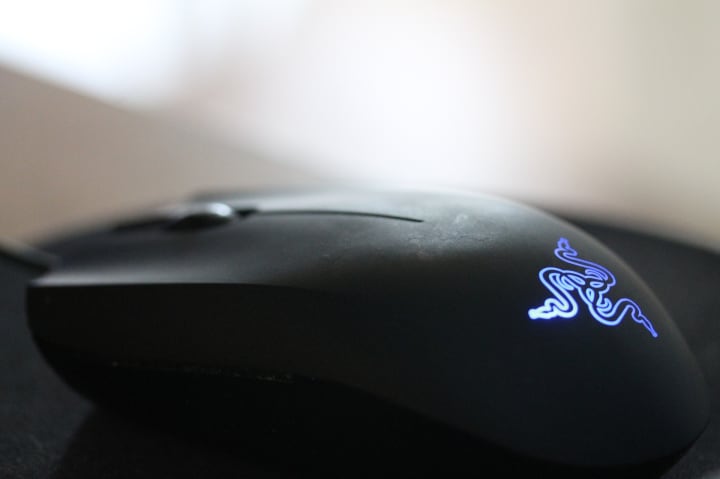 The Box and Charger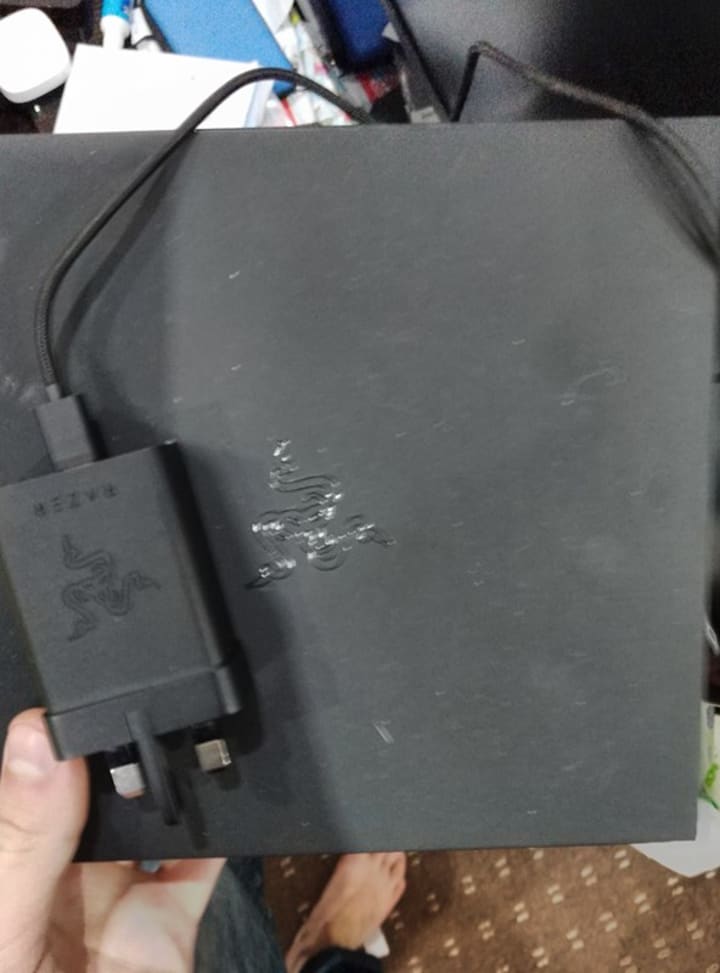 mobile
I am a lover of all things Disney, gaming and food.
I have struggled with mental health issues since the age of 8, but wasn't officially diagnosed until I was 16.
I want to help others with my stories and relate to people.
Receive stories by Hannah Louise in

your feed