The Future Of Social Media In The Metaverse
This article provides a complete guide to explaining Metaverse and its influence on social media.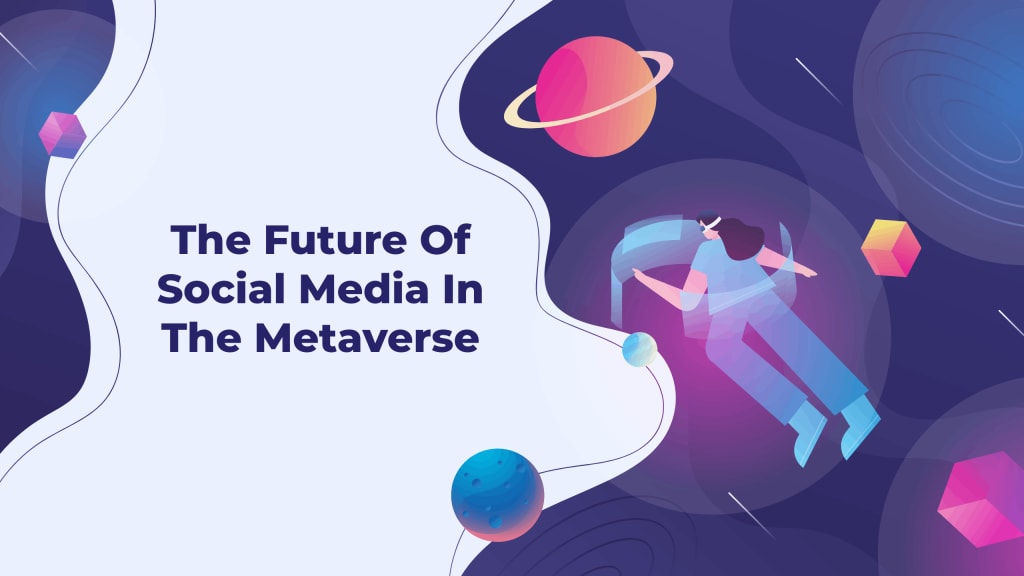 The Metaverse is ushering in a new era for the internet. However, the notion of the Metaverse has been introduced previously. The concept was developed by Neal Stephenson, a novelist who first used the phrase "Metaverse" in his novel "Snow Crash" in 1992. The tale explains how individuals utilize virtual avatars to meet in surroundings and 3-D models. Today, the Metaverse creates new opportunities, dangers, and problems for marketers, investors, and others.
Facebook's name change to Meta marks the company's metamorphosis from a social media behemoth to a diverse corporation. Meta said that it would continue to pursue its main objectives within the Metaverse. In a nutshell, Meta in social media is building a VR-enabled social network. What does this imply for the social media industry? Does this mean that there is new potential for social media sites that are currently thriving in the Metaverse? Or will there be new players who can establish a novel, metaverse social media?
This article provides a complete guide to explaining Metaverse and its influence on social media.
Metaverse-What is it?
The Metaverse is a hybrid of digital and physical reality. It is physically durable and provides more immersive experiences. It enables isolated activities to be carried out (such as buying digital land, constructing virtual homes, or participating in virtual social experiences). These activities will ultimately take place in the Metaverse. As a result, it is device agnostic and not controlled by a single manufacturer. It is a virtual economy that does not rely on any merchant.
The Metaverse is the internet as it is now, but three-dimensional, immersive, and experiencing. It combines augmented reality with the virtual world. This implies that internet users will be able to view stuff on a screen in two dimensions as well as experience it in three dimensions using a VR (Virtual Reality) headset. Users might, for example, shop in a virtual mall from the comfort of their own homes and purchase things from names such as Gucci and Adidas.
A user can also attend an event like Metaverse Fashion Week and opt to build a house to rent out or create an eCommerce business. Users may buy and sell objects in these virtual worlds using both fungible and non-fungible tokens (NFTs), and all transactions are recorded on the Blockchain. This can be achieved by developing their own NFT marketplace. Typically, the metaverse is ruling the entire crypto world. Hence, the Metaverse NFT marketplace can be developed to launch its digital assets.
The Metaverse is a conglomeration of several trends and technology. Among these are technologies used for Metaverse development.
Virtual reality (VR)
AR cloud
Augmented reality (AR)
Internet of Things
Artificial Intelligence (AI)
Cryptocurrency
Spatial technologies
Blockchain
Non-fungible Tokens (NFT)
Head-mounted displays (HMDs)
There are four primary metaverse worlds at the moment:
Sandbox
Somnium
Decentraland
CryptoVoxels
However, new metaverses are constantly developing, posing both possibilities and risks. Decentraland has roughly 300,000 monthly active users, whereas Sandbox has 500,000 monthly active users. Both have garnered large financial inflows and attention.
Let's have a look at how Metaverse works
The Metaverse has seven levels, according to the architecture. These are:
Experience - The Metaverse will provide us with three-dimensional (3D) and two-dimensional (2D) experiences that we are now unable to have.
Discovery - Both incoming and outbound discovery mechanisms are available on the Meta. Inbound discovery occurs when people look for genuine information, but outbound discovery occurs when messages are sent to people whether they have requested them or not.
Creator Economy - Previously, programming skills were necessary to develop and build tools on the internet. Web apps, on the other hand, maybe produced without any programming skills using Meta.
Spatial Computing - Spatial computing integrates AR and VR, and users may utilize face filters on Instagram for spatial computing.
Decentralization - The Decentralized Metaverse offers one crucial feature: all assets and user activities are recorded in Blockchains, allowing users to construct and monetize avatars in the Metaverse.
Human Interface - By just looking at the actual world, a user may learn about their surroundings, develop maps, and even share AR experiences. This combination of spatial computing, human interface, and augmented reality enables the receipt and usage of maps
Infrastructure - The technological infrastructure, including the 5G network, is required for the existence of additional layers that help minimize congestion and improve bandwidth.
Metaverse and Social Media
Metaverse will make social media more immersive. Over the last two decades, social media has emerged as a dominating issue. It enables individuals to interact, transact, and share their interests electronically without having to travel. Popular platforms have drawn billions of individuals and blurred the barriers between video sharing, blogging, texting, and forums. Many social media firms have built huge networks of services and products around their main activities. Today, social media organizations are being compelled to reconsider their strategy in order to differentiate themselves from their competitors. Companies are also suffering delayed user growth as a result of growing knowledge about data privacy, invasive marketing, and rising interest in innovative concepts such as the Metaverse.
The Metaverse is a social media extension. It will bring immersion into the equation and provide customers with new experiences. The Metaverse will combine many common social media components, such as collaboration, commerce, live events, and immersive experiences based on virtual and augmented reality (AR).
However, it will take some time because the Metaverse is still mostly conceptual, and its underlying technologies are in their early phases of development. Regulators will actively monitor the growth of the metaverse to identify possible risks to users and their information.
Furthermore, rules will be a major issue for the Metaverse, as social media is plagued with marketing, disinformation, online damage, data privacy issues, and copycat experiences. Metaverse platforms are expected to encounter similar and additional issues when they collect biometric and other personal data from their users.
The Advantages of Metaverse for Social Media
The Metaverse has the potential to be extremely profitable for social media corporations. It will let them expand their user base, particularly among Generation Hashtags, defined as everyone born between 1991 and 2005. This category consists of digital natives who value having a digital presence that matches their physical identity. Moreover, they are also eager to engage in new technology and services to extend their online activities. Many social media organizations, from video sharing to online dating, are moving into the Metaverse to suit the demands of Generation Hashtag. To attract this demographic, businesses from a number of industries, including fashion (e.g., Nike, Gucci), banking (e.g., JP Morgan, HSBC), and technology (e.g., Accenture), are taking early positions in Metaverse. Although many companies are still figuring out how to provide the greatest experiences for this demographic, it is critical to begin collaborating with social media platforms. This demonstrates that the Metaverse may be utilized to grow social media while also creating new prospects for consumers and company acquisition.
The Metaverse, on the other hand, is a virtual shared place that incorporates all virtual worlds, the Internet, and augmented reality. Users will join and engage in the Metaverse by utilizing their Metaverse avatars. This will alter the social media marketing environment. Advertisers will target clients through their online presence and virtual surroundings. Product marketing will be revolutionized by interactive 3-D models and innovative tactics. Bluemoon is an outstanding example. It is the first worldwide collaborative Metaverse NFT marketplace. It incorporates all components of VR/AR in its own Metaverse and uses social media to empower producers and consumers. Bluemoon enables users to construct customized VR locations in which they may present their products or brand in a new light.
Virtual Search is a crucial idea in Metaverse, allowing users to search for things by focusing on a single object in a virtual location. Social media marketers will have a new opportunity to provide better products to those in need.
Similarly, companies will benefit from creating a 3D avatar with Snapchat's 3D avatar tool. Users may personalize their Metaverse avatars with one-of-a-kind clothing and accessories, and virtual magazines will showcase famous avatars wearing one-of-a-kind ensembles.
Augmented reality may be used by social media marketers to create content. They may collaborate with producers and celebrities to advertise their products.
Will the Metaverse replace social media?
It would assist if you alter your perspective to grasp how new groups may take over social media within the Metaverse. The Metaverse is about interaction, whereas social media is about social media. Many sites that were originally deemed gaming rooms are rapidly becoming social networking places. Roblox and Fortnite are the most popular, but there are many others.
There are still specific social media sites in the Metaverse. They provide a distinct approach to utilizing the Metaverse's benefits and developing new applications. Gravity is one such platform. The site's main principle is user empowerment, and it is the first social media platform to enter the Metaverse. Gravity allows users to control their news feeds and pays them with cryptocurrency tokens for using the site. Gravity is eventually a SocialFi project. This is possibly the most transformational word for Metaverse social media firms that signify a transition away from centralized ownership. It ushers in an era in which consumers control their data, businesses benefit, and loyalty is rewarded. This is made feasible by a linked web that incorporates NFT contracts, financial services, Blockchain, and social networking.
Although it is hard to forecast when the Metaverse will completely replace social media networks, it will surely unlock unprecedented commercial and societal advantages.
Summary
The Metaverse will have a significant societal influence. It will enable brands and enterprises to explore new ideas and unleash creativity. Although it may be an update to existing social media platforms, the Metaverse will eventually alter the planet. There will be new technologies and innovations that take advantage of the Metaverse's underlying behavioral shifts. Social media will transition from 2-D to 3-D, and online connection will become more immersive, allowing us to contact family and friends all across the world in whole new ways.
Till now, the importance of Metaverse and Metaverse development is described in detail. Since the metaverse is growing undoubtedly, creating a Metaverse NFT marketplace now will be more efficient to buy, sell, or trade your digital assets. Moreover, there are many Metaverse development company are presented all over the world, and providing the metaverse related services. Hence, grasp this golden opportunity and enjoy the virtual era!!!
Reader insights
Be the first to share your insights about this piece.
Add your insights