The Benefits of Investing in Business Technology
Abe Rahey on the benefits of investing in business technology.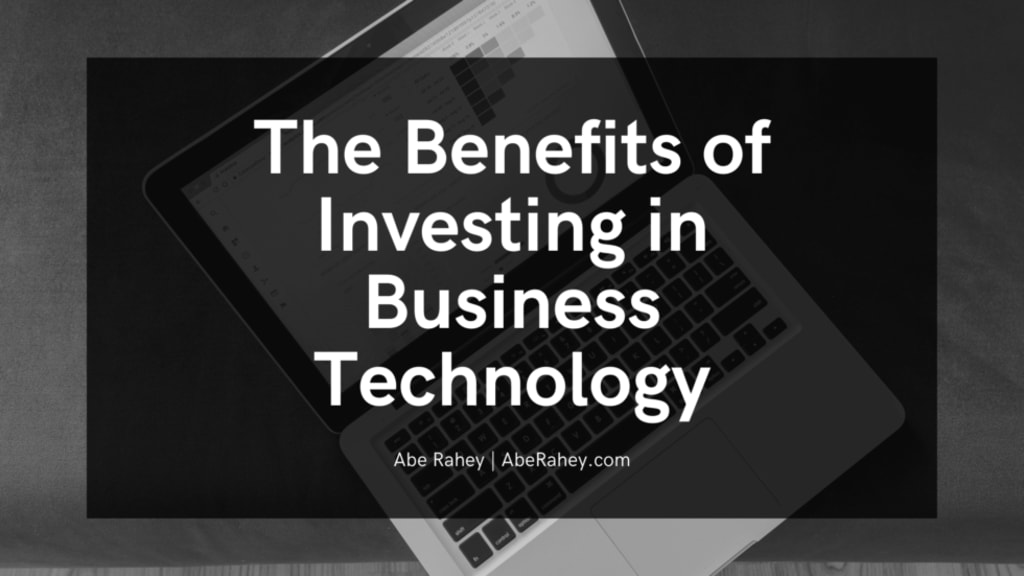 Technology takes center stage in business management because it enhances productivity and effective customer service. Therefore, businesses should finance the most recent and innovative technologies to grow and compete with other ventures. Technology helps entrepreneurs to unlock future success and growth opportunities. Many businesses just adjust to upcoming trends instead of applying them to enjoy market relevance and relevance.
Streamlined Business Procedures and Processes
Technology streamlines a business's daily activities. Thus, employees can easily execute their jobs and complete their tasks quickly. Business owners can accomplish their goals and enjoy more success. Technology facilitates specialization because employees can comfortably concentrate on different company tasks productively.
Saving Time and Money
Technology simplifies duties to enable ventures to save finances and time. Therefore, workers can quickly do their tasks without compromising accuracy and quality. Technology relieves business owners' labor costs as only fewer employees are needed. Also, minimal human errors translate into business success because less time and funds are wasted. Employee management programs align the workforce towards accomplishing the set goals and objectives. Also, process automation enhances productivity and overall business growth.
Increased Sales and Customers
Social media has enabled businesses to invest in online marketing. This technology reaches a bigger audience at manageable prices. Businesses can tap many customers on social platforms like Facebook, Instagram, and Twitter through intense products and services advertisements. Social media marketing reaches many customers in different vicinities to help businesses boost their sales. Non-social media users also get insights from the vast majority, so they are aware of trending products and services.
Improved Productivity
Technology helps employees realize their potential by doing things faster and more efficiently. Inventory management and financial management platforms can enable business stakeholders to work faster and smarter to accomplish more within shorter periods. Productivity gives a business a competitive edge over others.
Growth and Development
Technology eases business expansion by opening up several stores or branches across a region. Through digital services, businesses can reach more consumers to grow their respective portfolios. Technology enables a company to reach a wider audience and tap them through detailed communication of information.
Technology helps organizations to reach different success milestones they could not have before. Therefore, investors should adapt it to enjoy the above-described benefits.
About Abe Rahey
Technology has always played a big part of Abe Rahey's life. As a teenager, Abe quickly learned that the video games he played with his friends would open a door to a more in-depth role-- not as a player, but as a developer. Even though Abe didn't have knowledge of any programming languages, he wrote down ideas for game after game using natural language until he had the ability to learn code.
When first learning to code, Abe quickly picked up the procedural languages of Java, BASIC, and C, and it quickly snowballed into Abe creating his own games and even running his own server. Before he had even graduated from high school, the 3D Portal Network that Abe had created had been purchased by GameSpy, a browsing platform that is incredibly popular today. Abe worked with the company in a management position for almost a decade, helping them transition to IGN Entertainment and then Fox Interactive.
After high school, Abe Rahey received his Bachelor of Science degree in Computer Science from the University of Arizona. His experience in the jobs that he held after college attracted Google's attention, leading him to move from Phoenix, Arizona, to Mountain View, California to take up the role of Senior Director of Engineering. He's held the position for over 14 years. Throughout his tenure at Google, he gained experience in a number of different things, such as Product and Enterprise Infrastructure. He prides himself on being a fair, logical, and diplomatic leader. To learn more about Abe Rahey, be sure to visit his websites!
tech news
About the author
Abe Rahey is a talented entrepreneur and digital engineer with a long-standing career at Google. Follow along to read his posts on technology, and visit AbeRahey.com to learn more about his footprint in the industry.
Reader insights
Be the first to share your insights about this piece.
Add your insights