Reasons Why WALNUTT Spectra Mini Is the Smartest and Safest Electric Skateboard
The WALNUTT Spectra Mini and other Spectra models are at the forefront of the electric skateboard market. These incredible features make it easy to see why.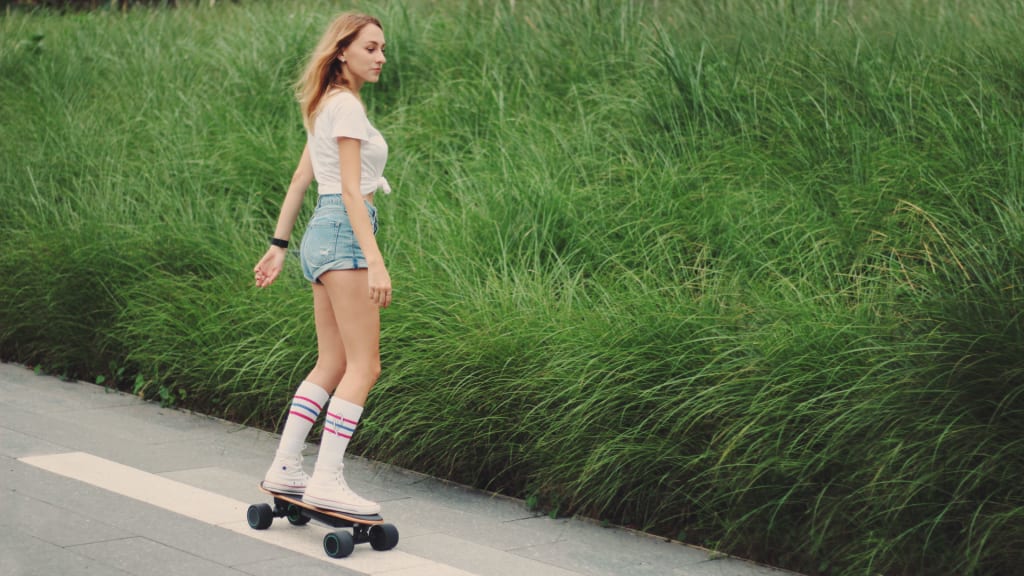 Photo by Julien Lanoy on Unsplash
Traditional skateboards are on their way out. There, I said it. I'll admit, it sounds a little crazy, but just wait until you get your hands on what's replacing them. The integrated features of WALNUTT skateboards and their accompanying app make them not only safer, but also much more powerful than normal boards. While they won't be replacing all traditional skateboards any time soon, electric skateboards like the WALNUTT Spectra Mini are undeniable evidence of the incredible potential of this high-tech update on the classic vehicle.
App Compatibility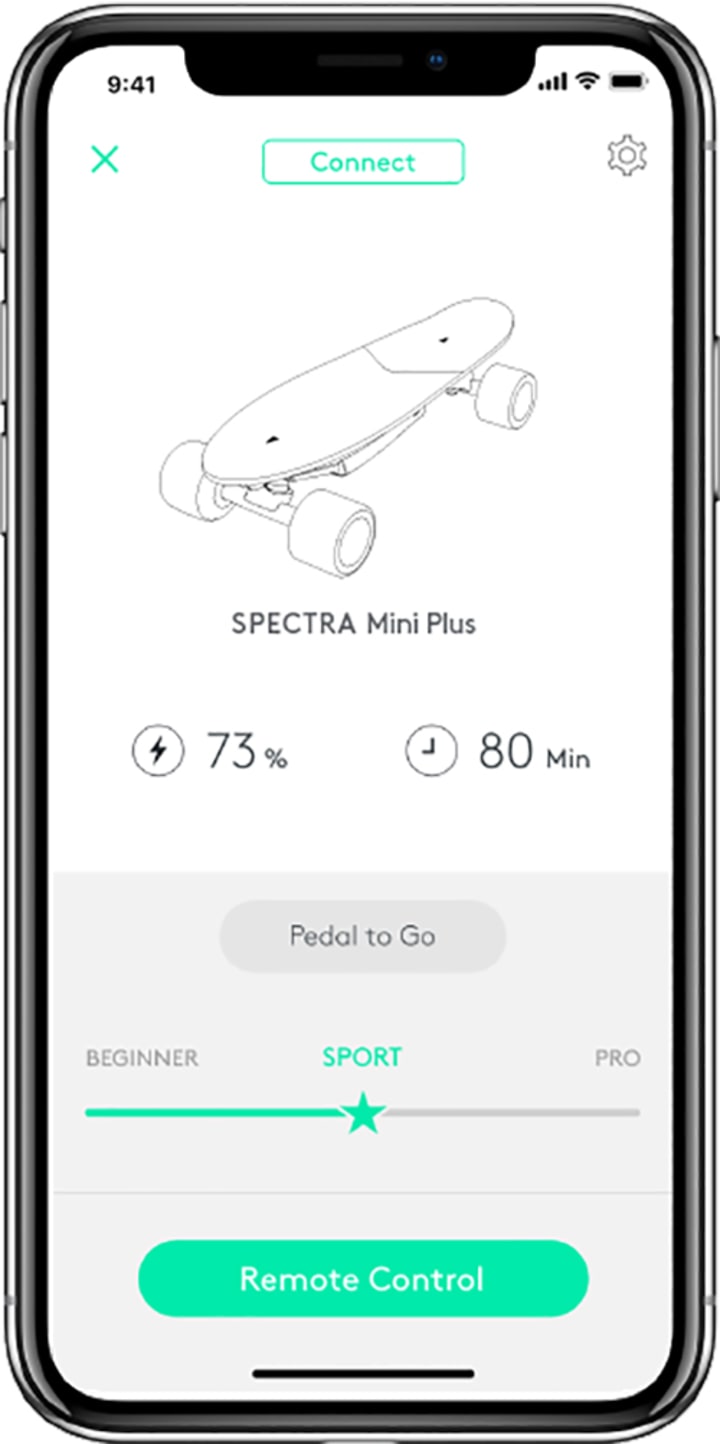 The WALNUTT Spectra Mini and the other impressive electric skateboards in WALNUTT's lineup all have one thing in common: the eBoard Go App. While these skateboards offer multiple game-changing features, the integrated smartphone app is at the heart of it all. The eBoard Go App allows you to do everything, from sharing photos and riding paths to downloading and installing firmware upgrades to simply checking your board's battery life.
3D Posture Control
The WALNUTT Spectra Mini comes equipped with a built-in AI system. This AI system uses pressure sensors and a proprietary intelligent algorithm to analyze the nuances of your riding style. The system then adjusts according to your actions, meaning you have handsfree control of your Spectra simply by shifting your weight. This level of connectivity helps the board feel alive, and just as responsive as a traditional skateboard, if not moreso.
All WALNUTT boards, including the Spectra Mini and other models (like the Spectra Advanced), feature a regenerative hub motor. The hub motor wheel allows the board to recuperate some energy when you brake in order to maximize your riding time. Since the traditional skateboard's biggest advantage over electric boards is the fact that it doesn't need to be recharged, advancements like WALNUTT's regenerative braking system are incredibly useful. This efficient system is exceptionally smooth and nearly silent during rides, as well as adaptable to a wide variety of road conditions.
New Features on the Horizon
Though not yet available at the time of this writing, WALNUTT is preparing to release a handheld remote controller for the WALNUTT Spectra Mini and the other skateboards in their lineup. While the WALNUTT electric skateboard already offers unparalleled intuitive controls through your body movements, a handheld controller will provide users with an entirely new level of precision control over the speed and movements of the Spectra.
ABS MagBrake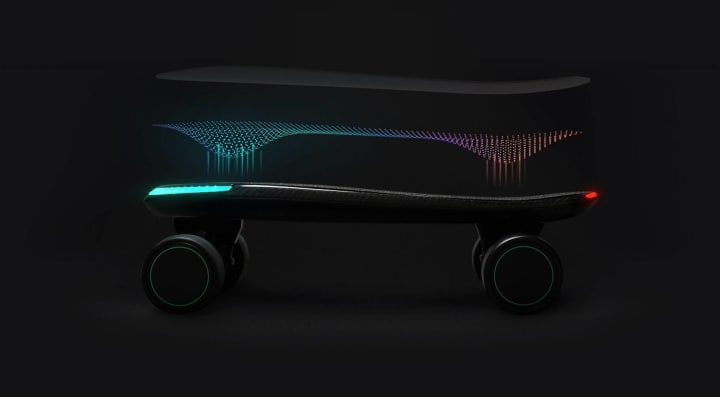 One of the most important aspects of any vehicle is its ability to brake. Skateboarders must be particularly mindful because of the barebones nature of the traditional skateboard. When it comes to braking on a traditional board, your options are basically to drag your foot along the ground or jump off the skateboard entirely, going to collect it from wherever it lands. These issues are a thing of the past with the WALNUTT Spectra Mini and its ABS MagBrake system, which shortens braking distance by up to 47 percent. The instant you step (or fall) off the board, your Spectra begins the braking process, providing a much safer and more convenient braking system.
Powerful Motor
Of course, the main attribute that separates the WALNUTT Spectra Mini from "normal" skateboards is the addition of a motor. If you're going to be adding a motor to your skateboard, you want it to be powerful, and the Spectra delivers in spades. The Spectra can reach a max speed of 15mph at a maximum climbing slope of 15 degrees. Plus, with the regenerative braking capabilities offered by WALNUTT Spectra electric skateboards, riders can enjoy a maximum travel range of 12.4 miles.
Regular Firmware Updates
One thing you'll never see from any of the top manufacturers of traditional skateboards is firmware and software updates. Your relationship with the maker ends the moment you buy the board. This is not so with WALNUTT! No matter which model of Spectra electric skateboard you purchase, you will be able to access and download every new update to the board's internal software. Through the WALNUTT website and app, users can also view changelogs for every minor bug fix, as well as other updates.
Riding Modes
What separates a "smart" skateboard from, well, a "dumb" one? One major advantage of the WALNUTT Spectra Mini and other WALNUTT electric skateboards is the eBoard Go App, which allows users to alternate between three distinct riding modes. With a traditional skateboard, there can be a steep learning curve, forcing beginners to roll with the proverbial punches and endure their fair share of crashes and wipeouts before finding their footing. This process is simplified and made safer by WALNUTT's three distinct riding modes, which essentially allow you to adjust the "difficulty" level of your board. Beginners can feel safe and comfortable, while experienced skateboarders can access the true power and potential of an electric skateboard.
Adjustable Brake Sensitivity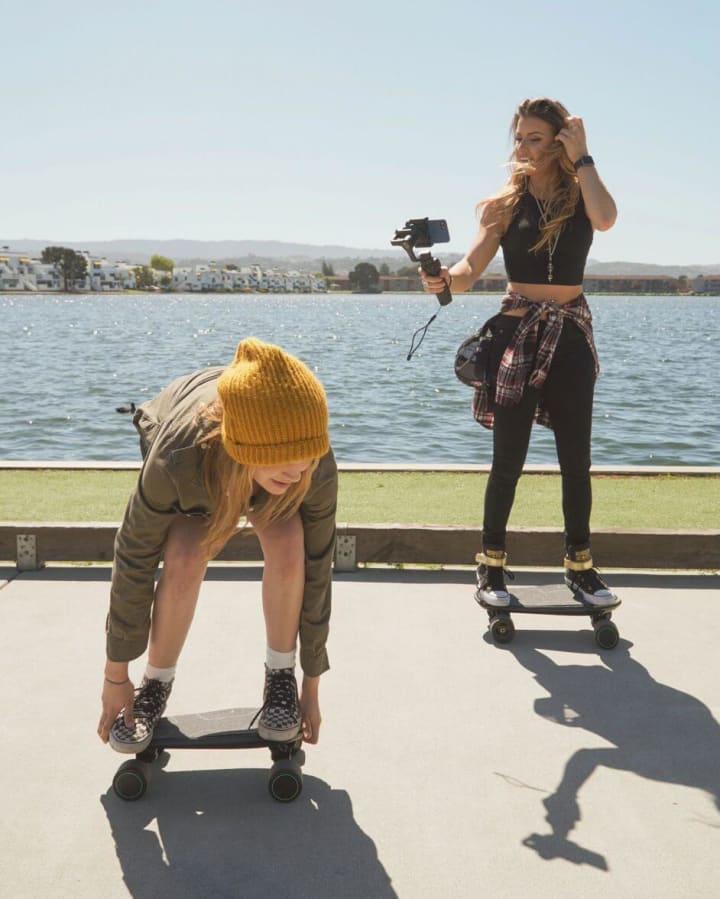 I've already sung the praises of WALNUTT's automatic ABS MagBrake system, which reduces braking distance by up to 47 percent. Part of the reason for that "up to" qualifier is because the sensitivity of the automatic braking system can be adjusted via the WALNUTT app. Depending on your personal riding style and other needs, you can adjust the strength and overall braking force of the ABS MagBrake, as well as its sensitivity and how easily it triggers. Beginners will likely prefer a much more sensitive brake, while seasoned skateboarders may wish to reduce the brake sensitivity for a faster ride.
Adjustable Acceleration Sensitivity
Just like the ABS MagBrake system can be adjusted to suit your preferences for stopping your skateboard, the WALNUTT Spectra's acceleration sensitivity can be adjusted to match your preferred pace of beginning your ride. The in-depth programming software actually allows you to adjust the acceleration in three different ways. First, you can adjust the start acceleration delay, which is how long after you get on the board that it will begin to accelerate. Second, you can adjust the start acceleration sensitivity, which is how quickly your Spectra speeds up from that initial resting position. Finally, there's the riding acceleration sensitivity, allowing you to adjust how quickly your board speeds up mid-ride.