Poets & writers team up to help people stay connected
Hajer Almosleh and Maitha Al-Khayat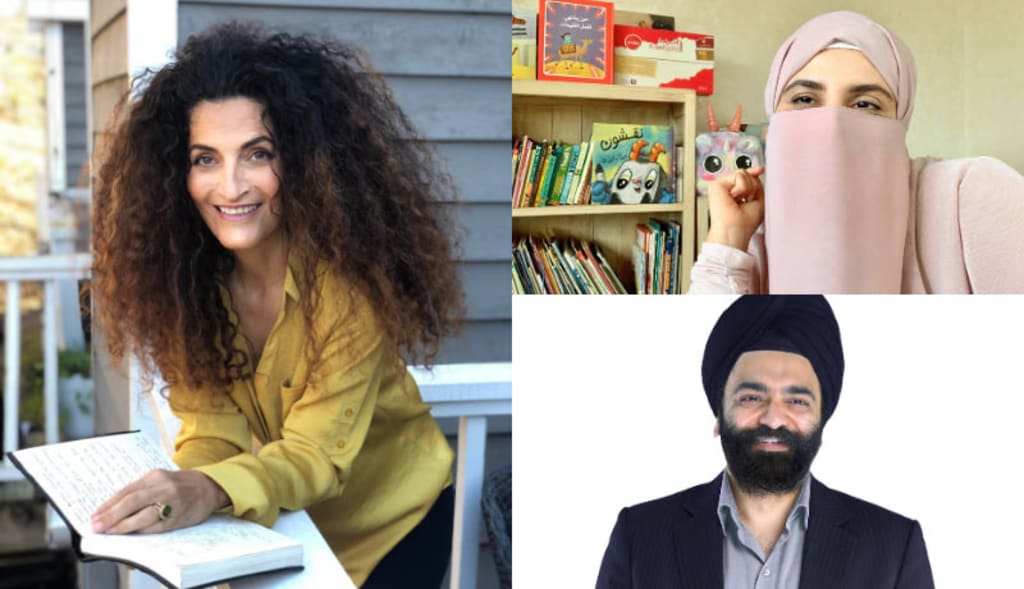 Poets, author, writers, and artists around the world including Hajer Almosleh and Maitha Al-Khayat from the Middle East region and British spoken-word artist George the Poet – famed for kicking off Harry and Meghan's wedding with a poem about union back in 2018 – have come together to create a series of messages to help spread love and optimism in challenging times.
Fifteen original and favourite positive stories of love, friendship, community, work, hope and family were commissioned on behalf of Nokia phones and have been created and designed to be shared with loved ones as Short Moving Stories – short, text-able messages of hope.
Hajer Almosleh's poem:
Let your conscience guide you at all times
Be someone who spreads only joyous news.
Trust that after hardship there will be ease.
Wait for serendipity to open the door to optimism.
If the heart is content, the mind will be clear enough.
Good fortune awaits those with pure intentions
Maitha Al-Khayat's poem:
You collect words,
Since you were young
Do you remember?
The first one rolling on your tongue?
Your favorite expression?
Open a notebook
Write them down
Or imagine them
Why not make some now?
Use your pen
Or type them away
Words, words, words,
Write hundreds, let's play!
It comes after a year in which people worldwide have learnt to slow down and find new ways to stay in touch with their lives and loved ones by using their phones, with the artists designing messages of hope to give people a way to connect and inspire each other.
The stories are all available to read, download or share for free at Nokia.com/phones and form part of an effort to spread hope and positivity.
Stephen Taylor, Chief Marketing Officer at Nokia phones said: "We take pride in creating Nokia phones that are trusted, secure and built to last because it gives our customers peace of mind, which allows them to go off and enjoy the more positive things in life. If the last year has shown us anything it's the importance of positivity. Following nearly a year of isolation and vulnerability one thing that stood out to us is the power of people's collective voices to spread positivity in a time of need, which is also at the core of our business and ties back to our Finnish roots – Finland has consecutively won the title of being the happiest country in the world. So we are championing positive voices from around the world to spread uplifting messages, and help support each other as we come through the other side of global lockdowns."
Sanmeet Singh Kochhar, Vice President for HMD Global MENA & India, said: "We are proud to partner with ambassadors of culture, such as Maitha Al Khayat and Hajer Almosleh. Their luminous words spread the warmth of positivity and hope amid unprecedented times. Words are powerful; they shape our thoughts, emotions and actions. Through the Short Moving Stories crafted by these wordsmiths we are harnessing the power of words to connect, inspire and uplift."
Hajer Almosleh, author and poet, said: "In a world full of turmoil and change, words can be a powerful source of strength and hope. Today, more than ever, we need to share words that spread the love and help people heal. It brings me great joy that I can be one of those voices, and my words can have a positive impact, thanks to the Short Moving Stories initiative from Nokia phones."
Maitha Al-Khayat, author and illustrator, said: "It's an honour and privilege to contribute to this initiative from Nokia, which aims to bring people closer. At a time when loved ones are separated by distance, and unexpected circumstances, I hope my words will help bridge the gap and bring people closer. Do share them."
The Panel of Positivity includes:
Multi-award winning George the Poet, an author, rapper, spoken word performer who opened the Royal wedding with a poem about Union in 2018
James McInerney (UK) whose Poetry Project first put positive messages across the London Underground network in 2018
India's best and most-read author, Ruskin Bond, winner of Tata Literature Live! Lifetime Achievement Award in 2020 always tries to strike a positive note when writing for children
George Kagwe (Kenya) is a content creator and comedian from Nairobi
Alina Balashova (Russia) – Snowboarder and outdoor enthusiast who believes in no bad days, and keeping active to stay positive
Juan Pablo Gaviria (Bogotá, Colombia) an author, influencer, conferencist and coach who defines himself as a Happiness Manager
Maitha Al-Khayat (Dubai, United Arab Emirates) – an acclaimed author and illustrator with 170 publications, delighting children with her quirky yet cultural stories.
Hajer Almosleh (Riyadh, Saudi Arabia) – a writer, poet, traveller and the winner of the 2013 Abu Dhabi Book Fair Short Story Competition.
read more at techxmedia