Partner Track – My New Guilty Pleasure
Have you Watched Partner Track?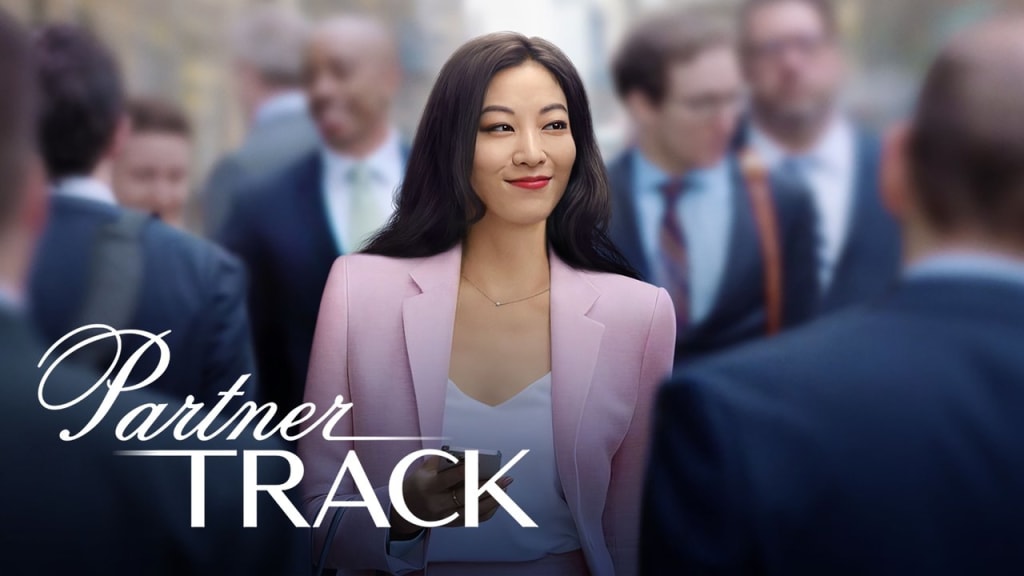 Partner Track is my new guilty pleasure. Recently, my husband and I were scrolling through NetFlix and we came across this new series.
Partner Track
So, this show's main star is Ingrid Yun. She is a young lawyer hoping to be made a partner with a top New York City law firm she works for. Although Ingrid is passionate about her work in law; she finds herself struggling with some issues that have arisen at the law firm she works for – Parsons Valentine and a love interest.
Ingrid is a top lawyer. But, being good at her job may not be enough to be a partner at Parsons Valentine.
Also, this show delves into Ingrid's best friends who also work at the same law firm. So, not only is Ingrid one of the main characters; but this series also gives equal time to her best friends.
However, when racism impacts one of her best friends; Ingrid struggles with being loyal to her friend.
Although, Ingrid seems to be on the right path; she makes some questionable choices when a racist issue occurs at work. Or, is she letting her desire to become a partner stand in the way of making the right decision?
Also, she seems to have a great relationship with her boyfriend, Nick. But, enter Jeff, a transfer who she had a past with…
At the same time, this show brings to light racism and a love interest she had a past with.
Partner Track – Why I am Hooked
Since I typically don't watch a lot of television; I have found myself enjoying several new series over the last few years. Check out my Emily in Paris is my Guilty Pleasure post to read about another series I am hooked on. And, though I didn't enjoy Emily in Paris as much as the first 2 seasons; I am definitely looking forward to seeing Season 4.
Because Sex and the City was one of my all-time favorite shows of all times; I'm equally hooked on And Just Like That. When I was in the fashion industry; there were many Designers I worked with who were inspired by the trends from Sex and the City. Check out my And Just Like That Influence on Fashion post to see how this series has evolved from the characters and styles of Sex and the City.
Now that I have watched the entire 10 episodes; I wanted to share why you may want to watch this series.
In my opinion, this series is light, fun, and interesting.
The Partner Track – A Novel
Moreover, this series is based on the book – The Partner Track by former lawyer, Helen Wan whose own experiences inspired her to write this book.
In the same way, this novel is about Ingrid Yung. So, Ingrid has been working at Parsons Valentine & Hunt for 8 years as a Senior Associate. At the same time, she is on track to make a partner in the firm. However, she encounters a lot of politics at the firm encountering old boys fraternizing and racism.
Similar to the series, this book brings a lot into play with her background as an Asian-American.
Of course, this would make a great beach read.
Partner Track Reviews
When I was in my 20s, I studied law. However, I didn't end up furthering my education in legal studies. Now, as a Blogger and Writer; I am enjoying creating engaging stories on fashion, beauty & lifestyle.
Whether you are a fan of drama or romance; this series is a "Must".
This series is a combination of comedy and more importantly delves into important topics such as racism and privilege.
Also, this series has several different romantic storylines.
So, I am all about a good storyline and empowerment.
In summary, I recommend you stream Partner Track. And you will see how this series has become one of my guilty pleasures.
As always, I welcome your comments.
About the Creator
Hi - I'm Lynne Black, Founder of Fashionista Bombshell Whims!
I'm a Freelance Writer/Blogger and Published Author.
My stories and posts offer a peek into my life.
Of course, my goal is to inspire you through my books and articles.
Reader insights
Be the first to share your insights about this piece.
Add your insights