Microsoft Launched a Massive Comeback by Doing One Simple Thing
Microsoft has outsmarted the tech industry and nobody saw it coming.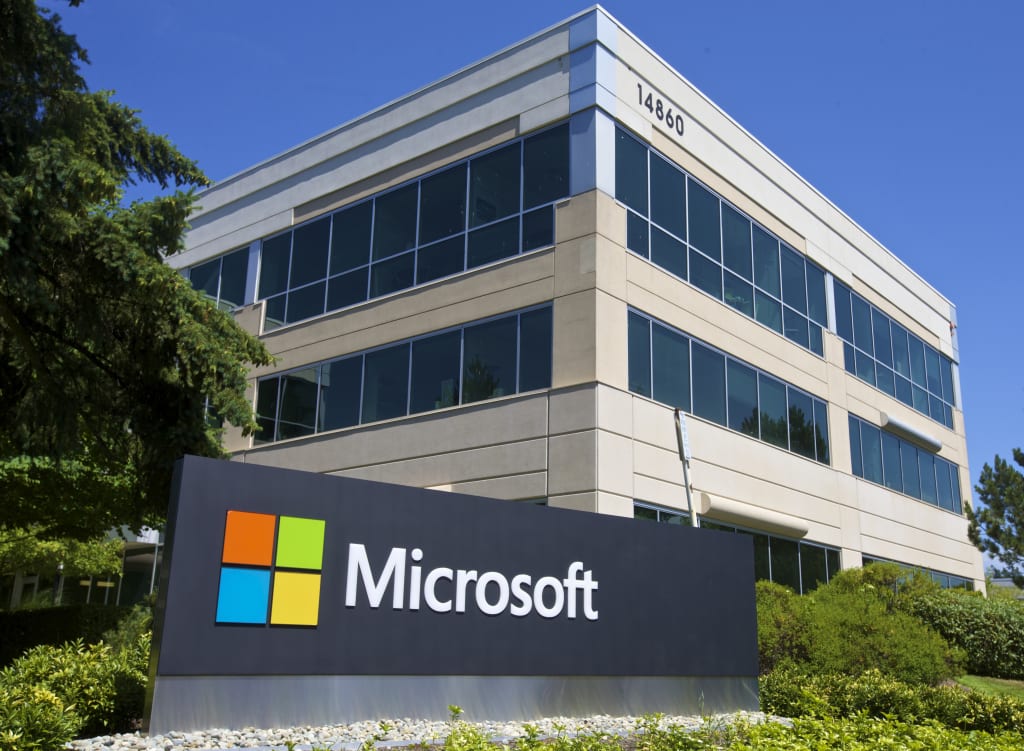 A building on the Microsoft Headquarters campus is pictured July 17, 2014 in Redmond, Washington. (Stephen Brashear/Getty Images)
At the beginning of the smartphone era, Microsoft had a huge hold on consumer products with the pocket PC. The pocket PC was able to do just about anything the desktop and laptop could do, in come Apple's iOS, Google's Android, along with Research In Motion (RIM later just Blackberry).
With Apple fresh off its win with the revolutionary iPod, it took the smartphone industry by storm with its latest invention, the iPhone. While all other smartphone makers were using a physical keyboard, the iPhone had no physical keyboard. This lead to an influx of people rushing to Apple for the hottest and latest tech.
This was the beginning of the end of Windows Mobile. Over the next several years, Microsoft tried to play catch up with iOS, Android, and Blackberry. They made aggressive moves acquiring smartphone maker Nokia to produce their own devices, just as Apple did. However, that venture was a failure and eventually Microsoft had to recalculate their position in the mobile phone market.
With Windows Mobile running on less than one percent of mobile devices, Microsoft came up with a new strategy. They created Windows as a service. They created apps for both iOS and Android platforms. Every essential Windows app is now on these platforms. While iOS and Android battle for the top mobile smartphone operating system, Microsoft has slowly positioned itself to remain a dominant force in the tech industry.
On my Samsung Galaxy note, I have most of the Microsoft services that I use on my PC. I use the Microsoft Launcher instead of Samsung's innate Launcher. I use Cortana as the assistant, Microsoft edge as the Web browser, Windows Maps app for navigation, and of course all the office favorites such as Word, Excel, PowerPoint, OneNote, Outlook, OneDrive for storages. Microsoft has flooded the Google Play store with Apps connecting your PC to your mobile device and vice versa.
Cleverly, Microsoft has also done the same on iOS devices as well (Minus the Microsoft Launcher). While Microsoft is busy developing apps and services for its rival OSes, they have made extreme progress with Windows 10. The Microsoft store is being populated by many developers with popular apps and services and are including Microsoft's ability to share in numerous ways, "Continue On PC" and other nifty features of Windows 10 into their apps making the platform more immersive than ever before.
Who needs a third mobile OS? Microsoft has continued its innovation on the heals of the extremely popular Surface brand and has extended Windows 10's ability to run on ARM machines. We have seen a flood of Android tablets and phones running on ARM chips allow an OS to operate light weight and extremely fast without the overhead.
Looking to the future we can make an inference that Microsoft will return to the mobile OS game. It has dominated the PC and laptop market for almost three decades and with its own devices, it seems to be setting its sights on the tablet market. With so many services running well on other OS devices, it would only be natural for consumers to make an easy switch to a new Windows tablet. Once the company has wrest control of the market from Google, it will set its focus on the mobile market again where making a transition from other OS devices would be easy once again.
Reader insights
Be the first to share your insights about this piece.
Add your insights