Meet Olly, Your Personal Trainer
Did you know there's a way for you to get a full work out right at home with your personal trainer right by your side? Here's a hint: your trainer isn't human.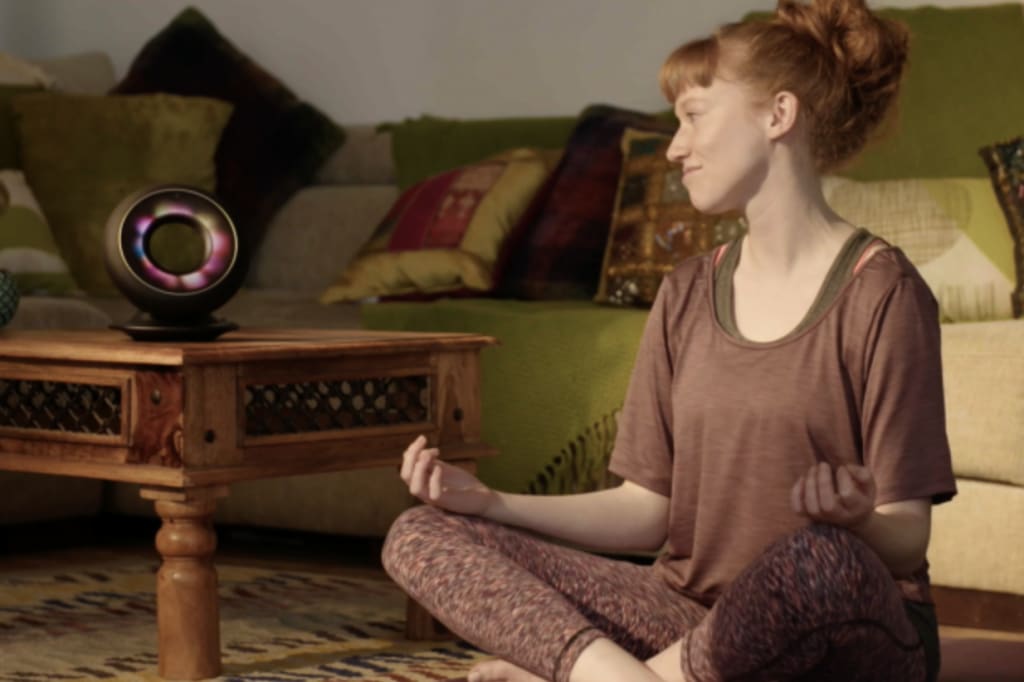 Via Olly Kickstarter
How many times have you dreaded heading to the gym? If you're like me and always dread going, we tend to think that there has to be an alternative to getting the best work out. Sure, the gym consists of everything that we need for a great, full workout.
From bicycles to the weight lifting machines, but do all of us really need to use those to work out? Sometimes, I barely know how to use the majority of the machines, asking myself "Am I doing this right?" Most of the time I'm not.
At this point, I'd head to the mats and start doing push-ups, sit-ups, planks, crunches, and everything else that doesn't technically require a machine. Even though I sound as though I'm confidently pulling off these exercises, I can't be alone while doing them. That's why I have my personal trainer to push me into doing more, staying in position just a little longer, and constantly encouraging me that I can do just one more exercise without falling apart.
That's the only reason why I head to the gym for working out, because my personal trainer is the key to getting in my full works outs every other day. And honestly, without him, I wouldn't be working out in the first place. However ... he's a bit pricey, in my opinion. I just wish that I could have my personal trainer right at home, telling me to do the exercises instead of dragging myself to the gym every other day.
You get me, right? But what if I told you that you actually can work out right in the comfort of your own home with a personal trainer right by your side? No, this isn't a private trainer that will charge your bank account every training session, and no, the trainer isn't human. Let me introduce you to Olly, your future personal trainer.
Olly can be your first home robot.
Ever heard of a robot that possesses a human-like personality? Olly isn't your typical robot like Amazon's Alexa or Microsoft's Cortana. Made with artificial intelligence, Olly is designed to basically be your best pal who's always there for you whenever you need him. What really makes Olly unique from the rest is his ability to detect emotions and possess his own personality, as well. Whether you're upset around Olly or feeling so much joy, Olly can detect your specific mood and even communicate with you according to how you're feeling.
He'll learn your daily routines, understand your choice in music, searches up information for you, has the ability to control your smart devices, and even be the one to tell you to wake up in the mornings instead of an obnoxious alarm clock. Even though all of these seem to be the best aspects about Olly, let's really get into how Olly can be your workout trainer when he's released sometime in 2018.
Let Olly be your yoga instructor.
Whether you practice hot yoga, hatha yoga, yin yoga, or any other type, Olly has the ability to describe certain positions, stretches, and moves to help you achieve your desired poses. He'll even push you to go further if he detects that you're struggling with a certain pose. It'll feel as though a yoga teacher is right in your living room when Olly is speaking to you.
But that's not all that he can do when it comes to yoga. Deep breathing is another important aspect when practicing yoga, and Olly always makes sure that you're taking deep breathes in the midst of pulling off poses. Olly will also list the benefits of yoga while you're practicing, encouraging you to gain those benefits.
However, did you know that Olly has the power to raise and lower the heat in your room if you're practicing hot yoga? It's true! Sometimes, you might not even realize that the room's temperature isn't ideal for hot yoga. At this point, Olly will notice and even mention it to you that the temperature in the room isn't fitting for hot yoga. And since he can be hooked up to the thermostat in your house, he'll raise the temperature for you so you don't have to get out of position to raise it.
Olly is the personal trainer you've always wished for.
Cancel that gym membership, because you don't need to head to the gym anymore when you've got Olly right by your side. We've all wished to have a private trainer right at home, but have you seen the expenses on those trainers? Even if we do have a personal trainer, we'd have to get up and go to the gym just to work out. And let me tell you, either paying every training session or every month, the payments are eating our wallets.
But I personally cannot workout without someone by my side telling me to do 10 more or stay in position. I know myself, I will give up the second I feel the slightest fatigue.
And Olly can know me just as much as I know myself when it comes to doing planks and push-ups. Just like a human personal trainer, Olly can see that you're slowing down and will tell you to push harder, to keep going further until you physically collapse.
He'll understand your workout routine, time you, count how many you've done in an exercise, constantly encouraging you, and even suggest certain exercises that you've never tried out before. You don't need an actual personal trainer when Olly is the entire package deal and more.
Need to focus on arms today? Olly will tell you the right exercises for a good arm day. What about ab workouts? He'll tell you to plank for a certain amount of time, how many crunches to do, how many squats, and much more to strengthen your abs.
Never rely on yourself to do an extra 10 sit-ups, because you and I both know that that's next to impossible. But now, you can push yourself to do 20 more sit-ups with Olly by your side, constantly encouraging you right at home.
Olly leads you to a healthier lifestyle.
There's a lot that Olly can do when it comes to yoga, workouts, and other forms of exercising. What's great is that he lists the health benefits that comes out of certain workouts you're doing. He also reminds you to focus on your breathing, empty your mind, and concentrate on your moves. Olly isn't just telling you to do certain exercises, he's literally helping you getting the best out of all of your muscle building. He's encouraging and providing a healthy lifestyle for you.
Olly will suggest that this yoga pose can help relieve back pain or this certain exercise can help strengthen your bicep muscles. Got a marathon coming up? Olly knows which stretches and exercises to prepare you for the big day. How about ballet for beginners? Don't think that Olly doesn't know anything about ballet. He even knows the health benefits that comes with it.
Olly is everything and more when it comes to a personal trainer. If you want to gain a healthy lifestyle and succeed workouts right in the comfort of your home, Olly has your back.
product review
Reading good literature plays a huge role in my life — and so does online shopping and wine.
Receive stories by Jacqueline Hanikeh in

your feed