Jeff Bezos
An American entrepreneur and e-commerce pioneer, Jeff Bezos is the richest person in the world. In this article we are talking about the Jeff Bezos Success Story, who is Jeff Bezos, Jeff Bezos net worth and Jeff Bezos success story. He started many giants' brands, like he is the founder and chief executive officer of Amazon.com, owner of 'The Washington Post' and also the founder of the space exploration company Blue Origin.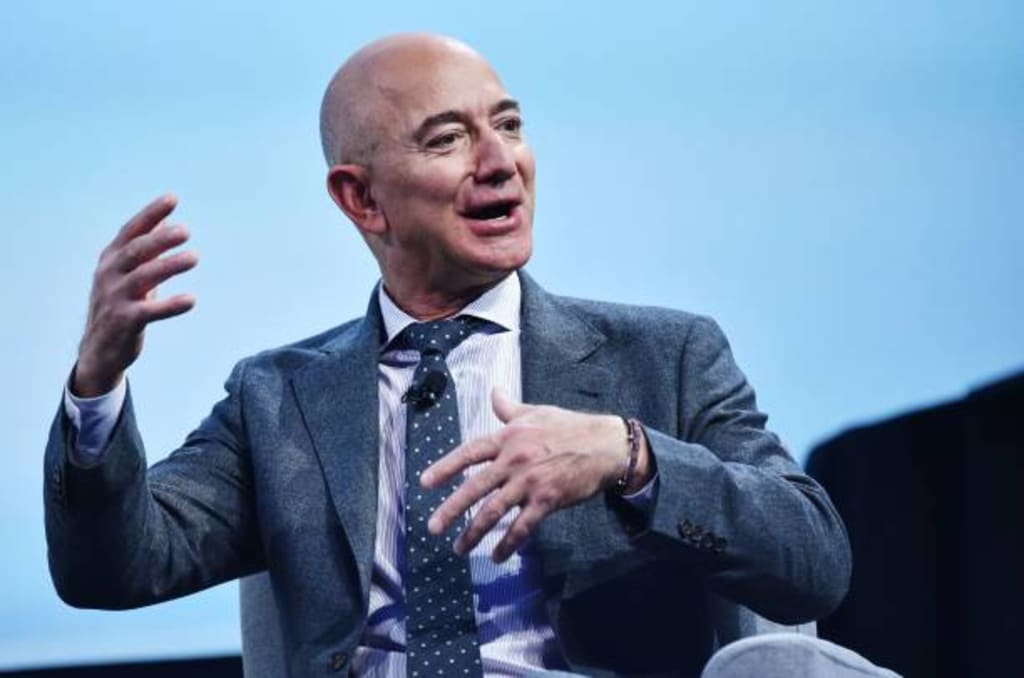 Jeff Bezos was born in 1964, in Albuquerque, New Mexico. His biological father, was Ted Jorgenson, he was one of top unicyclists of Albuquerque. And Jeff's mother, Jacklyn Bezos, was still in her teens when she married Ted. But this marriage couldn't last more than one year. Then, Jacklyn remarried Mike Bezos, a Cuban immigrant when Bezos was 4 years old.
Jeff Bezos' Education
Jeff Bezos did his schooling from River Oaks Elementary School from fourth to sixth grade. He used to spend his summer holiday at the ranch working on numerous tasks like laying pipe, fixing windmills, vaccinating cattle, and other farm work. Bezos's grandfather, Lawrence Gise, played a major role in his life. He was a role model for Bezos because of his knowledge in science and constant presence on the ranch.
When Bezos was studying in high school, he initiated his first business, the Dream Institute. This was an educational summer camp especially for fourth, fifth and sixth graders. There were some books that Bezos required his participants to read like The Lord of the Rings novel by J. R. R. Tolkien, Stranger in a Strange Land novel by Robert A. Heinlein, Dune novel by Frank Herbert, etc.
Later, Bezos and his family moved to Florida and Jeff was transferred to Miami Palmetto Senior High School. Here, he excelled at his studies. And Bezos's love for computers developed. Bezos did his graduation with computer science and electrical engineering in 1986 from Princeton University.He had an early love of computers and he was keen to know how these things work. And that's why; he turned his parents' garage into a laboratory.
Jeff Bezos' Career
Amazon
In 1988, Jeff Bezos had been offered a job from Intel, Bell Labs, and Anderson Consulting. In 1993, Jeff left his job at D.E. Shaw and established an online bookstore. Then, in 1994 he came up with Caldara from his garage which was later converted into Amazon. And, his parents invested about $300,000 in Amazon.
By the end of the year 1998, Amazon was expanded to other products which, initially launched as an online bookstore. After two years, Bezos borrowed $2 billion from banks. In 2002, the company faced huge financial loss but next year, Amazon has grown well and earned a profit of $400 million.
Amazon launched another initiative named as Amazon Kindle in 2007. In the year 2013, he secured a $600 million contract with the CIA on behalf of Amazon web services.
In 2016, Bezos sold over one million shares of his holdings for $671 million. The same year, he sold another million of his shares for $756 Million. Next year in July, Jeff became the richest man in the world and the same his network surpassed $100 billion. In 2018, the company reported it's highest-ever profit with quarterly earnings of $2 billion.
Blue Origin
Jeff Bezos founded Blue Origin in 2000; it is a human spaceflight start-up company. This company was established with a vision to preserve the natural resources of the Earth by making the human species multi-planetary. Until 2006, the Blue Origin bought a large tract of land in West Texas for a launch and test facility. In the year 2011, the unmanned prototype vehicle of the company crashed during a short-hop test flight.
In 2015, the company introduced a New Shepard space vehicle which reached its planned test altitude and returned to the launch site in West Texas. And in 2018, the company announced that the price of commercial spaceflight will be from $200,000 to $300,000 per person.
The Washington Post
In 2013, Jeff Bezos purchased the Washington Post for $250 million. In 2016, he reinvented the newspaper as a media and technology company. He reconstructed its digital media, mobile platforms and other things. And, since Bezos purchased the newspaper; the company was profitable for the first time after a surge in online readership in 2018.
Jeff Bezos's Wealth and Salary
On March 6, 2018, Jeff was named as the wealthiest person of the world by Forbes with a net worth of $112 billion. In 2019, Bloomberg as well as Forbes both estimated Bezos' net worth at $110 billion. Bezos topped Forbes' list of wealthiest people in 2019 also.
Bezos has taken the same $81,840 salary at Amazon every year since 1998. Apart from this, he has never taken a stock award; his shares of Amazon have made him a very rich man. According to an analysis, because of his stock earning, in 2018 Bezos had taken roughly $260 million to his home daily. According to Bloomberg, in 2017, first time, Bezos surpassed Microsoft founder Bill Gates and became the richest person in the world.