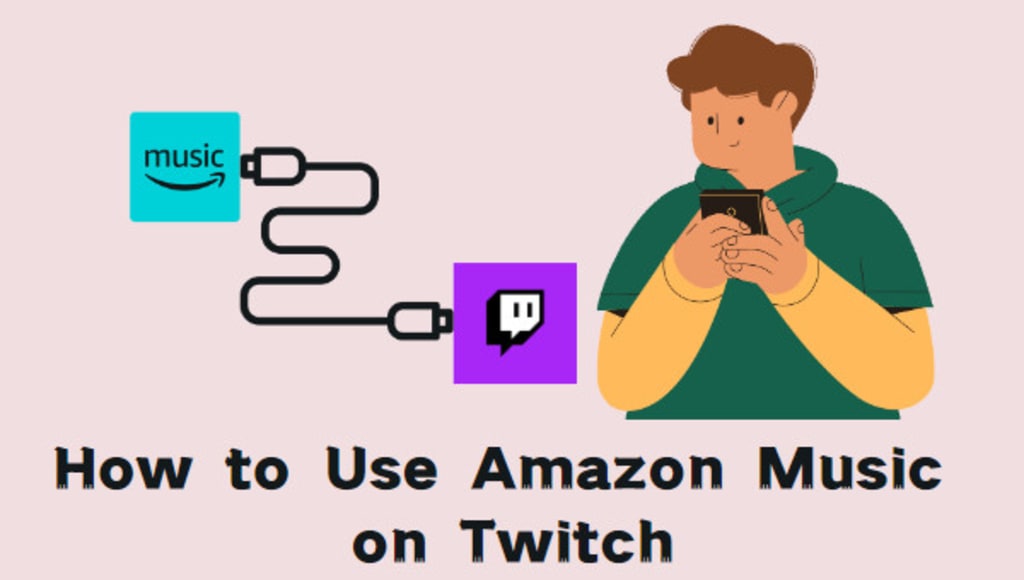 Live streaming has become more and more popular in recent years. Among the amount of live-streaming platforms, Twitch attracts lots of attention as it develops. It is a global live-streaming platform, which is originally focused on games and later expand to include live streams dedicated to artists, music, talk show, and so on. Now, whether game or entertainment, you can find your favorite live streaming here.
In addition to watching streams, you can also open your chat room on Twitch to share your favorite gameplay videos or music with others. Amazon Music has also cooperated with Twitch in recent years, and it's believed that many people will want to share their Amazon Music on Twitch but don't know where to start. Today, we will provide two feasible ways to guide you on how to use Amazon Music on Twitch, don't forget to bookmark this article.
Part 1. Amazon Music and Twitch
Part 2. How to Use Amazon Music on Twitch Directly
Part 1. Amazon Music and Twitch
Twitch was acquired by Amazon in 2014, and while the change in ownership didn't have much impact on Twitch on the surface, the two were more closely linked. So on whether Amazon Music can be used on Twitch, the answer is yes. After Twitch and Amazon Music cooperated, they launched an Amazon Music extension that allows users to use Amazon Music directly to their live broadcast rooms on Twitch. Of course, this use is DMCA-approved, so don't worry about the concert you're using being labeled as copyrighted material.
To use this extension, you must have either Twitch Prime or Amazon Music Unlimited. Unsubscribed viewers are unable to listen to streamed music in this way. To install this extension, you can move to the next section to learn.
Part 2. How to Use Amazon Music on Twitch Directly
Through the Amazon Music extension, you can use Amazon Music freely on Twitch TV. The viewers who subscribe can also browse the Amazon Music Twitch channel or listen to your live streams. The specific steps to install the Amazon Music extension are as follows:
💡STEP 1 Open the Twitch website and log in to your account. Then click on your profile in the upper right corner to find the Creator Dashboard.
💡STEP 2 Click on the Creator Dashboard and find Extensions in the drop-down menu. Click to open it.
💡STEP 3 Once opened, you will see a lot of expansion options. Search for Amazon Music in the search box to find the extension and install it.
💡STEP 4 Once installed, open My Extensions. Find the Amazon Music extension and click Activate.
💡STEP 5 After activation, return to the original Creator Dashboard and select Stream Manager in the drop-down menu. Then select the Amazon Music extension, and a new window will pop up. After confirming the settings according to the instructions, click Open web player to make Twitch open a new Amazon Music web player window.
💡STEP 6 Log in to your Amazon Music account, after which you can freely use Amazon Music on Twitch.
Part 3. How to Use Amazon Music on Twitch Without Limitations
The first method, while directly linking Twitch to Amazon Music, requires you to subscribe to one of the accounts indefinitely. If the subscription expires, the service you enjoy will be invalid. If you want unlimited access to Amazon Music on Twitch, then check out this tool below.
TuneBoto Amazon Music Converter is an extraordinary Amazon Music downloader. It is specialized in Amazon Music download and format conversion to download and convert songs, playlists, podcasts, and albums to MP3, FLAC, WAV, etc. With the help of TuneBoto, you can permanently download songs from Amazon Music and use them anywhere including Twitch, InShot, TikTok, and so on. The download format is free of Amazon Music's encryption, so you don't have to worry about losing your songs when subscription expires.
Next, we will guide you on how to use TuneBoto to download Amazon Music and how to use the downloaded Amazon Music on Twitch.
STEP 1 Log in to Your Amazon Music Account
Run the TuneBoto Amazon Music on your computer and two pages will pop up. One is TuneBoto's operation page and the other is Amazon Music web player. If it doesn't, click Open the webplayer window in the upper right corner to open Amazon Music web player. And then follow the instruction to log in to your Amazon Music account.
STEP 2 Customize the Settings As Needed
Click the Settings tab in the lower left corner. Here you can see a lot of output settings to choose from. According to your needs, you can set the output format, output folder, output path, output file name, etc. by yourself. TuneBoto can also support the highest output HD audio quality, you can choose AUTO from Output Format to save this quality.
STEP 3 Select Songs You Want
In this step, head to the Amazon Music web player. You can browse to find the song/album/playlist you want to download and open it. Click "Click to add" button in the lower right corner. TuneBoto will analyze the playlist automatically and then you can select the specific songs in a pop-up window. Once complete, click "Add".
STEP 4 Start to Convert
If you have multiple playlists to download, you can click "Add" to add more songs, the steps are the same as the previous step. When all the songs are selected, click "Convert" and wait patiently for the songs to be downloaded.
STEP 5 Find Downloaded Songs
Once the conversion is complete, you can check the downloaded song in the "Converted" section. Or you can click the folder icon behind the song to open the output folder you set up before.
STEP 6 Use Amazon Music on Twitch
At this point, the downloaded songs are already local files, and then you just need to add these files to Streamlabs OBS and set up audio for Twitch. Here is the guide:
☛1. Open Streamlabs OBS and log in to your Twitch account to authorize the app to manage your stream.
☛2. Move over to the Editor tab, and then click + button on the source page.
☛3. Click the Media Source > Add Source button.
☛4. Choose the downloaded Amazon Music from the local computer and click Done. After that, you can enjoy Amazon Music on Twitch.
Summary
Regarding how to use Amazon Music on Twitch, there are generally two methods. One is to directly connect Amazon Music and Twitch through the Amazon Music extension but requires users to subscribe indefinitely. The other is to use TuneBoto Amazon Music Converter to download Amazon music locally, and then add it to Streamlabs OBS. The advantage of this method is that you can use Amazon Music on Twitch forever without subscription restrictions. So which method to use can be selected according to your actual situation.
Reader insights
Be the first to share your insights about this piece.
Add your insights