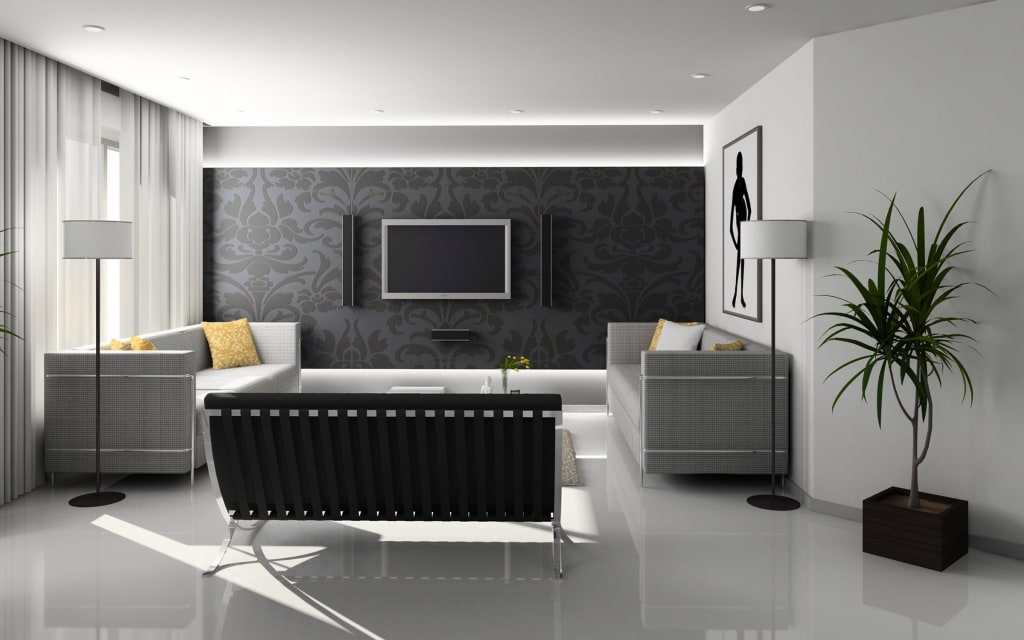 So let's assume you're starting from the ground up. Maybe you've moved into a completely bare house or apartment, or perhaps you're woefully behind the times in terms of tech. So, what are the obvious things you can you get to kit out your house? And what are the unusual items you've probably not thought of? Let's find out.
The Living Room
Let's start with the focal point of the room: the television. If you ever find yourself in a house which doesn't have a television screen in their front room: run. Run a mile. Because they're not the sort of people you need in your life. And if you're the person who doesn't have a screen in your lounge then you'll probably need to get one sharpish. For anyone who needs an upgrade or needs to start right from the bottom: The really top-of-the-range models at the moment are the 4K Ultra HD OLED Smart TVs. Now that might sound like letters and numbers to the uninitiated, but 4K is a high-performance picture mode, OLEDs are organic LED lights giving a crisper picture, and the 'smart' aspect comes from being able to connect to the internet and access streaming services such as Netflix and Prime Video (if you're subscribed to them). The largest screens do cost over £1500 each, but they're a piece of tech that will really stand the test of time, and if you intend to use it a lot, then it'll surely be a worthy investment.
So if you're making a television the focal point, then firstly well done for having excellent taste, but also you'll need to have the stuff to go with it. A good sound system to complement it would turn your front room into your own home cinema, but getting your hands on a games console will mean you can make the most of your television, as you'll not only receive a great gaming experience, but you'll also be able to double your console up as a Blu-Ray player too. The current leading consoles on the market are the Xbox One S and the PS4 Pro, and the most anticipated titles at the moment are FIFA 20, Borderlands 3 and Man of Medan—all set for release in the next month or so.
But what you're probably wondering at the moment is: "This all sounds quite expensive, so how am I going to pay for it?" Well, thanks to sites like Promo Codes For you can make a whole host of savings from a great range of retailers, so you can save a huge amount of money, especially on big purchases. On the site are vendors like Currys-PC World, Amazon and Argos, which are places you probably shop already, so you won't have to change your shopping habits.
The Kitchen
If you care about the look and feel of your kitchen, you'll have to get a matching toaster and kettle. If you don't and you're fine with that, you're a maniac. There are plenty of styles out there designed and produced by manufacturers for this very eventuality, so you have plenty of options if you want to co-ord these kitchen essentials. However, just make sure the ones you decide on suit your kitchen. If you have a rustic farmhouse vibe going, geometric-textured items probably won't work.
Sometimes you'll need a kitchen assistant—whether that's with chopping veg or whatever. Well, thankfully, there are many machines out there that do a good job of that. There are plenty of blenders, choppers and smoothie makers on the market, but sometimes you need an assistant who talks, instead of a seemingly-benign machine. There are plenty of smart hubs to choose from like the Amazon Echo with Alexa, the Google Home Hub and a soon-to-be released one from BBC, provisionally titled 'Beeb'. So what can a smart hub do? Get the lowdown here.
The Bedroom
Now, statistically speaking, the bedroom is where you spend most of your time, albeit unconscious (sleeping) for the majority of that time. But what about getting up in the morning? Everyone hates it, and how many times have you hit 'snooze' on your phone's alarm and messed up your morning routine? Well there is a way to fix that. Clocky is a robot that runs away from you when it rings. It means you actually have to get up to catch up with the ringing robot on wheels to turn off the alarm. And once you're out of bed, the most difficult part is done. But that's not the only tech you can have in your bedroom. Just take a look at this ultimate smart bedroom from Ben Schmanke, it's quite wizard.