How to Create an NFT Marketplace: Development Guide
NFTs are gaining popularity with extreme speed, expanding the blockchain capabilities to new heights and pushing cryptocurrency out of the picture. This article will disclose how to create an NFT marketplace and explain why you might be interested in creating it.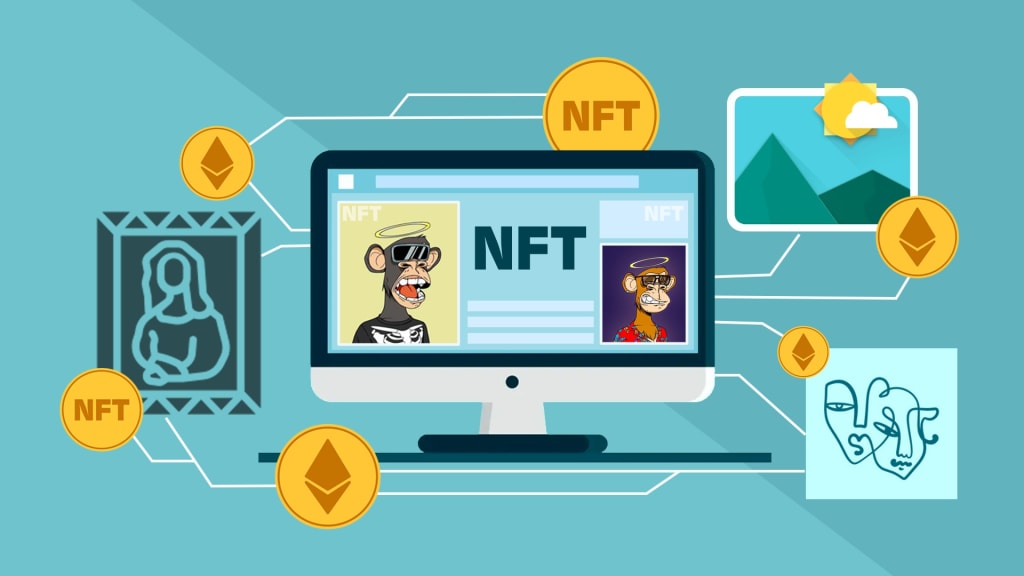 Innovative technologies allow selling and buying almost everything – art, cars, collectibles, digital characters, and even some memorable moments.
It all became possible thanks to NFTs, Non-Fungible Tokens. They are selling for crazy money – like hundreds of millions of dollars․
NFTs are gaining popularity with extreme speed, expanding the blockchain capabilities to new heights and pushing cryptocurrency out of the picture. NFT, or Non-Fungible token is a unique cryptographic token that exists on a blockchain and cannot be replicated. NFTs can replicate real-world tangible assets, such as artwork, real estate, collectibles, and even moments. Unlike cryptocurrencies, NFTs can't be mutually exchanged for one another, as each token has a specific value based on its unique traits and attributes.
HOW DOES AN NFT MARKETPLACE WORK?
Before exploring how to create an NFT marketplace, it's important first to understand how NFT marketplaces work.
NFT marketplace is a place where users can upload a token, set up a starting price, and make millions of dollars selling their artwork or collectibles.
In most cases, NFT marketplaces share the same workflow.
Signing up – the main steps include creating an account and connecting a supported digital wallet where users will store and manage their NFTs.
Buying an NFT – customers can buy and sell NFTs for a fixed price or through an auction. Some marketplaces allow buyers to get in touch with sellers, submit an offer, and bargain for a better price.
Selling an NFT – users can sell both NFTs they've previously bought or their own NFTs they've created (artwork, a tweet, a song, etc.). Users need to upload digital assets onto a marketplace, set up a price, and choose to sell the NFT for a fixed price or set up an auction. After the platform verifies and approves the asset, the asset is listed for sale. After a seller gets and accepts a bid, the marketplace transfers payment for the NFT from buyer to seller.
HOW TO CREATE AN NFT MARKETPLACE: STEP-BY-STEP GUIDE
NFT marketplace development is a process comprising different stages, steps and decisions that should be made.
Step 1: Identify a niche
If you plan to create an NFT marketplace, you need to decide on the type of marketplace you are going to develop. There are some most popular types, such as art NFT marketplaces or gaming NFT marketplace. You can also create a unique NFT marketplace.
Art NFT marketplaces
Gaming NFT marketplaces
Sports NFT marketplaces
Mass NFT marketplaces
Elearning NFT marketplaces
Investment NFT marketplaces
Security NFT marketplaces
Real estate NFT marketplaces
Step 2: Find an NFT marketplace development company
If you don't know how to answer the above questions and don't want to study how to create an NFT marketplace from the technical side, you'll need to hire developers to do the job.
You can choose from a few options:
Hire a freelancer
Hire in-house developers
Hire an NFT marketplace development company
Step 3: Decide on the features list
There are basic features that every marketplace should have and some additional ones that will help your marketplace be different from competitors.
Must-have features
Storefront
Token search
Categories & filters
Bid & buy
Create listings
Wallet
Ratings
NFTs minting
Step 4: Choose an NFT marketplace monetization strategy
There are a few monetization strategies that you can use for your project:
Listing fees – the NFT marketplace charges sellers for listing (posting) their digital assets.
Transactions fees – the marketplace deducts a certain percentage from each transaction made with the platform. OpenSea, for example, charges a 2.5% fee for each sale made.
Setup fees – the marketplace can charge creators for listing their first ever non-fungible token on the platform.
Bidding charges – bidders pay a certain fee for every bid made on the platform.
Ads – you can make money by allowing users to promote their NFTs on their platforms. You can also allow other companies to place ads on your marketplace and make money from every ad placement.
Step 5: Create ux/ui design
You can't fully decide how to create an NFT marketplace without taking into account UX and UI design.
Step 6: Choose a technology stack
Generally speaking, NFT marketplace development can be divided into two stages – back-end and front-end development. Below you can see an example of the technology stack that can be used to create an NFT marketplace.
Step 8: Test & deploy
This stage is essential as it allows you to make sure your marketplace is bug-free and users won't have any problems interacting with it. After every part of the platform is thoroughly tested, only then can you release the marketplace to the market.
HOW MUCH DOES IT COST TO CREATE AN NFT MARKETPLACE?
We've finally moved to the most exciting part – NFT marketplace development cost.
NFT marketplace cost starts at around $50,000 for the simplest version for a single platform (iOS, Android, or web). If you want to add the support of more platforms and some unique functionality, you'll need to pay $150,000 and more. The final NFT marketplace development cost will depend on a number of factors.
Learn more about How to Create an NFT Marketplace