How the Sphero BOLT Is Changing the Way Kids Learn to Code
Can you make computer programming fun for kids? The Sphero BOLT is bringing a new level of enjoyment to STEM students across the country.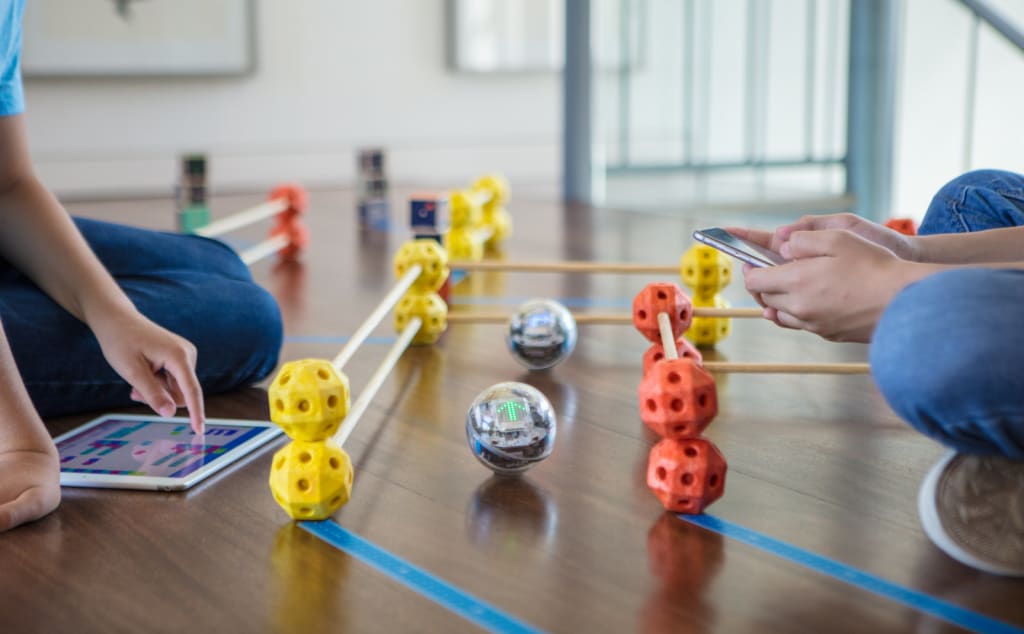 In America, students are showing less and less interest in STEM—despite the rapidly growing demand for STEM professionals. Our workforce needs people who are into the hard sciences, but we can't force kids to choose a career in the sciences if they don't want to explore that world.
A major push has been started to get kids interested in sciences of all kind, especially when it comes to computer programming and software engineering. The end goal, ideally, is to teach children how to code, and show them that programming can be fun.
The Sphero BOLT is one of the newest "programmer's playsets" to hit the market, and it's nothing short of incredible. The more you check out what educators are saying, the more you'll realize that this may just be the toy kids need to fall in love with coding.
Sphero's BOLT is a little ball-shaped robot with a built-in LED panel and tons of personality. It comes equipped with sensors that track acceleration, velocity, direction, and more. To control your robot, you will need to use an app downloaded to your phone.
The app teaches you the basics of coding, all the while encouraging kids to unlock new functions of their BOLT. The BOLT is designed to be as versatile as it is fun, which means that you (or your students) get to choose how they enjoy it.
Sphero BOLT also comes with three different apps you can use.
The Sphero EDU app is the flagship app for educators who want to teach kids how to code through the Sphero BOLT. This app gives you ample information on coding, offers you a new way to participate in BOLT programs, and even gives you the chance to show off your work to the Sphero BOLT community.
Every Sphero BOLT also comes with two other apps: Sphero Play and Swift Playgrounds. As their names suggest, both apps are meant to help you show off what your Sphero can do and enjoy the more game-oriented side of things.
Sphero Play allows you to control your BOLT like a remote-controlled car through the app, and boasts a nice number of games for people who want to see a little more BOLT action.
Swift Playgrounds isn't actually made by Sphero, but a different company. This app involves teaching kids how to code in Apple's Swift language using fun puzzles. If you want to get your BOLT to zip through obstacle courses, using Swift Playgrounds will make it possible.
Kids are given three different ways to code.
Every child learns differently, which is why the Sphero BOLT comes with multiple methods to let kids code. You can draw the coding you want to have, drag blocks to complete a program, or even text commands to your BOLT.
The company's Scratch(TM) block coding method involves blocks with code that users can drag and drop to create new commands. Each block type is colorful and easy to understand, making it a great coding method for newbie coders of all ages.
Using Scratch(TM) blocks to create your BOLT works especially well for people who are visual learners. Artsy people may find drawing a better choice, while verbal-based learners will do best with texting commands to their BOLT.
The easiest way to get a child interested in anything is to make a game out of it—and that's been a proven concept that has served the education community well for the past 50 years. Sphero designed BOLT's app to be chock-full of games that keep kids entertained.
To play the games, kids will have to use coding tools to solve puzzles and make their BOLTs dance. You can play prefabricated games, create your own, or even alter the games that you got tired of. By adding that level of creativity to BOLT, educators give kids a way to feel empowered through tech.
You don't need to be Albert Einstein to enjoy Sphero.
The biggest concern that both educators and kids tend to have is the worry that the Sphero BOLT will be too difficult for kids to use—or worse, too boring to be that much fun.
Along with being able to control your Sphero BOLT and run it through obstacle courses, users can play games like "Snake" through its LED pad, or use Swift to run characters through puzzles on the app.
Sphero EDU is meant to be as colorful, fun, and simple as can be. Kids as young as 10 can understand the concepts used to program the robot. Everything is family-friendly, yet at the same time, techy enough for adults to enjoy. It's just that versatile!
Though they can absolutely be used on their own, Sphero BOLT can be a very "sociable" robot. Each BOLT is equipped with infrared technology that allows BOLTs to communicate with one another.
This gives users the chance to create scenarios and games for not one, but two different BOLTs. Sharing the wealth of coding knowledge just got a lot more fun.
It's a gift for your classroom and your home.
The Sphero BOLT was definitely designed with classrooms in mind. After all, there's got to be a reason why they're sold in packs of 15. However, you don't have to be an educator in order to enjoy using the BOLT.
Individual families have ordered their own, as have tech-loving individuals who enjoy brushing up on their coding. It's an educational toy for everyone!
Helping kids learn how to code is crucial for success in today's ever-competitive world, and Sphero definitely knows this. That's why people who give kids the gift of knowledge are so important to today's society.
Sphero currently offers a teacher ambassador program known as Sphero Heroes to help educating professionals spread the joy of coding to kids using the Sphero BOLT. If you want to bring Sphero to the world, give their program a try. You'll be doing a great thing for kids.
About the Creator
Cato Conroy is a Manhattan-based writer who yearns for a better world. He loves to write about politics, news reports, and interesting innovations that will impact the way we live.
Reader insights
Be the first to share your insights about this piece.
Add your insights