Get an Immersive Movie Experience with Royole Moon 3D Mobile Theater
Who wouldn't want to watch a 3D movie on a whim?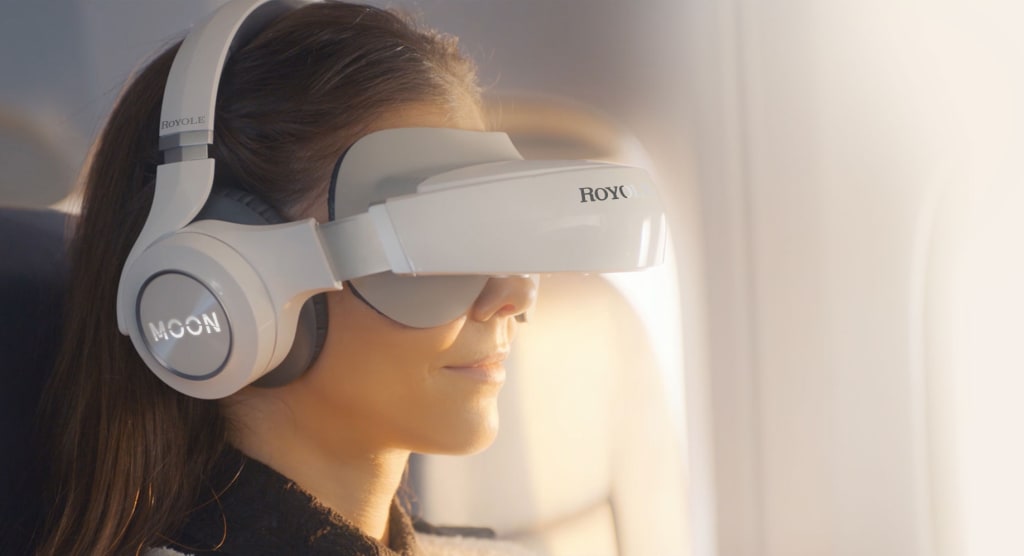 I'm going to go out on a limb here, but I think it's safe to say nobody in the world loves films more than me. And yes, you read that correctly Robert Ebert (it would be an honor if you're reading this, by the way).
I'm a fan of such a wide array of cinematic masterpieces, from older stuff like Gone with the Wind, Casablanca, and To Kill a Mockingbird, to new age superhero films like The Avengers series, and even weird indie films like Enter the Void. Chances are, you name it, I've seen it.
Through the years though, movie making, or more so, movie consumption, has gone through quite a bit of a change. From the inception of HD, to 4K, to IMAX 3D movie theaters, watching a movie is just not what it used to be—in a good way!
I'm personally a fan of all the technological changes we've witnessed over the years, and I feel as if it's only enhanced the viewing process. Now more than ever, we have totally immersive viewing technology, thanks to the implementation of virtual and augmented reality. While I am a huge movie buff, I prefer to watch most of my movies in the comfort of my own home. That way, I can save money, and also enjoy the film in the comfort of my underwear (I swear, I'm not a weirdo).
Anywho, while I was doing some Christmas shopping on Black Friday, I came across something that piqued my interest—the Royole Moon 3D Mobile Theater. It was on sale for around $500, but frankly, that price tag was a bit too high for my family members, especially considering none of them are really film enthusiasts.
For myself? It presented itself as a steal.
I decided to just go on my phone and purchase the Royole Moon on Amazon (it was cheaper that way, go figure), and in the two days it took to get to my house, I did as much research as possible. I was already dead set on the purchase, but I still wanted to do a little more homework before I actually got it.
Needless to say, I was pretty amazed at all of the awesome features of the Royole Moon. Not only could I immerse myself in Virtual Reality technology from the comfort of my own home, I could do it on the go! My morning commute to the city started to look a whole lot better.
When the package finally arrived in the mail, to my delight, it was even BETTER than I could have possibly imagine. I instantly synched it up to the Netflix on my phone and began watching some of my favorite movies. It was super easy to link up, as I only had to use a USB port, but it can also be connected to your phone, computer, external drive, or game console with HDMI or regular Wi-Fi. Luckily, Moon plays basically all audio and video formats, so if I wanted to watch an older movie, it wouldn't be a problem. However, I actually starting out watching Netflix's Black Mirror, because it was a newer show, and I wanted to see the capabilities of this device in full form.
It certainly did not disappoint.
A Curved TV Experience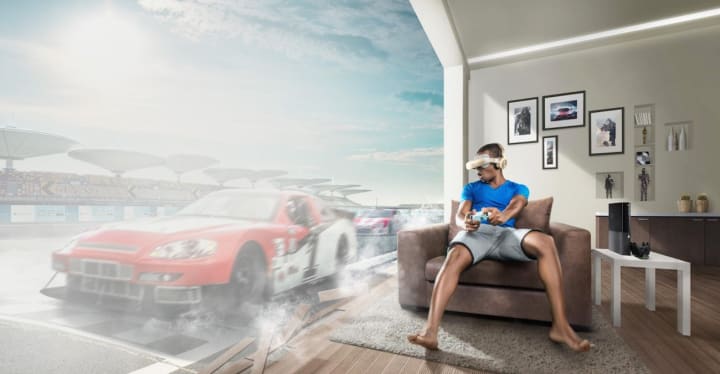 What amazed me the most, was the device's intelligence. Basically, it's able to instantly detect and then optimize the content for viewing in both classic 2D and 3D. According to the product's packaging, the Moon has its own 3D algorithm that helps convert it to a high definition, stereoscopic, 3D experience.
The advanced AMOLED display on the device helps create a virtual, curved-screen experience. It literally looks like you're watching something on a curved television. Now if you're not familiar, a curved TV is very costly, so the fact that this technology can make your content appear like it's coming from a curved TV is a win in itself.
The picture is in full 1080p HD, and for a tech-geek like me, the Moon delivers over 3000PPI (pixels per inch), which makes for an insanely high resolution. Additionally, there's an extremely high contrast ratio, which makes even the older films look sharp and high definition. The super fast image response time makes for a smooth viewing experience, and there are rarely any lags or pixelation miscues that you'll generally experience with low quality imaging.
Other Awesome Features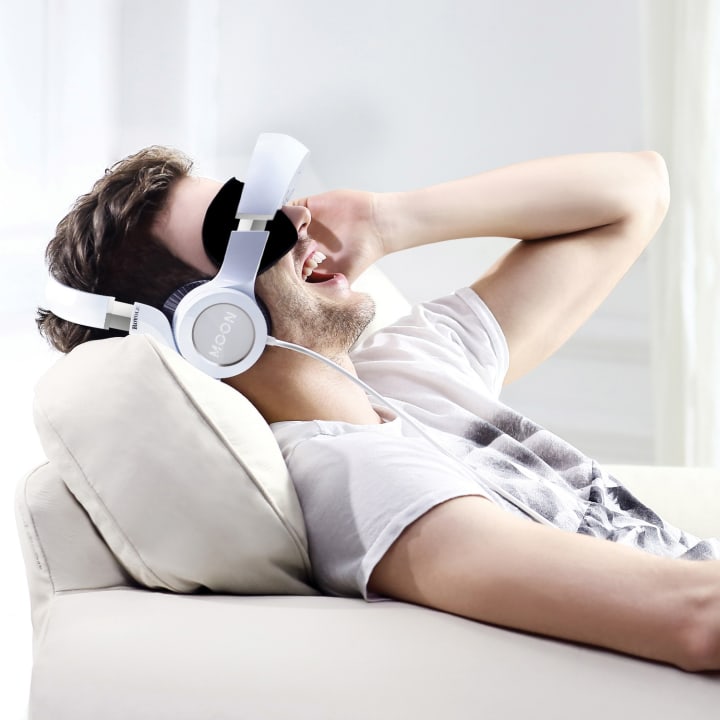 Obviously, the curve technology is incredible, but the Royole moon has a plethora of other cool features that add to its already-immersive technology. While you can choose to stream on a site like Netflix, Hulu, or Amazon Prime, the device comes with Royole Lounge, their flagship entertainment app.
The moon is extraordinarily convenient in more ways than one, however. It folds easily so you can take it with you in your pocket or carry-on bag. It comes with 32GB of storage for anything you want to download on it, which is especially important when you're out of data or don't have access to Wi-Fi. And when fully charged, you scan stream comfortably for up to five hours. I was able to watch The Lion King AND The Shawshank Redemption back to back without a hitch.
Oh, and how can I forget to mention—I wear glasses, so I thought that might affect my viewing experience in some way. Well, that's not the case. In fact, it's the complete opposite. I don't even have to wear my glasses, as the advanced optics utilized by the device makes glasses wearers avoid having to wear anything. I can see completely fine, it's a technological miracle!
Some Final Thoughts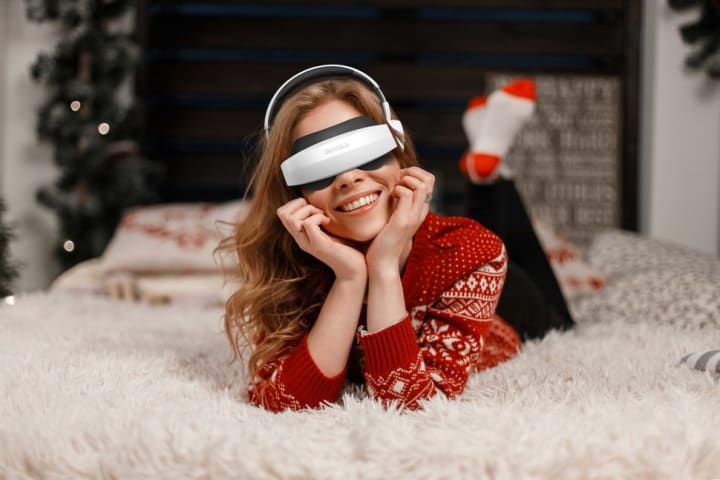 Ultimately, what made me go for the Moon had everything to do with how it fit into my own busy little life. Whether it's my two hour daily commute into bustling New York City, or one of my many business trips in which I'm forced to fly and begrudgingly pay for a movie through the airline, the Royole Moon presents itself as a cure all for my day-to-day issues. Sure, I could just stream them through my phone and watch my movies on that tiny little screen that tends to lag, but I'd rather just feel like I'm in an IMAX movie theater wherever I'm going. It was definitely worth the small investment.

Brett Tortorello
I'm a middle aged man currently working as a Shift Supervisor at Bob's Furniture. I'm thinking about opening up my own restaurant some day, but my real passion is expressing myself through writing.
See all posts by Brett Tortorello →