Facebook and Instagram offer a Great Potential to Create a Reputable Online Marketplace for NFTs with Integrated Blockchain Wallets.
M. Zuckerberg, CEO of Meta, recently stated that users of his social networking sites ,both Facebook and Instagram would soon be able to link their wallets and share NFTs.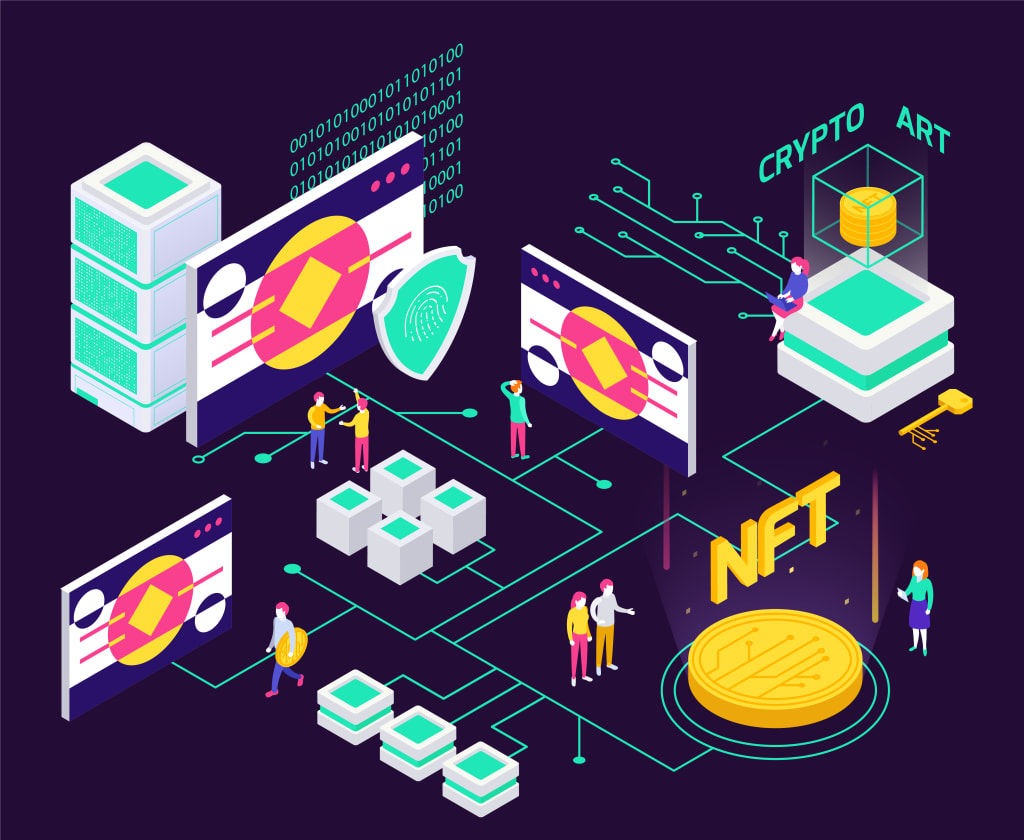 Although the news is being released at a time when most of the cryptocurrency community views NFTs negatively, the intention of the announcement is to elevate the standard of both Meta-affiliated social networks. Mark Zuckerberg claims that the change will lead to more conversations happening on social media and more ways for NFT developers to make money.
Meta has taken a giant leap forward with the announcement of NFT capabilities for both Facebook and Instagram. This is a significant step toward realizing Meta's goals of incorporating blockchain and Web 3 technologies across its platforms. Incorporating NFTs could lead to exponential development driven by demand, especially considering the size of Facebook's and Instagram's user bases.
The terms non-fungible tokens (NFTs), Web 3.0, and blockchain technology are frequently bandied about among the tech and crypto communities. For the typical internet user, this is still a novel topic. The ability to easily post NFTs on social media platforms like Facebook and Instagram is sure to raise NFTs' profile and pique users' interest.
Why Are Non Fungible Tokens ( NFTS ) So Popular?
What exactly are NFTs, and why are they becoming increasingly commonplace?
medium.com
Many people who bought NFTs at the beginning of the crypto industry's bear market are now regretting their decision. However, NFT prices are not always affected by events in the cryptocurrency market.
How far have digital collectibles gotten on Facebook and Instagram?
The announcements state that the updated features will be accessible to users in the United States. The enhancement enables a seamless integration with users' digital wallets. It will be necessary for users to link their NFT networks to Meta in order to post NFTs to various social media sites.
There is a lack of diversity in the accessible blockchain networks that allow for unhindered access to social media platforms like Facebook and Instagram. Users can currently sync with external blockchain wallets including Trust Wallet, Dapper Wallet, Coinbase Wallet, and Metamask Wallet.
Like the Polygon and Ethereum networks, the Flow network now also accepts digital collectibles generated by the princess.
Mark Zuckerberg and his colleagues have been busy developing digital artifacts and announcing them in advance of this occasion. The Meta team teased their inclusion of NFTs on Instagram all through the year, culminating in July's global rollout of the feature.
While Instagram's NFT features are accessible in over 100 countries, the new cross-posting functionality is currently only available to users in the United States.
This action is an attempt to accomplish two goals at once. A growing customer base and more places to sell digital goods are made possible by the growing number of social media sites that cater to the collectibles industry. Similarly, the new additions will continue to educate the public and remove the mystery around the Web 3 ecosystem for common social media users, who will be able to swipe through various NFTs in the same way they do images.
The Meta platform is in it for the long haul, since it stands to gain from the eventual sale of digital assets. Given their massive user bases, Facebook and Instagram present a significant opportunity for establishing a trusted online marketplace for NFTs with integrated Wallets from a variety of blockchains.
social media
mobile
interview
how to
gadgets
cryptocurrency
About the author
Estalontech is an Indie publisher with over 400 Book titles on Amazon KDP. Being a Publisher , it is normal for us to co author and brainstorm on interesting contents for this publication which we will like to share on this platform
Reader insights
Be the first to share your insights about this piece.
Add your insights